Headphones. Portable AMPs. Built-in DACs. Speakers. The journey towards audio nirvana is a long and perilous one, as once the passion hits, the lengths that one will go to for that balanced soundstage knows no limit. Even at the risk of emptying your bank account.
Thankfully, Singapore's Creative has found a way to deliver on the home entertainment audio experience, without breaking the bank. Since their Super X Fi AMP was unveiled to the public earlier this year at the Consumer Electronics Show in Las Vegas, the company has been awash with a buzz and excitement that rivals that of a start-up on the cusp of a major breakthrough.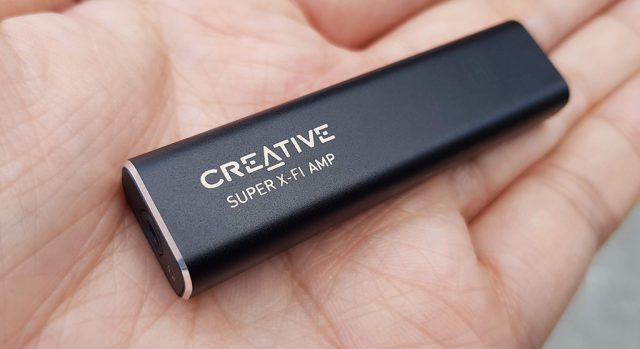 Physically, the Creative Super X Fi Amp, or SXFI Amp, is a flat dongle no wider than a finger, and as thin as a USB Type A connector. Measuring 6.7cm and 1.75cm, it fits neatly in your breast pocket and handbag, or even placed next to your phone. One end connects to your phone, while the other has a 3.5mm jack for whatever headphone you are using.
So what exactly does the SXFI do? Simply put, it emulates a physical speaker sound system set-up, and recreates it in your headphone.
How? First, let's go back to the basics. Audio is consistent in its delivery, but two people in the same room can hear widely different things. It's not even about profiles of someone liking bass over highs and lows, but in how some folks hear different things. It all boils down to the shape of their ears, and how the audio is channelled from the source, into their ears.
The solution is recognising this individual profile, and using software algorithms to make audio heard over a headphone seem as if it was coming from a 7.1 channel sound system.
In a perfect scenario, all owners of the SFXI would be seated in a small room with an actual 7.1 channel system, with a microphone in their ear. The microphone would detect the audio coming from the speakers, and be able to determine the variance between the original audio, and how the audio is directed into a person's ears.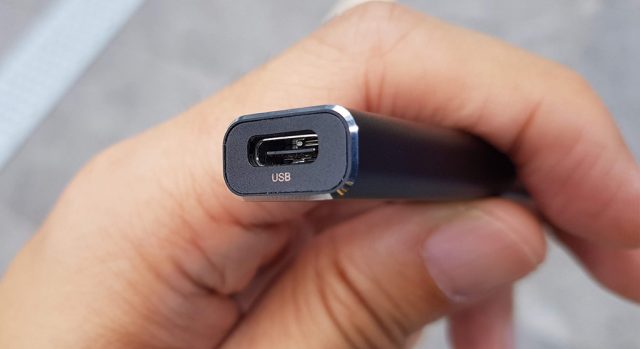 This variance is then entered into the SFXI, so that any music channelled through it, is run through the hardware so that it matches that of it having been heard from an actual sound system. That's the magic of Creative's AMP technology.
But how can Creative physically measure every customer's ear profile? Well, they can't.
Which explains the app. Each time a physical profile is measured, it is measured against an actual, recorded profile of another user's ear. Having been developing this technology for the last decade, Creative has measured thousands of actual ears for their software to extrapolate. So all it takes is for the app to scan both ears, to develop an approximate profile for a user.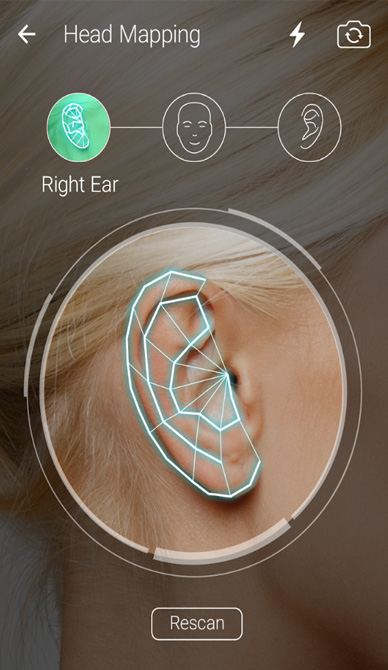 In a way, the SXFI is a hack of a hack. It's not 3D audio, though holographic audio seems less accurate as well. Having had the opportunity to have my ears' profile measured in an actual room, and then via the app, I was able to compare both profiles – of a physical reading and that using the app – and they are close.
It's one of those indiscernible things that you would hardly notice, so try not to think about this when you fire it up. But the question is, how does audio from the SXFI compare against the real deal?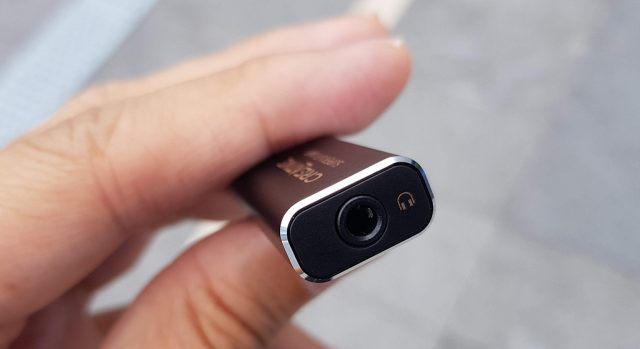 Having physical speakers means that the explosions and firefight in a movie can move from left to right, and in the background. With the SXFI, the same sound qualities can be heard as well.
When listening to a song, the singer sounds as if he is right next to you. Instruments playing have a depth to them – drums in the background, pianos to one side, guitar to another. It's like being there on stage with your favourite band or singer right in front of you.
The only catch to this, depending on how you see it, is that dialogue from movies come across as being echo-ey, as if the actors have been speaking through a special microphone or filter. It's jarring to some, but if you don't watch movies on your phone, it will be fine.
That said, the SXFI isn't just meant for your phone. Anything that can be linked to the USB-C port can have audio piped through the SXFI, from your computer, to your PlayStation 4 game console. It all depends on how much you use your headphones, be it in-ear or over-ear.
Having fired up Battlefront II on the PlayStation 4, the difference in hearing the sound of blaster fire via regular audio channels versus that over the AMP is stark. It's like watching the Death Star Assault on DVD on your 30-inch TV, versus it being played in a 65-inch TV on Blu-ray.
Here's the other surprise – I'm not using some expensive pair of earphones, but a normal pair of Sennheiser in-ears, as well as Creative and Philips over ears, and the audio quality is apparent across all three audio hardware.
Alas, the SXFI is a solo experience for now, though Creative says it is working on a home entertainment version so that everyone in your family can have their own profile, linked to a device hooked up to the TV.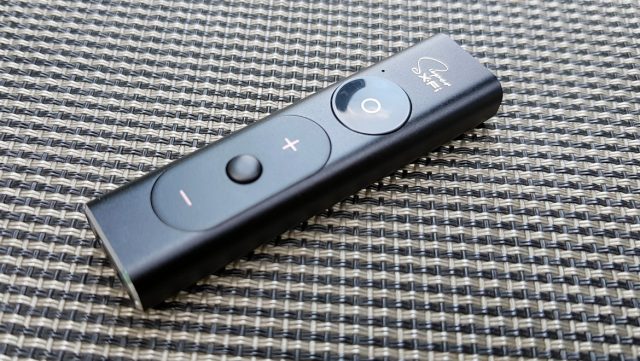 So with all the talk about USB-C connectivity, what about Apple's iPhone? To put it simply, there is no official support for Apple's ecosystem, due to technical compatibility concerns with the AMP. This explains why Creative is working on a pair of Bluetooth-enabled wireless earphones with built-in SXFI hardware into the unit.
But we did say no official support. It seems that the AMP draws a small amount of power from the phone, which Apple does not allow… unless you are using the Camera attachment. So in a rather "supportive" show to Apple, you can link up the AMP to an iPhone, by connecting the phone to the Camera attachment, which is linked to the AMP via a USB-C cable and voila, Apple compatibility. In a rather complicated way of course.
You will, however, need an Android phone, to download the app, scan your ears, and upload your profile to the AMP, before plugging it into your iPhone. The profiles sit on the AMP itself, not your phone, which is why you can then proceed with the plug and play on any other device.
Currently available from Creative, this tiny device is currently only for sale in Singapore at S$219.
GEEK REVIEW SCORE
Summary
The SXFI will make you doubt your earphones, and you'll never listen to things the same way again.
Overall
9.2/10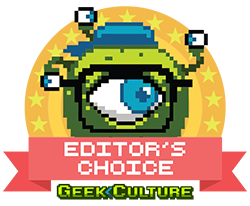 Aesthetics -

9/10

Build Quality -

9/10

Performance -

9/10

Value -

10/10

Geek Satisfaction -

9/10
---

Drop a Facebook comment below!