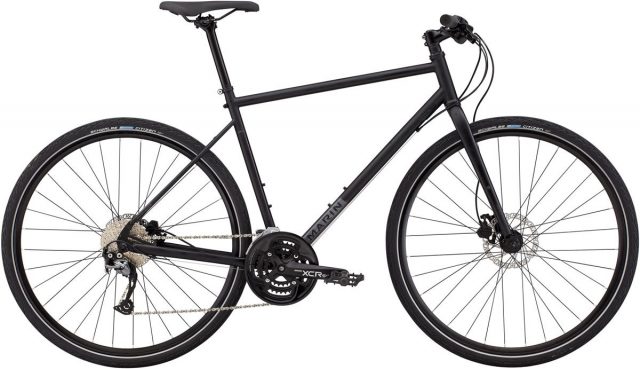 Background
When I started cycling to work in 2016, I knew nothing about cycling. All I knew is that I wanted a healthier way to get to work.
I bought a used Polygon Heist 4.0, which was too large for me. For those of you who don't live in the part of world I do, the Polygon Heist is probably the equivalent of a Trek DS, or Specialized Crosstrail. One of those hybrids with a cheap front shock.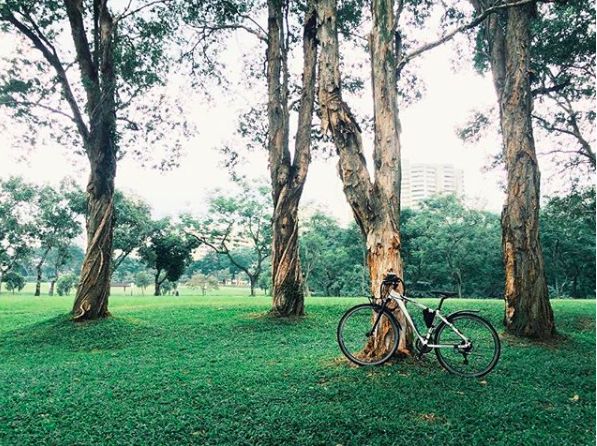 After a few months of riding, I thought it'd be pretty cool to ride somewhere and go camping. After all, I already did some trekking, so it'd be a just a faster version of that.
My research let me to believe that for touring you'd need a bike had a steel frame to bear the weight of all your gear. I was also looking for something with powerful disc brakes that would work even in the wet.
So I searched for a new steed to replace my Polygon Heist —it was made of aluminium, used rim brakes and had gaudy logos.
---
The Search
I looked at tons of options including the Surly Troll and Ogre, the Genesis Croix De Fer, On One Inbred, the Trek touring series (520, etc), Kona Rove and Sutra LTD and the Specialized AWOL.
All of them were a pain to import to Singapore, and would have cost me over S$2,000. During my search though, I discovered the Marin Four Corners 2016, which had just made its debut.
Unfortunately, as a shorter rider (1.6m), they didn't have it in my size (now they do). I checked out Marin's other bikes and found the steel Muirwoods.
It was billed as a city bike, a rough-and-tumble 29er, but I figured with it's mountain-bike inspired frame and tyre clearance, it'd do the job as a touring bike.
I had to get to Malaysia to just purchase this bike, but I got an extremely good deal paying just over S$700 SGD for it.
For S$700 bucks, I got a steel frame, hydraulic disc brakes, rack and fender mounts. I'm telling you, that kinda value is revolutionary.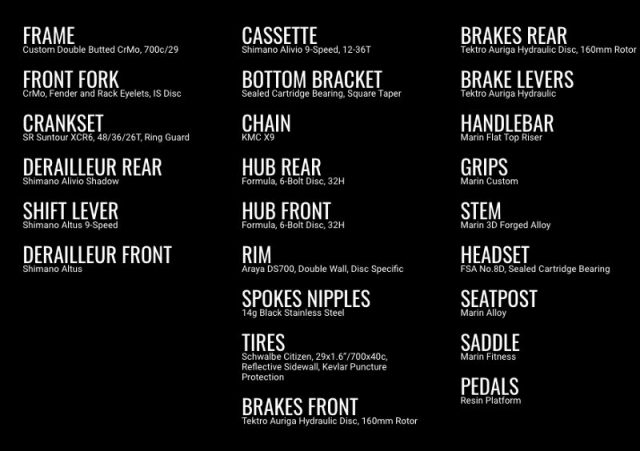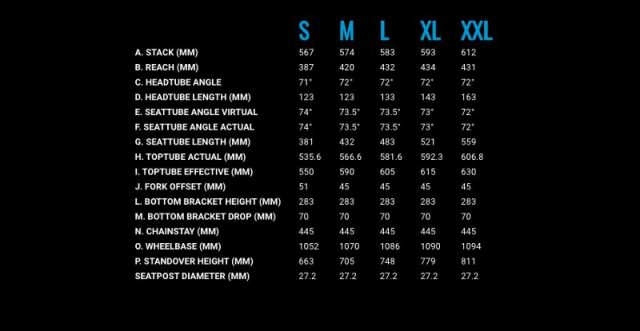 ---
The Good
The Muirwoods will never make it to BikeRumor or Road.cc because it's a pretty low-end bike. But it's full of value and versatility.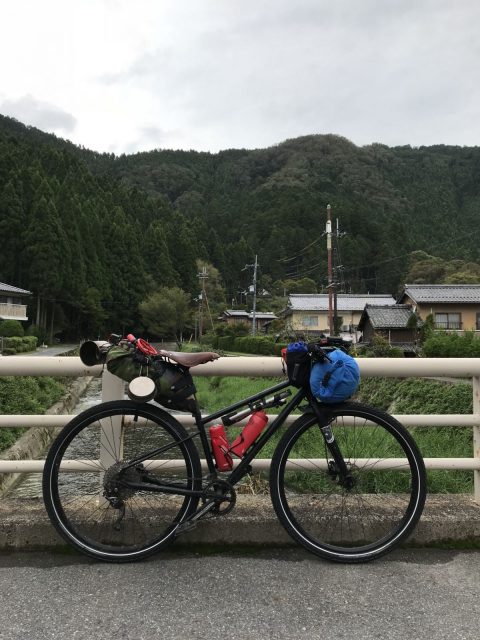 Tyre Clearance
Tyre clearance is massive on this thing compared to other touring bikes .Mine came stock with 40 mm Schwalbe citizen tyres, which are alright for the city. I switched them out with some 47 mm Smart Sams, which is more than enough for gravel trails and uneven roads.
Another Muirwoods owner claimed he could fit up to 29er 2.2″ tyres, but I've yet to try that with mine.
Three Bottle Cages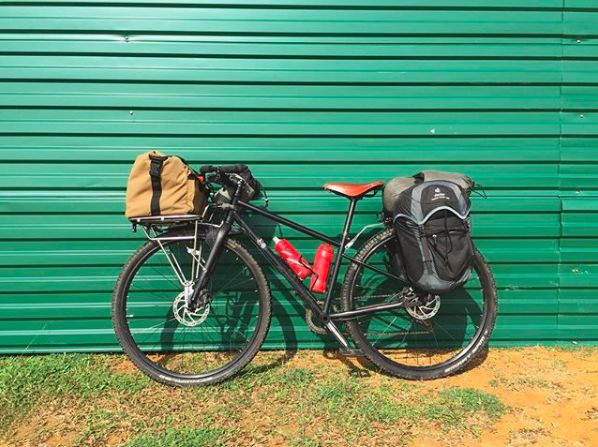 My Muirwoods came with three bottle cages, two on the inner triangle, and one of the downtube. The room on the down tube is pretty small though, so you can't really fit a full size bottle there. Better than nothing though!
Front and Rear Rack Mounts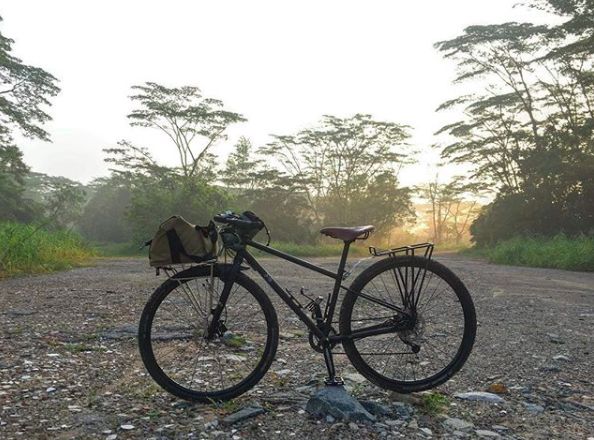 While it lacks the multiple rack mounts of say a Surly, it still has the basic front and rear rack mounts. I fit a Soma Porteur front rack with little difficulty.
Looks and subtle reflective paint
I love the bike's stealthy black look. It looks good enough for pictures, but has some reflective paint so drivers can see you at night, especially if you ride sans lights.
The Handling
With my current 47 mm half knobby tyres on, the Muirwoods kinda feels like a tank that can roll over anything. But with 35 mm Continental Cyclocross tyres on, this thing can go pretty fast.
---
The Bad (for touring purposes)
Designed as an urban bike, the stock Muirwoods is pretty much faultless in the city. But if you're intending to bring it touring, you might wanna make a few changes.
Get a multi-position HandleBar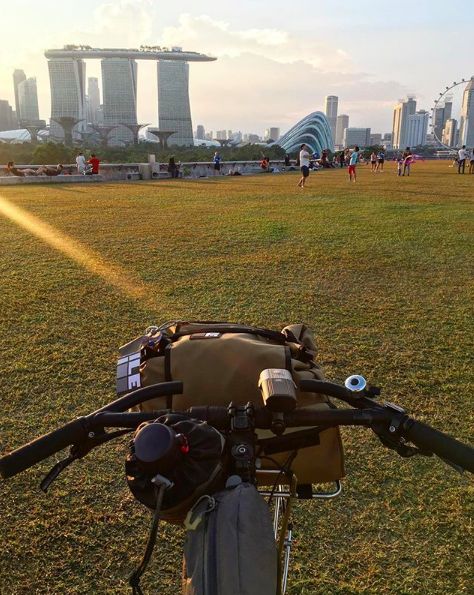 Consider changing the flat bar to one with multiple positions! I use the TITEC J Bar which has a super comfortable upright position, and options to go low if needed.
Get a Brooks Saddle
Self-explanatory. Many cycle tourers swear by the venerable B17 and I'm no different.
Upgrade that Drive Train
The current drivetrain is alright, but I switched mine to a 1×10 set up for simplicity's sake. That means a 38 Narrow-Wide Chainring in front, and a Sunrace wide range cassette behind.
---
Verdict
Get the Muirwoods. I loved mine. You will love yours too.
Ruiming is a freelance writer that has lived in Singapore, Melbourne and Hongkong. When he's not waddling waist-deep in deadlines, he finds time for life's simple pleasures: Teh-O Peng, Lao Gan Ma chilli oil and HBO's award-winning TV series Game Of Thrones.
---

Drop a Facebook comment below!