It is a very popular Hollywood trend right now, second only to comic book movie adaptations – craft live-action adaptations of of well-loved classics. And there is no production powerhouse spearheading this effort more thoroughly than Disney.
Beginning in 2010 with Alice in Wonderland, it has since gone on to release The Jungle Book (2016), as well as Beauty and the Beast (2017). Disney also made waves when it released the full billing of The Lion King's voice cast, due summer next year. Then there's Dumbo, Mulan… the list goes on, so what do we have for this year?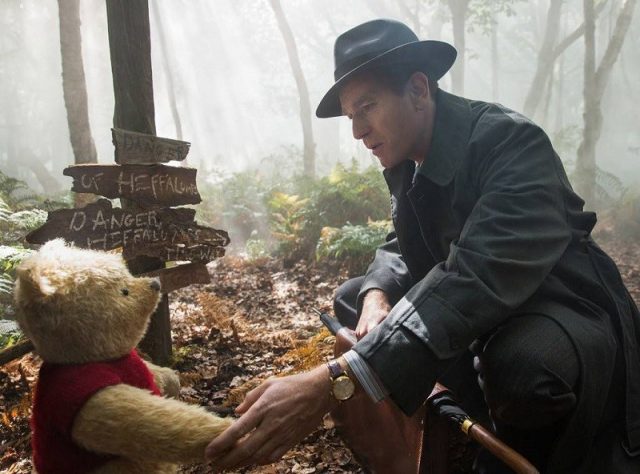 None other than everyone's favourite yellow bear of course – except that this time, the movie is named after his human best friend. And because Ewan McGregor plays the titular character, Christopher Robin, we know that this live-action remake of Winnie the Pooh & co. is not about a 7-year-old child's adventures in the Hundred Acre Wood. Instead, we are introduced to a grown Christopher who, now married and with a young daughter, has to straddle his family's needs with his boss's demands in gritty, post-war London. It is at such arduous crossroads that Pooh re-enters his life, drawing him back to the days of childlike wonder and magical companionship.
Kudos to the team of writers Alex Ross Perry, Allison Schroeder and Tom McCarthy, who crafted a simple yet spellbinding story that speaks to at least three generations of audiences at once. After all the movie catches Christopher Robin at a difficult time in life. To be torn between responsibilities is a quagmire only too many adults can sympathise with, particularly (for parents) the need to choose between being a good employee and a good mother or father. In fact, McGregor plays the brooding grownup part so well that, just like Christopher Robin, we do indeed wonder, "Pooh, how did you know it was me?"
But the real tragedy of Christopher Robin's austerity is in knowing that he was once a fun-loving child who has grown to not only forget, but also give up all that joy. Thus, when he gets a second chance at really living life again with his silly ol' bear and pals, the child in all of us – and also the child sitting next to us – can't help but cheer. In a world filled with doom and gloom, wouldn't we all prefer if the bearer of bad news was a grey donkey with detachable ribboned tail anyway?
For the grandparents of our time, they will recognise not only the hardships of the postwar economy – having lived through a few recessions themselves – but also come to see the enduring appeal of a medley of characters that never age in canon. It is not so much their immortality that makes them so charming, but what these characters promise – the hope of better days ahead but a place of joy to return to. Sometimes these are things we cannot have but nevertheless want for our children, our children's children and thereafter. As it is with Christopher Robin, so it will be for us: our children's happiness will be our happiness.
Most importantly, it is worth acknowledging that the female characters of Christopher Robin defy traditional archetypes. Evelyn (Hayley Atwell) is a smart and independent woman. As the wife, though the pain of her crumbling marriage is evident in her eyes, she never once breathes a bitter word; as a mother, she clearly loves her daughter and expresses her care for Madeline (Bronte Carmichael) without being overprotective.
Madeline, on the other hand, is a bright and driven girl whose only faultless desire is for more of her father's time and attention. The baton that passes from Christopher Robin to Madeline Robin is one worth looking out for in the years to come.
Adaptations these days are an incredibly tricky business. How does one reproduce a much-loved classic to tell a fresh story and yet pay homage to the original? How does one scatter in enough references in order to earn the approval of longtime fans while at the same time capturing the hearts of new audiences? It's a tough nut that every new reboot/remake production team must crack, but Disney has exceeded itself where Winnie the Pooh and friends are concerned.
GEEK REVIEW SCORE
Summary
Christopher Robin may be a husband and father now, but he is struck by problems that will eventually draw him back to his magical childhood days and companions. Bring the tissues.
Story -

7/10

Direction -

8/10

Characterisation -

9/10

Geek Satisfaction -

8.5/10