21 Jump Street. Starsky and Hutch. Bewitched. Knight Rider. Charlie's Angels. The list of great TV shows is a long one, but the list of TV shows that received a terrible reboot is shorter. And even shorter are the reboots that eschew the class and dignity of the original, and opt for the crass comedy route that insults the source material.
The Chilling Adventures of Sabrina is wildly out of place in this list, in that the source material here technically isn't the 1996 comedy series, Sabrina the Teenage Witch, but the original Archie Comics series. And instead of sticking with comedy like the 1996 TV sitcom, this reboot of a comedy has embraced the terror, horror and witchcraft of the comic book premise – a young witch of mortal and witch blood under the care of her two aunts, Hilda and Zelda Spellman, both who are witches themselves. Also living with the three ladies is their cat, Salem Saberhagen.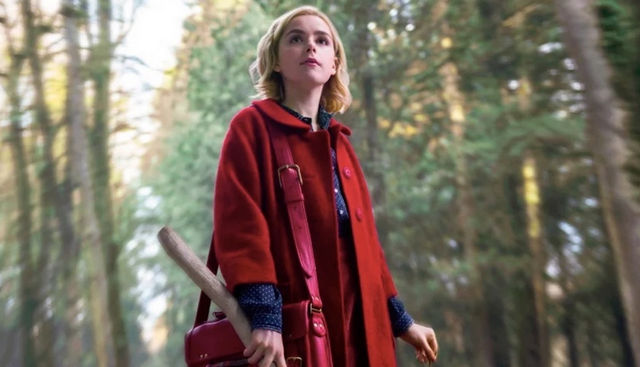 Unlike the comics though, this Salem is not a witch who's been turned into a cat. Instead, the cat is Sabrina's familiar, a protector and friend. The Spellmans aren't alone in their mortuary either, as cousin Ambrose, a warlock, has been placed under house arrest in the house, unable to leave. Oh, and the Dark Lord aka Satan, really wants Sabrina to pledge allegiance to him.
But like in the comics, this series has ties to Archie, or rather, Riverdale, the current TV adaptation of the Archie Comics series, also on Netflix. The producers have referred to both shows as companion shows that are unlikely to cross over. Sabrina's fictional town of Greendale is located somewhere near Riverdale, the home of Archie Andrews and gang.
For those of you who grew up with Melissa Joan Hart as Sabrina, this reboot is the last thing you want to see. That show was The Big Bang Theory Meets Annie.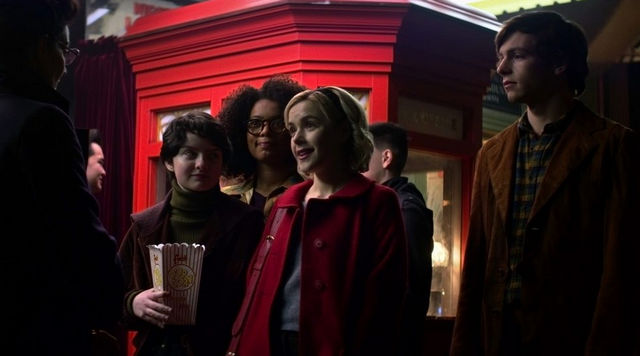 This new, darker, richer Sabrina is Supernatural crossing paths with Harry Potter, with a detour past Bates Motel and American Horror Story. There are deaths, blood torture, the occult, witches, magic, ritual sacrifice, plot twists, angst, betrayal, myth building, and we cannot get enough of this.
This Sabrina has friends in her regular American high school, where her friends and her have to deal with violence, misogyny, the uncaring education system, teen love and witchcraft. Then there is the whole other supernatural life of hexes, spells, cannibalism, murder, the Dark Lord and Satanic rituals. And when the two of them collide, fire and brimstone roar to life.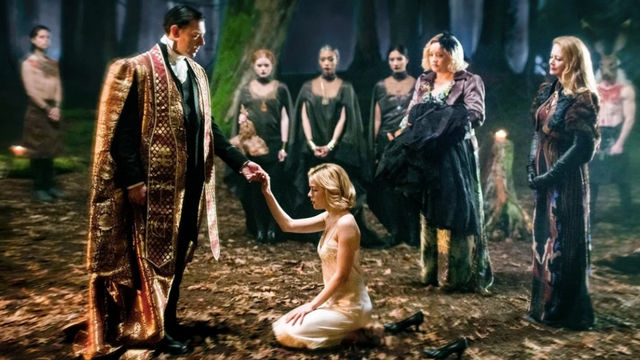 Kiernan Brennan Shipka, formerly of Mad Men fame, takes hold of her portrayal Sabrina, displaying a sense of pure independence and wanting dominance of her life, even as she addresses her own fears and uncertainty when trying to leave her demonic half behind, to embrace her human side.
At times, she is sweet, loving and innocent, as she defends her friends, goes head to head against her principal, and argues with her aunties. In other times, she offers a cold-blooded stare as she dials up her viciousness against her fellow witches and warlocks.
As Aunt Zelda, Miranda Otto takes on the role of a mother, even as she tries to balance her Satanic faith with her love for her stubborn niece. Lucy Davis is brilliant as Aunt Hilda, who is the opposite of her sister Zelda. On occasions, the script moves away from Sabrina and into the at times disastrous relationship both women have with each other, even as they live under the same roof and care for the same girl that their brother left behind.
The imagery of the devil, blood, lessons in evil might seem too much for some, and unlike the comics, this adaptation is clearly not meant for kids. But the kids can watch the old series, while the adults enjoy this refreshing take of a classic icon in what is one of the best shows of the year.
GEEK REVIEW SCORE
Summary
Everyone has a little devil in them – Sabrina just happens to take on the devil with extreme precision and focus, while entertaining a new audience.
Story -

8/10

Direction -

7/10

Characterisation -

8/10

Geek Satisfaction -

9/10
Sherwin once held the Matrix of Leadership, but wisely passed it on to the rightful leader of the household.
---

Drop a Facebook comment below!

---