In the world of tech, upgrades and new features are an expected part of the innovation process, but from better displays to faster speeds, there are only so many ways a product can be improved. This limitation isn't holding ASUS back from venturing into uncharted waters, as the Taiwanese company was the first to introduce an angled hinge, as well as the ScreenPad – a second LED screen within the touchpad – in a market that focuses heavily on numbers and specifications.
This spirit of exploring novelty gives it a leg up above the competition, and the Zenbook Pro 16X OLED continues to double down on that. Featuring a flip-up keyboard, a haptic touchpad, and the all-new DialPad, the 16-inch laptop is tailored to meet the demands of creative users, and it does so by offering a beautiful display, smooth performance, and a host of dedicated content creation tools. A reliable, powerful workhorse that delivers both productivity and leisure excellence, it falls shy of perfect with some minor caveats.
Right out of the box, the Zenbook Pro 16X retains the signature look of its family line. The brand's usual concentric swirl has been weaved subtly into the lid, which also houses a stylised logo that lights up in white when in use. The chassis cuts an elegant, no-frills figure, with its aluminum alloy material and angular sides adding a modern, polished touch to the all-black colour scheme.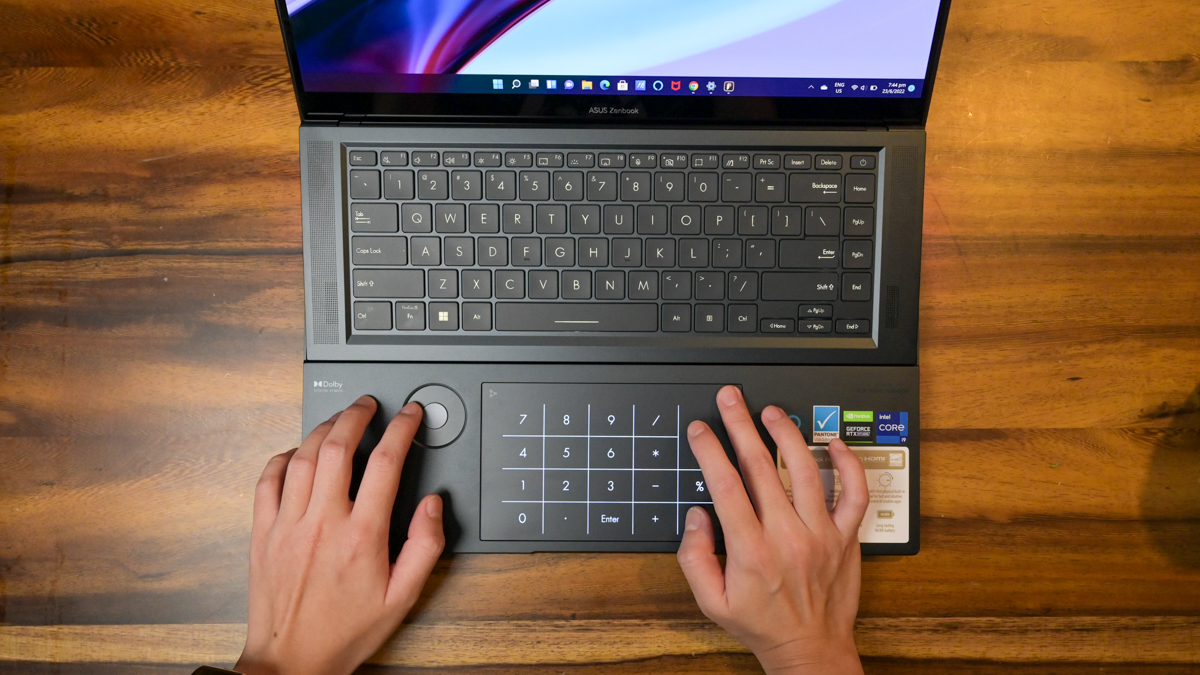 It's all a pretty standard look – until the clamshell is fully open, that is. When extended, the keyboard is raised to a seven-degree angle via a new AAS Ultra mechanism, offering greater typing comfort while exposing the additional air vents underneath. The tilt also causes the speakers, now located on each side of the keyboard, to be angled directly towards the user for improved audio transmission. Sitting flat on the base panel are the DialPad and a massive touchpad that houses the NumPad.
Courtesy of the smooth hinge, the lid can be opened with one hand easily. The body is sufficiently robust, showing no hints of flex under duress, but proves to be extremely susceptible to fingerprint and oil smear accumulation, so regular cleaning and maintenance will be required. Despite its relatively slim 17mm side profile, the laptop carries a substantial amount of heft – it weighs 2.4kg and feels heavy in the arms, and that's not counting its large 200W power brick. Be prepared to exercise some muscle-power if you need to lug it around.
The good news is that the Zenbook Pro 16X offers strong connectivity, unlike many of the more lightweight models on the current market. It ships with one USB-A port, two USB-C ports with Thunderbolt 4 support, and a charging inlet on the left side, while a full-size HDMI port, a 3.5mm audio jack, and an SD card reader – a rarity nowadays – can be found on the right. These bonus options are always welcome, especially for a content creation laptop.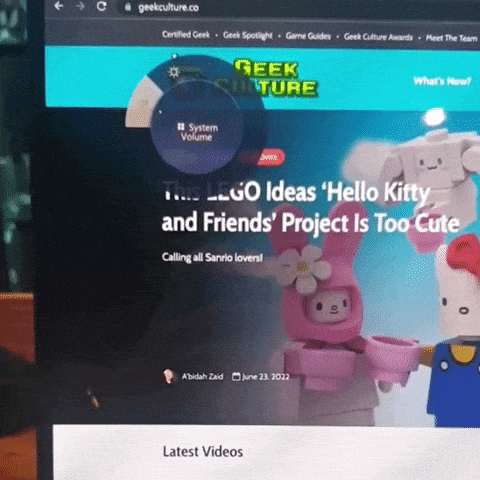 ASUS has spared no effort in establishing the device's status as a creator's pick, too. With its ease of rotary control, the newly-added ASUS Dial is a nifty and thoughtful addition to the arsenal. Pressing the button in the middle activates a function, while scrolling around the dial acts as a means to control supported apps like Adobe's Creative Suite. On Photoshop, for instance, it provides quick access to shortcut controls, including various brush options, undo, and zooming in or out of layers, which helps to streamline the workflow process. Outside of apps, the dial also offers access to day-to-day settings like brightness and volume levels, doubling up as a media control scroll of sorts.
It's a pretty decent first outing, but doesn't come without its flaws. For one, the left-side positioning of the dial makes it prone to accidental touches, especially if the user is one to rest their palms on the base panel while typing. Secondly, support is fairly limited – while the Asus ProArt Creator Hub allows for custom configuration, some smaller and less commercially-used creation apps aren't on the list, resulting in the exclusion of certain creator groups from the benefits. A little bit more refinement, and the Asus Dial may well become the true showstopper for the next round.
This trend of a creative focus carries over to performance as well. Armed with a 12th Gen Intel Core i9-12900H processor and a discrete NVIDIA GeForce RTX 3060 graphics card alongside an Intel Iris Xe Graphics GPU, the Zenbook Pro 16X is a powerful machine that impresses with its multitasking prowess. Over the course of the review period, the laptop was able to handle some photo-editing work on Lightroom smoothly even with day-to-day tasks and applications, such as multiple Google Chrome windows and tabs, Spotify, Telegram, and Adobe Photoshop running in the background.
This fluidity took a bit of a hit with video editing on Premiere Pro, where there were occasional latency spikes during the rendering process, especially with heavier workloads. For the most part, though, the laptop performs adequately well, but the drop in capabilities is nonetheless reflected in the benchmark tests.
On PCMark 10, the Zenbook Pro 16X nabbed an overall mark of 6,680, which is close to the 7,154 average, and scored best in the 'Essentials' category with 9,962. Under the 'Digital Content Creation' section, it nabbed a 9,417 total, with a breakdown detailing the difference in performance between photo and video editing: 11,490 for the former, and 6,277 for the latter.
Geekbench 5, meanwhile, registered a 1,566 single-core score and a 10,050 multi-core score, both of which are more than satisfactory figures. With the CPU Profile test on 3D Mark, the device scored 6,904 for max-thread performance, falling yet again, a little shy of the average. As a whole, it handles creative work quite competently, even if it doesn't fare as well against the rigours of video editing.
While primarily designed for content creation, the laptop is also capable of some light gaming. In Supergiant Games' Hades, it clocked 60 FPS consistently at 2,560 x 1,440 resolution, though it does stutter when more enemies are spawned. Both Inscryption and Stardew Valley proved to be an enjoyable and pleasant affair, with little to no lag observed throughout the course of gameplay.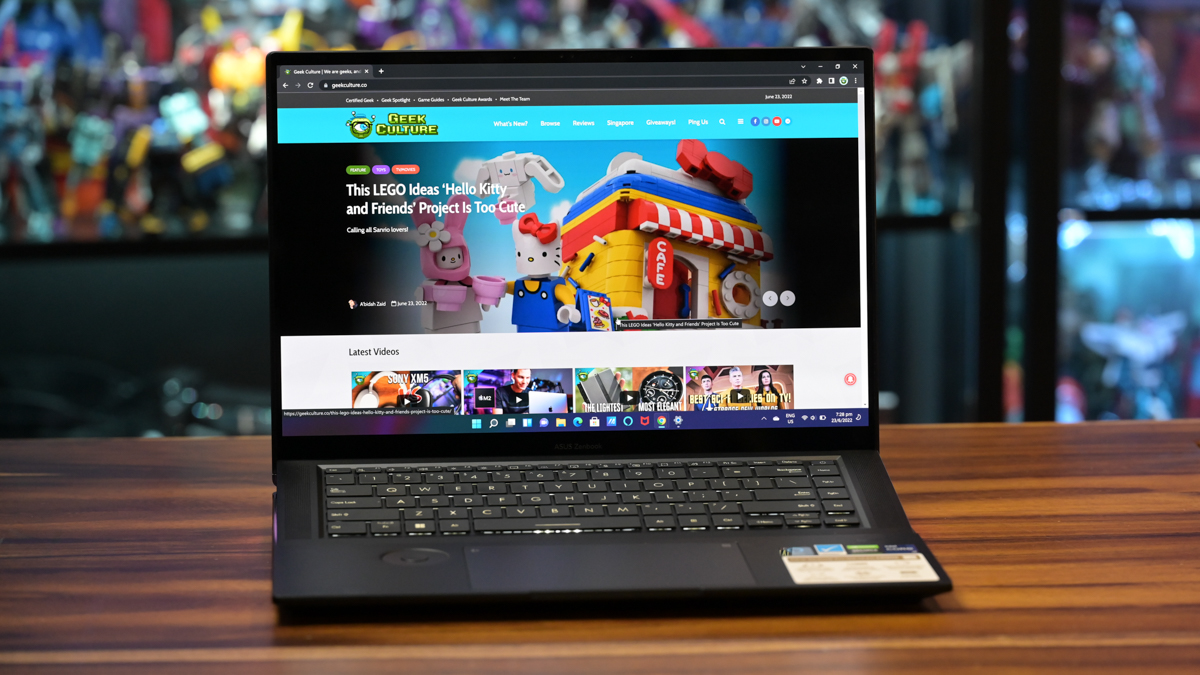 The viewing experience is further accentuated by the beautiful 4K OLED touchscreen display (3,840 x 2,400) framed by small bezels around the top and the sides. It offers support for the ASUS active pen, which is highly responsive, but the visuals are the show-stealer here. As with all excellent OLED panels, the Zenbook Pro 16X transmits incredibly vibrant, bright, and natural colours, with its Dolby Vision high dynamic range (HDR) support making on-screen images and HDR video pop. Navigating through the fiery-hot, vivid tones of Asphodel in Hades made for an enthralling visual trip, while the dusty reds of Stranger Things 4 took on a livelier hue.
Contrast levels are great, allowing inky blacks to stand out as text on white backgrounds. More notably, the display covers 100 percent of the DCI-P3 colour gamut to deliver excellent colour accuracy, which makes it a choice pick for all kinds of users, from media consumers to creators and creative professionals.
The laptop isn't a slouch in the audio department, either. Equipped with six speakers, it does a commendable job of delivering high-quality sound, with no discernable distortion at top volume, which goes a lot louder than expected. The mids and highs were bright and clear during music-listening and video-watching sessions, but the bass leaned more towards the heavy side.
A nice little feature that ASUS has added to the Zenbook Pro 16X are the sidebar lights to complement the keyboard's white backlighting. More than just aesthetic decoration, they provide various levels of feedback, and serve as an user-configurable indicator of sorts – red lights, for instance, denote low battery, while other activations, such as getting a new email in the inbox, are marked by different colours.
Despite the occasional usefulness, the fancy lighting can be a bit excessive for those who prefer a more low-key design, and it'd be nice to include the option to turn it off. The keyboard itself is comfortable, and bottoms out nicely with a nice click, though mechanical fans may find its key presses a little too soft for their liking.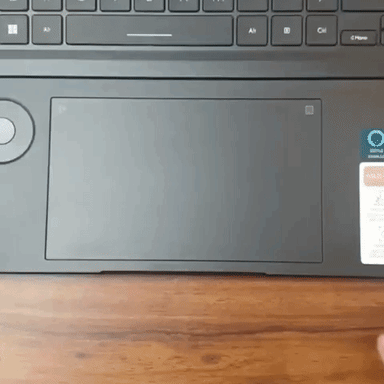 Accompanying it is the returning 150 x 90mm haptic touchpad with NumberPad 2.0, which allows users to switch between cursor navigation and data or numerical computing. It's responsive for the most part, and delivers consistent, reliable feedback, barring occasional mishaps with registering clicks. Toggling between the two modes is a simple affair: just touch the switch on the upper right-hand corner of the touchpad, and the keypad will either light up or disappear into the backdrop.
A common issue with laptops is overheating, which can result in throttle and decreased performance, especially for creator-focused builds. There are a lot of models on the market that claim to use superior cooling technology, but ASUS has actually walked the talk here, offering top-grade heat dissipation through the space created by the keyboard lift.
Indeed, the Zenbook Pro 16X remained cool to the touch when running multiple day-to-day apps and even while doing some light gaming. Carrying out several GPU-intensive tasks at the same time will raise the temperature, though not to an unmanageable level. The enhanced airflow is a welcome upgrade, and comes by the way of ASUS' proprietary IceCool Pro system that features two IceBlade fans, each of which boast 97 3D-curved blades.
The combination of power-hungry hardware and an OLED display means battery life could be a concern, so the laptop comes juiced with a 96-watt hour battery. On paper, it's estimated to last around 10 hours; in a real-world scenario, the battery life clocked a runtime of around nine hours on standard usage (surfing the Internet, listening to music on Spotify, watching YouTube videos, working on Google Drive and WordPress, and chatting on Telegram and Discord). That isn't too far off ASUS' claim, and should be sufficient to last users through an 8-hour workday.
At S$4,999, the Zenbook Pro 16X OLED can be quite the investment, but it's one that pays off handsomely several times over. The laptop is a powerful machine for both work and play, topped off with the graceful flourish of a modest, hardy design, beautiful visuals, smooth performance, and excellent cooling. Just be mindful of its heft, limited ASUS Dial app support, and for creative professionals, the weakened video editing capability.
The 2023 release of the Zenbook Pro 16X OLED (UX7602BZ) sees some significant upgrades to its specifications, with a 13th Gen i9 CPU, NVIDIA GeForce RTX 4080, with ASUS Supernova SoM Design (reduction of motherboard core area by 38% and increased cooling efficiency). It is available for S$6,399.
GEEK REVIEW SCORE
Summary
A near-perfect tool for content creation and entertainment, the Zenbook Pro 16X OLED is shaping up to be a mainstay with plenty of features to enjoy, and little to complain about.
Aesthetics -

8.5/10

Build Quality -

9/10

Performance -

9/10

Value -

8.5/10

Geek Satisfaction -

9/10