Desktop or laptop. There's no clear cut winner on this, especially since different folks have different usage scenarios. But if Apple's iMacs have shown, there is something to be had for an all-in-one, or AIO machine. For Windows users, the variety has not been great but as your study/work desk fills up with various bits of clutter, it gets increasingly harder to fit your bulky monitor and PC all into one space.
The Asus Zen AiO 27 is a desktop replacement by the Taiwanese PC giant that challenges Apple's iMac, as is a sleek, powerful PC that can match up to the increasing demands of its users in any workspace.
Featuring a relatively streamlined, subtly chic design that would certainly make it a good fit in a modern home or office setting, the machine offers a navy blue brushed metal-effect finish with a subtle rose gold trim enhances that suave, modern feel to it. Its base minimises the use of cables in favour of wireless features, including a keyboard and mouse.
And speaking of wireless, there's also a Qi wireless charging pad on the surface of the base. It's actually surprisingly easy to miss at first, but once you're more used to using the AiO 27, you'll find yourself using it quite a lot, as its fast-charge feature ensures a rather speedy 45 minutes to an hour to full capacity.
The Zen AiO 27 seems to favour minimalism, as you can see on the rather meagre amount of inputs on the . To the front, there's an SD card reader. On the right side is a USB 2.0, USB 3.1 Type-C, as well as a 3.5mm audio jack. Behind, you'll find three more USB 3.1s, 1 HDMI-in, 1 HDMI-out, an Ethernet cable, and a power input.
This amount of inputs is actually more akin to that of a laptop, which may frustrate some of you who rely on a lot of USB attachments in a desktop setting. The wireless input for the keyboard and mouse already takes up a slot, leaving you with effectively one less input to use. As such, you might want to use adaptors to offset this design choice, but even then it defeats the aspect of the minimalist feel Asus wants to achieve with the Zen AiO 27. In this case, it's sort of a lose-lose situation for both Asus and the user.
One might think that the centrifugal force of the Zen AiO 27 might be a little unbalanced due to the small base and large monitor, but the base is heavy enough to ensure the whole thing doesn't ever topple. This frees up more space at the table, if you're a stickler for cleaner setups.
The display is an eyeful (literally). The 24-inch 4K UHD NanoEdge display delivers on the visual end, providing you with some of the crispest images around.
What makes it even more interesting is that it is also houses a multi-touch function, which adds an extra layer of interactivity with the Zen AiO 27, which works rather well for those who like a tablet-esque function on their desktops.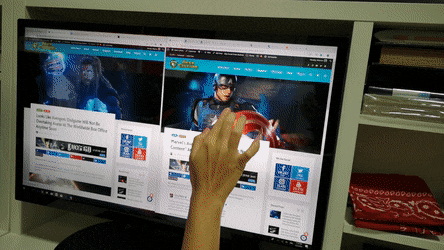 Standard touch functions such as single-finger tapping or swiping are present, as is pinching to zoom. While the sensitivity is rather good, you're only limited to those touch options. As such, it would be wise not to rely on it too much – it's actually rather redundant considering how limited the touch functions are.
That said, the large display also makes it quite taxing on your eyes, as the brightness can be quite overwhelming. To counter this, the Zen AiO 27 actually comes with a wireless mouse and keyboard, which allows you to work on it at a safe arms-length distance.
The wireless peripherals no doubt add some utility to the AiO 27 in that sense, but let's be clear here — their overall functionality is basic at best. The keyboard, in particular, while lightweight and streamlined, feels very cheap and not at all very smooth when you type. The spacing in between the keys feel a little too much at times, at times requiring the user to stretch their fingers to the limit to be able to reach certain keys, which can be quite uncomfortable at times.
There also seems to be a notable lack of function or media keys as well, with no playback buttons installed at all. This is a waste, considering there are several blank areas on the function keys, which, one might imagine, could've been rearranged to easily slot the media keys in seamlessly. This feels like an oversight on Asus' part, as media keys are somewhat of a staple in today's keyboards.
The mouse is nothing to write home about either. It only has the standard right-middle-left mouse buttons. The low DPI makes it a rather clunky mouse to use, and can be felt especially when you're gaming on the Zen AiO 27.
The stand that the display is mounted on provides some neat adjustability making this a pretty ergonomic display to match your viewing preference. The frontal tilt can swing about 15 degrees up or down, while the horizontal swivel allows for 45 degrees of turning. You can also slide it up and down as well. The movements on the stand are rather smooth despite the stand looking rather flimsy, so long as you don't use too much force.
As for the stand itself, it actually doubles as a housing for a 16W Harman/Kardon speaker. The speakers themselves are found on the back of the display. We've done a little testing on these playing some music on Spotify, and audiophiles will be impressed by the amount of punch in the bass most especially. While it's not anything like a high-end soundbar, it's certainly a step up from other all-in-one desktops in the market.
Another notable utility feature is the in-built infrared camera at the bottom of the screen. Not only does this function as a webcam, but it also serves as a facial recognition scanner. It's actually pretty accurate and fast. No longer do you need to worry about forgetting your password or your PIN — simply sit in front of the screen and you'll be logged in within milliseconds.
The Asus Zen AiO 27 we reviewed came with the following specifications:
CPU: 8th-Gen Intel Core i7-8700T
GPU: NVIDIA GeForce GTX 1050
RAM: 16GB DDR
Storage: 2TB HDD
And here are the results from our benchmark tests:
Cinebench r15
OpenGL: 89 fps
CPU: 1003 cb
Unigine Heaven 4.0
FPS: 48.4
Score: 1219
Min FPS: 7.4
Max FPS: 231.5
While not the most impressive of stats across the board, the base internals on the Zen AiO 27 allow it to still be a versatile machine. Lighter tasks such as editing images on Photoshop, surfing the net or watching videos on YouTube are generally smooth and lag free. So far, so good for the Zen AiO 27.
The real test, however, comes from video editing, gaming or basically running multiple apps in general. We found that performance dips rather drastically when rendering videos and playing titles such as Overwatch. The input lag, though occasional, can sometimes be frustrating, making work on the AiO 27 much slower. If you're gaming, prepare to experience longer load times and possibly more character deaths, even in older games such as Diablo 3.
It's bizarre that the Zen AiO 27 falters quite heavily when performing these tasks — especially for the games, whose graphics and processor requirements aren't even close to that of behemoths such as Shadow of the Tomb Raider and Battlefield V. In that case, the Zen AiO 27's versatility is marred.
Thankfully, you can upgrade the hardware on the AiO 27. Just simply lift the lid on the base, and you'll be able to see and replace the hardware you want to replace inside. However, you're limited by space since the base is rather compact, so you'll have to be picky about your replacement components, or else they won't be able to fit.
Overall, the Asus Zen AiO 27 is a solid general-purpose all-in-one desktop. Like most AiOs, you're limited by hardware and design choices, so you'd have to work with what you have. Furthermore, the price of S$2,798 makes it a rather tough sell as well — you can get a laptop that covers even less desk real estate and performs even better for the same price.
---

Drop a Facebook comment below!