When it comes to gaming laptops that blend high horsepower with flashy designs that scream RGB, one can look no further than the ASUS Republic of Gamers line of gaming machines and peripherals. The Taiwanese PC manufacturer has established itself as a gaming powerhouse, and rightly so with all its quality laptops and desktops that have graced the market over the past three decades.
This time, ROG has announced a new lineup of gaming laptops and desktops that will put the latest AAA games to the ultimate test, while future-proofing users for upcoming titles over the next few years.
Just to give you a bit of an outline, these machines all come with new 10th-Gen Intel Core processors that provide users with silky-smooth performance in just about any game, coupled with top-notch graphics thanks to NVIDIA GeFore RTX 20 series graphics cards, and custom Intelligent Cooling systems to ensure they stay cool even during long gaming sessions.
The entire ROG lineup is available now at the ASUS Online Store, ASUS Exclusive Store, and all authorised retailers. Here are the prices of each item:
---
ROG Zephyrus Duo 15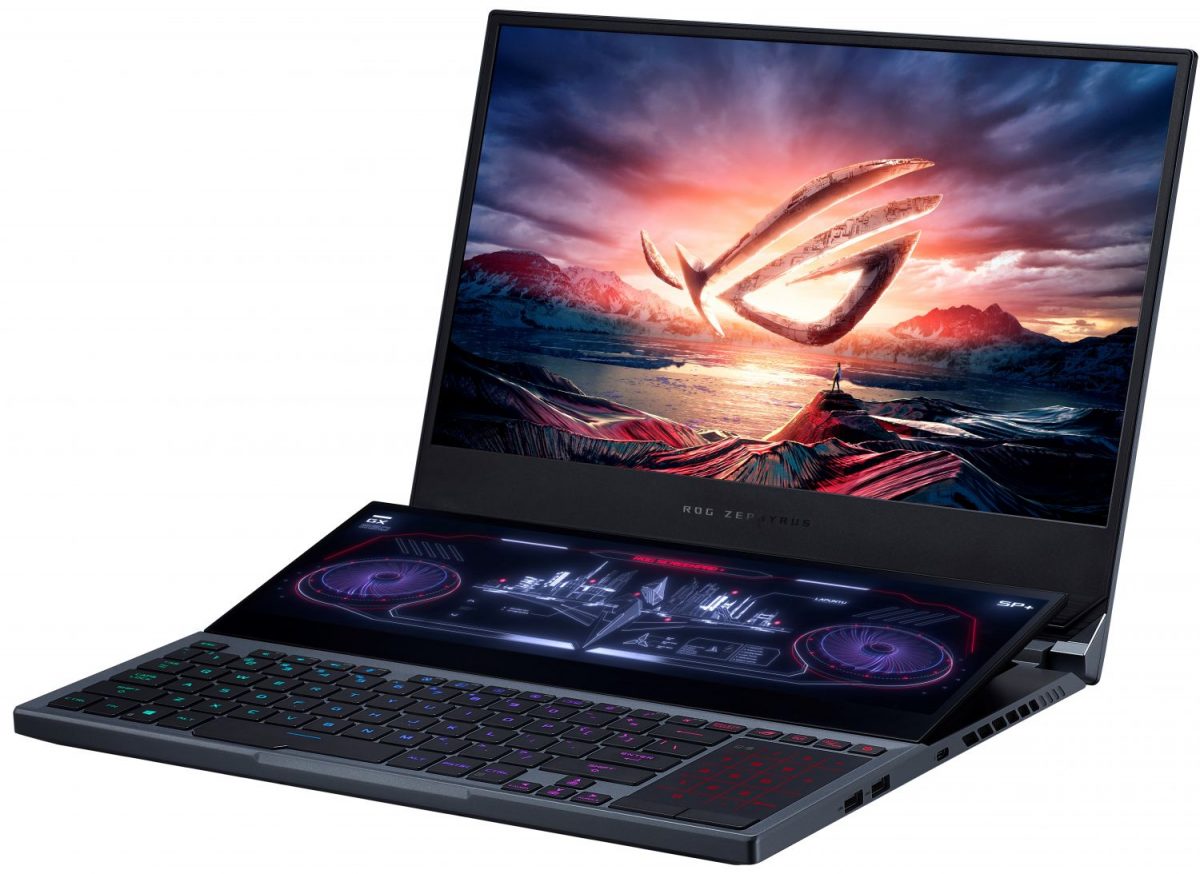 Leading the lineup is none other than the ROG Zephyrus Duo 15 (read our review). If you remember last year's ASUS ZenBook Pro Duo, which turned many heads with its proprietary secondary screen, the ScreenPad Plus, then this new offering might feel a little familiar.
The twist, of course, that it's catered specifically for gaming, Most strikingly, it sports an all-new ROG ScreenPad Plus, which boasts a 14.1-inch 4K display, and can tilts up at a 13-degree angle to give gamers an added edge (pun intended) when playing their favourite games. Whether providing visuals for networking apps such as Discord, or control their favourite playlists on Spotify while they slog through games, or even boot up another game to play at the same time, it can serve as a really handy tool for just about any purpose.
Of course, one can't discount the fact that the ROG Zephyrus Duo 15 packs a ton of sheer firepower to fuel its two screens, equipped with a 10th-Gen Intel Core i9 CPU as well as an RTX 2080 SUPER GPU. The main screen boasts a lightning-fast 300Hz Full HD display that makes it a viable choice for competitive gaming. The PANTONE Validated colour gamut lets it function as a solid option for content creators as well.
The ROG Zephyrus Duo 15 will retail at S$6,998.
---
ROG Zephyrus S15
Where the ROG Zephyrus Duo 15 is the blaring behemoth of the gaming laptops in this lineup, the ROG Zephyrus S15 lies on the other end of the spectrum. Unlike of the rest of the laptops here, this 15-inch machine forgoes ASUS' traditional loud (and usually heavy) RGB design philosophy in favour of a more sleek, subtle, and lightweight approach at just 1.9kg.
Don't be fooled by its simple design, though; the ROG Zephyrus S15 is designed to run games almost as smoothly as top-end PCs, while cramming all that power into a small and portable frame. Alongside a 10th-Gen Intel Core i7 CPU and a whopping 32GB of RAM, its graphics options can go up to the RTX 2080 SUPER with Max-Q design, which supercharges AAA PC titles such as Death Stranding and Horizon Zero Dawn without so much as breaking a sweat. Its 300Hz display with 3ms response time means victory on the likes of Overwatch, Rainbow Six: Siege and Valorant are all but assured as it gives players the ability to react within a heartbeat.
The ROG Zephyrus S15 will retail from S$4,398.
---
ROG Strix Scar 15
The ROG Strix Scar 15 is the continuation of ASUS' esports-focused gaming laptop series. From what we've seen in last year's Strix Scar III, the signature ROG Keystone II makes a comeback here. For the uninitiated, this NFC-enabled device can be removed from the Strix Scar 15 and placed in another Strix Scar gaming laptop that supports it, which is ideal for pro gamers who are constantly on the move and don't want the hassle of having to lug their gaming laptop around, and easily set up their gaming preferences on every laptop they use at tournaments.
The Strix Scar 15 is also front-loaded with top-notch hardware, including up to the latest 10th-Gen Intel Core i7 processor and NVIDIA RTX 2070 SUPER GPU for optimal performance on any competitive title. Furthermore, it comes with 16GB of RAM to ensure apps and games run as smooth as possible, and a blazing-fast 300Hz panel lets pro gamers take full advantage of the massive frame rates provided by the GPU and CPU.
The ROG Strix Scar 15 will retail from S$2,898.
---
ROG Strix G15/17
While the first three entries were slightly more on the premium end of the budget spectrum, the ROG Strix G15 and G17 are for gamers on a budget. The beauty about these laptops is that they both cost just under S$3,000, but yet they pack a lot of punch in the processing and graphics end.
Just for show, both models come in 10th-Gen Intel Core i7 processors, as well as graphics card options that range up to the NVIDIA GeForce RTX 2060. Taking advantage of its hardware are 144Hz displays that ensure really smooth sailing for esports titles as well.
The ROG Strix G15 and G17 will retail from S$1,998 and S$2,398 respectively.
---
ROG Strix GT15/35
Capping off the lineup is ASUS' latest high-power tower gaming desktops. Of the two new models that have been launched, the ROG Strix GT15 providing a more compact option, weighing at just 10kg with a built-in carrying handle that makes it perfect to bring around for LAN parties and tournaments. Like every other entry in this lineup, the Strix GT15 comes equipped with graphics cards up to the NVIDIA GeForce RTX 2060 SUPER.
The ROG Strix GT35 is the bulkier brother to the GT15, and rightly so. This behemoth is built like a tank, and can take a ton of processing and graphical punishment thanks to its 10th-Gen Intel Core i9 processor, and NVIDIA GeForce RTX 2080 Ti GPU respectively. Also, it boasts a superior cooling system that includes a 240mm radiator that comes with liquid cooling to chill the CPU while it powers up games and apps, as well as a multi-zone chassis for better airflow.
The ASUS ROG Strix GT15 and GT35 will retail from S$1,498 and S$3,998 respectively.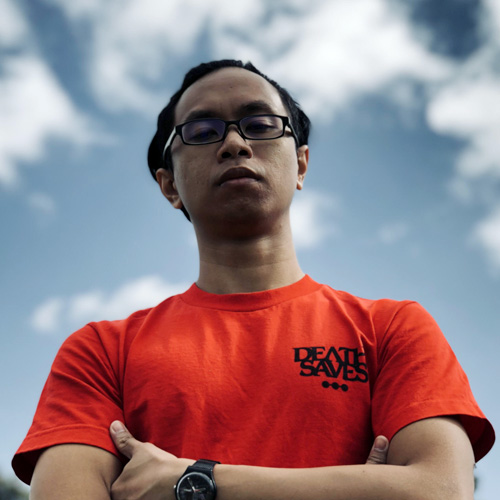 Marion has a serious RPG addiction. Sometimes it bleeds into real life; he forgets to sleep because he thinks he has a Witcher's body clock. Forgive him in advance if he suddenly blurts out terms such as "Mind Flayer" and "Magic Missile", because never once does he stop thinking about his next Dungeons & Dragons game.
---

Drop a Facebook comment below!