ASUS ROG has been absolutely killing it with its lineup of gaming PCs this year and with esports becoming even more of a prominent fixture in today's entertainment world it, falls on PC manufacturers to bring pro gamers up to speed on the most powerful gaming gear one can get their hands on for tournaments and the like. With the ASUS ROG Strix GT35 as the latest in its line of esports-focused gaming laptops and desktops, the Taiwanese tech giant has once again proven itself.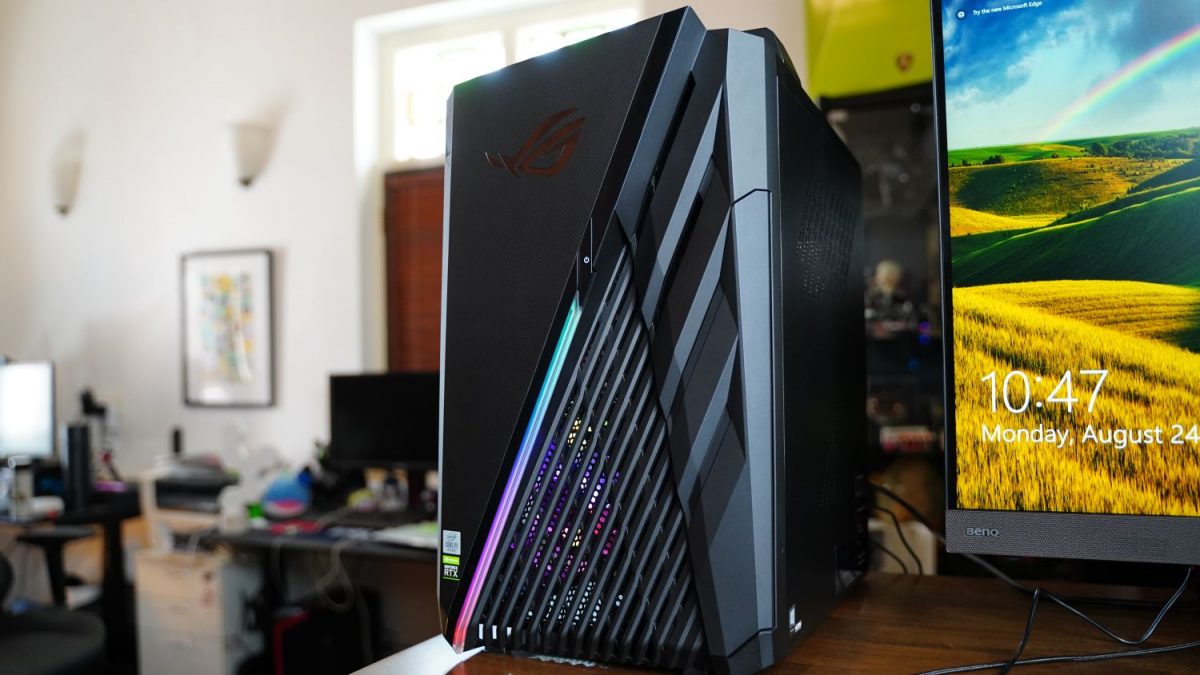 Sitting pretty at the pinnacle of the company's pro gaming lineup, the ASUS ROG Strix is a bulky beast of a gaming PC that comes equipped with just about the best hardware currently available in the market (Nvidia's RTX 30 series had not been available then, so it doesn't quite count into the equation at the time of writing). With options going up to the likes of the NVIDIA GeForce RTX 2080 Ti graphics cards and 10-core Intel i9 processors, saying it is more than capable of handling any gaming task at hand (and then some) is actually an understatement. not that anyone's complaining if you have the dough.
Let's get this right out of the bat: it is probably best to consider whether you have enough space to even house this massive machine. Measuring 27.9cm by 43.3cm by 50.1cm and weighing 15kg, this is definitely not for the faint of heart in terms of sheer space. It also doesn't help that it comes with a rather oblong shape, so those with even a tiny bit of OCD beware. Thankfully, like the ROG Strix GA15 before it, the GT35 comes with a carrying handle on the hood to aid in transportation of this mammoth around (but then again, who exactly in their right mind would lug this around for LAN parties?).
Don't be fooled by the sheer size of the GT35, though; its bulk heavily belies its processing speeds. For show, here's a quick lowdown on the main specs on the review unit we received:
CPU: Intel Core i9-10900KF Processor @ 3.7GHz (10 cores, 20 threads)
GPU: NVIDIA GeForce RTX 2080 Ti
Memory: 2x 16GB DDR4-3200 RAM
Storage: 1TB M.2 NVMe PCIe 3.0 SSD + 2TB SATA 7200RPM 3.5 HDD
Price: S$4,998
If you've used or at least seen the GA15, you might find that the GT15 comes with a ton of visual similarities aside from just the handle and unconventional shape. A single RGB strip runs diagonally across the front of the desktop, which makes it look a lot more subtle and understated that it seems. The chassis is riddled with inlets at the top and sides to facilitate a much better airflow and a constantly cool temperature while using it for long periods of time. The underrated retractable headphone hook makes its return as well, which is always nice to have if you need to save up on space at the desk.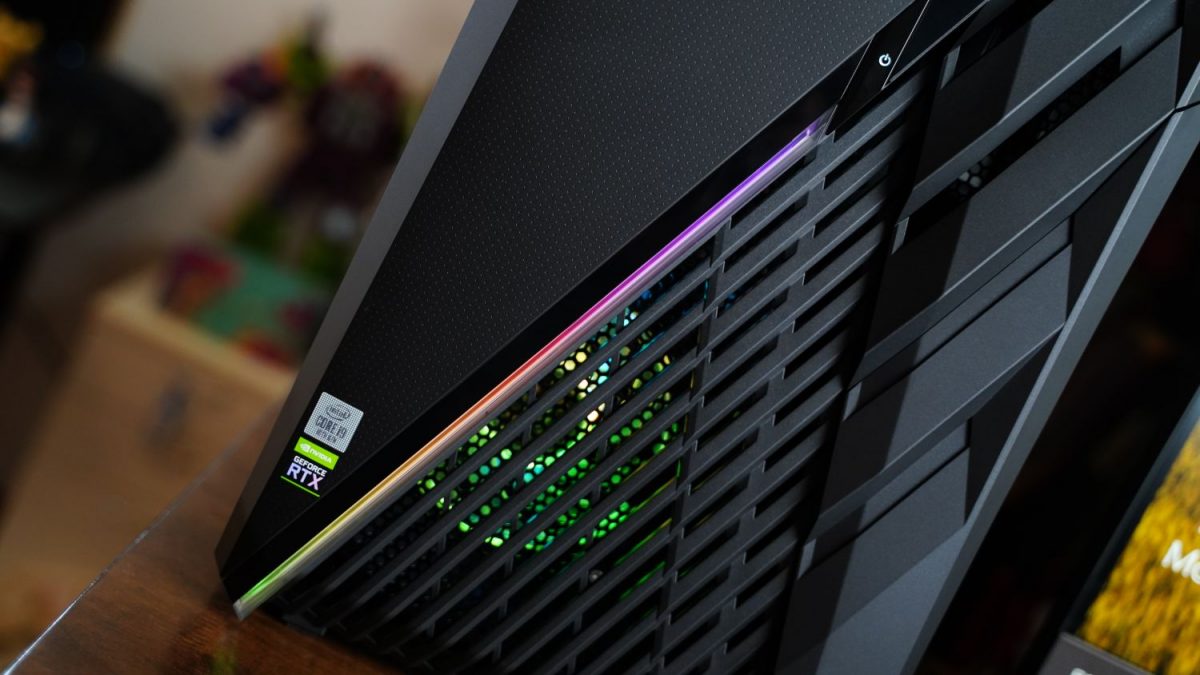 Also, the side panel slides away to reveal the internal hardware, which can be modded and outfitted with other components (so long as they fit into the motherboard, of course). This also means one could easily swap the RTX 2080 Ti with the upcoming RTX 30 GPUs and 11th-gen Intel i9 CPUs once they launch, which will no doubt entice modders looking for the best upgrades. As if that wasn't enough, the front face opens up to reveal two hot-swap SSD bay slots that allow for quick and dirty storage expansion (as if 3TB of total built-in storage space wasn't enough)!
Though the GT35 is primarily designed for esports, it comes equipped with a host of ports for a wide range of compatibility options for various devices and accessories. Here's what you get:
Front ports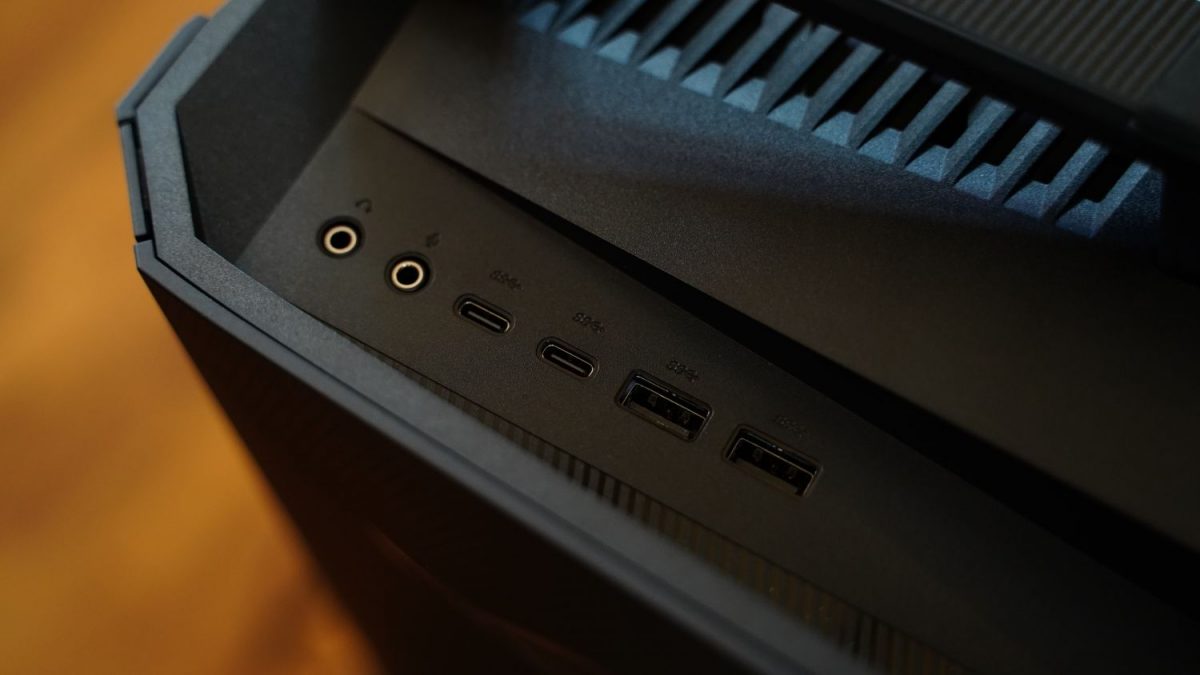 2x USB 3.2 Type-A
2x USB 3.2 Type-C
1x 3.5mm headphone jack
1x 3.5mm audio jack
Rear ports
1x USB 3.2 Type-C
2x USB 3.2 Type-A (Gen 1)
2x USB 2.0 Type-A
3x USB 3.2 Type-A (Gen 2)
1x Mic-in
1x Center/Sub-woofer
1x Front speaker out
1x RJ45 2.5G Ethernet
1x Rear speaker out
1x Line-in
1x S/PDIF-Out
1x HDMI-Out
1x DisplayPort
That is a staggering amount of utilities available on a machine geared specifically for esports. This means that it definitely is suitable for power users who prefer to hook up a ton of peripherals to their PC.
Another defining aspect of the ASUS ROG Strix GT35 is the presence of the ROG Keystone, as seen on the likes of the ASUS ROG Strix Scar III laptop. A staple for pro gamers, the Keystone is a detachable shadow drive that serves as a backup of users' gaming profiles (lighting, keyboard mappings, macros etc.) on the ROG Armoury Crate app. While it serves little to no purpose for conventional use, it could make the difference between precious time wasted setting up user profiles and preferences on PCs and some much-needed warm-up and practice before a competitive match in esports tournaments.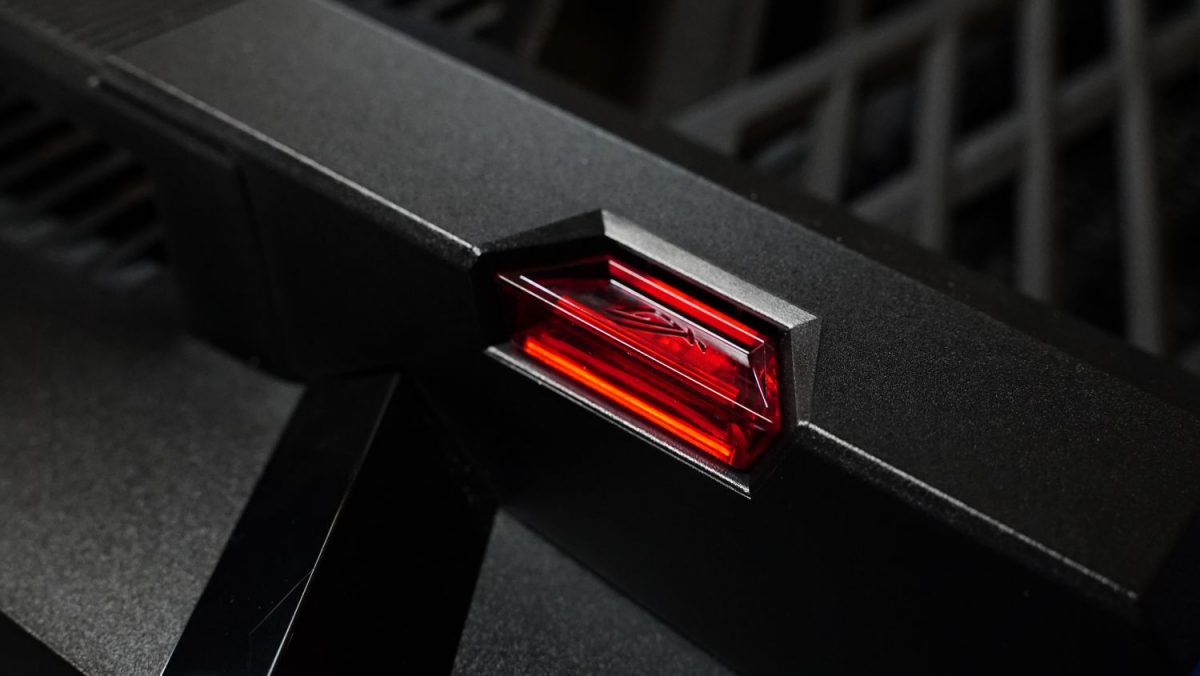 Here are the various benchmarks we ran on the GT35:
PC Mark 10
Geekbench 5
Single-core score: 1352
Multi-core score: 10893
Cinebench R15
OpenGL: 212.17 fps
CPU: 2552 cb
Unigine Heaven 4.0
FPS: 99.1
Score: 2496
Min FPS: 39.1
Max FPS: 102.3
It goes without saying that the GT35 is a powerhouse. It barely even sweats when running even the likes of Call of Duty: Modern Warfare and Monster Hunter World at a constant 60fps with the graphics settings cranked all the way to Ultra. This is definitely thanks to a beautiful dovetailing of the 2080 Ti and the 10-core i9 processor, which makes running most, if not all, AAA titles a breeze. Frame rates pretty much stayed at the 60 mark in most of the games we tried, with only very occasional dips for when things get chaotic on the more graphically-demanding games (and by occasional, we mean about once in every 10 – 12 hours of gameplay).
Arguably the only title that gave it a significant frame rate dip was the recently-released Microsoft Flight Simulator, which often is the case especially when flying in stormy or rainy weather. The game itself took a rather long time to load, even with the 10-core processor running at full speed, but this is expected given the sheer graphical complexity of this one title, and is actually a good benchmark for testing high-end PCs like this one.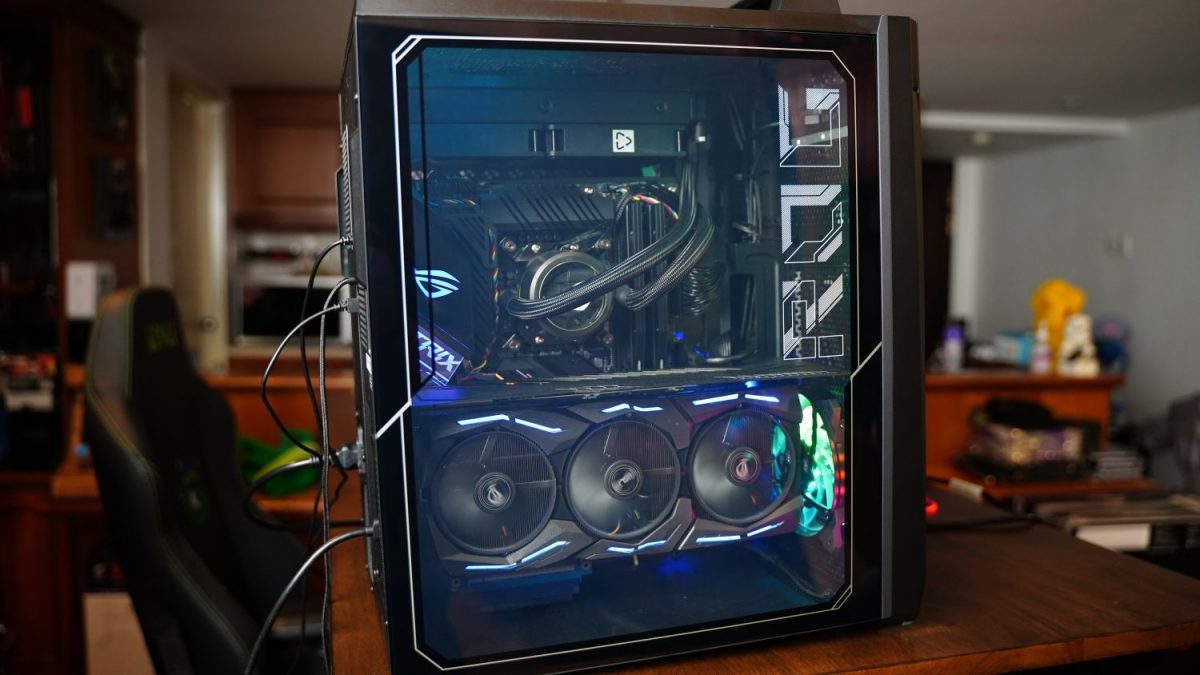 More aptly, it readily exceeds the expectation of being a powerful tournament-ready machine, running esports titles such as Dota 2, Overwatch, Apex Legends, and even massively multiplayer titles, such as Fall Guys or Final Fantasy XIV. Typically, these online games don't require much in terms of graphics, and it's no surprise that running these particular titles is a walk in the park for the GT35.
While the GA15 was a rather noisy machine, the GT35 – despite being roughly twice as wide – is actually the much quieter one. This is one of the advantages of having a big, roomy chassis, as the airflow and overall noise made by it is significantly reduced as a result. It also remained constantly cool throughout our 10-to-12-hour days of use, which is about the amount of time pro gamers train on average. This makes it perfect for both tournament and training situations as a result, as it can perform comfortably even after hours of use.
The ASUS ROG Strix GT35 isn't just a very good gaming PCas it is as good as a workhorse you can invest in. The only downside, other than its immense bulk, is the rather ostentatious asking price of S$4,998 (well, there's a slightly cheaper S$3,998 version that comes with a slightly weaker processor and graphics card, but still), but if one can get over those hurdles, it's certainly an investment for the next decade or so.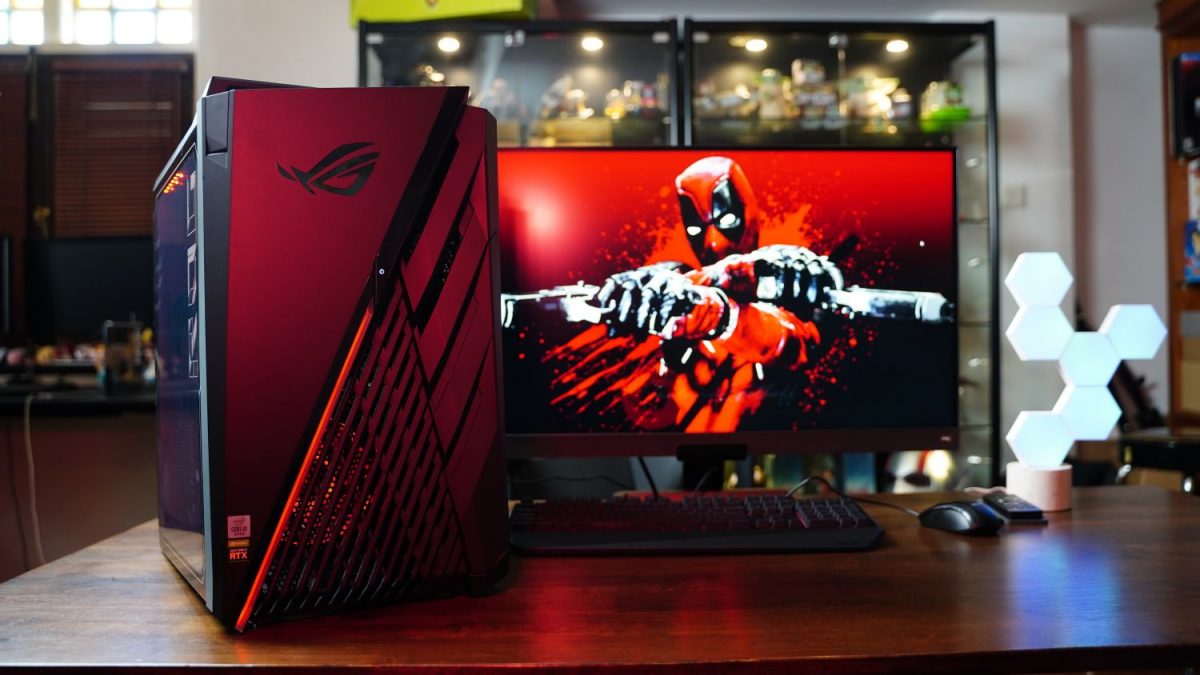 GEEK REVIEW SCORE
Summary
The GT35 is not just a behemoth in the literal sense, but more importantly in performance, as should be the case with a top-tier gaming PC. Should you consider parting with a chunk of change for this, you can rest assured you're future-proofed at least for the next decade or so of PC gaming.
Overall
9.1/10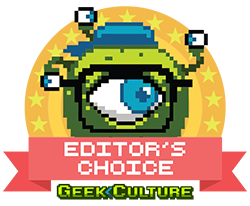 Aesthetics -

8.5/10

Build Quality -

9.5/10

Performance -

10/10

Value -

8/10

Geek Satisfaction -

9.5/10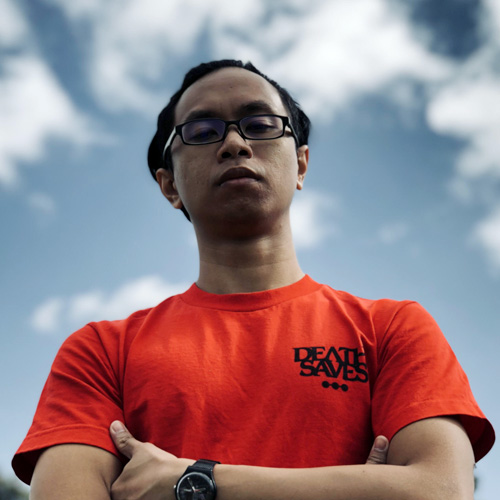 Marion has a serious RPG addiction. Sometimes it bleeds into real life; he forgets to sleep because he thinks he has a Witcher's body clock. Forgive him in advance if he suddenly blurts out terms such as "Mind Flayer" and "Magic Missile", because never once does he stop thinking about his next Dungeons & Dragons game.
---

Drop a Facebook comment below!