Mention gaming peripherals, and the word 'RGB' comes immediately to mind. In fact, it might glow and blink in several shades of colours. The latest lexicon in the gaming industry, it's an exceedingly common sight for gaming-oriented products to be decked out in vibrant rainbow hues, from those at the higher end of the price spectrum, to even the entry-level ones.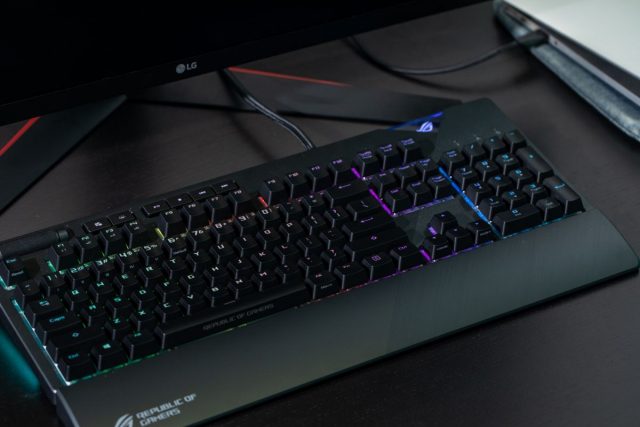 Naturally, some of these are pulled off tastefully, while others turn out to be a disastrous affair drenched in colourful vomit. Fortunately for industry giant ASUS, their ROG Strix Flare mechanical gaming keyboard falls into the first category, and enters the fray with just the right touch of flair and style.
Sporting an impressively solid build and a sleek, elegant cut, it's well-furnished with a dark gray matte finish that blends nicely into the overall design. The monolithic aesthetic ensures that any odd shapes, protrusions, or unwarranted angles are absent, which means none of those fancy-schmancy design alternatives outside of the basic rectangle shape that a handful of other keyboard models sport.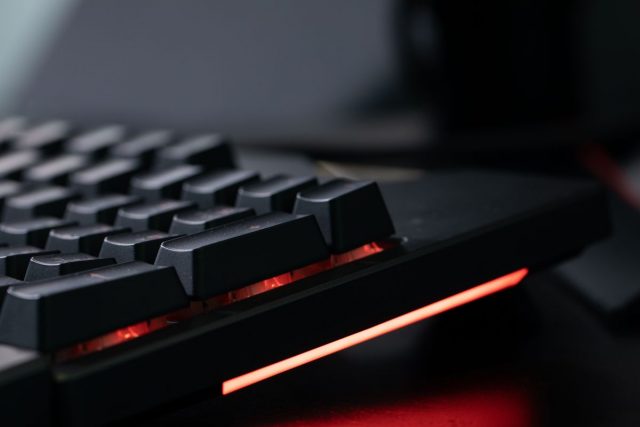 With the Strix Flare directly catered for gaming enthusiasts, it's definitely no exception to the RGB trend. Courtesy of a reflective white plate under the keys, the backlight can be extremely bright under illumination in a dark room, with colours evenly distributed across the entire length of the keyboard. Despite that, the lighting is far from being overly-harsh: the effect is toned down by a soft underglow exuded by an additional LED strip on each side of the keyboard, allowing for light to seep out from beneath.
Where customisation is concerned, the options are accessed through the ROG Armoury II software – one part of the entire ASUS Aura Sync lighting ecosystem – where a selection of 13 different lighting presets will be available, including the brand-new raindrop and current effects. For those seeking finer control, there's also the per-key lighting customisation support, in which a colour or lighting effect can be assigned to a single key, as per the user's preference.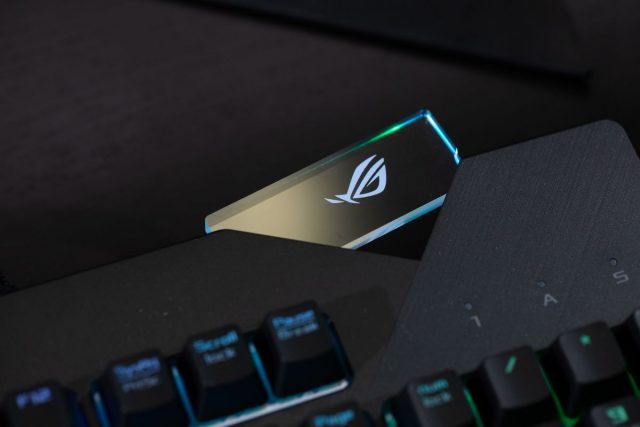 And while the RGB experience isn't one that's exclusive to ASUS or the Strix Flare, its customisable illuminated badge certainly is. An acrylic piece that bears the ROG logo, it comes with a spare blank copy in tow, so players can apply their own design onto the surface. Visually, it does help to bring out the RGB lighting, but also serves as a standout feature of the keyboard – especially important in an oversaturated market where every model sports a generic look.
A small, nifty touch to the keyboard sees a USB 2.0 passthrough residing near the connecting wire, allowing for an extra port to hook up any gaming peripherals as needed. It's certainly useful, until the thick, cumbersome cable has to be dealt with.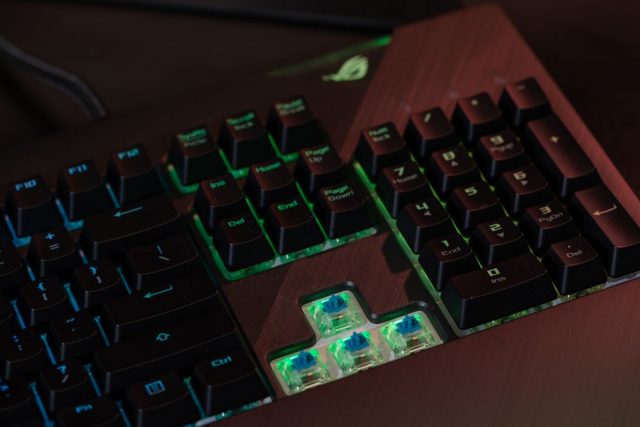 Being armed with Cherry MX switches means the Strix Flare comes in four coloured switch options: red, brown, blue, and black. The unit used for this review is of the blue variant, and that naturally means a more clicky feel, and a generally noisier typing experience. Fans of the membrane keyboard may find the change a little jarring, but the noise easily fades into background droll after some time.
With an actuation force of 45g, not much pressure has to be applied to the keycaps. They can be pressed down with just slight force, and display little to no flex while at it. The build is firm as well, sporting no wobble to the sides, with a nice touch to boot.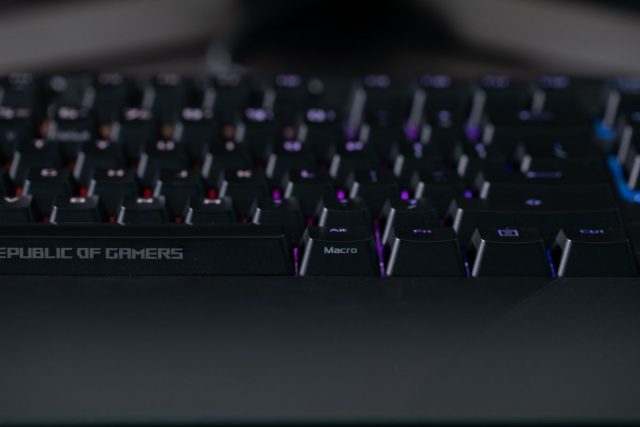 Unfortunately, being decked out in ABS plastic would mean that the keycaps are susceptible to wear and tear quickly, and it was observed that the spacebar lost some of its surface shine after just a week of use. It's a common issue among the other brands, however, so perhaps this is something that can be overlooked for the less fastidious individuals.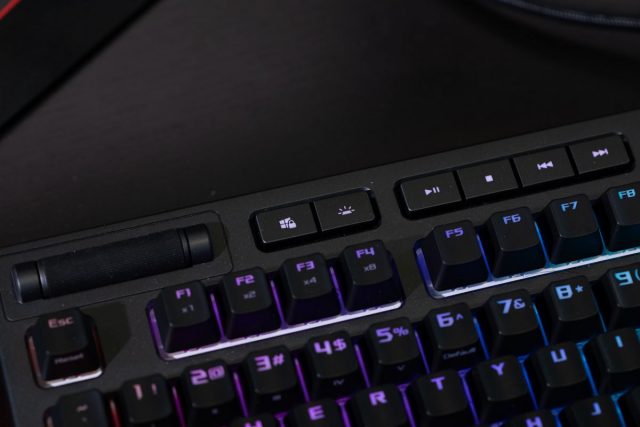 A standout feature from the standard-use keyboards, and increasingly becoming a staple for gaming models, is the dedicated media control keys that reside on the top left of the Strix Flare. Boasting a volume scroll and a couple of handy keys, such as Windows Lock, its placement allows for adjustment changes without the need to relinquish one's hold on the mouse, making it more convenient for both southpaws and right-handers alike.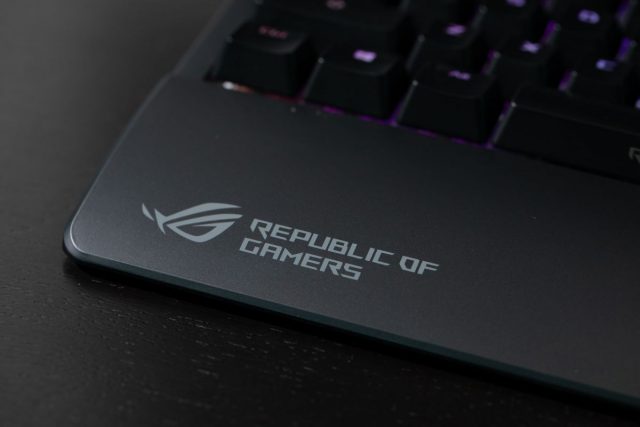 For an extra touch of ergonomics, ASUS has also included a plastic detachable wrist rest that's sufficiently sturdy, but sports a cheap look. It holds up well enough, and can easily be secured to the keyboard, though the lack of a padded surface means a drop in comfort level. And while all of these are pretty small gripes, they shouldn't be present in a S$299 keyboard, where a much higher quality is expected.
On the note of price, this is where the Strix Flare loses that competitive edge, especially with its primarily plastic build. Even the lower-end models, such as the S$129 Logitech 413, have taken to a partial mix of aluminium alloy or steel with plastic, and it's certainly bizarre that ASUS has not adopted the same approach – even more so for a flagship release. In fact, when compared to the regular, more affordable counterpart of the Razer Huntsman Elite keyboard (S$229.90 to S$339), the difference in build quality is glaringly obvious.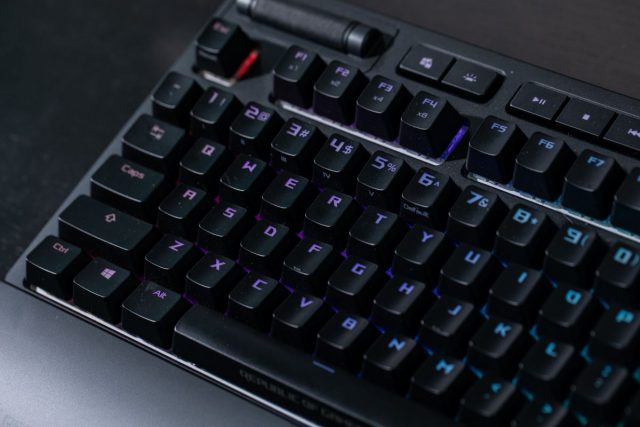 Having said that, the ASUS ROG Strix Flare is definitely one of the team's best keyboards in the inventory, solidly-packed with ease-of-use features. It won't disappoint, but considering how there are better options on the market, you may want to give this a miss – unless you're a dedicated fan of the Aura Sync ecosystem, then by all means, go ahead.
GEEK REVIEW SCORE
Summary
Yay for the resident Aura Sync user, nay for other mechanical keyboard lovers. If you have some pretty pennies to spare, the ROG Strix Flare will be a good investment, but otherwise, go for alternative models with a much lower asking price instead.
Aesthetics -

8/10

Build Quality -

7/10

Performance -

8/10

Value -

6/10

Geek Satisfaction -

7/10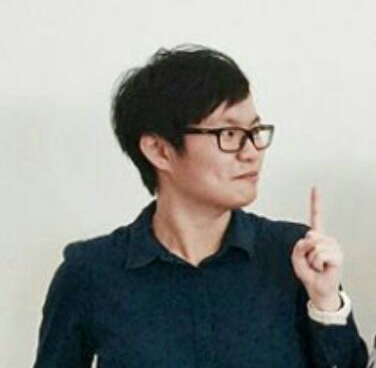 Si Jia is a casual geek at heart – or as casual as someone with Sephiroth's theme on her Spotify playlist can get. A fan of movies, games, and Japanese culture, Si Jia's greatest weakness is the Steam Summer Sale. Or any Steam sale, really.
---

Drop a Facebook comment below!
---