The world just can't seem to get enough of Annabelle.
Forget Chucky, as the new demonic, a Raggedy Ann doll that's reportedly haunted is back. The sinister porcelain toy was first referenced in The Conjuring (2013), before taking the limelight in Annabelle (2014) and Annabelle: Creation (2017). Eagle-eyed viewers would also have spotted the doll in James Wan's Aquaman (2018), thanks to the director's involvement in the Conjuring Universe franchise.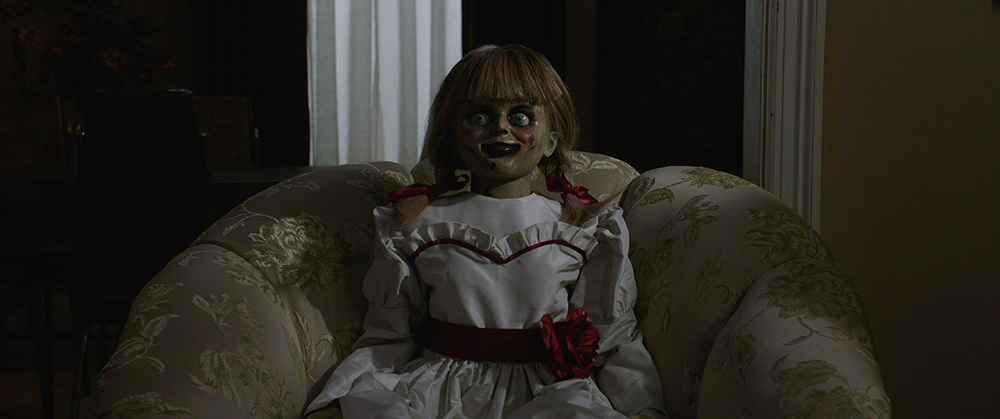 In this movie helmed and co-written by first-time director Gary Dauberman, we continue to have a love-hate relationship with Annabelle. With its expressionless and beady eyes (why any child would want to own this doll continues to be one of life's greatest mysteries), the scary toy is what nightmares are made of.
The movie starts by re-introducing us to Ed and Lorraine Warren (played splendidly by Patrick Wilson and Vera Farmiga) from the earlier films, who are based on real-life paranormal investigators known for their dealings with prominent cases of hauntings. The couple has just transported Annabelle home, and locked it in a glass case which is supposed to contain evil. The case is placed in a room full of artifacts collected from their supernatural adventures, so you can imagine how haunted this 'ghost museum' is.
When the Warrens leave their young daughter (McKenna Grace) in the hands of two teenage babysitters (Madison Iseman and Katie Sarife), the story picks up speed. You know how there is always that foolish person in horror movies? Here, it is a curious girl who ventures into the out-of-bounds room and pokes around. A sign that reads "Warning! Positively Do Not Open" isn't going to stop her from unlocking the glass case. The moment Annabelle is out in the open, all hell breaks loose.
This is also when the fun starts.
The kids take turns being spooked by spirits, and there are some truly terrifying jump scares. There are funny moments too, and they include a goofy guy who is trying desperately to win the heart of a girl, a werewolf-life demon, and a flock of chickens. There aren't high stakes involved in the scares, and as a PG13 horror flick, you can be assured there won't be blood and gore.
The second half of the 106-minute movie is like a walk through a theme park's haunted house attraction. There is a typewriter that types on its own, a warrior suit that comes to life, and eerie sounds of dropping coins in every corner. You will gasp and scream with the other timid viewers in the cinema, and giggle at the silliness of the setups.
The project is obviously a cash grab to conjure up some quick bucks at the box office (the previous two Annabelle movies made healthy profits), and this is not a bad thing. The formula isn't broken, so there is no need to fix it. While this seventh instalment in the Conjuring Universe won't be the best horror movie you would be seeing, it is a serviceable flick that provides enough popcorn entertainment.

GEEK REVIEW SCORE
Summary
Our love-hate relationship with the spooky doll continues. Stop staring at us like that, Annabelle!
Story -

7/10

Direction -

7/10

Characterisation -

6/10

Geek Satisfaction -

8/10