In Monkey King lore, the Chinese mythological character has mastered the art of 72 Earthly Transformations and in this live-action Disney+ adaptation of a graphic novel of the same name, American Born Chinese, the legend of the Monkey King is transformed yet again, as it sets the foundation for a tale about race, identity, friendship and culture.
Juggling life as a growing teenager is not easy, but in Jin Wang's (Ben Wang) case, he's Chinese and living in the United States. There are racial stereotypes, casual racism and bullying as well as the feelings of alienation from your majority white schoolmates, and if that's not enough, his parents aren't all that together, and even more worlds collide when Jin finds himself unwittingly tangled in a battle between Chinese mythological deities.
Based on Gene Luen Yang's novel, the series follows three different characters and stories that seem unrelated at first, but connect towards the end. We have Jin Wang, the Monkey King's son Wei-Chen (Jim Liu) and Freddy Wong (Ke Huy Quan), and each of these characters have their own journey to embark on.
Wei-Chen left Heaven in search of a sacred scroll that will hopefully help his father stop the Bull Demon King (Leonard Wu) from starting an uprising against the Jade Emperor. He enrolls himself into an American high school and befriends the only other Chinese boy there, Jin, and along the way teaches Jin to embrace his culture and his family. Liu's Wei-Chen is innocent, sweet and unlike his father Sun Wukong (Daniel Wu) aka The Monkey King, who is known to be arrogant, boastful and a trickster.
As for Freddy, he's an actor who used to star in a big sitcom back in the day and whilst it launched his career, his character was based on ridiculing the Chinese race. Freddy is basically a metaphor for some of the stereotypes people may hold about Chinese foreigners – folks who have a different accent, possess little grasp on Western cultural jokes, and is reserved and unquestioning. When he and his cast are called for a reunion, Freddy is split between being responsible and using his voice to lift his community, or stepping back from the spotlight due to the negative repercussions of his portrayal. Freddy is empathetic and down to earth – everything we imagine Ke to be like.
This brings us to Jin, who is the focal point of the series. His story revolves around accepting his family, accepting the cultural differences between him and the rest of his white schoolmates, and as the series progresses, aiding Wei-Chen in his journey of saving Heaven from the Bull Demon King.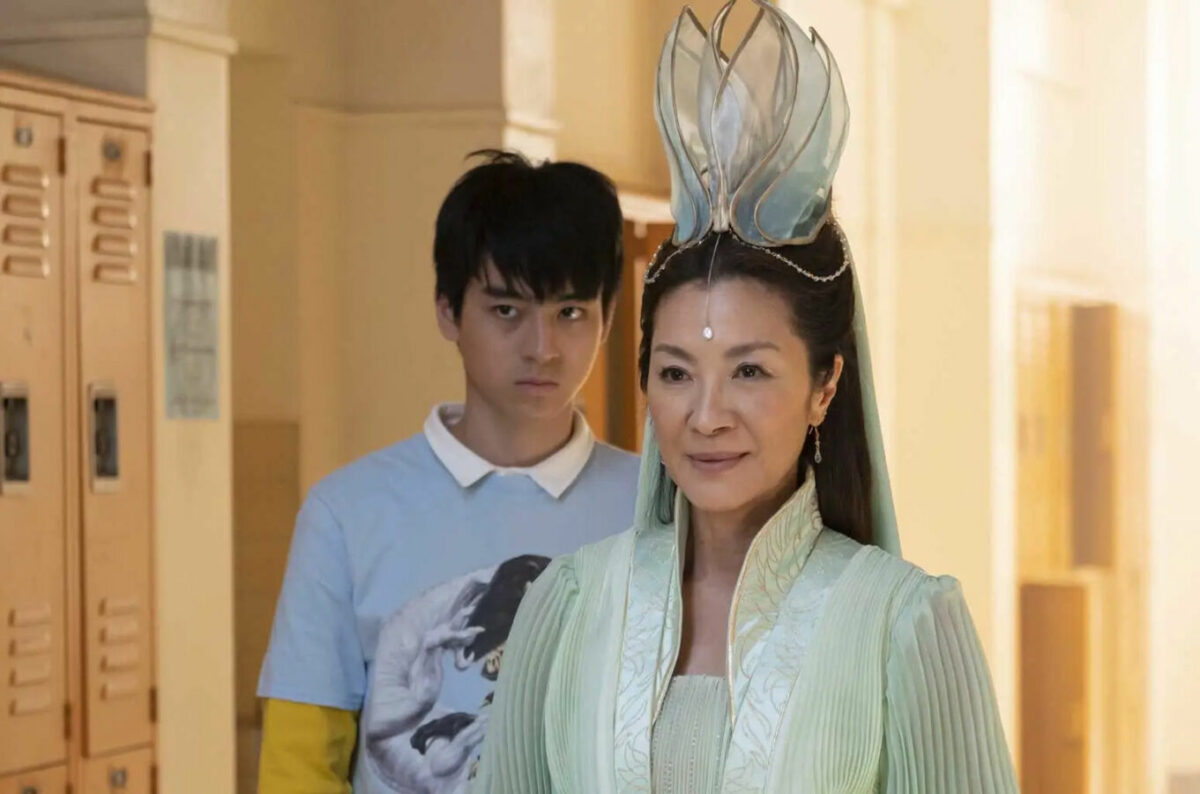 Out of all the stories though, we find Wei-Chen's journey the most interesting and Freddy's the most impactful. Those who have read the original Journey to the West series would be familiar with bits and pieces of Wei-Chen's story and the characters he comes into contact with while those who have not, would be introduced to a whole new world that is different from what they've seen before in modern media. We only get a closer look into Freddy's story halfway through the season.
Jin's story will definitely be relatable for those who are, as the title suggests, American-born Chinese. Jin's mother tells him that his earlobes are too big and that the cheaper piece of clothing is more stylish than the cool denim jacket on the white model in-store. His parents will fight in a language (Mandarin) he can't fully understand, and he mistakes conversations around work termination as squid for dinner. Jin's experiences are likely not alien or new to American-born Chinese who struggle to assimilate with Western culture outside of home, and connect with their cultural roots when with their migrant parents. But it's hard to say if American Born Chinese will be entertaining or relatable to those who are not of that background.
Throughout the series, we see other supporting characters and if you've seen the trailers, this show based on an award-winning graphic novel is also a reunion for the award-winning cast of last year's hit multiversal film, Everything Everywhere All At Once. Aside from Ke, Asian star Michelle Yeoh play Goddess Guanyin, while Stephanie Hsu plays cave demon Shiji. Singapore's Chin Han plays Jin's dad Simon, while Malaysian actress Yeo Yann Yann is Jin's mother, Christine. Simon and Christine's story shed a bit more light on the struggle migrant parents face to make ends meet in a strange and foreign country, while the likes of Ao Guang, The Dragon King of the East Sea (Jimmy O. Yang), Mad Monk Ji Gong (Ronny Chieng) and even Guanyin, provide comedy as well as action.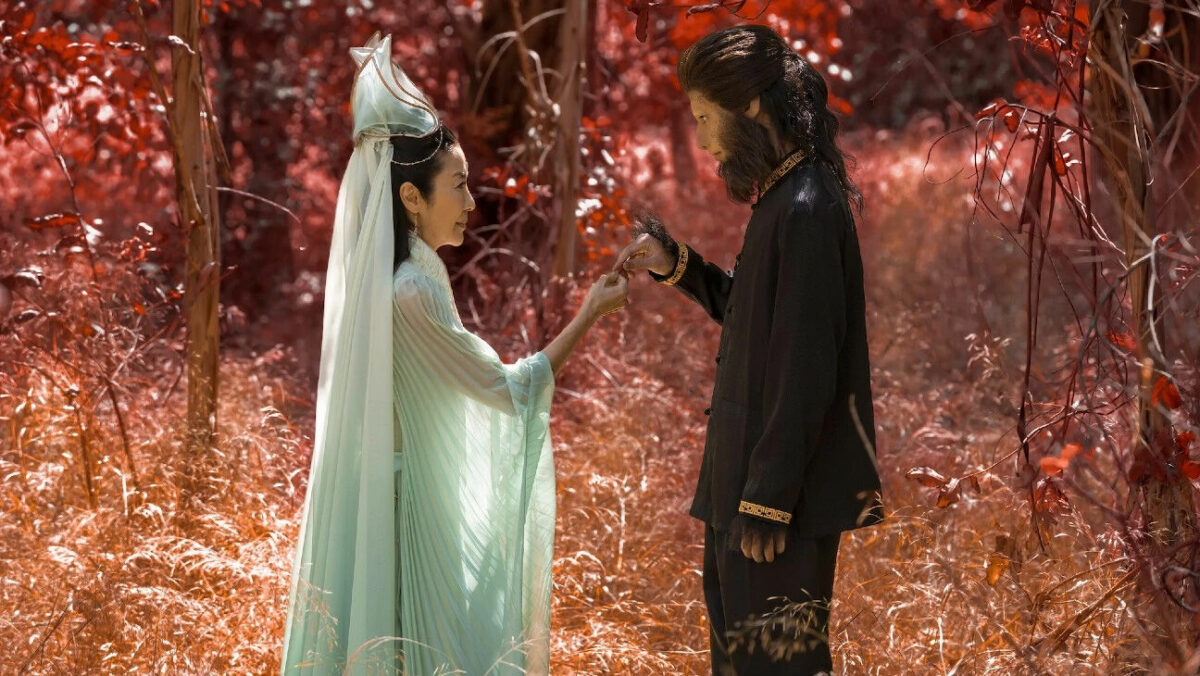 The comedy here is simple. These deities, known to be great and powerful, cosplay as regular humans in American Born Chinese. Guanyin, the Goddess of Mercy and the embodiment of compassion, kindness and love visits subpar All-You-Can-Eat buffets and struggles to build Ikea coffee tables. Ao Guang, who is known to be confident, charismatic and dramatic, takes the form of a drunk waiter who paints and fumbles over everything. Asian audiences who are familiar with these characters will find humour in the irony and even those who do not, can appreciate that there are certain expectations that these powerful human-cosplaying deities do not meet.
American Born Chinese also provides action. Each episode promises one fight scene between Wei-Chen and a mythical deity, with some special episodes taking place in Heaven. These action scenes are in the style one would expect from Chinese dramas so there is a lot of acrobatics involved and less grit and violence.
American Born Chinese does suffer from following a formula we've all seen before, of a fish out of water looking for a connection. For those unfamiliar with the source material, both the original Journey to the West and the graphic novel, characters and elements can get boring and repetitive after a while, so there's a chance that audiences won't feel compelled to complete the series.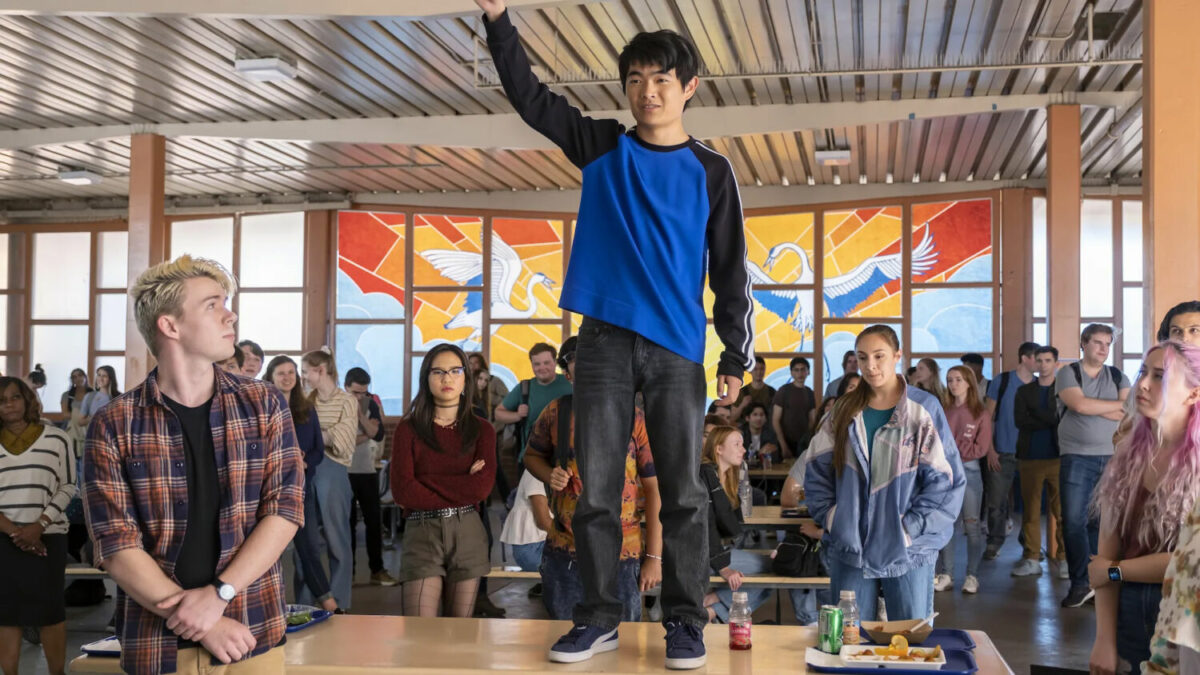 This would be unfortunate because Freddy only comes in later in the series and his impactful story, as well as relevance, only comes in towards the end of the series. Plus we think Ke's performance is something worth catching.
One thing we hoped American Born Chinese would address is that while Jin's experience is something most American-born Chinese teenagers may face, it is not a representation of all Asian races. The Asian race is not a monolith and is a lot more diverse than one may think. We appreciate the work American Born Chinese attempts to do for Chinese representation and racial equality, but despite having other supporting characters of Asian descent including Suzy (Rosalie Chiang) and Anuj (Mahi Alam), who are Japanese and Indian respectively, American Born Chinese misses the opportunity to use these characters to further propel conversations around Asian hate or race that do not centre around Chinese folks. This is especially since we also see Anuj and Suzy being ostracised or treated differently because of their Asian heritage.
The original graphic novel is also told through the eyes of an American-born Chinese, so it only covers part of the experience in the US. And while it might serve as a rather important and necessary series to have with regard to encouraging conversations around race, its narrow focus on just the Chinese seems like a missed opportunity.
American Born Chinese is streaming on Disney+.
GEEK REVIEW SCORE
Summary
American Born Chinese is a coming-of-age story about a Chinese boy who finds himself entangled in a war between mythical Gods. We appreciate its attempt at propelling conversations around race but still has a long way to go in addressing one of its main focuses – stopping Asian hate.
Story -

5/10

Direction -

6/10

Characterisation -

6/10

Geek Satisfaction -

5/10