In the gaming landscape, it can be hard to find co-op experiences that truly go beyond the usual party game, where the narrative is hardly ever the focus. Instead, gameplay is always painted around having fun and clowning around with friends and family, which is not bad, considering how everyone loves a good Overcooked session.
However, for the developers at Hazelight Studios, and Director Josef Fares, a co-op experience can be more than that. Following the successes of Brothers: A Tale of Two Sons and A Way Out, it is hard to argue with that sentiment. With the launch of It Takes Two and the critical reception it is receiving, one cannot help but feel the vindication there for the narrative-driven co-op experience.
A co-op game that touches upon May and Cody's journey to rediscover the magic of their relationship and their daughter is not exactly a realistic take on the intricacies of a divorce. After all, no one stops divorce with a magical book of love called Dr Hakim, but the underlying tenets are all there.
It may be a light-hearted story, but the journey to recovery is real, with Hazelight putting their unique brand of deftly combining story beats with gameplay scenarios that make perfect sense.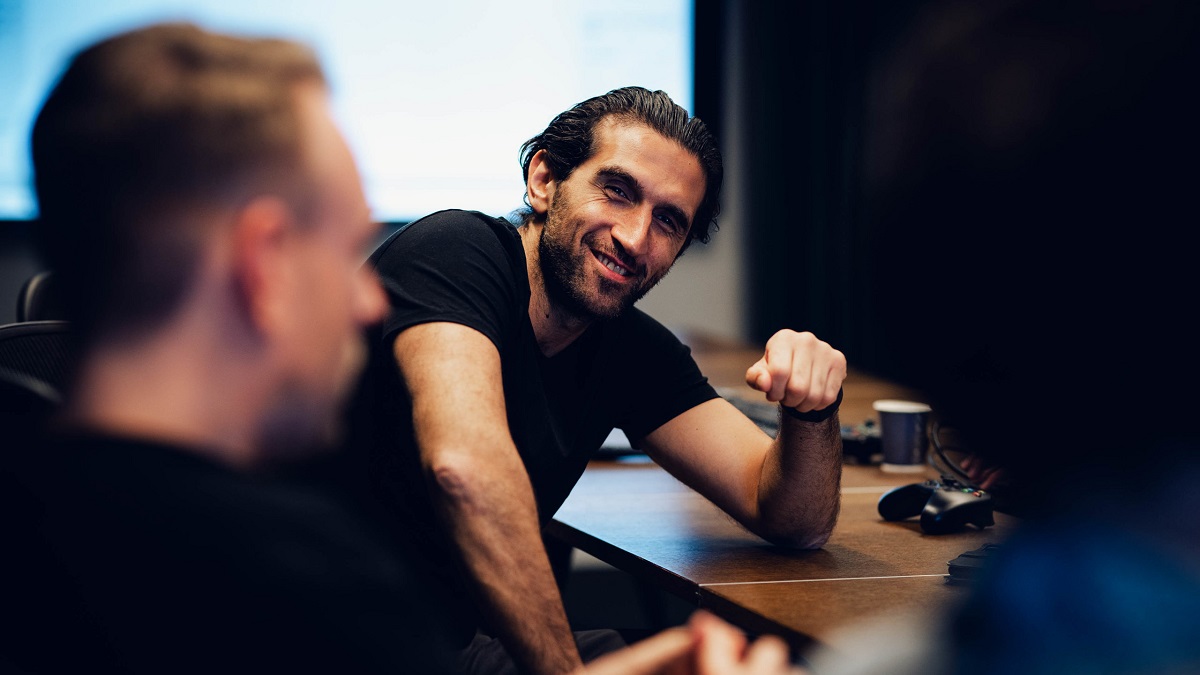 "It is a journey of this couple and what they're going through, but how we write the story, we need to find a way to combine gameplay and story elements, and it is something we did really well," Fares said.
"When you are playing a single-player game, you are alone and can hear everything. But in a co-op game, the story can get lost. It Takes Two is written and designed from the beginning as a co-op experience, and we are going to keep pushing that idea. Storytelling in co-op is underrated!"
Stronger Together
It Takes Two hammers home the idea of communication, and how that is key to not just the gameplay, but also in relationships in the real world. Players need the help of each other to complete puzzles and navigate obstacles, just as a married couple needs each other to get through life.
This is presented excellently through the way the world in It Takes Two is constructed. Different powers and different areas require a shift in thinking, and if you are not talking with your partner, there is little progression. The game also has to be, well, not boring. Thankfully, It Takes Two is certainly not that.
The studio and Fares believe that "narrative games need to be diverse," and the last thing they want players to feel is to be bored while playing through the game.
This is why there are so many crazy moments throughout the adventure, to create an interesting insight into the characters and how they react, together with the various gameplay ideas to delight and surprise the player.
Helping Hands
Of course, sometimes you will need others' help to understand the situation at hand, and It Takes Two's cast of supporting characters is excellent in that regard. The likes of sentient home appliances, warring squirrels and wasps, toys that come alive, and more all serve to progress Cody and May's journey of reconciliation.
As Fares shared, the couple goes through their journey and end up somewhere else, learning something as characters. What Hazelight wants to do is elevate that journey even more. To find these great moments, you need a catalyst, and the supporting cast is precisely that.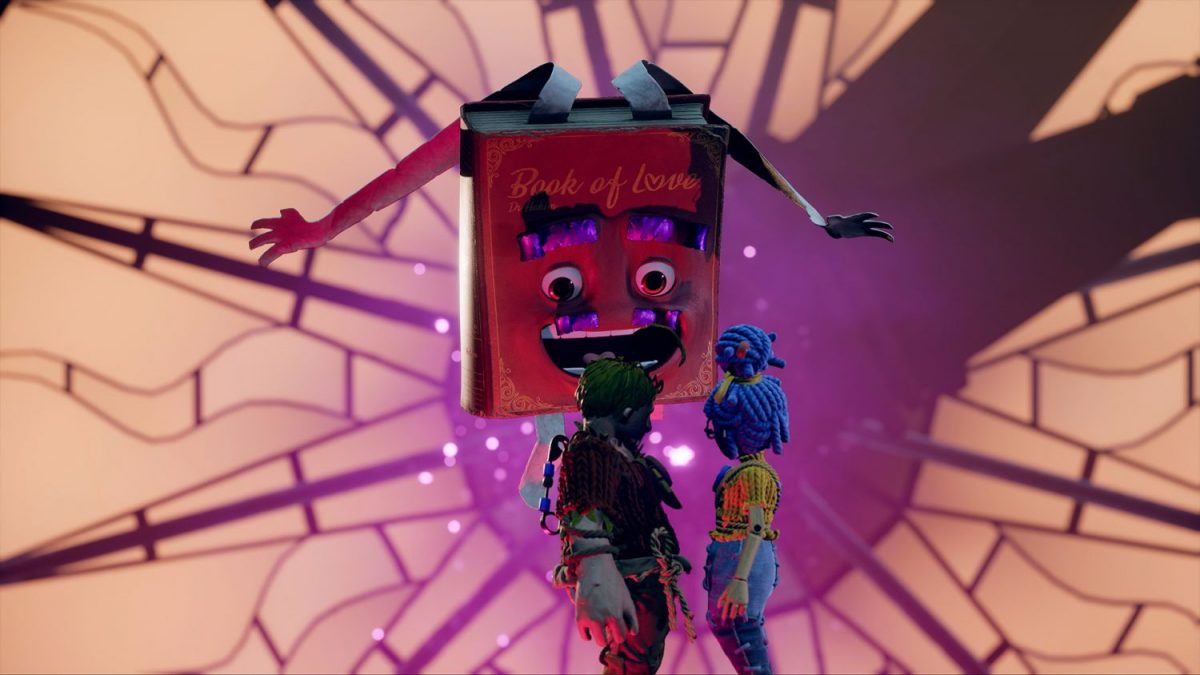 "For me, Dr Hakim is perfect for that. It is super obvious that he is a self-help book that is also very cheesy and says plenty of silly stuff. But a lot of the stuff he says actually has a point and are good lessons."
It is hilarious to note that the inspiration for the helpful book comes from an actual Dr Hakim, whose commercial flyer about solving all sorts of problems made its way to Fares' hands. Suffice to say; the director was inspired enough to put the good doctor into the game and provided the motion capture himself.
It Is All About Family
At the end of the day, It Takes Two also revolves around May and Cody's daughter, Rose. She who made the whole adventure possible with her tears and clay dolls, much care has been put into the game to ensure that Rose does not end up like a victim or a narrative device only.
"Obviously, when you see a child cry, it is sad, but the whole idea is that Rose feels like she is on her own, and blames herself for all of this. I do think many kids out there do, and the whole learning experience for May and Cody is that they have been so egoistic that they have forgotten about their daughter," Fares explained. 
"At the end of it all, Rose also learns that it is not her fault that this is all happening, and her parents will love her no matter what happens."
Breaking New Ground
From the history of the studio and the outspoken nature of Fares, it is clear as day that the team has no qualms about pushing the boundaries. It is all made possible by their simple belief to keep making breakthroughs, especially in the co-op space.
"The whole philosophy of Hazelight, and I say this a lot, is to fuck shit up. The whole idea is to keep pushing the team to a level where they don't think they could actually be," Fares declared with passion.
"Question everything! Should a game only be about fun? No, it shouldn't; some of the most beautiful scenes in gaming are not about fun. We must always be reinventing ourselves and asking questions."
With how It Takes Two focuses on the actual gameplay between two people than include collectables, that is the philosophy of the studio at play. As Fares put it, "Let's make the world interesting, make the player explore, and not have some shit to collect."
For the creatives, it is not exactly about making the game that the audience would like, which can sound counterintuitive. Instead, Hazelight wants the audience to understand the game they are making and "understand the differences in which audiences traditionally view video games.
It is a lofty ambition, and one Hazelight is set to continue with their new project, which Fares has promised will be totally different and will blow your mind.
From screaming "Fuck the Oscars!" at The Game Awards to constantly testing the limits of co-op gaming with their new titles, both Josef Fares and Hazelight Studios looking to make their mark not just on the players, but also the gaming industry.
With the success and innovation that It Takes Two brings to the table, it will not be surprising to see more developers being more receptive to co-op narrative adventures.
For now, everyone else can just enjoy the truly remarkable experience that is It Takes Two.
---
If you need some help on how to get started or solve a particular puzzle in It Takes Two, you can refer to our walkthrough for everything you need. The game is available on the PlayStation Store, Steam, and the Microsoft Store.