[UPDATE 2 October 2016: Winner Announcement! Congratulations to Izzy Teo, Alan Toh, Janice Ang, Cheryll Chong and Novritsar Hasintongan Pakpahan! Please check your email for prize redemption details.]
As superhero battles go, 2016 was another win for Team Marvel. A box-office and critical favourite, Marvel's Captain America: Civil War landed with a massive cartload of heroes, and history is about to repeat itself with the arrival of the Digital HD, Blu-ray and DVD of the blockbuster.
The Blu-ray version, which goes on sale 13 September (read our review here), comes with more than an hour of thrilling and exclusive bonus material, as fans can take an up-close look at the evolution of the movie's lead characters, enjoy a behind-the-scenes exclusive on the making of the movie, and revel in never-before-seen deleted scenes.
And of course, here's a teaser of what's in store.
I have to say though – the movie would definitely be a lot better if there were some expletives.
And for those wondering about what happened to Thor and The Hulk in Captain America: Civil War, we finally have an answer.
The Captain America: Civil War Blu-ray and DVD will be available for purchase from 13 September onwards, at all Poh Kim and Books Kinokuniya stores. For those of you who prefer digital HD, it'll be on iTunes and Google Play.
---
Bonus Interview with Elizabeth Olsen
To celebrate the home video release, we also had a chance to catch up with the Scarlet Witch herself, Elizabeth Olsen. It's too bad her rumoured boyfriend (Chris Evans or The Vision, depending on who you ask,) could not make it.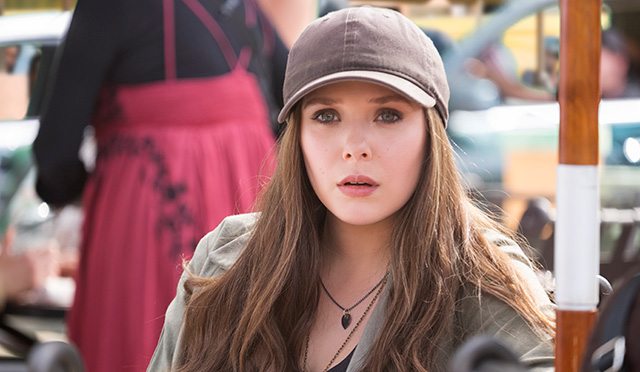 Anthony and Joe Russo are the directing duo behind Captain America: Civil War. What was it like to work with the brothers on set?
ELIZABETH OLSEN: The Russos are in charge on set. They know anything that I might ever question. Or even if I'm not questioning something, all of their ideas are very specific. Being able to be so specific and direct and quick is really helpful to me as an actor.
Let's talk about your character, Elizabeth. How does Wanda Maximoff feel about becoming one of the Avengers?
ELIZABETH OLSEN: For Wanda, I think the Avengers replaced any form of home and family because she doesn't have any of that after we left her in Avengers: Age Of Ultron. She doesn't have Sokovia anymore. Also, I think that losing her brother makes her want to continue to help people and save people, so she knows that she can be put to good use. I think it's nice to be part of a community of people that are similar to you. Everybody tries to find that, and I think she does find that within this team.
How did you feel about the evolution of Wanda in Captain America: Civil War?
ELIZABETH OLSEN: I remember reading it [the script] and being really excited about my character's arc. I liked the idea of her being terrified of her own abilities and being unsure. She's just as unsure as everyone is with her, but everyone's acting like everything is cool. To be unsure of your own power that's within you is not something I personally relate to, but it is something that I found interesting and fun to play.
Do you hope that audiences will soon get to see Wanda fully embrace her powers as Scarlet Witch?
ELIZABETH OLSEN: I don't know what we're going to do next, but I think of her as being an incredibly strong, powerful person. It's also fun because she could flip either way. I think there are a lot of things that could possibly be played with, but I'm not in control of that. A lot of this film is about conflict in general; it's about what's right, how to use your abilities and whether you should or not. That was the consistent theme throughout the whole film as opposed to her being not confident.
Wanda has an interesting relationship with Vision in Captain America: Civil War. How does that evolve in the movie?
ELIZABETH OLSEN: The relationship between Vision and Wanda is a big plot point in the film. The Marvel Cinematic Universe often differs from the comic books, but I really liked how they intelligently and intimately linked the two characters in this film. Vision is so sensitive and sweet to her, and they have this great friendship and trust.
Vision is extremely protective of Wanda…
ELIZABETH OLSEN: I think this relationship is something that fans have wanted, but we tried to root it in something that's about pure friendship or companionship. I'm not a mutant; I'm made from his stone, basically, so we have that in common. To use that as a thread that roots our relationship is very important and grounding.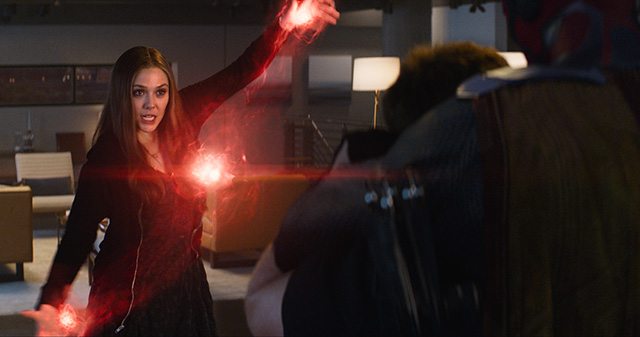 Wanda Maximoff is also on Captain America's side in Civil War. How does she pick which way to go?
ELIZABETH OLSEN: Basically, it ends up being this argument politically about whether or not the Avengers follow their own rules or if they should follow the government rules and become a government-regulated union. At that point of the film, Wanda's more terrified of causing harm to people than choosing a political side, so she ends up fighting with Cap's team – but it was more about being accepted and less about actual political beliefs.
Hawkeye also chooses to side with Captain America. Does Wanda's history with Hawkeye help her decision?
ELIZABETH OLSEN: Wanda feels betrayed by everyone, but when Hawkeye returns, she follows his lead because their relationship in between films has grown. She trusts him. He has almost become like a surrogate brother to her, so she feels like he's going to protect her and not mess with her.
Do you think Hawkeye and Wanda make a good team?
ELIZABETH OLSEN: Hawkeye and Scarlet Witch make a really good pair together. One of my most favorite things in this universe is when the characters use each other's assets or abilities to better themselves. With Scarlet Witch, it's Hawkeye's leadership and big-brother attitude that she needs more than his abilities. Her abilities have also grown, and she is probably the most formidable on the team.
Wanda's new status as an Avenger also means the character gets a new costume…
ELIZABETH OLSEN: I have a superhero costume in this movie and it's a nice one! It's pretty much all leather, and it's badass. I have this really cool coat that looks great with the movement that I'm doing. We try to choreograph things so you can see how beautiful it is. It looks cool and I feel like a witch in it.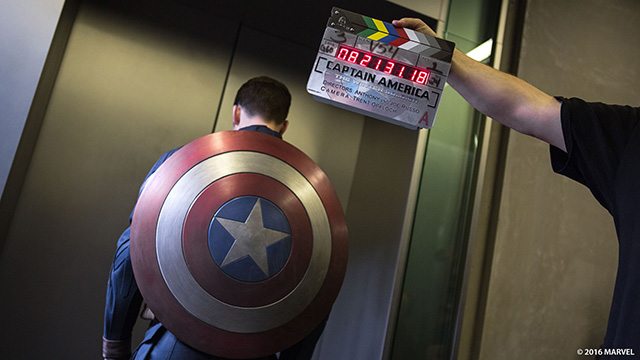 ---
FIVE Goodie Bags to be WON!
And as promised, Disney Singapore, together with Geek Culture, have five Captain America: Civil War goodie bags to give out to our readers.
Each S$150 prize comes with a Blu-ray copy of Captain America: Civil War, a Captain America Tsum Tsum (Medium), an Iron Man Mr PotatoHead, a Kawaii Spider-Man Card Holder, a Kawaii Captain America Pen, and an Iron Man 16GB USB drive.
To stand a chance to win, simply complete these 2 simple steps:
SHARE THIS POST and TAG a friend (or more) you would like to share you loot with. ->
Fill in the form below and answer three questions to test your geek-worthiness!
Give us a LIKE below if you haven't done so yet, so you won't miss out on future similar giveaways!
[GIVEAWAY HAS CLOSED]
The giveaway is open to all residents of Singapore, and closes on  30 September 2016 @23:59hrs (GMT+8). 5 lucky winners will be picked at random. The winners will be announced here and be notified via email by 3 October 2016. Good luck!
Hsals needs more space in his house, and more money in his bank account to pay for all the toys, collectibles and other geek related items that companies are churning out. Free-time? Girlfriend? Who's got time for those?
---

Drop a Facebook comment below!

---