It's assumed that unless you're Tom Cruise, Dwayne Johnson or Jackie Chan, action flicks are best left to those who make such movies often, as it involves a different level of physical preparation but try telling that to Djimon Hounsou and Gemma Arterton, who join an ensemble cast for the third in Matthew Vaughn's The Kingsman franchise, The King's Man.
While both actors have starred in action flicks along their Hollywood career, they have spent the last few years in dramas that don't necessarily involve explosions and hand to hand combat, and relished the chance to save the world once more in a spy caper reminiscent of the James Bond franchise, and even comic book outings including Marvel Studios' Black Widow.
Arterton was even a Bond girl herself, and embraced the opportunity to suit up for action after eight years, as The King's Man marks her return to action films following her last appearance as Gretel in Hansel and Gretel: Witch Hunters, way back in 2013. Prior to Hansel and Gretel, she starred across Daniel Craig in Quantum of Solace, before taking on more drama and romance films and TV projects.
"I loved it, I really did. I loved every minute!" the 35-year-old British actress explained in an interview with Geek Culture.
"You know, Djimon, Ralph and Harris have these elaborate action sequences. They get all messy and there's blood everywhere and what not, and I just come in all neat and tidy and I thought, 'That suits me fine'," laughed Arterton.
"I just loved how fun she is and how she is that kind of woman that just gets things done and is very efficient. I just love the character. As soon as I read her, I thought, 'This is gonna be fun'."
The same goes for 57-year-old Beninese actor Hounsou, best known for his role in Amistad (1997) and has an impressive list of action titles under his belt, including Gladiator, Lara Croft Tomb Raider: The Cradle of Life and White Elephant. While Hounsou took on minor roles in superhero films such as Guardians of the Galaxy and Captain Marvel, his most recent outings were in dramatic films as well. 
Playing a pretty major role this time around, Hounsou's action scenes are arguably one of the most memorable of the lot, especially the fight between him and Rhys Ifans' Rasputin at a dinner party. The scene sees the two engage in a sword fight that was so beautifully choreographed, it was essentially a dance.
Comparing the experience of filming the fight scene with Rasputin to all his previous action sequences in past movies, Hounsou only has one word to call it – different.
"The experience is different. Coming to Matthew Vaughn, he was so picky about the action sequences in this film and I came to find out that he is quite demanding," confessed Hounsou in the same interview with Geek Culture.
"The way he shoots his action sequences are quite different and quite elaborate, but it was quite a great experience learning from him."
And learn the cast, which includes Ralph Fiennes, Daniel Brühl and Aaron Taylor-Johnson, did, as The King's Man isn't a sequel to the franchise, but a prequel, set around the first World War. Which means instead of relying on high-tech gadgets that regular folks like us can only dream of obtaining one day, the film takes a fun approach to history, and removes the conveniences and gadgetry that have dominated modern spy/action films.
Arterton plays Polly, a nanny to the Duke of Oxford's (Ralph Fiennes) son, Conrad (Harris Dickinson). Prim and proper, she darts around the household in a buttoned blouse, it's collar almost touching her jawline, and a long skirt that cinches in the smallest part of her waist. Her hair is always up, and although her talents in baking and making tea is what most folks know about her, she's equally (and probably even more) talented at shooting guns.
"She's sort of like the matriarch of the household. She runs the house, she looks after all the staff and she's sort of the glue for the family," explained Arterton of her character in the movie that has seen multiple delays, due to the ongoing pandemic.
"Shola and Polly work alongside each other and there's more to her than meets the eye. She's a strong woman but she's got a twinkle in her eye."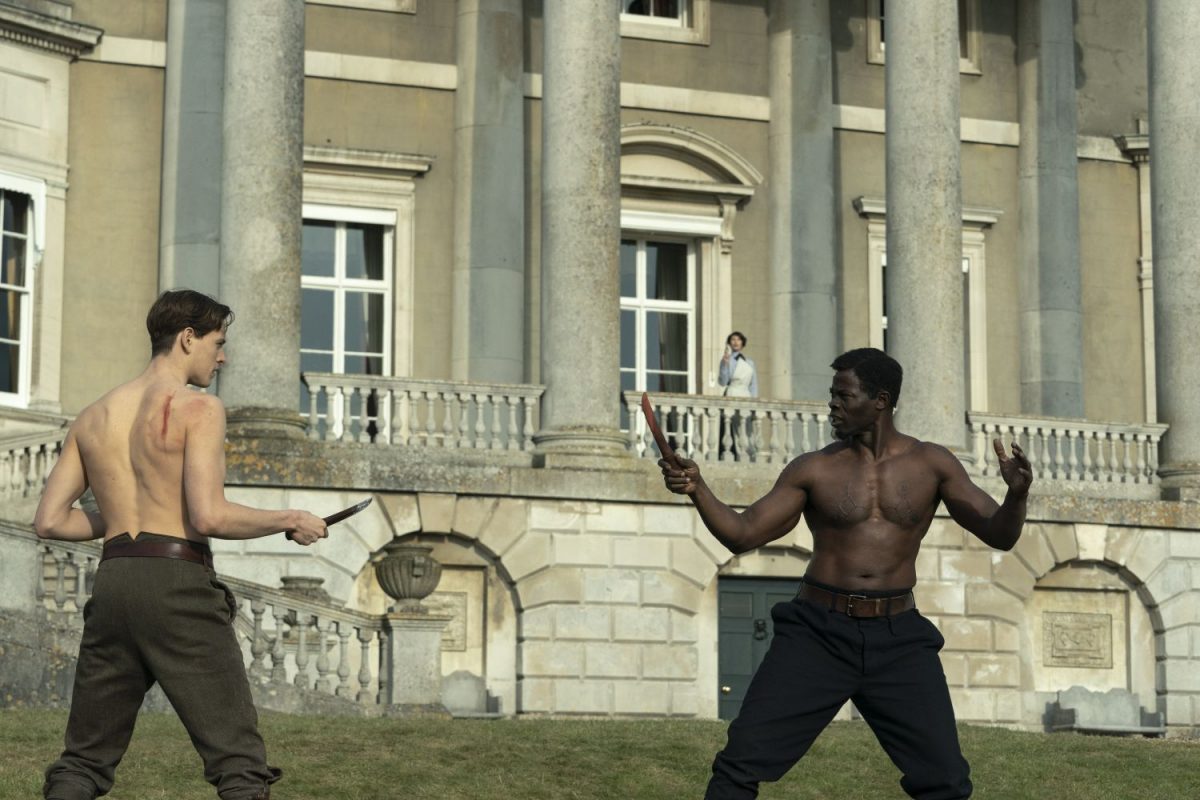 Hounsou's Shola is a trusted friend of the Duke of Oxford. Although he serves the Duke's household just like Polly too, Shola almost acts like a bodyguard to the Duke and Conrad.
"I befriended Oxford in Africa. We became friends and eventually dedicated to working with him and found myself in Europe with him being like a right hand to Oxford, a confidant and an essential part to the first independent intelligence agency," explained Hounsou.
Although a demanding director, Hounsou admits that the hard work pays off. Both Arterton and Hounsou had nothing but praises for how believable and beautiful the set was. Feeling as if they were truly sent back in time, the two can only hope viewers would feel the same .
"We were shooting Africa in London!" laughed Hounsou. "It was a little bit shocking to me that you could somewhat get a scenery of Africa in England. Matthew was quite excited about making me believe that this was Africa, and it worked. The site really looked like we were in Africa."
"It's amazing what they can do, these production designers. It always blows my mind what they can do, so talented! "added Arterton.
The King's Man opens in cinemas on 30 December 2021.