FromSoftware has a bit of a reputation in the gaming community. Not only has the team pulled, twisted, and torn players apart in Demon's Souls, the trend continued through its spiritual successors in the form of the tough-as-nails Dark Souls series and Bloodborne, where players have experienced death upon death upon death upon…yeah, you get the idea.
Apart from brutal demises and challenging difficulty levels, however, their titles also feature another prominent element: online multiplayer.
Ever since the early days of Demon's Souls, it has grown to become a staple of the team's major games, so the fact that the upcoming Sekiro: Shadows Die Twice is straying away from the formula is rather confounding.
As it turns out, the team is taking a short, little detour, with no intention of completely abandoning the online multiplayer DNA. In an interview with Game Informer, FromSoftware's marketing and communications manager Yasuhiro Kitao emphasises on their mutual love for the genre, while asserting the game's identity as a standalone project:
"Of course, we at From[Software], we love those online elements. We love to create our own characters just as much as everyone else. We hope players are looking forward to something in the future where we might go back to that, but for now, Sekiro is very much its own thing."
Considering the double-edged nature of online multiplayer across all of the developer's game universes, this may not necessarily translate to a less positive playing experience. While players can leave behind friendly notes and helpful warnings, as well as offer aid in battles as a summon, they are also able to invade the territories of other players, or cunningly trick them into causing their own deaths – the list goes on.
For FromSoftware, the single-player route allows for the execution of creative freedom, especially where the in-game map is concerned. Kitao elaborates upon this point, stating that the lack of an online component results in a more immersive playthrough:
"When creating these playspaces, we don't have to take into consideration how players will operate with one another in these maps, or how they may exploit the playspace by cooperating or something like this…So it allows us, again, to hone in on the player experience, and really capitalise on that lack of restriction that comes with creating a multiplayer-based game, and let our imagination run wild in these places."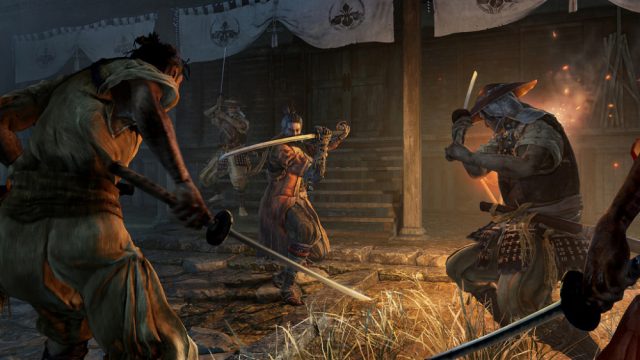 The shift away from online multiplayer may be a bummer to those invested in the genre, but there is no denying the perks. For one, the long-standing wish for an honest-to-goodness pause button has finally been realised, which players had a first taste of with Dark Souls' Switch port. Embarking on a solo adventure means there is no need to worry about untimely player invasions during tense encounters, too – besides, the absence of toxicity, teabagging, and negative interaction energy is a really huge plus.
Sekiro: Shadows Die Twice comes to PS4, PC, and Xbox One on March 22, 2019.