Jason is back in a new deluxe collection set of the long–running slasher series! This set by Scream Factory enshrines the most successful horror series in cinema history, across a whopping 16-disc collection.
Apart from including every single Friday the 13th movie to date (including Freddy vs. Jason), this deluxe collection also includes all of the previously released extras plus all-new bonus materials, including new audio commentaries with cast and crew.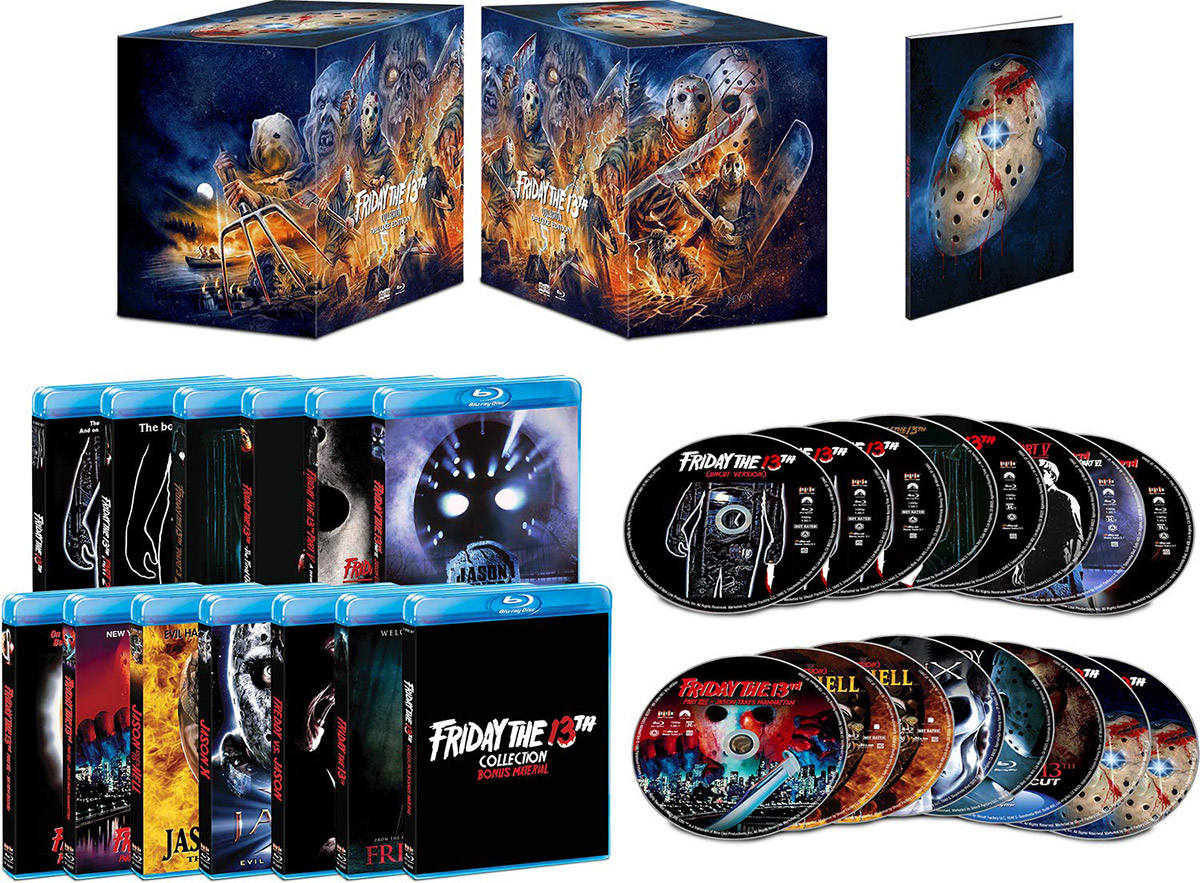 The collection comes packed in a new custom artwork and accompanying booklet, along with 16 blu-ray discs. One thing to note though, that only the first 4 movies have new 4K scanned versions. But for roughly US$10 per film, this makes for the ultimate Jason Voorhees collectible. Now if only it included his hockey mask too…
The collection is available on Amazon now for US$129.99.
---
If you plan to buy it or have already bought it, do note that Scream Factory has discovered an issue with some of the discs "due to human error", and are offering free replacements for three affected discs: Friday the 13th Part 3, Jason Goes to Hell (Uncut version) and Jason X.
Here are the issues discovered:
PART 3 (When viewing in 3D) – First instance of 3D opening credits does not come out of the screen correctly.
PART 9: JASON GOES TO HELL (Unrated Cut) – Missing "snapped wrist" gore in an uncut scene. 
PART 10: JASON X – Missing audio during a scene in the film in which Jason kills camp counselors in a sleeping bag.
Here are the steps to get them replaced:
If you would like to sign up to receive the three corrected discs at no cost to you, please go discshipment.com and follow the instructions on the form. Replacement disc fulfillment will be handled by a third party. If you have any questions about the status of your replacement disc shipment once you have completed the form, please email: [email protected]. Shout! Factory customer service will not have any info on the status of your replacement disc order.
When filling out your form, please enter "Friday the 13th" in the "What Title Do You Need Replaced" section.
When filling out your form, you will need to upload a copy of your proof of purchase (photo or scan of receipt or digital receipt from the online retailer).
Scream Factory notes that replacement discs will be "sent out globally to those wishing to redeem," and that the discs (marked with "R1" on them) should be shipped out in November.