Let's get it out of the way right now: Singapore is a country that just screams food.
We define cheap and good, and everything in-between, from your chilli crab to your satay, or xiao long bao (soup dumplings) to your putu piring (steamed rice cakes with filling), Singapore is just teeming with local delights that will stimulate all facets of your tongue (more good than bad, obviously), provided you know where to find the best stalls that sell them in the first place.
Well, this weekend, your food hunting in Singapore will be made easier at the MICHELIN Guide Street Food Festival, happening at Resorts World Sentosa from February 22 – 24!
There'll be an assortment of some of Singapore's finest local traditional food stalls, in conjunction with some gourmet restaurants from overseas, all whipping up some of the most tantalising, mouth-watering entries that will send you to food heaven once they enter your mouth.
We at Geek Culture got to try out some of these amazing dishes, and let's give a spoiler alert here: everything is good!
Here are some of our favourite entries from the MICHELIN Guide Street Food Festival!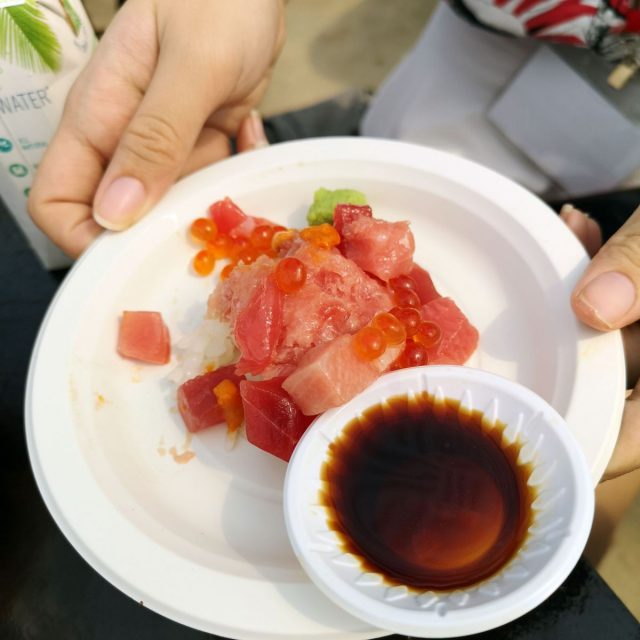 First up, one of the most mouth-watering dishes on this menu is the Mountain Toro Uni Meshi from Maguro-Donya Miura-Misaki-Kou. Don't be fooled by the size of this chirashi, it is so full of flavour you'll be unable to contain your sighs of delight when the umami taste hits you. The salmon sashimi, tuna and salmon roe all combine so well with the rice, wasabi and soy sauce, bursting with flavour in your mouth, and melting almost instantly on your tongue.
This trio of bowls here are all debutants in the MICHELIN Guide Street Food Festival, and are all worthy of a spot in your belly.
The Wanton Noodles from Ji Ji Wanton Noodles are an amazing new addition to the food festival. The crispy wantons go amazingly well with the soft-but-firm noodles, and the special, one-of-its-kind savoury sauce makes it a dream to eat. What makes this bowl of wanton noodles stand out from the rest is that the noodles used are soft and springy, don't stick together, and carry the flavours of the sauce well, making them all the easier to slurp down.
The Chen's Mapo Tofu with Hokkaido Rice from Shisen Hanten is next. Fusing Japanese and Szechuan cultures, the silky-smooth tofu blends well with the spicy sauce. Typical mapo tofu can sometimes be overpowered by the sauce, but not this one. The soft Hokkaido rice complements the tofu greatly, especially for those of you who struggle with the spice (we know we didn't!).
The Pork Noodles (also fondly known as mee pok by locals) from Tai Wah Pork Noodle round up this delectable trio. The minced pork and meatballs were carried well by the noodles, which were firm but broke apart once your molars started getting to work. The spicy sauce contained the right amount of sweet and savoury, absolutely bursting with flavour when combined with the meats and noodles.
The Chilli Crab Dip with Deep-fried Mantou by New Ubin Seafood was another one of our favourites. The mantous (fried buns) were really firm on the outside, but once you dipped them into the sweet and spicy chilli crab sauce, it just melts in your mouth almost instantly. The sauce itself was riddled with bits of crab meat, adding a lot of that savoury flavour to the sweetness. A must try!
The Chicken Curry Puff from Rolina Traditional Hainanese Curry Puff is one quality curry puff. The potatoes are soft and fragrant, thanks to all the spices and curry clinging to it while wrapped in the crunchy yet flaky curry puff skin. The chicken is tender, takes in the spices really well also, and is actually just as soft as the potatoes.
If you've spent a bit of time at the food festival, it wouldn't be a surprise to us that you'd be feeling hot either from the humidity or reeling from all the spicy goodness from all the dishes above. Why not check out this amazing Chendol from True Blue Cuisine? The best kind of chendol comprises of supple but chewy rice flour jelly, a good amount of coconut milk and palm sugar syrup, and a healthy offering of shaved ice. And this chendol pulled it off spectacularly. Great for cooling down your already heated tongues and bodies.
Those were some of the most amazing dishes we tried at the MICHELIN Guide Street Food Festival. Here are some more, both by new and returning restaurants, for your consideration!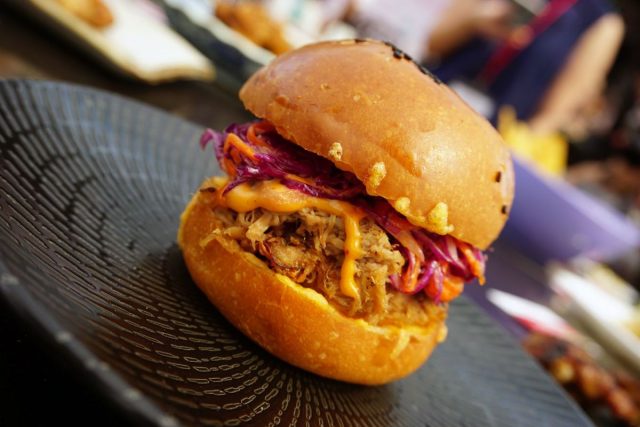 Another newcomer is Australian grill Burnt Ends, with the Burnt Ends Sanger as one of their main entrees. That pulled pork shoulder patty ain't gonna eat itself.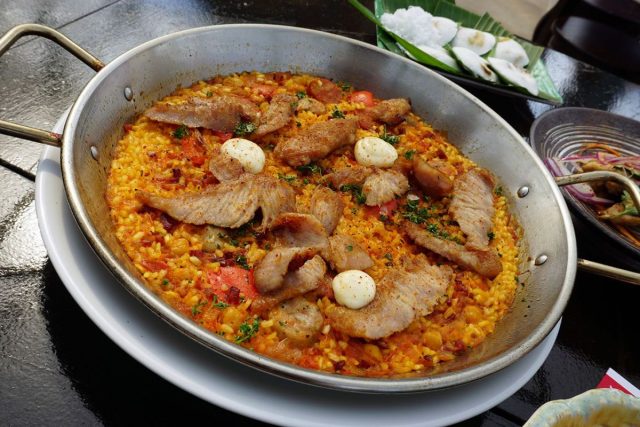 This Spanish Paella with Iberico Pork is another great Western alternative. The folks at Ola Cocina del Mar really know Singaporeans well, with their tender pork (complete with juicy fatty dribbling down the sides) and fragrant rice infused with a great deal of chilli, peppers and all sorts of herbs.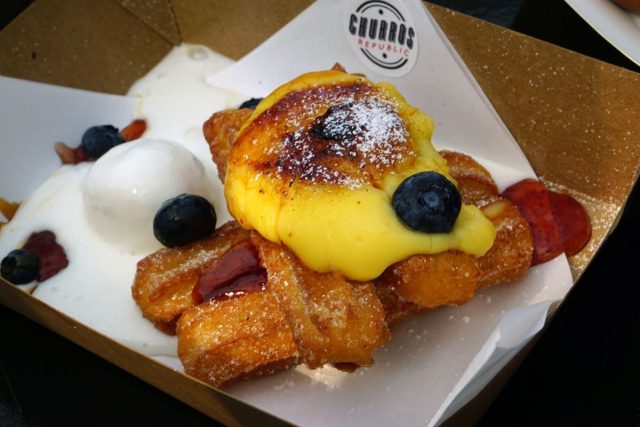 These churros from Churros Republic is another great dessert to consider. The churros are actually great by themselves; soft and fluffy on the inside, super crispy on the outside, rolled around in a healthy amount of sugar. Now add some chocolate sauce or this creme brulee on top, and you have yourself something special.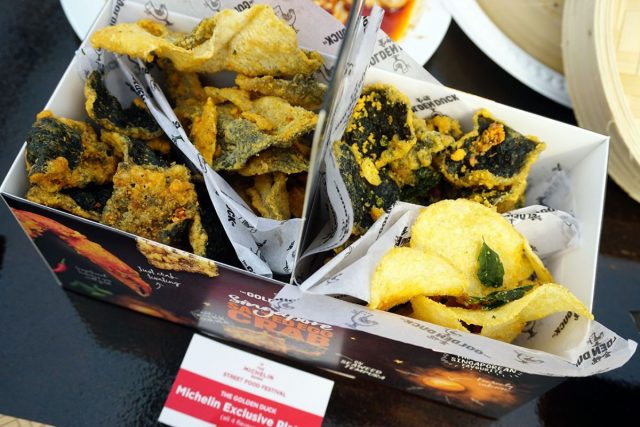 The salted egg craze is still very much around, with Golden Duck taking the salted egg formula to the next level with their new flavours: Chilli Crab Seaweed Tempura and Salted Egg Crab Seaweed Tempura. We tried it, and we only have this many thumbs up to give you because we were too blown away by the spice of the chilli and the savouriness of the salted egg.
For the low price of S$30 and above, you'll get to try nearly everything listed above, and more. S$30 gets you a coupon worth $27, which you'll use to purchase the dishes that you want for set amounts. Need more food, but ran out of balance on your coupon? Not to worry, there's a station that'll allow you to top-up more cash on your coupon.
If you want to go all-out, by all means, get the S$200 VIP tickets, and that will land you literally every food item on the menu at the Food Festival itself, with some wine to accompany your bloated belly.
So if you've booked a spot at the MICHELIN Guide Street Food Festival, we can confirm for you that you'll most certainly not be disappointed.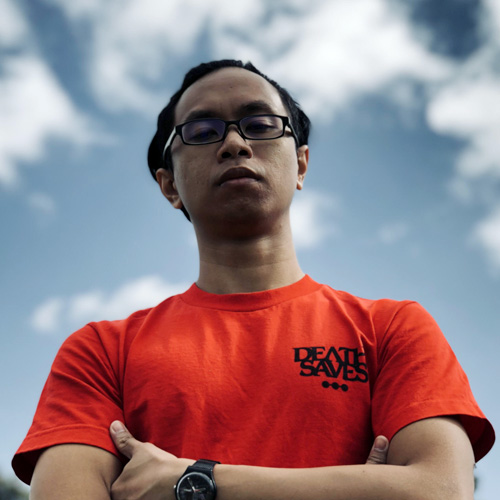 Marion has a serious RPG addiction. Sometimes it bleeds into real life; he forgets to sleep because he thinks he has a Witcher's body clock. Forgive him in advance if he suddenly blurts out terms such as "Mind Flayer" and "Magic Missile", because never once does he stop thinking about his next Dungeons & Dragons game.
---

Drop a Facebook comment below!

---