What happens when you replace the nighttime security guard in Five Nights at Freddy's with Nicolas Cage? You get Willy's Wonderland, a horror fest of Cage beating up nightmarish animatronics for an hour in a creepy amusement park funhouse.
Cage newest role finds him as a Janitor who gets tricked into spending a night in an abandoned children's funhouse. At night, the condemned amusement park turns into a creepy escape room reminiscent of Freddy Fazbear's Pizza. In the 15s teaser, we see him pulled into a living nightmare as he battles for his life against homicidal animatronics, and it looks bloody good.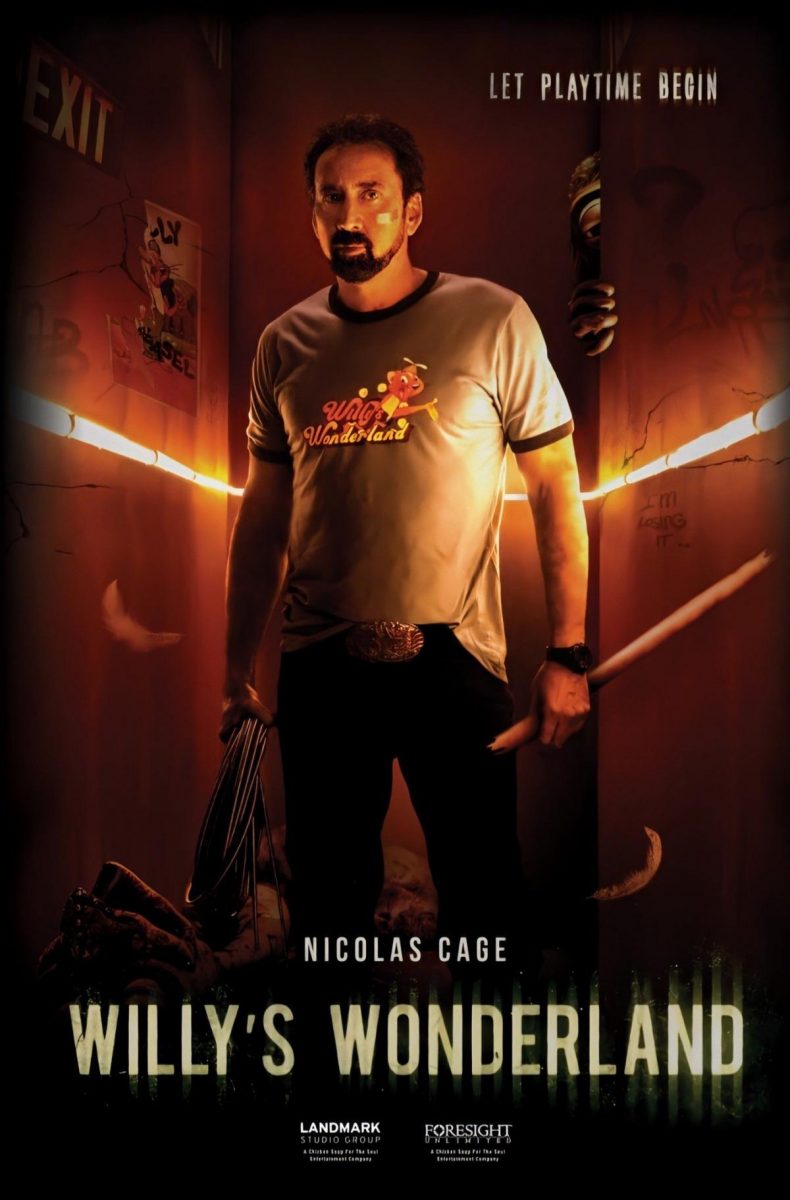 After training to battle space aliens in the Mortal Kombat meets Predator-esque Jiu Jitsu Movie, you can be sure that Cage is more than prepared to take on these new mechanical nightmares. The official synopsis reads:
The Janitor (Cage) finds himself stranded in a remote town. Unable to pay the repair shop to fix his Jeep, he agrees to work off his debt by spending the night cleaning Willy's Wonderland, an abandoned theme park full of animatronic characters that were once a beacon of fun for children to play with. 

But Willy's Wonderland carries a dark secret that The Janitor is about to discover. He's been lured into a deadly trap, or rather, a living nightmare, as the Wonderland's animatronic characters come to life to destroy him. The Janitor is forced to fight his way from one monster to another, trying to survive until morning. 

And The Janitor doesn't play nice."
So why Willy? Director Kevin Lewis revealed to Entertainment Weekly that the movie was originally named Wally's Wonderland but was changed subsequently. He even refers to the animatronics as Willy and his gang, all who will have voices. And yes, it's a gang of eight instead of the Freddy five, consisting of Willy Weasel, Artie Alligator, Gus Gorilla, Cammy Chameleon, Tito Turtle, Siren Sara, Knighty Knight and Ozzie Ostrich. (That's some Mother Goose level alliterative naming.)
Lewis hopes to make the movie a retro-throwback to the '80s horror shows. Emily Tosta (Party of Five, Mayans M.C), Beth Grant (Little Miss Sunshine), Ric Reitz (Where The Devil Hides) and Chris Warner (Machete) co-star alongside Cage. G.O. Parsons penned the script. Willy's Wonderland will hit theatres, VOD, and cable in 2021.
---

Drop a Facebook comment below!