Let's face it. The bulk of mobile games are not very good. There's Candy Crush, Pokemon Go, and…. With the glut of shovelware on the mobile app stores nowadays, it can be hard to parse the quality offerings from trash. From free-to-play games pushing microtransactions in your face, to premium games cashing in on existing IPs, there is often difficulty in finding a middle ground amidst the chaos. Chancing upon Eternal Crusade, I was pleasantly surprised by the experience.
Available for both iOS and Android users, the 3D massively multiplayer online role-playing game (MMORPG) is set in a fantasy period filled with dwarves, humans, elves and mythical creatures galore. Players are tasked with acquiring 27 magical rings in order to save the world from the big bad, Spiritus, the Kings of the Magic Rings. As cliche as the narrative is, the gameplay is reminiscent of dungeon crawling favourites like Diablo.
Imitation is the sincerest form of flattery after all, and while it is not as good as Blizzard's classic, it makes do for a mobile game. The twist of Eternal Crusade is its loot, only obtainable from killing monsters and in-game bosses, or through free trading with other players.
The nastier the creature, the rarer the gear and the game definitely encourages cooperation and socialising with fellow players, to tackle harder objectives. 24-hour events involving "World Bosses" promising higher quality equipment will require the efforts of more than your regular raiding parties to take down.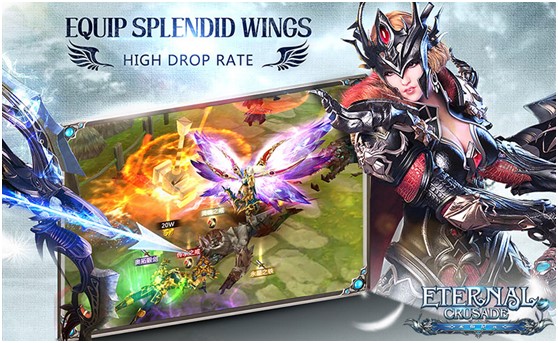 Eternal Crusade has been receiving regular updates to keep the content fresh since the game's November 3 release, and it appears to have a growing player base day by day. Not only is it ranked higher than killer apps like Clash Royale and Pokemon Go in terms of net gross, the ability to be able to play in either English or Mandarin across the platforms unites the player base significantly.
While many MMORPGs can often lead to a stale experience of grinding the same old content, being able to play Eternal Crusade on the go and having regular content updates makes this my go-to game when commuting. You should definitely give it a shot if you are looking for a mobile fix of good old hack and slash!
---

Drop a Facebook comment below!