If you're a fan of the Fate franchise, or its widely popular mobile game Fate/Grand Order, then you'll probably know who's the Oldest King, the King of Heroes, the Wedge of the Heavens. He's the one and only, golden, vainglorious, tyrannical Gilgamesh.
If you don't, then well, Gilgamesh will probably smite you where you stand.
For those completely new to Fate, or its various sequels and spin-offs, it's basically about a battle royale between several mages and their summoned Heroes for the wish-granting holy grail. It's totally worth checking out, and we're not just saying that because it started off as a really sexy eroge (erotic game).
Anyway, fans of the heavily plot-armoured antagonist are currently basking in the miracle of Gilgamesh's recently released art — bless you, Jakojakojako — because he looks pretty damned fine in his brand new duds. And what better way is there to show our appreciation for the illustrator's infinite wisdom in dressing our king up with buttery black leather than making fanart ourselves? Which is why we've enthusiastically applied ourselves and the new ASUS ZenBook Pro 15 (UX580) to the cause.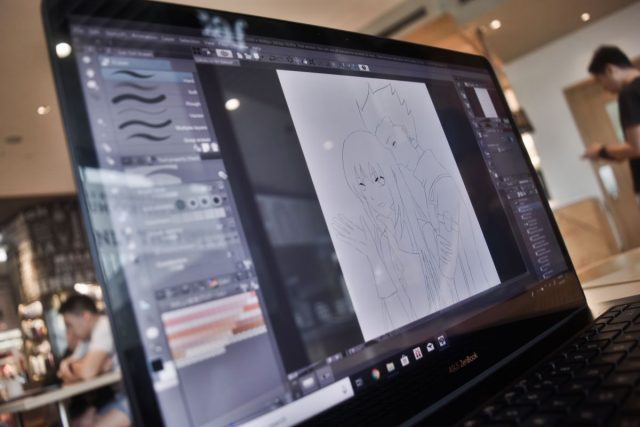 Now, we're not sure about you — but every now and then, most of us have felt the slightest bit tired of staring at that peeling wall in the office or at home, however, decorated it might be. And short of relocating to a bed or to some hipster Korean cafe down by Orchard Road, it's just seriously inconvenient to bring around a heavy, clunky gaming laptop and a Wacom Cintiq, just to make some detailed doodles. These aren't the easiest to lug around, you understand.
The ASUS ZenBook Pro 15 (UX580) is, therefore, a blessing. At somewhere under 2kg, it's not breaking anyone's shoulder blades or pulling anyone's back muscles if and when you're toting it out. And with a touch-screen that has a fairly decent sensitivity at 1024 levels, it'll also save you the trouble of hauling around an extra tablet.
And that's not the best part of it. What makes the ZenBook Pro 15 (UX580) come out ahead is its super nifty screenpad — a touchpad which is also a screen. It's got a couple of cool apps you can load up on it (music player, calculator, the like), but we like it best for its extended screen mode, because it gives us an extra bit of versatility when we're drawing.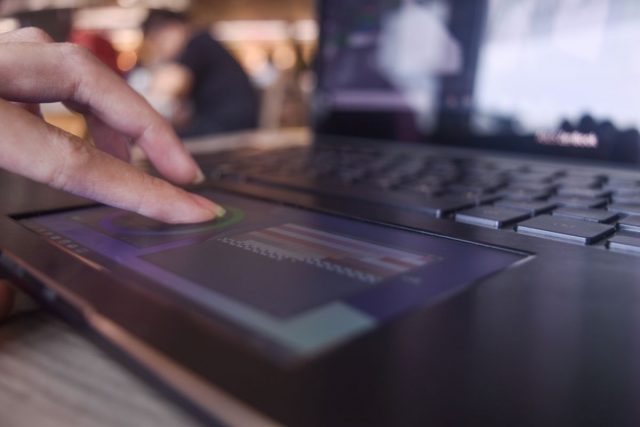 For those of you utterly spoiled by drawing tablets (the way this author is), you may abruptly find yourselves on the receiving end of cognitive dissonance upon realising you'll have to reach across your keyboard to get to the screen — don't worry, we feel you.
It takes a couple of extra minutes to get into the groove, but bonus tip, you may find it a little more comfortable drawing with the ZenBook on your lap, as opposed to a table — which is just perfect when we're cuddled up in an armchair or on a bed. Feels all the more intimate when we're drawing our husbandos, waifus, or our babies, doesn't it?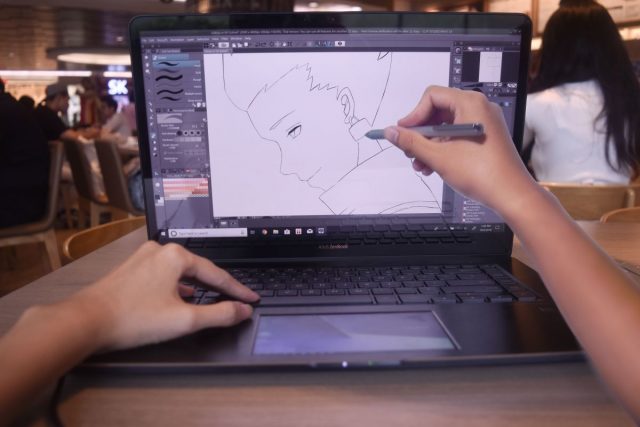 Okay, so here we are, putting Gilgamesh's chunky, lock-shaped earrings on him — we're not judging him for his questionable fashionable sense at all, no sirree. Lining your artwork comes pretty easily on the ZenBook, actually. The screen is responsive enough so you'll get nice, smooth lines.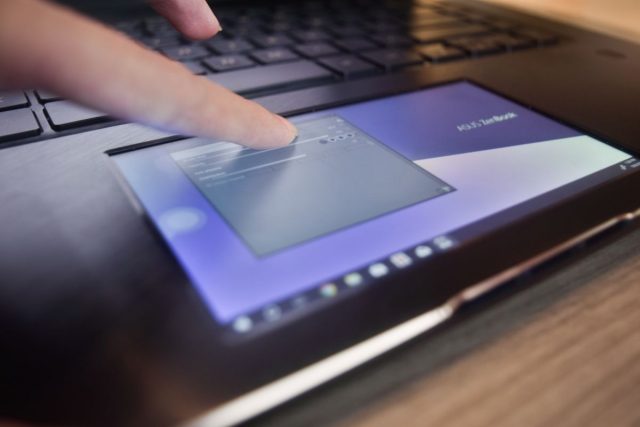 And while we tried putting the brush tool panel on the screenpad, in an attempt to speed up the switching of brush sizes, we soon realised the panel is a little too cluttered to go on the small screen. The workflow feels smoother if you leave the panel as is, so that's how we kept our workspace in the end.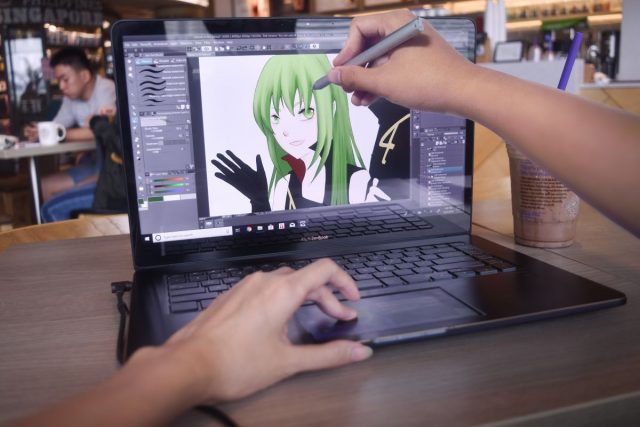 On the other hand, the colour wheel goes perfectly on the screenpad. It's really nice being able to switch colours using one hand, while painting on the other, which works wonders when you're trying out different shades to create depth or shifting lighting. And yes, that's Gilgamesh's best bud, Enkidu, whose hair we're shading on the screen. Isn't he the sweetest thing? It'll be best to put the colour set panel on the screenpad along with, to keep track of whatever shades you're working with and switch accordingly. It's really convenient to have all your colours quite literally at your fingertips, and the panels large enough so you shouldn't have any difficulty tapping on your chosen shade.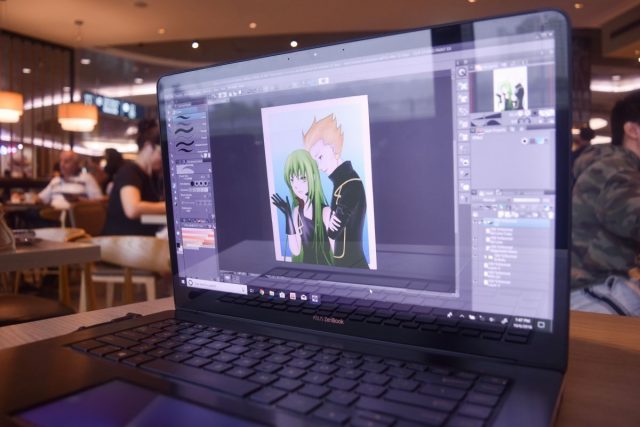 With that we're done with our fanart of Gilgamesh and Enkidu in matching black leather — completely PG, get your mind out of the gutter. And it's great that we won't have to worry about colour inaccuracy because the screen's Pantone validated.
Considering its compact build and high-performing functionality, the ZenBook Pro 15 (UX580) makes for a nice going-out sketchpad, especially handy for the sort of artist who's better inspired away from their workstation than while they're at it. Hipster cafes here we come!
---

Drop a Facebook comment below!