There are only two types of people who still need a powerful desktop machine – professionals who require intensive computing power, and gamers. These days, a desktop tends to be an overkill in the home.
But for those who still want a gaming desktop, without the hassle of deciphering all the numbers and codes for building their own computer, ASUS Republic of Gaming (ROG) is one of the names to look out for.
The ROG Strix GL12 is 11 kg worth of gaming power, with the looks to boot. The GL12 uses the Intel Core i7 processors, and for decent graphics card, consumers can pick from the GeForce GTX 1080, 1070, 1060, or 1050. For storage, the GL12CM comes with a PCI.e 512Gb and a SATA 256GB, as well as a 3.5" 2TB HDD.
The ROG Strix GL12 is asymmetrical in design, giving it a very sharp look. This is a desktop that refuses to conform in shape. In design, diagonal lines give a sense of movement and action, and for a desktop designed to give a lot of action, it certainly does fit the case.
It's not just diagonal lines that give the desktop life. The desktop has controllable light strips, two on the front and one embedded into the machinery, giving the desktop a nice glow. The light is adjustable through ASUS Aura Sync software, with several different modes. A favourite is the music mode, where the light responds to the music or in-game sound. It can create an even more immersive gaming experience, especially if the desktop is paired with peripherals that also have Aura Sync.
One of the best things about a desktop PC compared to a portable one is the number of ports available. When most laptops have 2, maybe 3 USB ports, the GL12 has 8 USB ports in the back and 4 in the front. The front I/O ports are located on the top of the tower, making it easy to access, even when the desktop is placed on the floor.
Hidden by a magnetic plate are an optical disk drive (if you still need those) and a 2.5" hot swap bay. This hot swap feature might not get much use out of ordinary users, but certain users might find this useful. Esports athletes can bring in their own peripherals with their own software and settings that are already installed in their own hard drives. These hard drives can then be inserted into the hot swap bay, decreasing the amount of set-up time for the athletes.
But again, that's only useful if you need it. Since we don't really use it, it just sat there, unused, unloved.
As far as performance goes, it's really good. But of course, that all makes sense when we look at what's inside the ticking heart of the machine. The GL12 has a few different graphics card options. There are two different GL12 available, the GL12CP and GL12CM. The GL12CP uses NVIDIA GeForce GTX 1050 while the GL12CM has the options of choosing between NVIDIA GeForce GTX 1060, 1070, or 1080. Whichever you end up getting, they're all great graphics cards.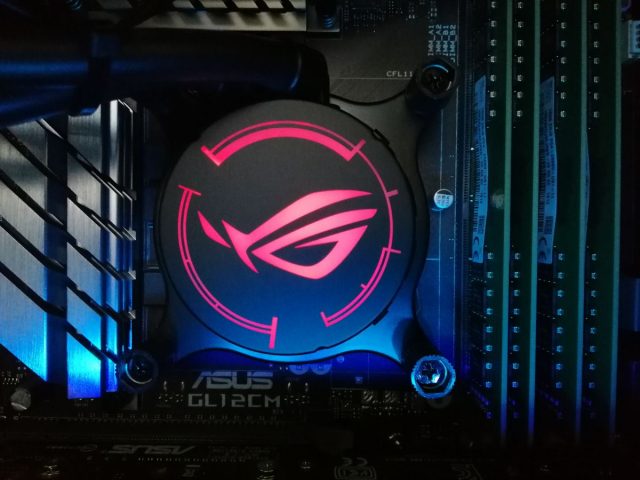 We tried out Overwatch and Fortnite on our machine and they both ran great at its highest setting. Everything was buttery smooth with absolutely no noticeable lag. Though we like playing games, we also have other work-related things to do. As much as we love playing games, this machine gets the most use out when we need to do some heavy video editing. And with the beefy graphics card, video editing was a breeze. The addition of the SD card slot at the front I/O ports also makes editing way easier.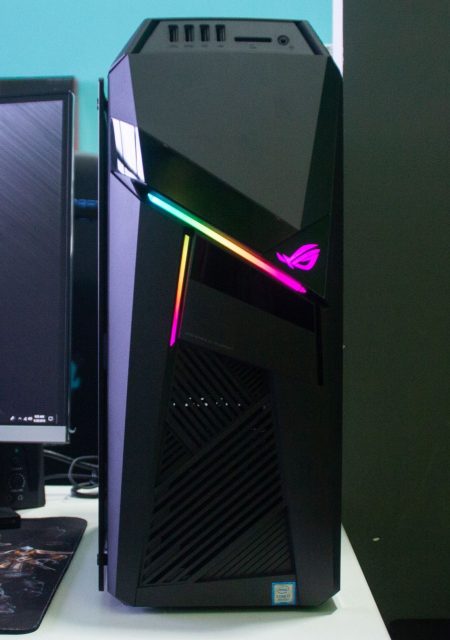 But now the question is, is it worth buying? If you're an esports athlete and want to look like you have a gaming desktop, by all means, get this desktop. Upgrade it with the works if need be because unless you have the patience or the skills to build your own rig, this is as cool as it gets.
GEEK REVIEW SCORE
Summary
The ROG GL12 is an esports gaming desktop that wants you to know it's a gaming desktop. It's flashy and edgy. It literally has a lot of edges. Definitely get this if you're an esports athlete or you're planning on starting an esports tournament of your own. With the very hefty price, it's for someone who's more than just a casual gamer.
Aesthetics -

8/10

Build Quality -

9/10

Performance -

9/10

Value -

8/10

Geek Satisfaction -

8/10
Dea wishes she could play the latest Tomb Raider or Uncharted, but she can't, so instead she reads and watches other people play. On her down time, you can probably find her re-reading Captain Marvel. The Carol Danvers one.
---

Drop a Facebook comment below!