Just a few days back, game developer Crytek dropped an extremely cryptic post Twitter after a four-year absence from social media, prompting many to suspect that a new Crysis title is in the works. As it turns out, it's not quite a fresh endeavour per se, but more of a repackaging attempt, as Crysis Remastered makes its presence known on the team's official website.
First spotted by Twitter user lashman, the upcoming game is confirmed for PC, PS4, Xbox One, and for the very first time, the Nintendo Switch. An official release date has yet to be announced, but what's known is that it will be "coming soon".
At the time of writing, heading to the Crysis website's Cookie Policy page leads to the appearance of the Crysis Remastered logo that when clicked on, opens up a new website, as well as a piece of new artwork. Do note, however, that access may not always be successful, and may instead pull up the "404 error" page.
Of the upcoming game, the official website blurb reads, "Crytek's ground-breaking, critically acclaimed first person shooter is back! Crysis Remastered is coming to PC, PlayStation 4, Xbox One, and Nintendo Switch – the game's debut on a Nintendo platform." A glimpse of its visuals is teased via the hexagonal cut-out below: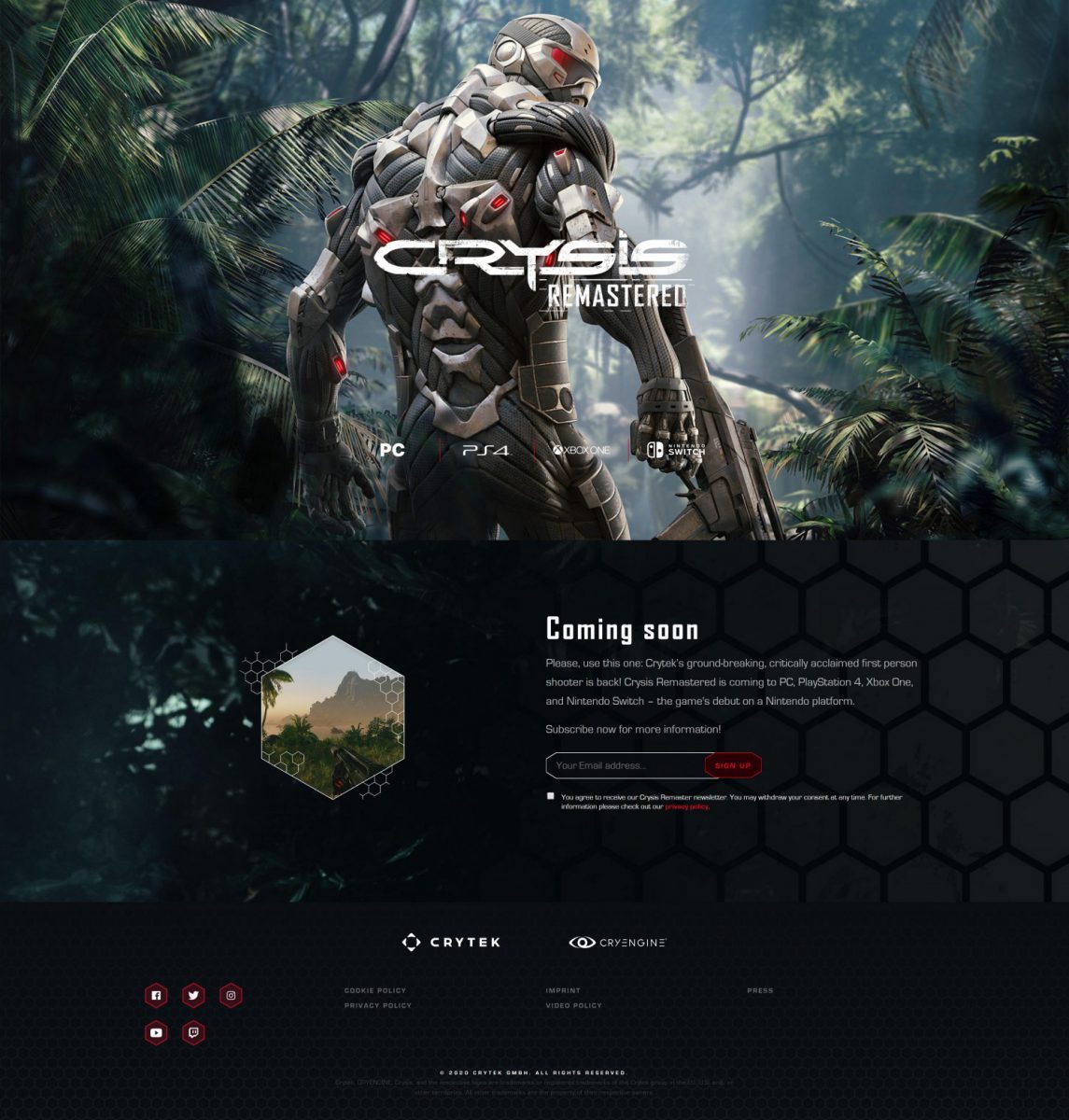 While Crysis is largely considered to be a gaming masterpiece, its ridiculously high hardware requirements saw watered-down gameplay even on high-end desktops, and spawned the start of many "but can it run Crysis?" memes. With the Switch running at only 60fps, it'd be interesting to see how the team will tailor the game to suit a less powerful console. An official announcement from Crytek is expected in the coming days.