Those of you who have played the classic computer RPGs (CRPGs) in ages past, it's a great time to own a console now.
Even if you haven't, you might have fallen in love with the likes of current-gen role-playing behemoths such as The Witcher 3, Mass Effect or Dragon Age, where you're immersed in a world full of conflict and strife, and your choices and actions define the outcome of these events. And all these games have those elements derived heavily from – and in the case of the latter, a spiritual successor – the iconic CRPG known as Baldur's Gate.
The genre-defining RPG Baldur's Gate series and its kin are coming to consoles this 2019, thanks to the team-up of Beamdog and Skybound Games. You might've seen these games pop up in your Steam catalogue at times and even bought them. Well, Beamdog is the team responsible for making the Enhanced Editions of these games and putting them up on Steam.
Beamdog is thrilled to announce our partnership with @Skybound that will bring beloved #DnD RPGs Baldur's Gate, Baldur's Gate II, Icewind Dale, Planescape: Torment, and Neverwinter Nights Enhanced Editions & Siege of Dragonspear to console in 2019!https://t.co/ygSoZ4z1Qh pic.twitter.com/dzeKf6jOVp

— Beamdog (@BeamdogInc) February 7, 2019
Couple that remastering power with the porting capabilities of Skybound Games, who is responsible for the revival of the The Walking Dead game, originally by Telltale Games, and you have yourself a proper port of a classic set of titles.
"These games are iconic, including Baldur's Gate, which has really set the standard for Dungeons & Dragons computer roleplaying games," said Skybound Games CEO Ian Howe. "We're excited to bring Beamdog's incredible slate to new platforms for both the dedicated fan and those who will soon discover these adventures for the first time. As longtime fans of Baldur's Gate and Dungeons & Dragons, it's fantastic to partner with Beamdog as the newest member of the Skybound family."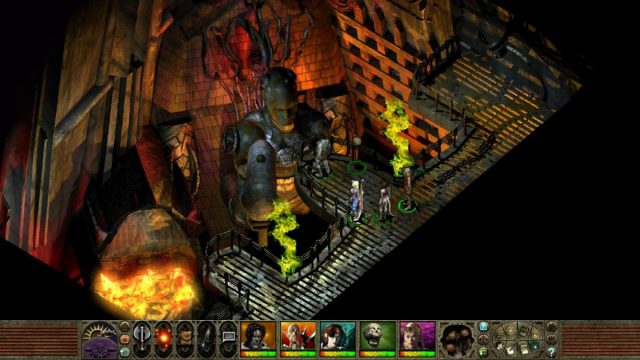 The six titles to make their debut on PS4, Xbox One and Nintendo Switch will be Baldur's Gate 1 & 2, Baldur's Gate: Siege of Dragonspear, Icewind Dale, Planescape: Torment, and Neverwinter Nights. BioWare originally developed the original two Baldur's Gate games, as well as Icewind Dale and Planescape: Torment using the same top-down engine. Neverwinter Nights was also developed by BioWare, but using an engine that has since evolved and been incorporated into the Dragon Age games. Beamdog worked on Siege of Dragonspear in 2014 as a standalone expansion to Baldur's Gate.
This isn't the first time CRPGs have made their way to consoles. In fact, players will now be spoilt for choices, with classics like the above and current-gen titles such as Divinity: Original Sin 2 and later on Pillars of Eternity: Deadfire also competing for hard drive space.
More details will be announced pertaining to the release of these six titles on current-gen consoles. Now, seasoned veterans of the series can get their nostalgia fix and new players will soon feel the joy of hearing the iconic battle cries of this man and his miniature gigantic space hamster:
---

Drop a Facebook comment below!