The original version of the article first appeared on Dan & Esther's Food Haven.
We've been fans of Nespresso for the longest time; from the very beautiful machines that they make that's a perfect fit to any modern kitchen to the staggering number of coffee variations from its core range to limited edition variants – such as single origin expressions such as its Pure Origins series featuring terroir such as Columbia's diverse coffee growing regions of Cauca and Santander,or those with Christmas flavours for the festive season – you can say Nespresso has thought out everything for the coffee lover looking for the ultimate convenience.
But the one thing that has always bugged us was the price; we used to pay a premium for Nespresso capsules in Singapore compared to other markets (and had to hand carry back boxes of capsules whenever we traveled), until it adjusted its prices last year for closer parity. Perhaps that price change was prompted by the fact there was a number of new entrants into the local coffee capsule market to challenge Nespresso's dominance; we look at three of these independent coffee capsule brands.
---
Tripod Coffee
The first alternative coffee capsule brand we encountered was Tripod Coffee at last year's Singapore Coffee Festival, and were so excited we immediately placed an order to try the different flavours from this Sydney, Australia-based brand. With names such as Blue Beret, Black Panama, and Red Fedora – each of which offers a different blend from beans from a regional coffee-growing region – coffee enthusiasts can find a blend they enjoy as their daily button brew.
One of the biggest problems with Tripod Coffee was that the earlier versions of its capsules didn't sit right inside the chamber of the Nespresso machine; the firing pin wouldn't penetrate the capsule properly so there was improper and incomplete extraction. That problem has now been solved with its latest version of recyclable, biodegradable and compostable coffee pods (also a great answer to environmentally-minded capsule cynics).
Our favourite variation from Tripod Coffee is the Green Gatsby; it's not only the first variant to employ the new-fangled environmentally-friendly pods, it's also the first from Tripod Coffee to use coffee beans from Papua New Guinea, which produces a robust chocolatey and honeyed drop that's balanced with a pleasant rounded acidity.
Prices range from S$7.50 to S$8.50 for a box of ten capsules; that's 75c to 85c a pop – which is priced around Nespresso's revised prices – but their (pretty much) permanent promotional prices of a dollar off each box makes them cheaper than Nespresso.
You can buy Tripod Coffee from their website. We like that they accept PayPal.
---
Hook Coffee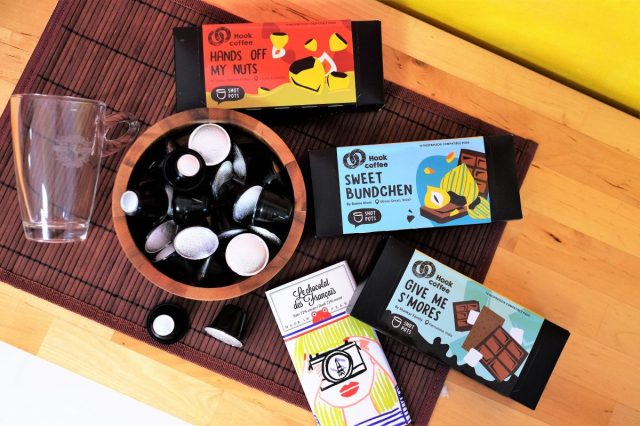 It was a sponsored ad on Facebook for local brand Hook Coffee that got us… ensnared. We were immediately attracted to the naming convention for its different variations, each of which was cheeky but perhaps also proferred an idea of what one might taste in that expression. We're thinking Give Me S'Mores would provide flavours of marshmallow, chocolate and Graham crackers, while Hands Off My Nuts gives nuttier notes (Sweet Bundchen refers to Brazilian supermodel Gisele Bundchen, of course, and its Brazilian coffee bean composition a hat tip to her roots). Thankfully Hook Coffee flavours are more normal than they sound; you'll only get a sugar overload thinking about these.
There's nothing inherently problematic with the use of Hook Coffee capsules except that all of them – across all the different flavours – are totally generic, which means you can't tell them apart if you open more than one box at a time (and rendering useless that pretty but pricey Versilo capsule stand of yours). There's no mention on how environmentally friendly these capsules are, so if you're an advocate for a sustainable, eco-friendly lifestyle you may want to avoid these (on the plus side, they claim they source directly which means farmers get a bigger share of proceeds).
Hook Coffee capsules are sold in a set of 20 capsules, with each set at S$14. That makes it 70c per capsule (just 2c pricier than Nespresso's cheapest offering).
You can buy Hook Coffee from their website.
---
Arrow Coffee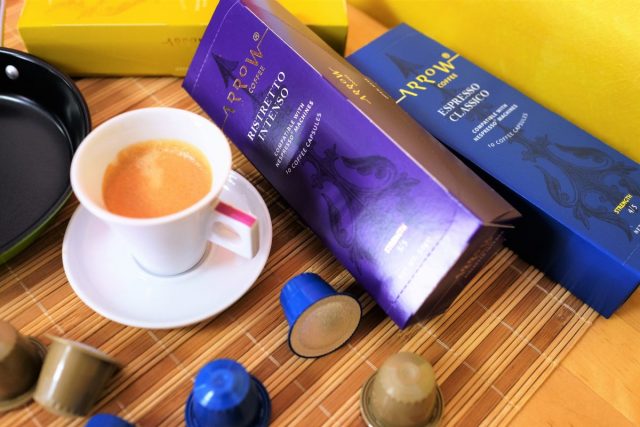 Arrow Coffee was recommended to us by a fellow capsule coffee-loving friend. It's somewhat hard to assess Arrow Coffee because we have no idea where the company is from – their website is hazy on that aspect to say the least – and each of its expressions, which we assume are blends, are unclear about provenance.
What Arrow Coffee does have going for it is a very good price. It's based on a subscription model, but if you get 10 boxes (totalling 100 capsules) it's just $S49. Considering that Nespresso variants cost somewhere between 68c to 88c per capsule – after its price reduction! – the price of 49c per Arrow Coffee capsule is incredibly attractive to those who are price-sensitive and do not care too much about which beans go into its blends. That said their coffees tend to be a little on the roastier, acidic side; they taste better with a shot of milk.
Like Hook Coffee there's also very little revealed about the eco-friendliness of its capsules. That said those who are into green practices are probably also keenly concerned about provenance of their coffees and so Arrow Coffee is unlikely to appeal to them. At that pricing we reckon Arrow Coffee is probably targeted at commercial use, to be put into office pantries and the like.
You can sign up for your Arrow Coffee subscription on their website (they also offer once off purchases, and accept PayPal payment).
---
There you have it – three Nespresso alternatives to choose from. We still love our Nespresso flavours – they're still the only ones with single origin flavours – but we'll continue to be on the lookout for more Nespresso compatible coffee capsules to experiment with; if you have any suggestions do chime in in the comments.
There's only one thing better than gaming, and that is gaming while drinking beer, whisky or wine.
---

Drop a Facebook comment below!

---