The influence that Japan has over Star Wars should come as no surprise to fans of the iconic franchise, so perhaps it is only fitting that the nation and culture that birthed George Lucas' genre-defining series wraps up its 42-year-old legacy in the Land of the Rising Sun.
From the moment Star Wars hit the big screen in 1977, there was no denying the influence of Japanese culture on the series, from Akira Kurosawa's work, most notably The Hidden Fortress, the cultural and spiritual elements of the Force with the ways of the Bushido and Samurai, as well as the ronin-like Sith lords.
So when it was time for the cast and director of Star Wars: The Rise of Skywalker to take to the red carpet this evening at the Roppongi Hills Arena, exactly nine days before the ninth and final Star Wars movie in the Skywalker Saga opens in Japan on December 20th, fans descended in droves to catch original star Anthony Daniels, and newcomers Daisy Ridley, John Boyega, and Oscar Isaac, as well as director J. J. Abrams, and Lucasfilm President, Kathleen Kennedy.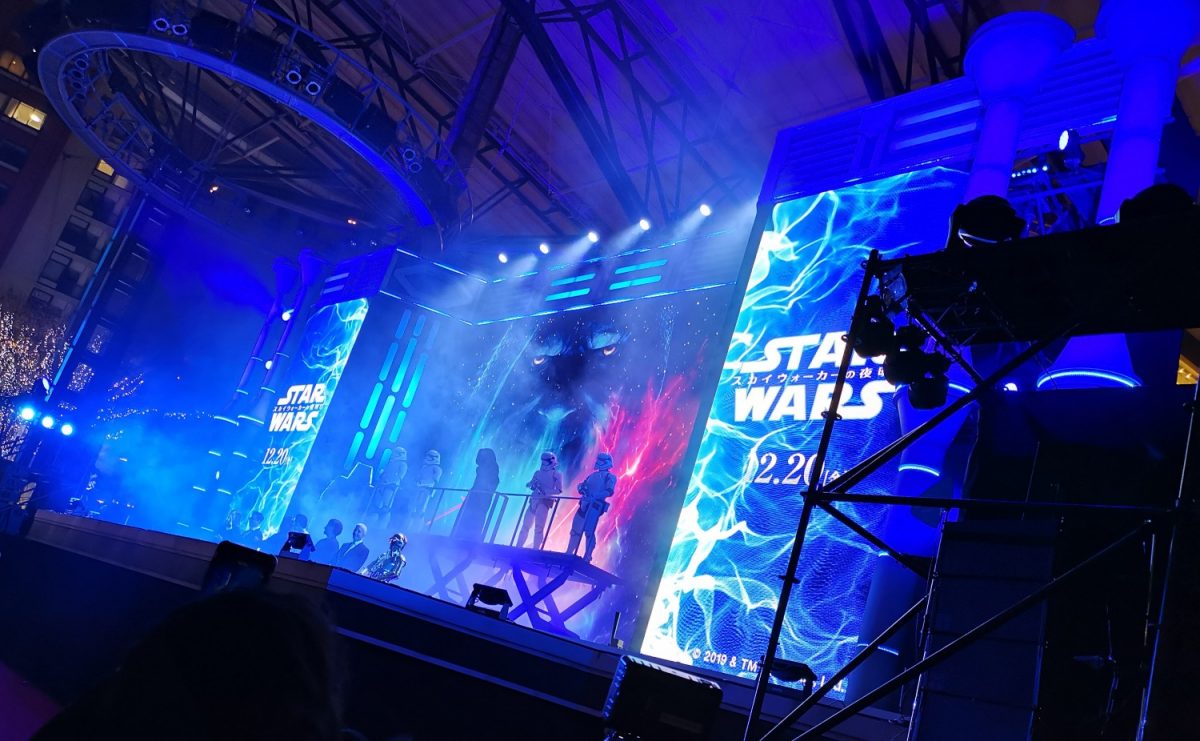 While the rain might have placed a dampener on other events, the Japanese fans would not allow anything to water down their passion for events in a galaxy far, far away.
Fans packed the outdoor venue with their lightsabers and Star Wars memorabilia for the stars to autograph, and cheered frantically as each of the stars arrived on the red carpet.
Ridley kicked-off the red carpet with a countdown from 9 (9 instead of the usual 10, because well, its 9 episodes), by saying "May The Force Be With You" in Japanese.
Maybe it also had to do with the fact that the movie will open in Japan ahead of everyone else in five cities, with special early screenings at 6:30pm on 19th Dec, so die-hard fans can watch the movie before everyone else, but it might also has to do with Abrams, the only director other than series creator George Lucas to direct more than one Star Wars movie, who promised fans that the ending will blow their minds.
i could not be more excited about the film, i couldn't be more excited for you to see what this cast and crew have done. There was a lot of responsibility doing this movie for the fans, and the new fans. So to everyone who sees the film, just know that thousands of people spend many hours working on this film for your enjoyment. We hope you are moved by it. It's going to be a fun ride.

J .J. Abrams
Star Wars: The Rise of Skywalker opens in theatres in Singapore on December 19, and in Japan and US on December 20.
---

Drop a Facebook comment below!