For gaming enthusiasts, having a powerful and at times, aesthetically-pleasing set-up is all part of the experience. The components, after all, will need to fulfill the functionality of a well-oiled machine: hardware performance is determined by the desktop, while the keyboard and mouse work together to facilitate navigation.
Bringing everything together is the monitor, staggering users with beautiful visuals, and translating processing power to graphical prowess on the screen. It's a dream sight that not only PC owners get to enjoy, but their console counterparts, too – if they can find a compatible display to feast their eyes on that is. The BenQ MOBIUZ EX3210U 4K Gaming Monitor presents a solution for gamers of every group, including those who've laid claim on next-gen consoles.
For starters, the monitor is compatible with the PlayStation 5 and Xbox Series X via HDMI 2.1, delivering a refresh rate of 120Hz at 4K UHD resolution (3840 x 2160), which is higher than the usual 60Hz count. Its 32-inch screen size strikes a good middle ground between being sufficiently big for cinematic viewing, and modest enough to catch all the action within your field of vision.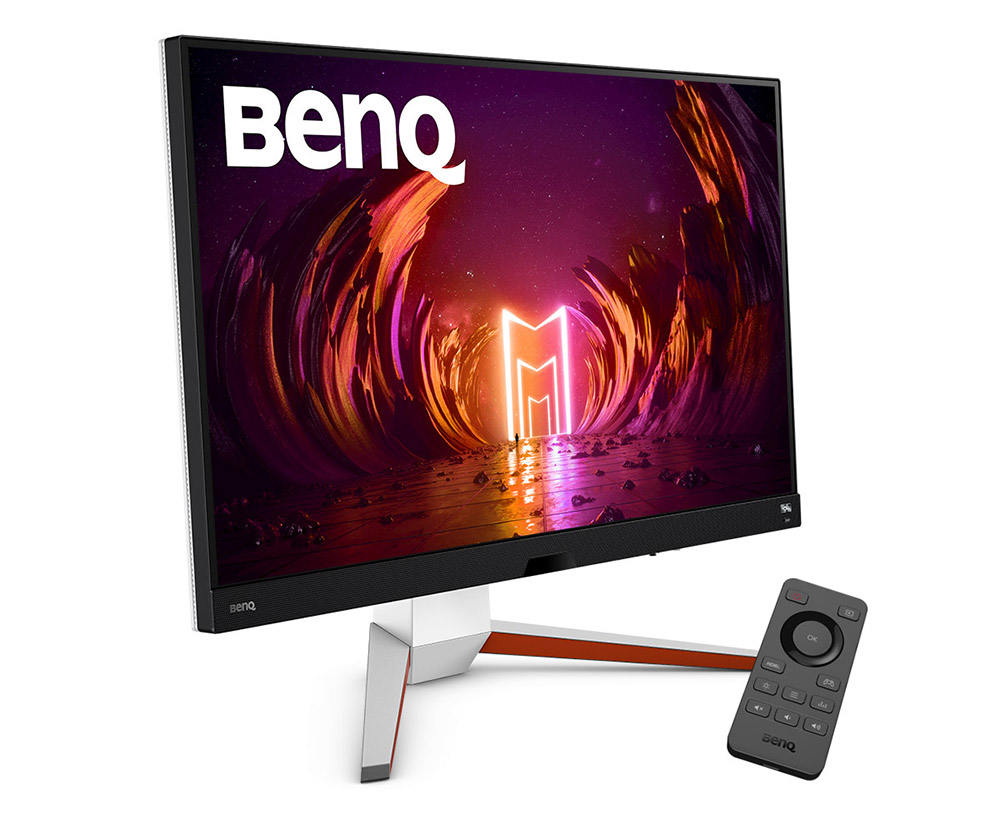 Coupled with a one-millisecond response time, undesired effects like blurriness and ghosting are eliminated, allowing for fluid, blazing fast gameplay, especially in fast-paced competitive titles.
The same brand of smoothness is carried over to PC as well. Here, the refresh rate is capped at a maximum of 144Hz, with the AMD FreeSync Premium Pro technology working to remove screen tearing and input lag. What this yields is a stutter-free experience that keeps up the immersion factor, since interruptions to visual details are kept to a minimum.
Immersion, however, doesn't stem from graphics alone. While the EX3210U offers crisp, finely-detailed, and clear images, its audio capabilities are also important in creating a surround feel. Outfitted with two 2.1-channel, high-end built-in treVolo speakers, the monitor boasts five user-definable sound settings (Cinema, Sport Game, FPS, Racing Game, Pop/Live) that offer precise treble, rich mid-range, and defined bass across different genres. Bringing even more of the gaming action to life is the monitor's Omnidirectional Mode, which picks up ambient audio for a more three-dimensional soundscape.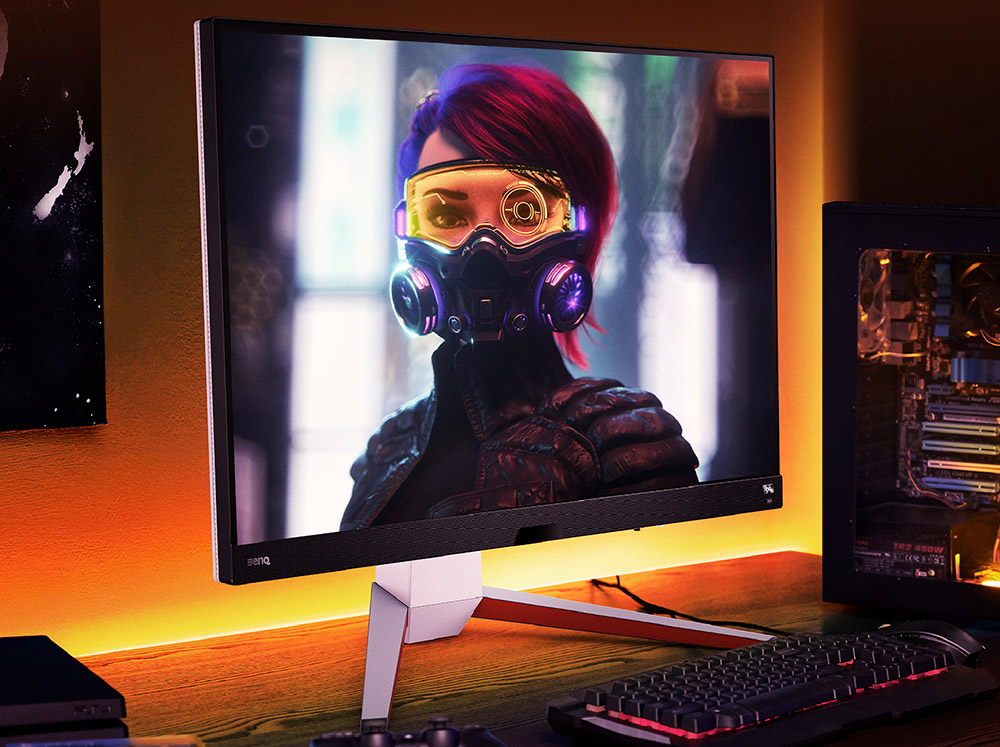 Another part of the user experience comes in the form of quality-of-life features, and that's something BenQ takes seriously with the EX3210U. The monitor can be adjusted up to 100mm in height, tilted from -5 to 15 degrees, and swivelled from -15 to 15 degrees for better viewing angles and comfort. An accompanying remote control, meanwhile, lets users switch easily between different display windows, or to change sound and game modes on the fly from anywhere in the room.
The built-in Scenario Mapping, in the same vein of convenience, auto-selects one's preferred setting based on the selected input source. Elsewhere, Light Tuner offers 20 colour settings for various lighting effects, while the AI noise-cancelling microphone filters ambient sounds and picks up directional input in Private Mode.
When all of these elements come together, it's easy to dive into the gaming realm and lose track of time, leading to prolonged periods of use. That, needless to say, isn't the best treatment for our eyes, but BenQ has put in place some safeguarding measures. The EX3210U has been certified as a flicker-free, Low Blue Light monitor that protects the eyes from premature fatigue, with its Brightness Intelligence Plus technology automatically adjusting screen brightness according to ambient light.

The EX3210U's feature-rich build makes it a good fit for any gaming enthusiast with the exception of one particular group – curved screen users. This is where the MOBIUZ EX3210R Dying Light 2 Edition comes into play, offering a 31.5-inch QHD (2560 x 1440) curved display alongside a free copy of the parkour-focused survival horror title on Steam. The result is a tailored experience that arms users with a slight edge in exploring the game's environment and mechanics.
The 1000R curvature, for instance, grants a wider field of view and better viewing angles, allowing them to see more of their surroundings. Together with HDRi technology, which showcases crisp, clear details, and the Light Tuner feature, zombies and villainous humans hiding in the shadows can now be spotted more easily.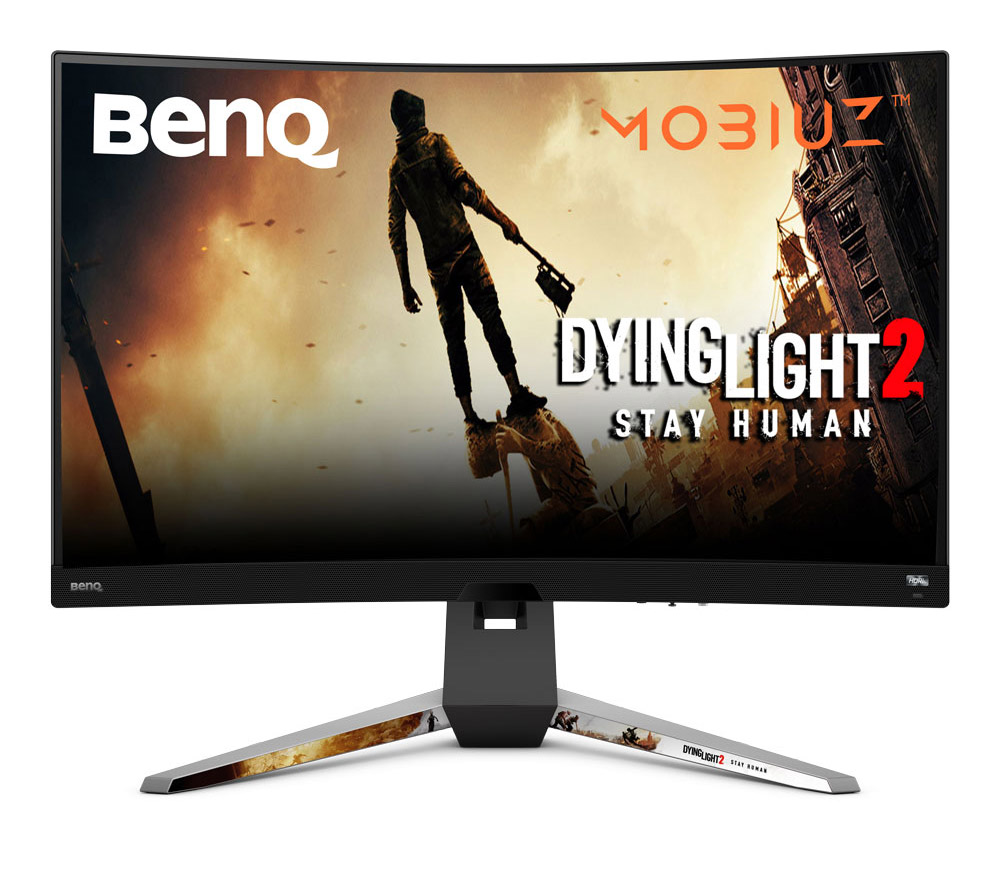 Drop your guard down in The City, and the monitor speakers will remind you of the dangers of doing so. The dual 2W + 5W woofer works to amplify and enhance the groans of the infected, while a dedicated digital signal processor (DSP) ensures accuracy and sound authenticity. The immersion factor is further accentuated with smooth, uninterrupted gameplay, courtesy of a one-millisecond response time and AMD FreeSync Premium Pro support.
BenQ, with its line of MOBIUZ monitors, is certainly no stranger to the demands of the gaming space. As its future continues to grow with next-gen consoles, it only makes sense for industry players to look forward and embrace the change – a trait that the brand has demonstrated by marrying PS5 and Xbox Series X compatibility with great audiovisual immersion.
---
This article is brought to you together with BenQ.