Gaming on the go is nothing new in this day and age, but the demands for top-tier games have increased exponentially, leaving manufacturers quite the mountain to climb, usually in terms of hardware. However, a lot of manufacturers have the hardware and technology these days to meet those demands, especially for gaming laptops. It's just a matter of getting that formula right across all aspects.
That's where the ASUS ROG Strix Scar III comes in. The third iteration of the esports-focused Strix Scar series of gaming laptops, the Strix Scar III provides all that was good about its predecessors, and then some.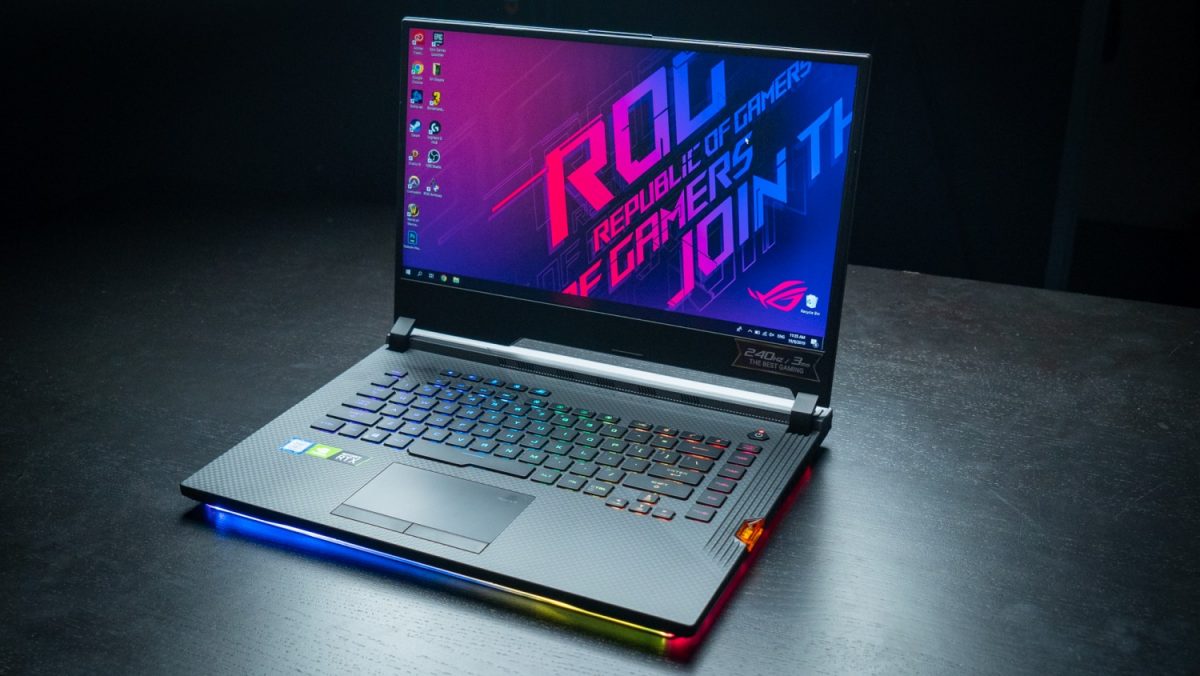 Sporting a sleek, gunmetal grey body, the Strix Scar III resembles a sports car ready to rev up the road once it lights up.
And speaking of which, this machine just screams RGB, with not just scintillating lights on the keyboard and on the ROG logo on the back of the monitor, but also on an LED strip that wraps around the base. If you're looking to get some work done stealthily in a dark room with this bad boy, you'll be standing out like a sore thumb.
But we jest. It's a really great way to light up your surrounding area without having to reply on a desk lamp. Perfect for when you prefer just your immediate vicinity lit up, and when you just want to focus on the task at hand, which, in this case, would typically be gaming.
As with any gaming laptops, the Strix Scar III lies on the heavier end of the spectrum. Despite being a 15-inch laptop, its immense bulk even when closed (36 x 27.5 x 2.6cm) and monstrous weight (2.57kg) make it quite hefty to bring around. Naturally, it functions best on the tabletop, so you'd want to minimise travel time on this for the sake of your back.
It's a shame that ASUS couldn't manage to streamline the design on the Strix Scar III, like how they did on their ROG Zephyrus lineup, but it's probably the price to pay for cramming a ton of top-tier hardware on the motherboard of this laptop.
But before we truly get under the hood, let's take a look at the additional utility the Strix Scar III offers. Here are the ports that you get:
3x USB 3.1 Gen 1 Type-A
1x USB 3.1 Type-C
1x HDMI 2.0"
1x RJ-45 Ethernet port
3.5mm audio jack
Not a bad assortment of ports, which are all nicely flushed to the back and the left side, so you won't have to fumble around with it much when jacking into the Strix Scar III. However, it may put off those who prefer to connect to their laptops on the right. The lack of an SD card reader may be sorely missed, but then again, the target demographic here is skewed heavily toward pro gamers, who may be highly unlikely to use such a feature.
Under the hood, you get a nicely-spaced out keyboard, which would sit well with gamers with larger hands. Furthermore, the enlarged space key should prove useful to FPS gamers. The dedicated media keys, as well as a fan control key and ROG Armoury Crate key at the top add quite a nice bit of utility, though one might question why some keys, such as the fan key, have been replicated on the function keys.
The tactile keys feel smooth, whether you're playing games or simply typing on it. Its low response time and N-key rollover means you'll be able to execute split-second commands flawlessly on just about any program, even beyond games.
As with most recent ASUS laptops these days, the touchpad also doubles as an on-screen numpad at just the press of a button. Its layout is similar to the ASUS ZenBook 14, which is at the bottom of the keyboard. It may take some getting used to, especially if you're more accustomed to having it on the side on a traditional keyboard. However, between this and the cramped space you'd find other similar laptops in the market, ASUS wins out on ergonomics by a good margin.
Despite this, however, ASUS still hasn't come up with a proper solution to alleviating their ROG laptops' issue of being fingerprint and sweat magnets. The Strix Scar III is no different here, especially on the area where you rest your wrists. These stains can prove quite a hassle to clean, especially after using it for extended periods of time.
There is actually a reason why ASUS didn't include any additional ports on the right side, as it is to accommodate the Strix Scar III's standout new feature: the ROG Keystone.
This translucent amber attachment is a security feature on the latest ROG laptops, inclusive of the Strix Scar III. The ROG Keystone is a NFC-enabled key that you can store your custom ROG Armoury Crate profiles (including keyboard macros, lighting setups etc.) onto it, and load them up on other ASUS ROG laptops that support Keystone. Its main purpose is for pro gamers to quickly get set up and get cracking in tournaments, which typically have these machines on hand. If you're getting the Strix Scar III for personal use, then don't be surprised to find its utility drop to a minimum, since you won't be swapping around with other ROG laptops.
However, its secondary feature might make you perk up a little, as Keystone also functions as a shadow drive to store any important data that you don't want to fall into the wrong hands.
The Keystone's unique shape means that it can only be accessed via an ASUS ROG laptop, so you can rest assured that your files will be doubly safe. We'll leave it to you to determine which files you consider most valuable, but just note that you can only store up to about 4GB of data on it.
But, of course, the Keystone is but a fraction of what the Strix Scar III is capable of. For starters, here are some of the key specs that are on the review unit we received:
Processor: Intel Core i7-9750H Processor (6 Cores, 12 Threads)
Graphics: NVIDIA GeForce RTX 2070 GDDR6, 8GB
Memory: 16GB DDR4, 2,666MHz RAM
Storage: PCIe NVMe 1TB SSD
Price: S$3,598
And here are some benchmarks we performed on the Strix Scar III:
PCMark 10
Cinebench R15
OpenGL: 116.50 fps
CPU: 1082cb
CPU (Single Core): 178 cb

Unigine Heaven 4.0 (Extreme settings)
FPS: 95.2Score: 2397
Min FPS: 9.0
Max FPS: 202.3
As you can see, solid scores throughout. This is thanks to the superior hardware on the Strix Scar III's motherboard. Playing games has never quite felt like the breeze as on the Strix Scar III. It runs at a constant 60fps at minimum when running AAA titles such as Borderlands 3 and Sekiro: Shadows Die Twice at max settings, and that goes without saying.
Where it really shines in games, though, is in FPS games. This is, after all, a machine designed to be optimal for competitive FPS gaming, and as such titles such as Overwatch, Fortnite and PUBG will feel the smoothest, thanks to the insanely creamy 240Hz refresh rate and 3ms response time on the display. Never again will you miss a single shot or movement when competing on the Strix Scar III.
Furthermore, you can boost its CPU and GPU performance with a simple tap of the fan control key at the top, which allows you to cycle between three presets (Silent, Performance, Turbo) at your own convenience. Of course, you can always customise your own profile via ROG Armoury Crate, the details of which can also be saved on ROG Keystone.
However, you'll find that the Strix Scar III isn't a one-trick pony, as it performs superbly in the realms of video and photo editing as well. Its massive 16GB RAM enables you to shell out a constant output of videos and photos without worrying too much about Premiere Pro and Photoshop sucking up your system memory dry.
ASUS has done their R&D well, having improved the cooling system on the Strix Scar III over its Scar II predecessor. It now comes with a revamped cooling system called the 3D Flow Zone, which allows for air to pass through the multiple vents located on the back, sides and underside of the laptop, without ever reaching your hands. Furthermore, it comes with a self-cleaning thermal module that ejects dust to prevent build-up on the heatsinks and allows it to keep running even for long hours of use.
This, however, makes the Strix Scar III arguably one of the noisiest laptops out there, even when on the "Silent" fan setting. Coupled with its flashy RGB light strip on the exterior, this laptop is certainly an attention-grabber, sometimes for the wrong reasons.
In order to run all its superb hardware, the Strix Scar III would have to guzzle a ton of power, but its abysmally short battery life of just 3 hours would require you to be constantly hooked up onto its 66W power brick, which itself is also rather bulky.
As a pro gaming laptop, it no doubt comes at a premium, going at S$3,598 on Lazada, so buyer beware. For about half the amount and for similar capabilities, you'd be better off with the Aftershock Forge 15 Pro, assuming you don't want the added security and customisability provided by ROG Keystone and ROG Armoury Crate respectively.
In any case, the ASUS ROG Strix Scar III is a force to be reckoned with in the gaming scene today. Boasting the latest and greatest in terms of hardware, this sleek beauty is also a beast when it comes to running some of the most graphically-demanding games out there. Despite it coming with the label of being an esports gaming laptop, it still packs enough punch to deliver superbly when performing non-gaming tasks.
---

Drop a Facebook comment below!