Many a time, geeks like us strive to acquire the latest and greatest technology in the form of PC components, PC peripherals, and monitors. Most of the time, we simply dispose of them without giving a second thought that these electronic waste (e-waste) can be recycled.
According to The Global E-waste Monitor 2017, 44.7 million metric tons of e-waste were generated in 2016. To put things in perspective, that weight is equivalent to 4,500 Eiffel towers. Out of these, only 15% of the e-waste is recycled, while the others end up in a landfill.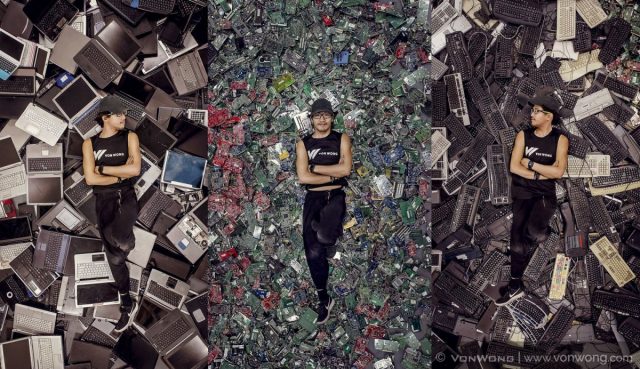 To raise awareness of the issue of e-waste, Von Wong, a famous photographer, collaborated with Dell to use nearly 2 tons of e-waste for a photoshoot to raise awareness of the e-waste issue. 2 tons is a significant number as it is also the amount of e-waste a person is estimated to use in a lifetime. The idea of using these e-waste for the shoot was to show the potential that e-waste can actually be given a second chance and be empowered to be useful again when passed on to the right hands.

These e-waste, consisting of circuit boards, keyboards and laptops and were collected using Dell's Asset Resale and Recycling program and Dell Reconnect.  It took 50 volunteers took over 10 days to create the sets for this portraiture shoot.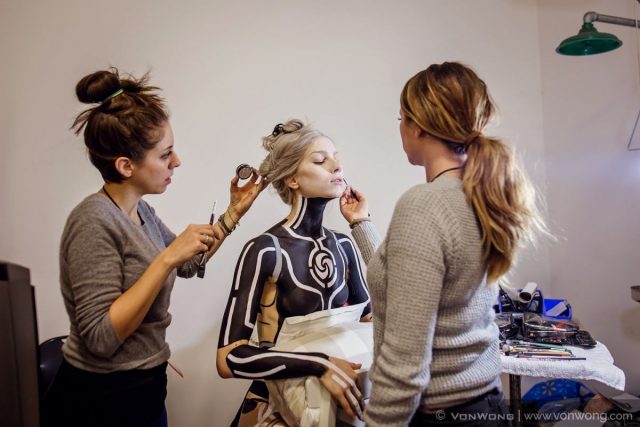 The model for the photoshoot, Clara Cloutier, had to stay near motionless for 8 hours while she was body painted to look like a futuristic cyborg.
With so much effort going into preparing for the photoshoot, let's see the final shots from Von Wong.
We resurrected a lifetime of Electronic Waste

Every day, 142,000 computers are thrown away in the US. Why?Learn More: www.RethinkRecycleRevive.comBuy a Print (At cost!) : https://www.vonwong.com/Store/E-Waste-Posters#RethinkRecycleRevive #DELL

Posted by Von Wong on Monday, March 5, 2018
The first portrait featured her as a cyborg walking through a circuit board portal.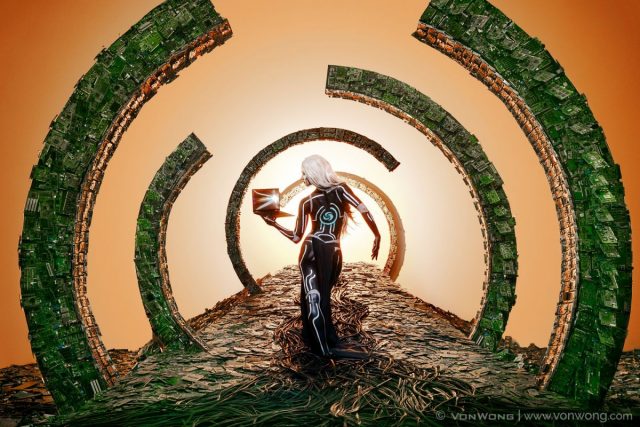 Behind the scenes, the circuit board arcs were ingeniously placed in a position that uses forced perspective to make the portal look longer than it really is. Notice that the arcs were only covered from the angle that is visible to the camera, and were also used to mount concealed flashguns to light the scene.
The second portrait featured the cyborg floating in the middle of a particle accelerator made out of keyboards. With the green hues on the black keyboards, this scene looked like it could fit in as one of the scenes from The Matrix movies.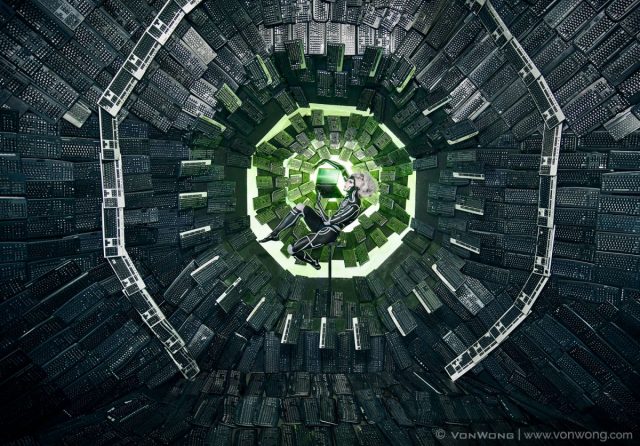 Behind the scenes, you can check out how the keyboard particle accelerator look like as a structure. It reminded me of a throne of keyboards, similar to the throne of swords from Game of Thrones.
The last shot featured the cyborg summoning an array of laptops. It gave me a vibe that this could be a scene from an amped up version of Lucy, the movie starring Scarlett Johansson as an A.I.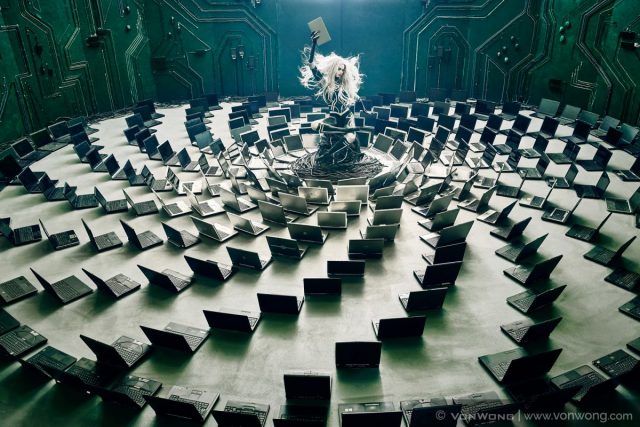 Looking behind the scenes, this shot was taken from a high perspective and involved a flash mounted on a drone to light the subject directly from the top. A blower was used to give motion to the model's hair.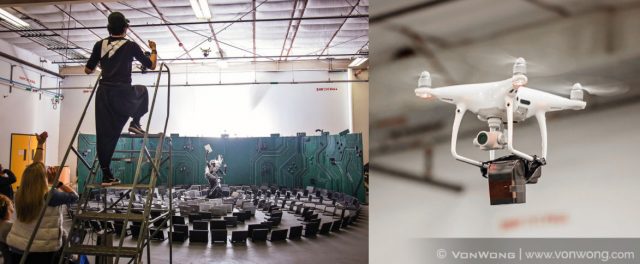 Right after the photo shoot ended, the e-waste in the set were sent for recycling, setting a model example to us all to recycle our e-waste. Von Wong shared his thoughts after shooting these epic images.
"The images will hopefully live on forever and empower every individual to tell their friends and family to Rethink electronic waste, Recycle them responsibly so that responsible companies like Dell can Revive them as brand new computer parts."
Here at Geek Culture, we hope that this series of epic photos inspires and reminds you to recycle your e-waste. If you are in Singapore, you can find the list of places you can recycle your e-waste at these locations.
SnapSniper is an avid geek who is both a huge fan of games and an even bigger Star Wars fan.
---

Drop a Facebook comment below!