Homegrown PC maker Aftershock has come a long way, having grown from building gaming desktop rigs in a small shophouse to expanding overseas with several brands under its wing. Even with the continued progress, the brand isn't looking to sit on their laurels, as it explores different avenues to reach greater heights.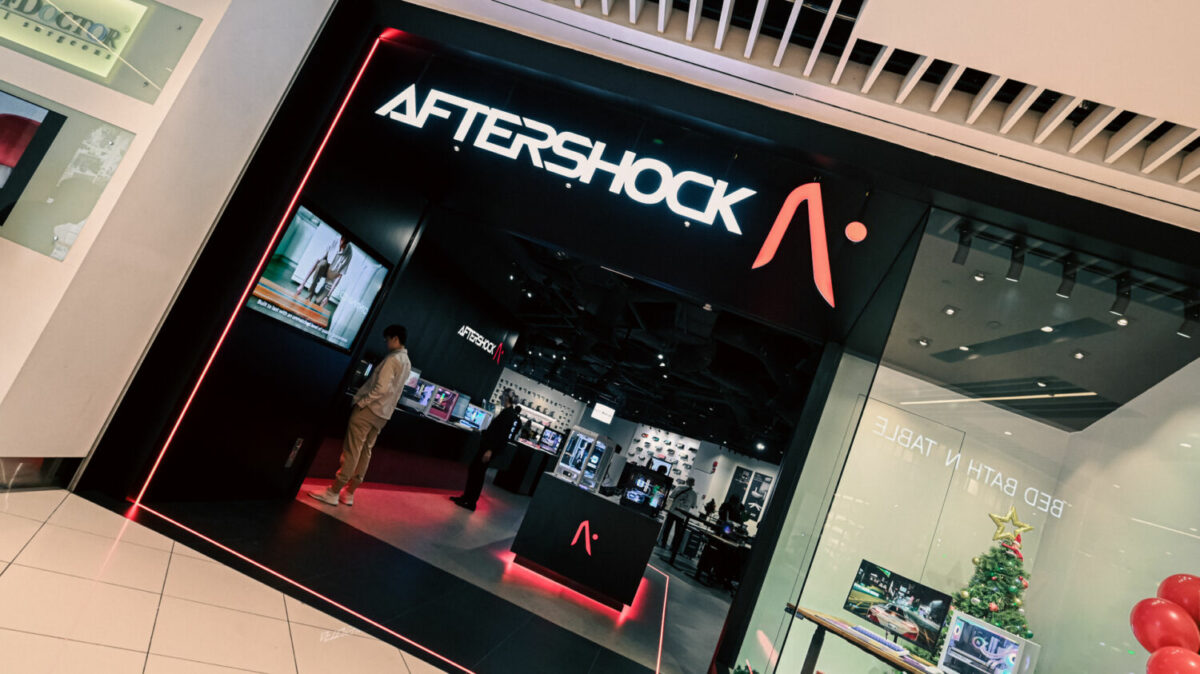 Following the opening of its massive 7,000 square-feet experiential centre, Aftershock has now shifted its focus to a retail storefront. Located in the central location of Suntec City, the flagship outlet is designed to be a more accessible space to welcome both existing customers and the casual user.
The showroom greets visitors with a clean, black facade with red accents, with the interior divided into three different zones: Aftershock, Omnidesk, and Mash. The first presents the various custom PCs from Aftershock, which runs the gamut from the cool-looking transparent Fishtank build to the highly-customisable Trixel.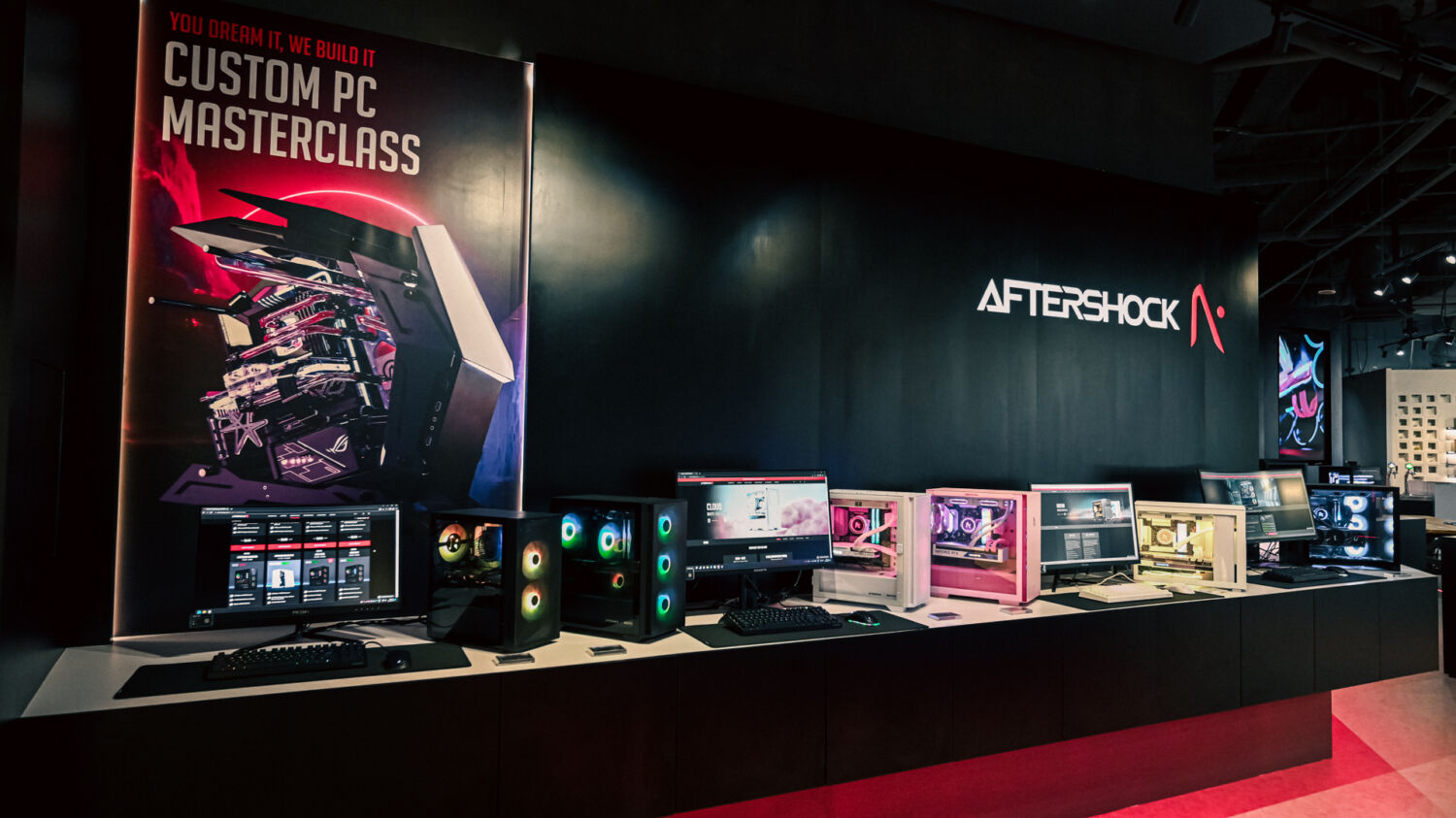 The left and right aisles, meanwhile, are flanked by a catalogue of the brand's devices. Where the gaming PCs are displayed on one end, the desktop setup on the other side lets customers try out different hardware configurations through a quick playthrough of select gaming titles.
Move into the space, and the Aftershock Ultra-lab showcase awaits. Focusing on the aesthetic element, it highlights the use of custom GPU backplates — the designs of which are shown on four pieces of prints — as well as themed builds, such as the quirky, world's first bubble tea-themed PC to a Demon Slayer-inspired PC featuring Rengoku Kyojuro, the star of the Demon Slayer: Kimetsu no Yaiba the Movie: Infinity Train anime movie.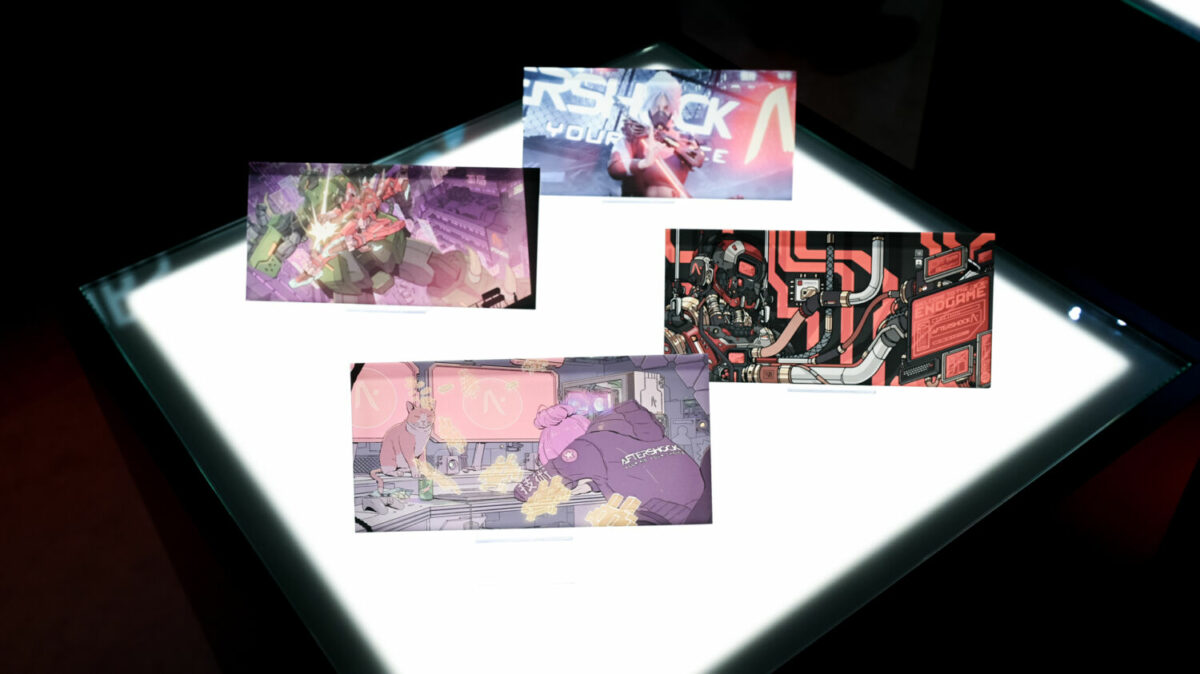 Over at the Omnidesk space, visitors will be able to get a feel of its height-adjustable desks and their tabletop surfaces. There's also a selection of various-sized tabletops from the Ichi Collection to check out, as well as a standalone Ascent Radiance RGB Tabletop setup for those who like a little bit of colour.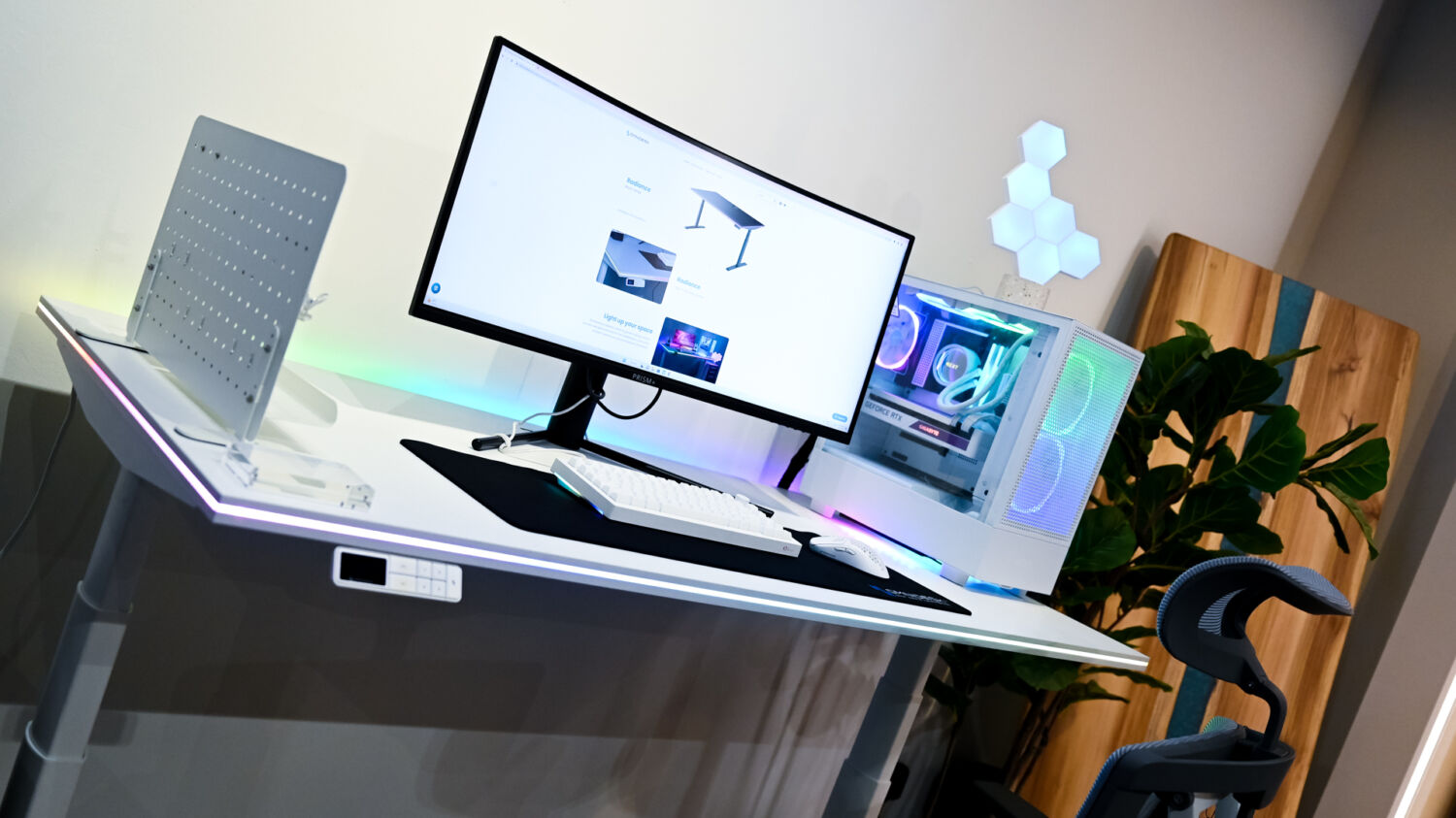 Mash, meanwhile, graces the Aftershock's Suntec City showroom with a glorious, clean keyboard wall. The custom mechanical keyboard specialist presents a slew of, well, custom keyboards, but there are pre-built models up for grabs as well. This makes it a lot more accessible for newcomers and beginners to get into the craft, who will likely get overwhelmed by the different switch and base model names, such as Gateron Yellow and Kailh Box Red, or Keychron V1.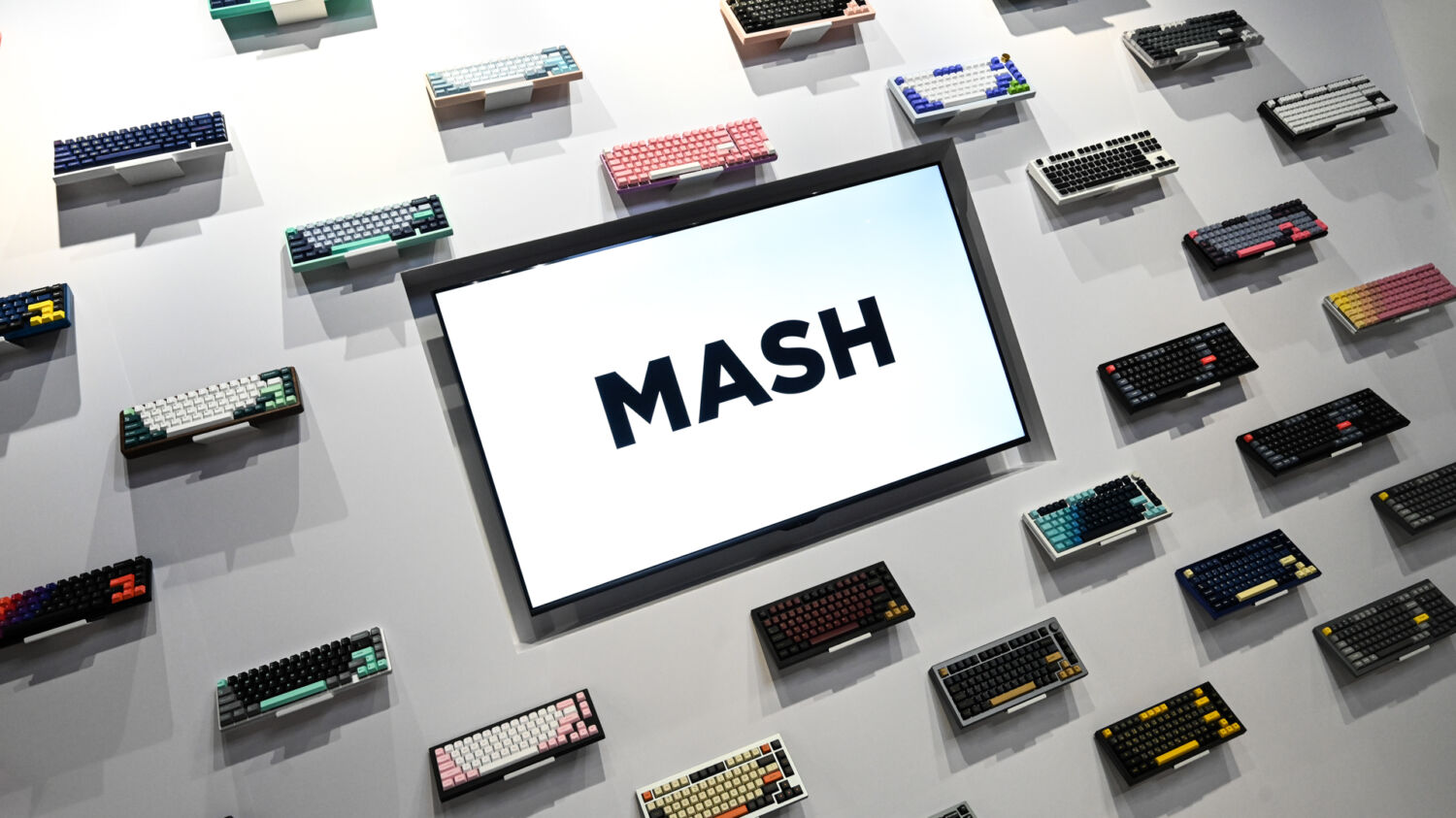 In any case, the new Aftershock outlet at Suntec City allows visitors to test out the switches and decide on their preferred keyboard setup, custom or otherwise. Size won't be an issue either — from full-sized and tenkeyless (TKL) builds to 75% keyboards, there are plenty of options to go around. A lounging area has also been set aside for visitors to build their own keyboards, who can order a cup of coffee to go with at the counter.
For the uninitiated, TKL refers to a standard keyboard layout without the numeric keypad, while 75% describes keyboards that are roughly 70 to 75 percent of the width of its full-sized counterpart, and retains the Function Key row on top.
The showroom experience is completed with a driving simulator setup, as well as a selection of PC accessories displayed at the far end of the show. Apart from Aftershock's very own mouse mats, bags, mice, and keyboard, there are some Razer and Logitech peripherals up for grabs too.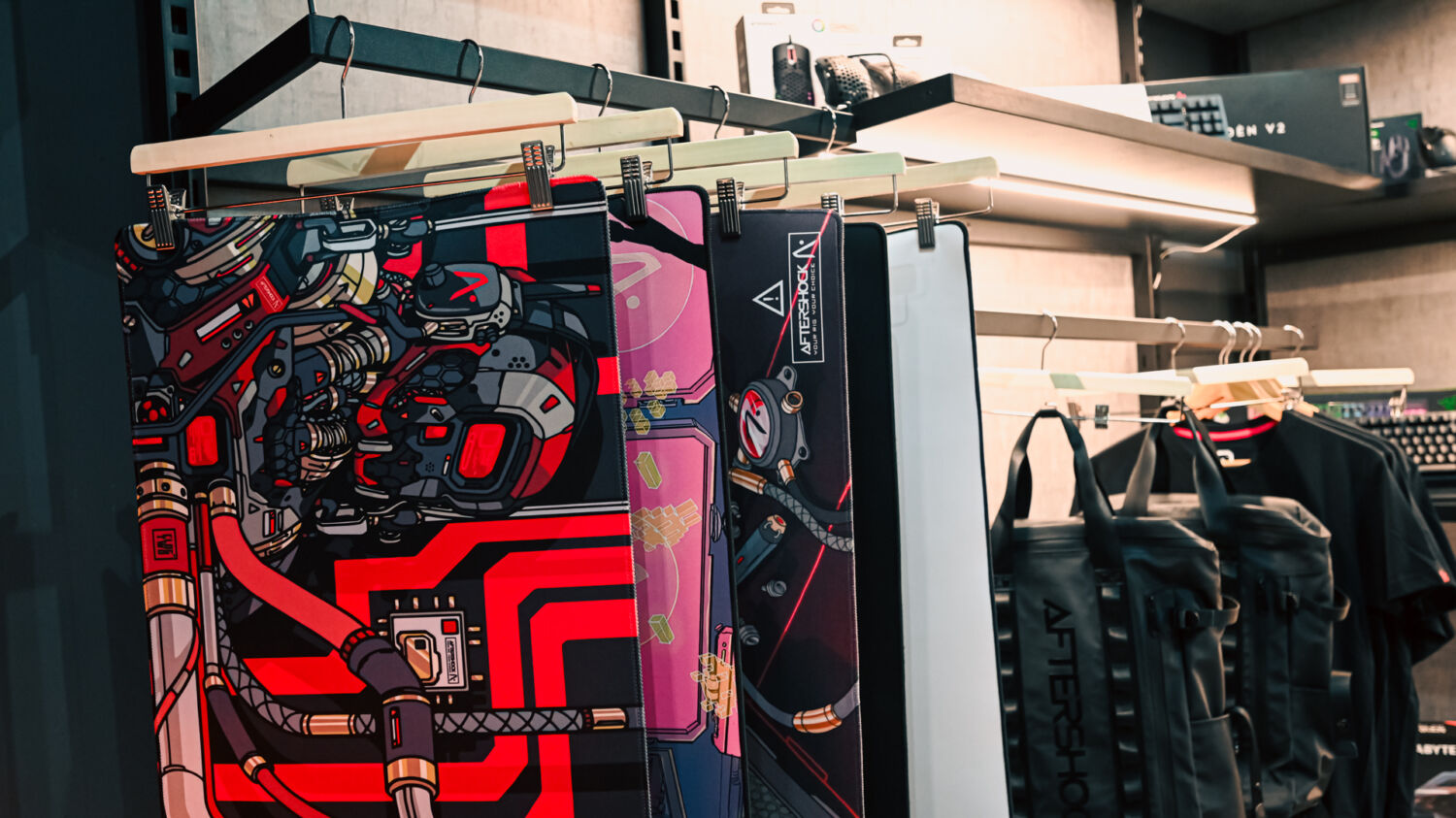 The Aftershock retail showroom at Suntec City will open its doors to public starting tomorrow, 22 December. Located at Tower 5 West Wing #02-328/329, it is offering the following opening sales promotions for a limited time only:
Up to $1075 off and exclusive deals for in-store purchasers on AFTERSHOCK PC products till 26 December
20% off the first 20 purchases of Omnidesk products
Up to 50% off on MASH keyboard products