When it comes to the gaming aesthetic, there seems to be a common pattern across the board: the fondness for black tones, a futuristic, stylish cut, and of course, RGB lighting. The bling, however, is the most hit-or-miss on the list, donning an impressive, pleasant-looking veneer in some cases, but taking on a gaudy, obnoxious glow in others.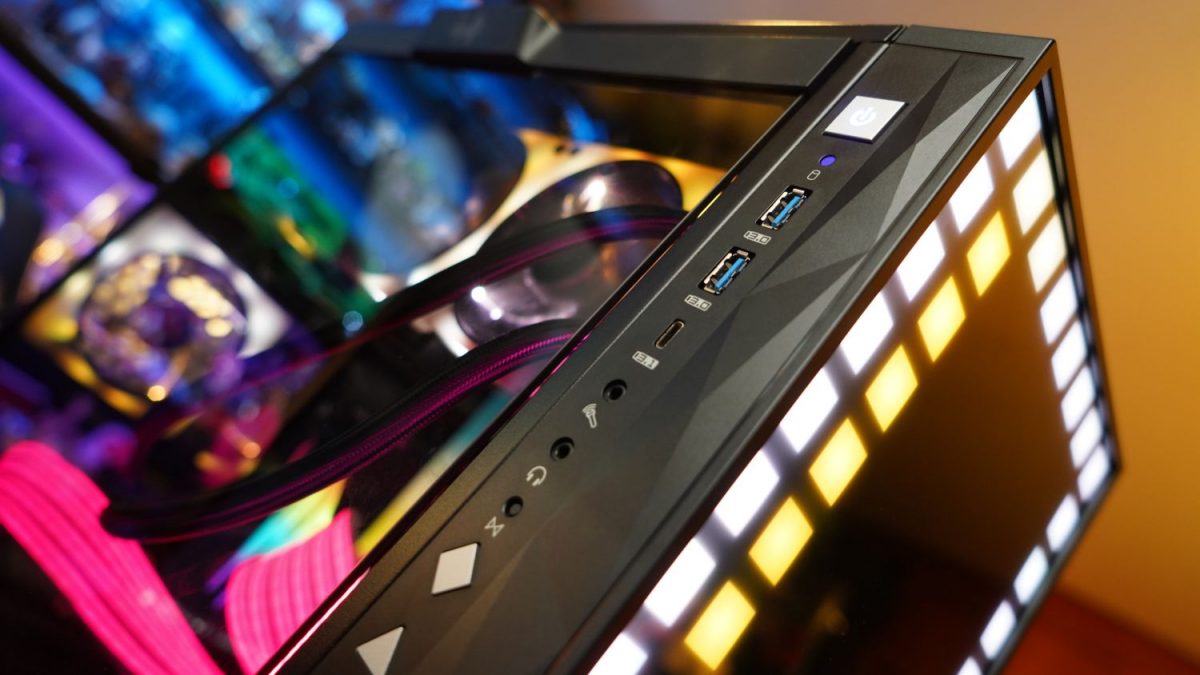 The Aftershock Trixel Custom PC adds a stylish touch for those who want to go loud and proud, shifting the focus from the internals to the outside. While graphics cards and processors are where the hype's at, getting a PC case proves essential in forming the identity of one's set-up.
But looking good is just one part of the experience. Apart from the aesthetic factor, this massive bad boy also packs in high-performance functionality, and continues to honour the company's part-picking tradition with its customisable hardware and lighting options.
Decked out in RGB Lian Li Strimers, our review unit came equipped with an NVIDIA GeForce RTX 3070 GPU, a six-core AMD Ryzen 5 5600X processor, and 32GB of RAM under the hood. Since this is a full tower PC model, users will have the flexibility to swap the combination out for different storage choices or upgraded configurations. Fancy the latest generation of Intel chips in your rig? Consider the job done.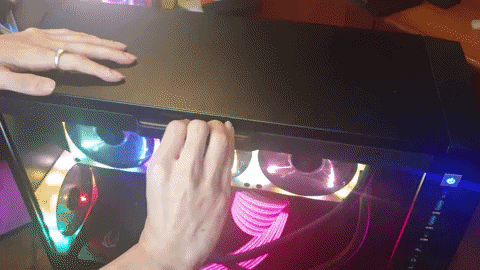 It certainly helps that the case can be easily removed, allowing for a smooth, fuss-free customisation process. Segregated into two sections, the case dedicates half of the space to wire tucking and cable management, with the other half set aside for showcasing explosive, vibrant visuals. It's as neat as it can get, although the Trixel's dense bulk – measuring 55cm high and 50cm wide with a whopping 13kg total – might be a tight fit for smaller spaces.
RGB illumination is where things get interesting. Presented in the retro 8-bit graphics of the golden arcade era, the Trixel features more than 144 individually-addressable ARGB lighting options that adds a level of translucency, with the Pac-Man ghosts and Space Invaders game interface coming as default designs among others.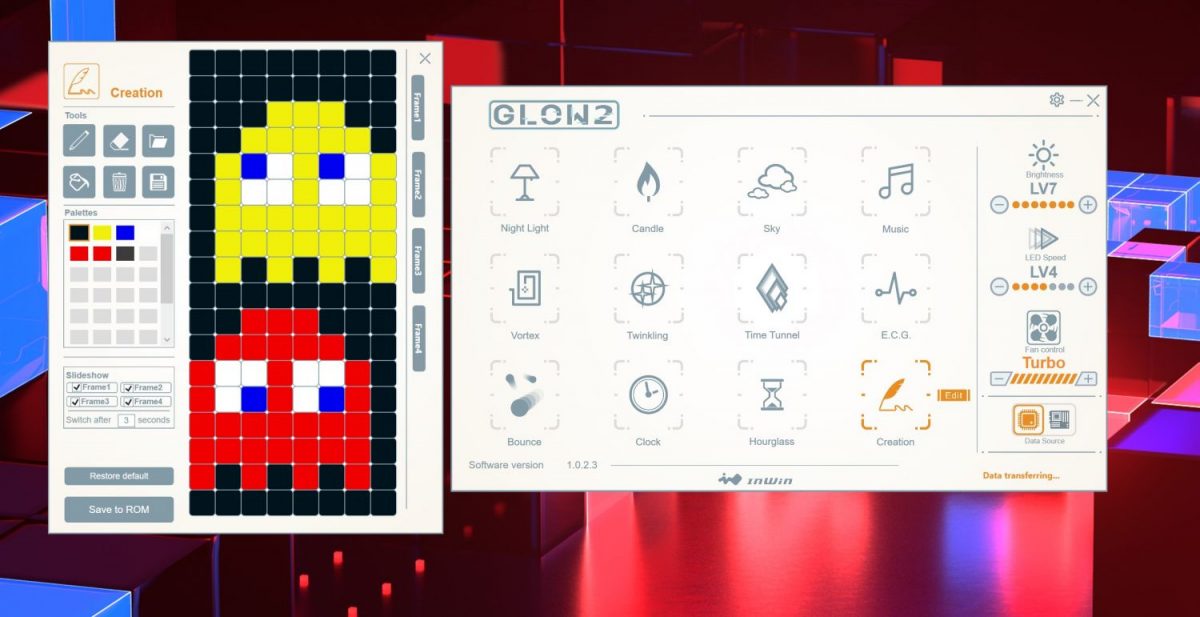 The customisation process is easy. As the PC build is a collaborative project between Aftershock and fellow hardware manufacturer InWin, all settings may be tweaked on the latter's proprietary GLOW2 software that boasts 12 built-in modes. The Music tool, for instance, allows you to sync the lighting to the beat of the music, while Bounce has particles catapulting off the frame.
For those who want to unleash their creative juices, the Creation mode offers an empty vertical canvas to work on. Essentially a much less complicated version of Adobe Photoshop, it packs in six basic tools for illustrative purposes, where users can colour in the squares to create an image and save it to the ROM. If you have ever done pixel art on an Excel sheet, the experience and resulting product are very much similar.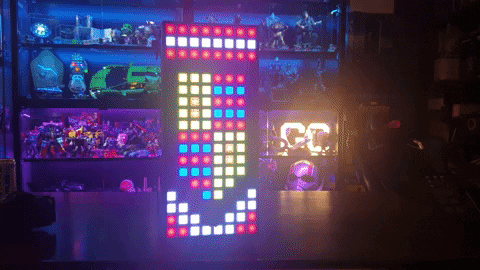 There are some restrictions, however. Due to the limited canvas space, custom elements that require more detailing finesse or a certain level of complexity won't be supported. It's an expected drawback, considering how the 8-bit art style is supposed to be clean and simple, but it's a point to note for the artistically-inclined. Fortunately, there's little to complain about the syncing process: just click on the desired profile, and the panel will reflect the changes accordingly without any significant lag.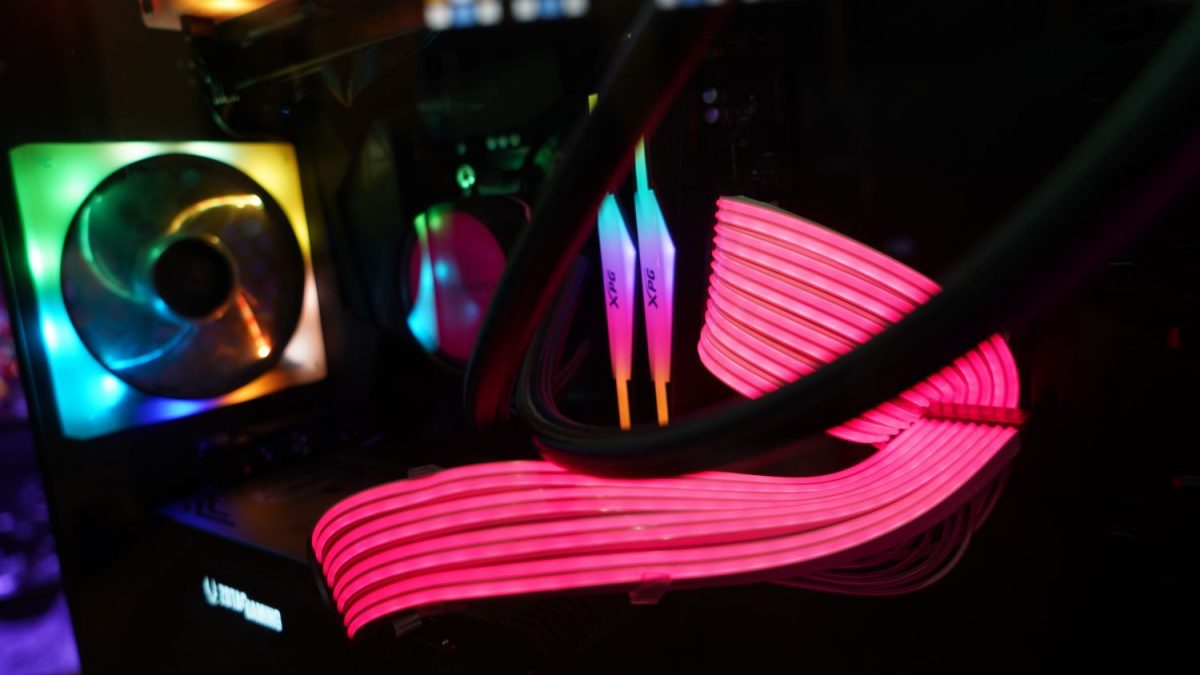 In similar fashion to how the aesthetic and functional parts of the rig are housed in separate halves, the lighting effects on hardware like external gaming peripherals and fan builds are accessed through a second app, the AORUS RGB Fusion 2.0. With eight lighting presets in tow, it allows for both individual control and synchronised RGB across all devices – an ease of accessibility that's also accentuated via a straightforward, clean user interface. Likewise, there were no issues encountered at every step of the process, from synchronisation to responsiveness.
What's impressive about the Trixel is how it strikes a fine balance between the attractive, head-turning aesthetics and actual performance. Courtesy of its RTX 3070 GPU and Ryzen 5 5600X processor, this battlestation is more than well-equipped to deliver smooth 1440p gameplay at high frame rates, and output visuals at 4K resolution with little sweat.
The only gripe is the lack of consistency. While the on-screen action proves to be polished and slick for the most part, there are times where drops in the frame rates are observed, particularly so during Call of Duty: Warzone sessions at native 4K. There's a chance that the performance might improve with an upgraded configuration, but the slight compromise can be disappointing to some, especially for a rig of its size. Still, we're inclined to give the benefit of doubt here.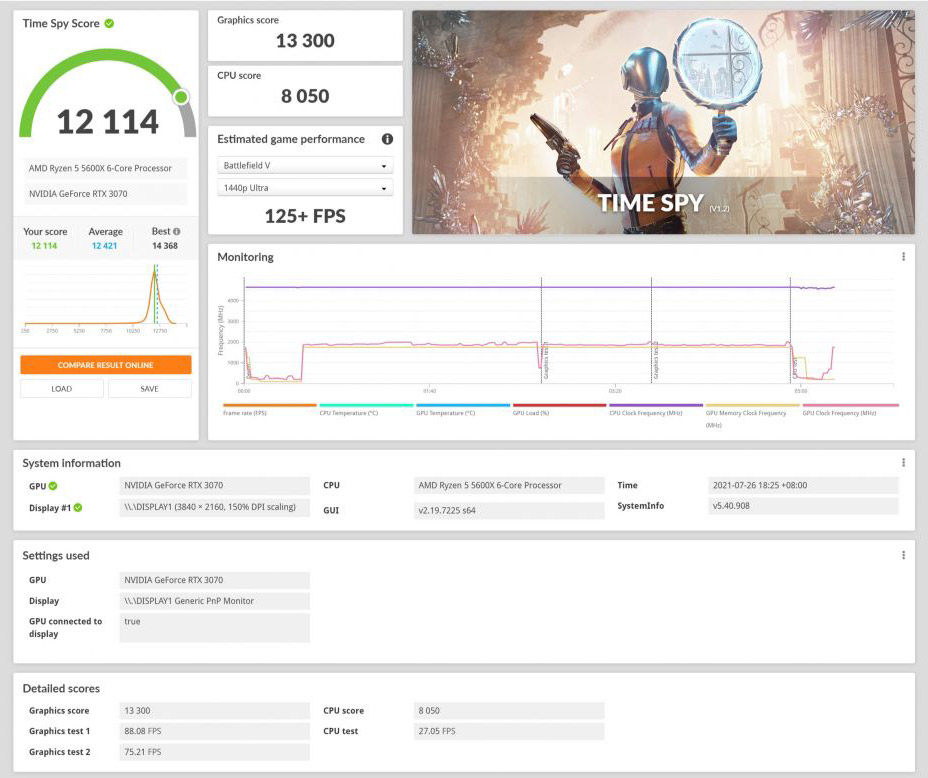 When put through its paces with various benchmarking tests, the custom PC registered pretty competent figures – even it takes a slight hit. On 3DMark Time Spy, it clocked an average combined score of 12,114 (13,300 for graphics and 8,050 for CPU), alongside an 88FPS count. This is pretty close to the average benchmark, which comes in at 12,420 on the official website.
With PCMark 10, the Essentials (9,982), Productivity (9,403), and Digital Content Creation (10,963) categories yielded an average combined score of 7,232 – just a little shy of the 7,406 norm. Despite its numbers being on the lower side, the rig is in perfectly good shape to be used as a gaming and streaming powerhouse, or a hybrid workstation that meets both the entertainment and productivity needs.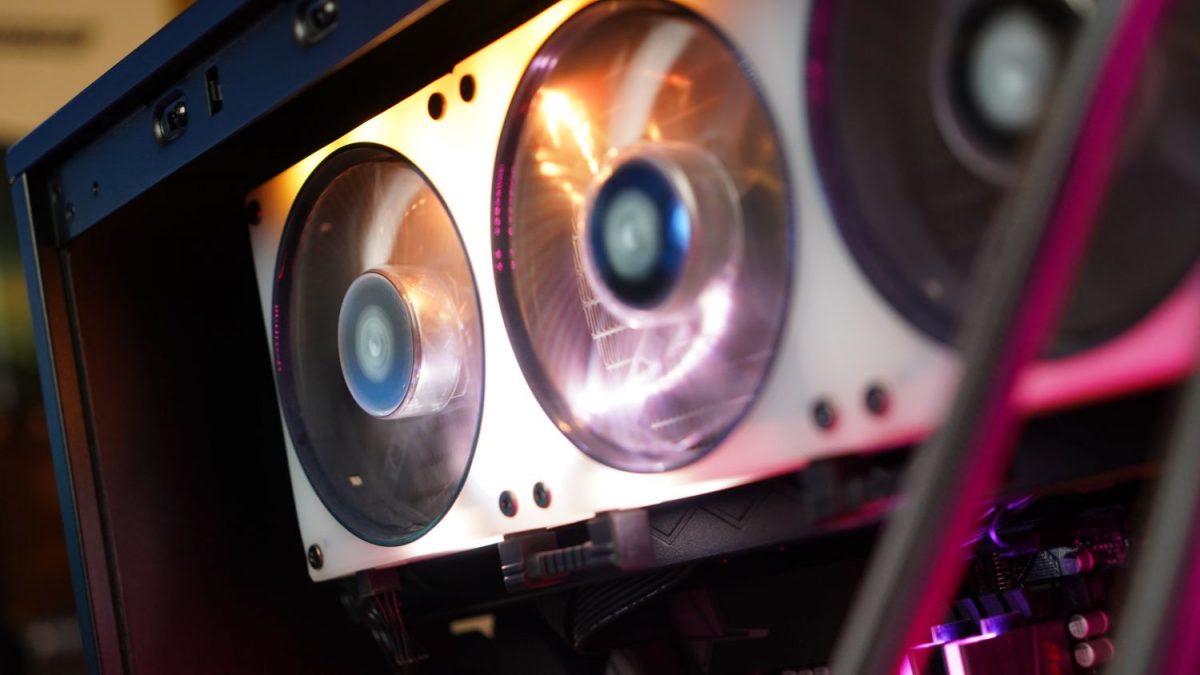 The quiet fans are a plus, too. Where whirring sounds may be a constant presence in other full tower builds, the Trixel is the picture of silence, producing steady hums even under heavy gaming duress, or when carrying out GPU-intensive tasks like video editing.
At S$3,463 for this configuration, the Aftershock Trixel Custom PC is not only an envy-inducing, handsome head-turner but a great performer in the other areas as well. While there's some truth to saying that the inside is what counts, it has shown that both can matter when the situation calls for it. S$1,105 is the starting price to have this versatile good-looker in your possession, as long as its handful of slight, minor drawbacks are acknowledged and accepted.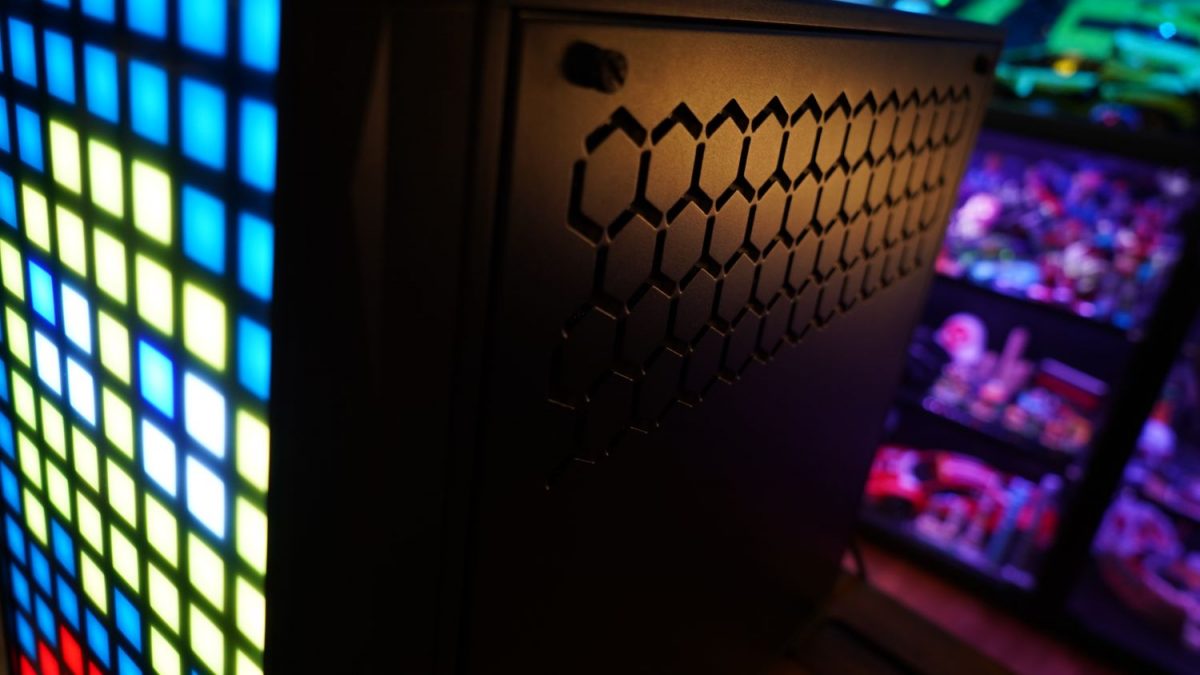 GEEK REVIEW SCORE
Summary
Perfect for those who want to flaunt their gamer identity, the Aftershock Trixel Custom PC is a great showpiece for large spaces that doesn't compromise much on gaming performance or productive functionality.
Aesthetics -

9/10

Build Quality -

9/10

Performance -

8/10

Value -

7.5/10

Geek Satisfaction -

9/10
---

Drop a Facebook comment below!