It's been 10 years since homegrown PC maker Aftershock entered the market, building gaming PC rigs from a small shophouse along Serangoon Road, and the more things change, the more they stay the same.
From sourcing their own parts and components to build dedicated desktops, to working with global chipmakers including Intel along the way, their growth has exploded across several international markets. They are still located around Serangoon Road, but the shop from when they first started, is now a new 7,000 sq ft headquarters built by a decade of sweat and toil, and a decade of components/parts that now includes PC accessories as well.
If anything, their brand new experiential centre in Bendeemer is a sign of the growing appetite of PC users, and their dedication to serving the local gaming PC market. And, it doesn't just stop there.
In order to feed their growing demands of space, Aftershock has eschewed the need for a flashy showroom in the downtown area, choosing instead to have it at Bendeemer, just opposite from their current office. For anyone who has dropped by their previous premises, you'll be bowled over by this new experiential centre, which is more of a retail experience, allowing anyone to pop by to browse and pick their next big purchase.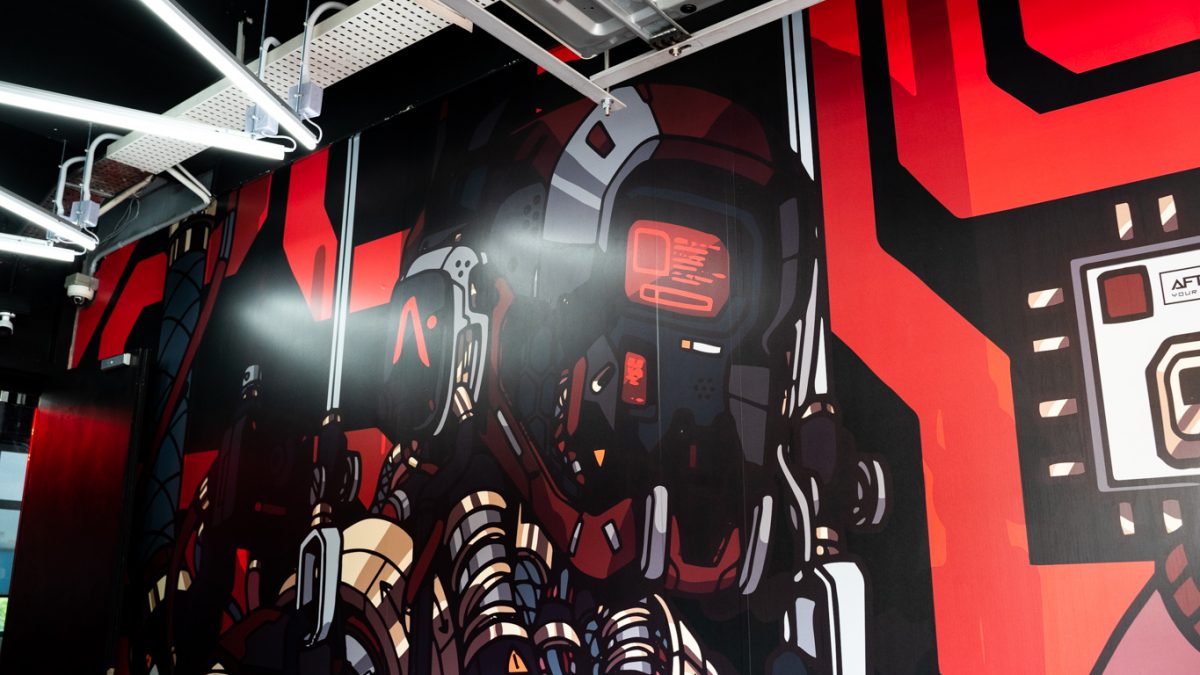 Entering through the lift lobby on the fifth floor, visitors are greeted by a massive red mural that showcases their brand colours in action. Designed by urban artist, CLOGTWO, this is one incredible showcase that would look great as a desktop wallpaper. We're pretty sure it might eventually enter Aftershock's library of wallpapers and made available to all customers soon enough, and the aesthetics cetainly adds a nice splash of character to the light industrial area.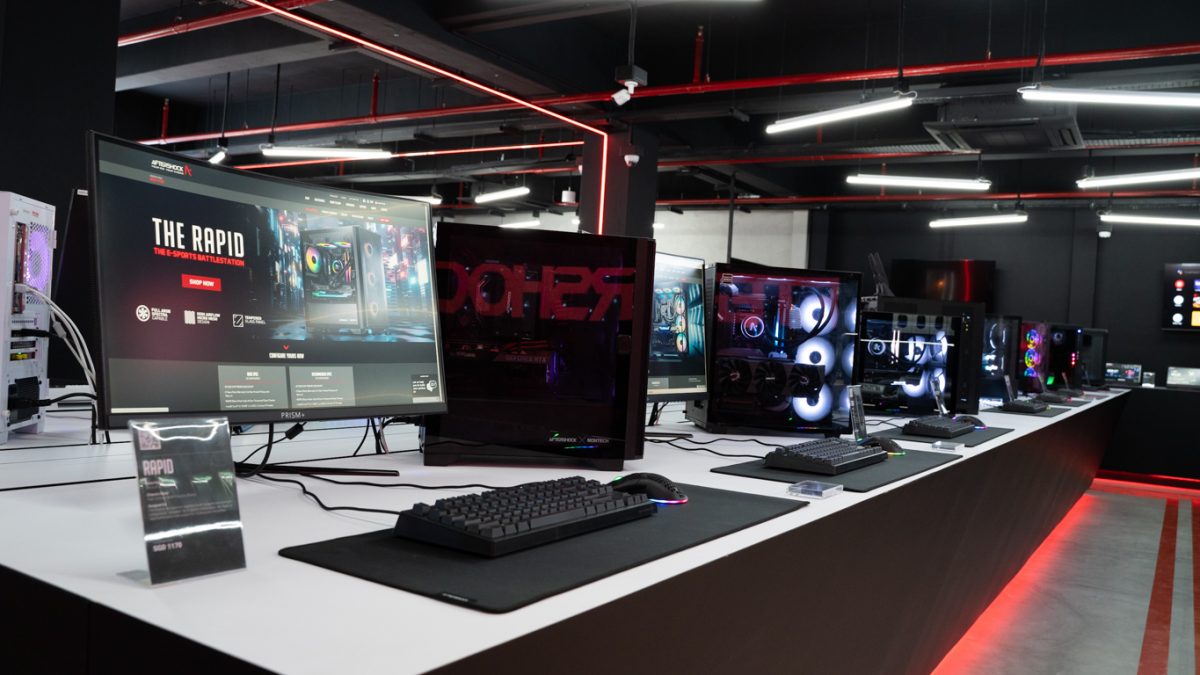 As one walks through the front doors you'll be amazed by the number of PC items they have on showcase. The scary part here is that it makes navigating Aftershock's new space a bit intimidating for anyone who is looking to get a new PC. For what it's worth, the fact that you're already travelling all this way means you might have some idea of what you'd like to purchase. Starting with their Rapid and ending off with the Mainframe builds right at the end, customers will get a good idea of which PC build is right for them, from the chassis, RGB options, to laptops.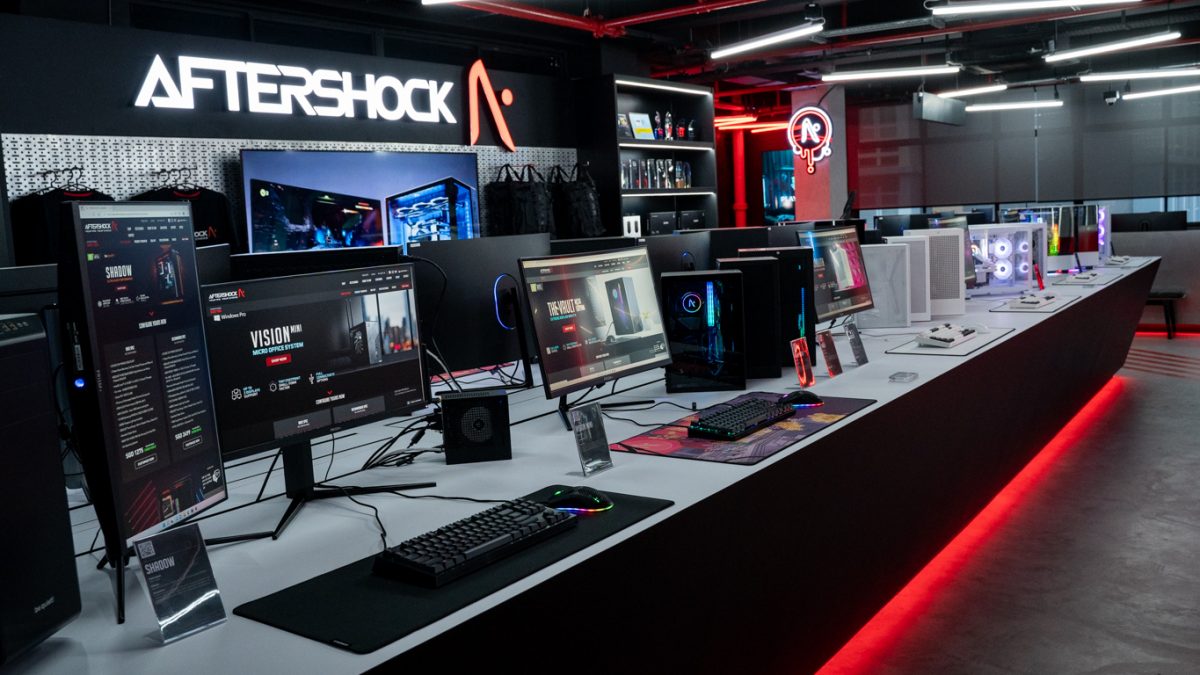 The best part about this experiential centre is that Aftershock is prepared to serve anyone, both novice or seasoned builders to the PC market, offering a wealth of insight and products to improve your gaming or personal workspace setup. If you're still confused, follow the helpful lines on the floor to navigate around the entire space. These lines will lead you to specific locations in a very systematic manner, and it's a thoughtful touch that Aftershock has painstakingly put in place to ensure that all customers get the best shopping experience.
These days gaming PCs aren't always the most affordable in any way so the Aftershock crew are more than happy to give customers the right recommendations to builds specific to their needs.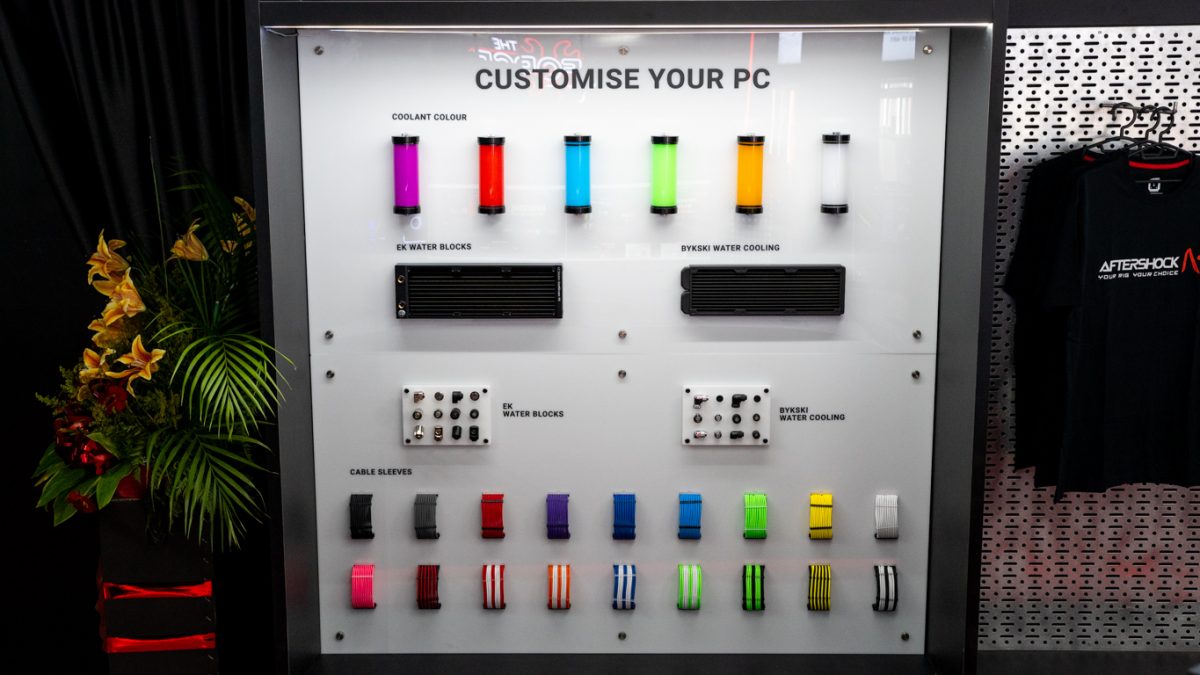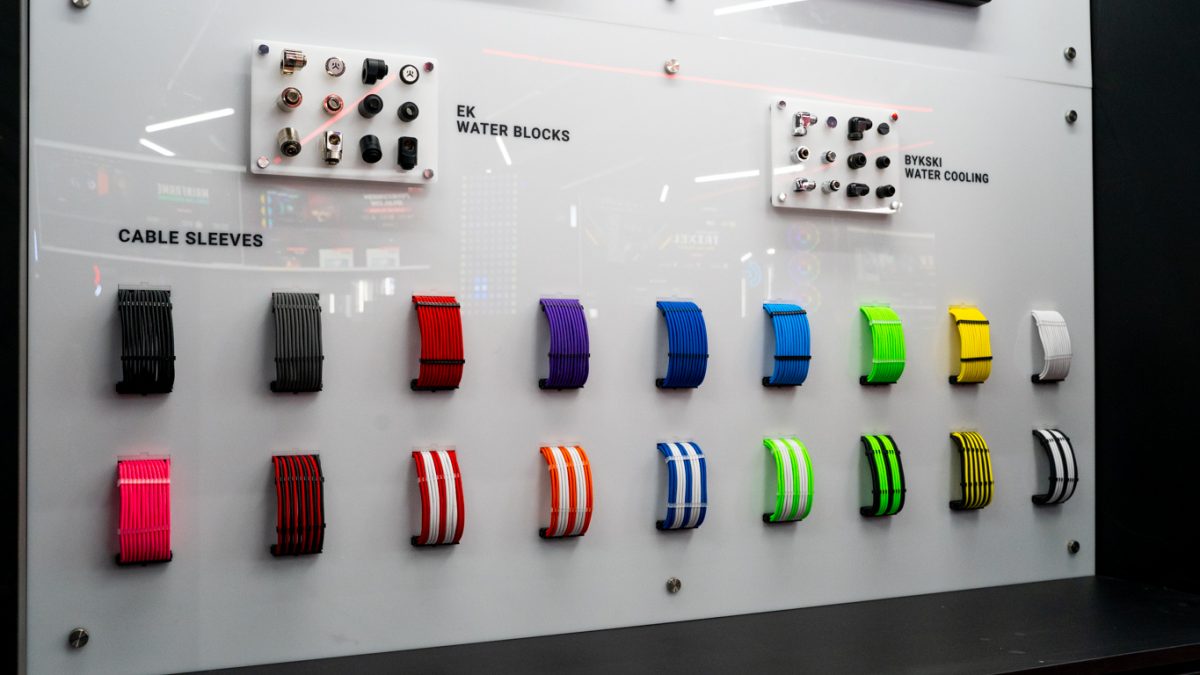 Starting out from the door, customers will be able to check out the whole range of PCs that they have available from the most inexpensive to the top of the line configurations. Right at the end of the hall itself, you can browse an entire wall worth of tubings and cables in a whole host of colours which gives you an idea of how your final build could look it. This is extremely helpful compared to the online purchasing process where you might not have the best visual reference to how it might all come together.
Moving on, the eyes would naturally be focused on the center piece of this entire centre – the Hall of Fame showcases all the high-end, one of a kind PCs Aftershock has put together across the years. There are about 8 PCs on showcase which we highly recommend visitors to take their time to marvel at each of them.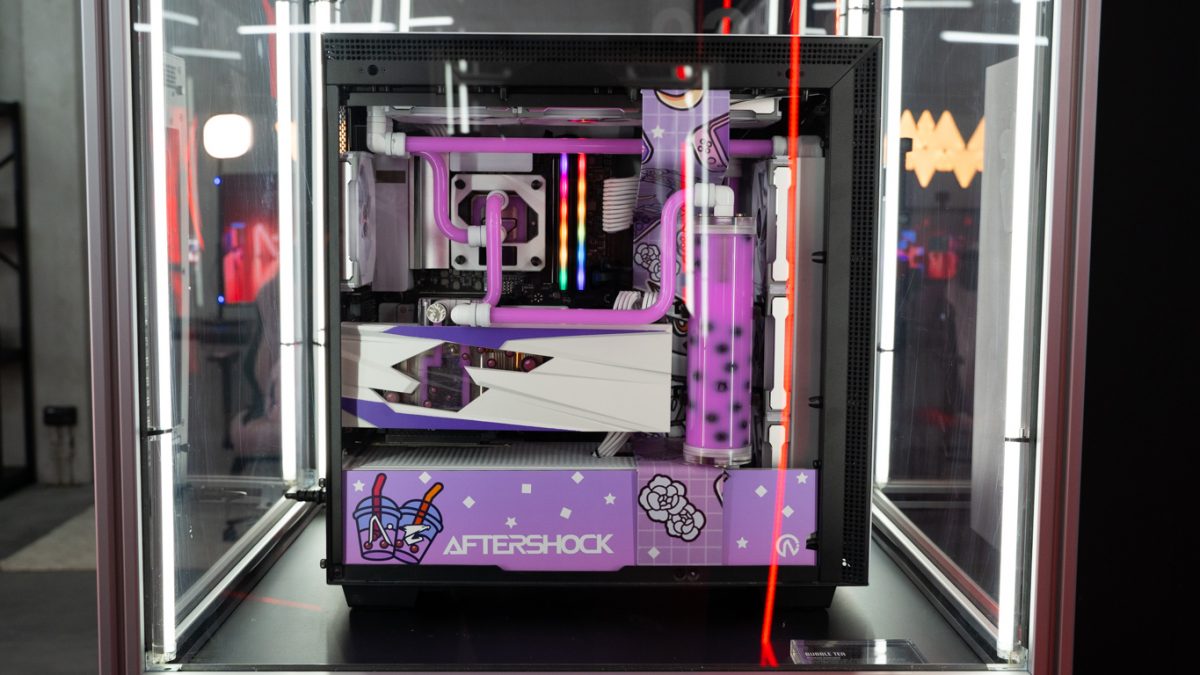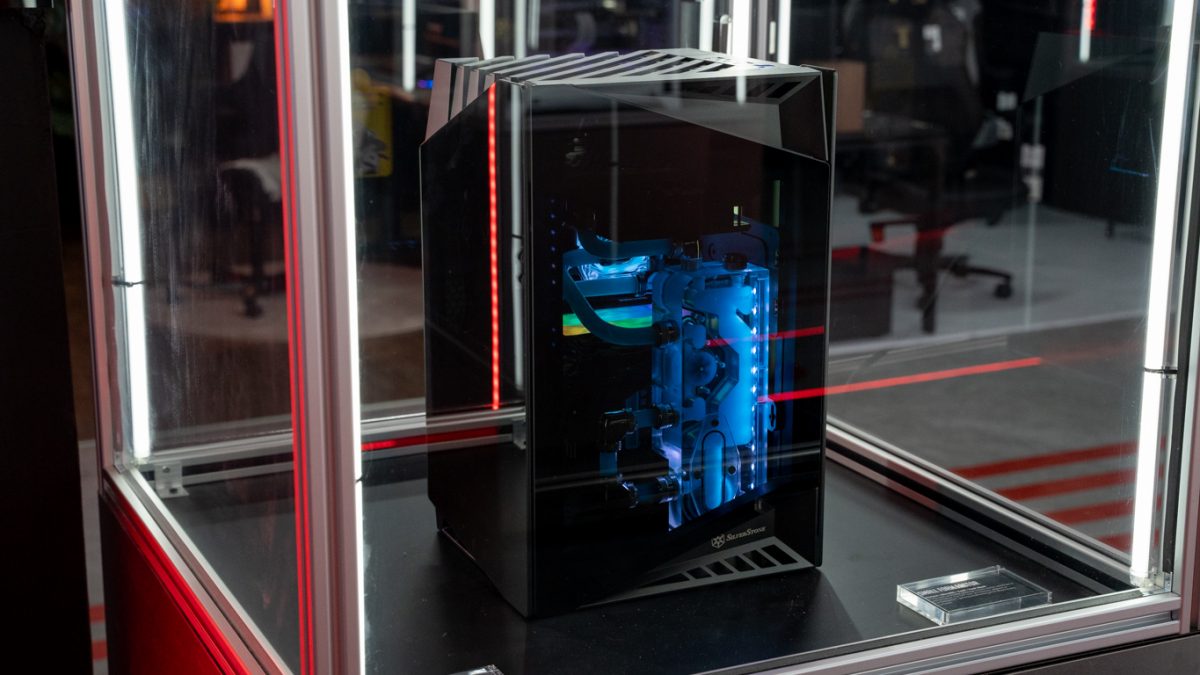 Our personal favourite here is the Bubble Tea PC which you may have seen a few months ago as we reported about it to much excitement. The best part would be that all these showcase PCs can still be purchased via Aftershock directly, but this time around you'd be able to visualize your purchase before splashing the cash.
Right at the end of the section are all the components that would consist of a beautiful PC case and mount it on the wall. This serves as a very nice and educational touch as gives customers an idea of all the various components that go into their new rig. By this point, you would already realize that Aftershock is putting in plenty of effort to ensure they are making sure your time spent travelling down to the centre is meaningful and fulfilling. After all, the layout of the space is deliberate and purpose-driven such that it would clear up any doubts prior to purchasing.
Keeping up with the times, Aftershock has even put together a dedicated space with game streaming and equipment brand Elgato, to give aspiring streamers an idea of how to put together an entire rig and all these different items to get one started when it comes to streaming. At present, streaming is an activity that requires plenty of research and it can be quite overwhelming especially if you are on a budget hardware wise.
We wouldn't go as far to say that using Elgato products would be the most affordable but it serves as a good inspiration to give anyone an idea of the endless possibilities. However, it might be simply cheaper to just work on the content development first than to invest in gear right from the start. But if you do want to start your streaming journey, this place is where you could check out all the gear in action.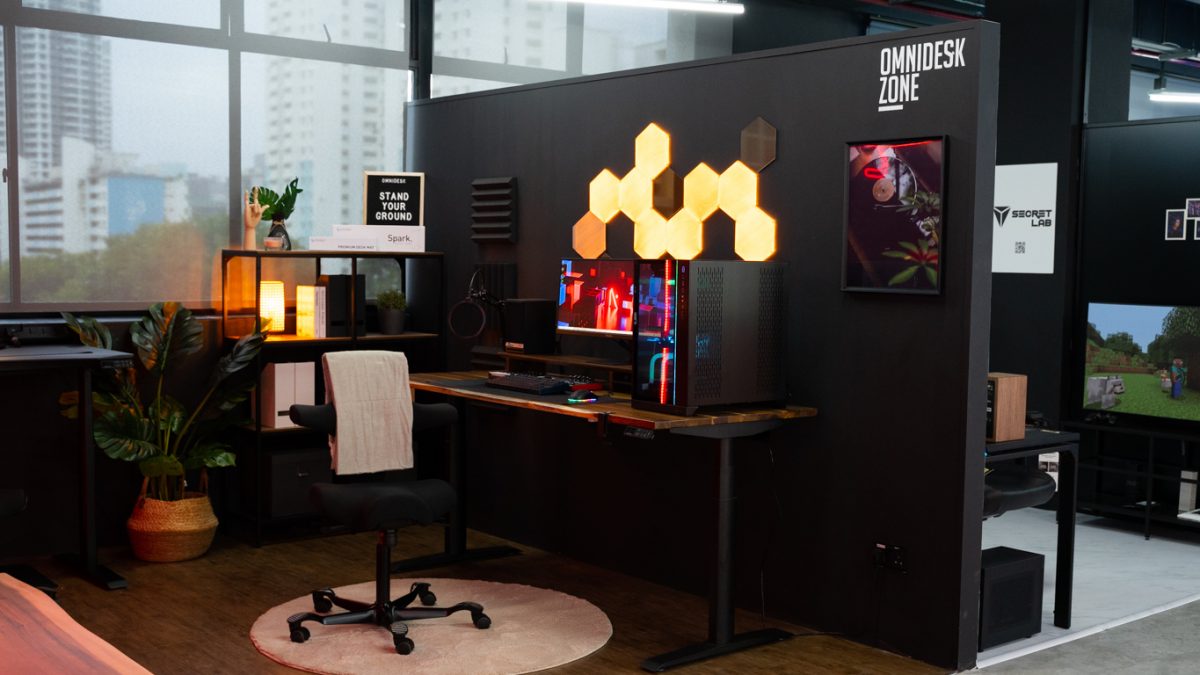 When it comes to putting all this gear together, Aftershock has a good idea on how the entire ecosystem comes together, by bringing in friends like Omnidesk and Secretlab to level up their setup. Anyone who visits the store will immediately be inspired in figuring out how they can get an entire suite of gear, tables, and chairs all sorted out in their home. Think of it like IKEA but for geeks. Perfect for folks like us who are striving to get a cool personal battle station operational in no time.
Now that we've covered most of the space we would say the most hilarious part about the entire showroom is looking at two rival peripheral companies Razer and Logitech facing off against each other. Usually, in a retail store, you would see these brands side-by-side but in this case, we see them facing off directly opposite of each other. The highlight of this space would be allowing anyone who pops down to test run any product on the shelf and get an actual feel of it.
Taking a bit of the aggression off, would be the rest of the components that round up the entire PC setup. These days, getting a powerful GPU is simply not enough unless you have an equally awesome monitor to go along with it. In most instances, it's actually quite hard to compare the top-end monitors from the folks at ASUS all the way to the homegrown brand Prism+ all in one convenient place but at the Aftershock experiential centre you now can. If you have enough dough to splash out on a 3080 or 3090, do yourself a favour and grab a monitor that will show off the full power of the graphics card.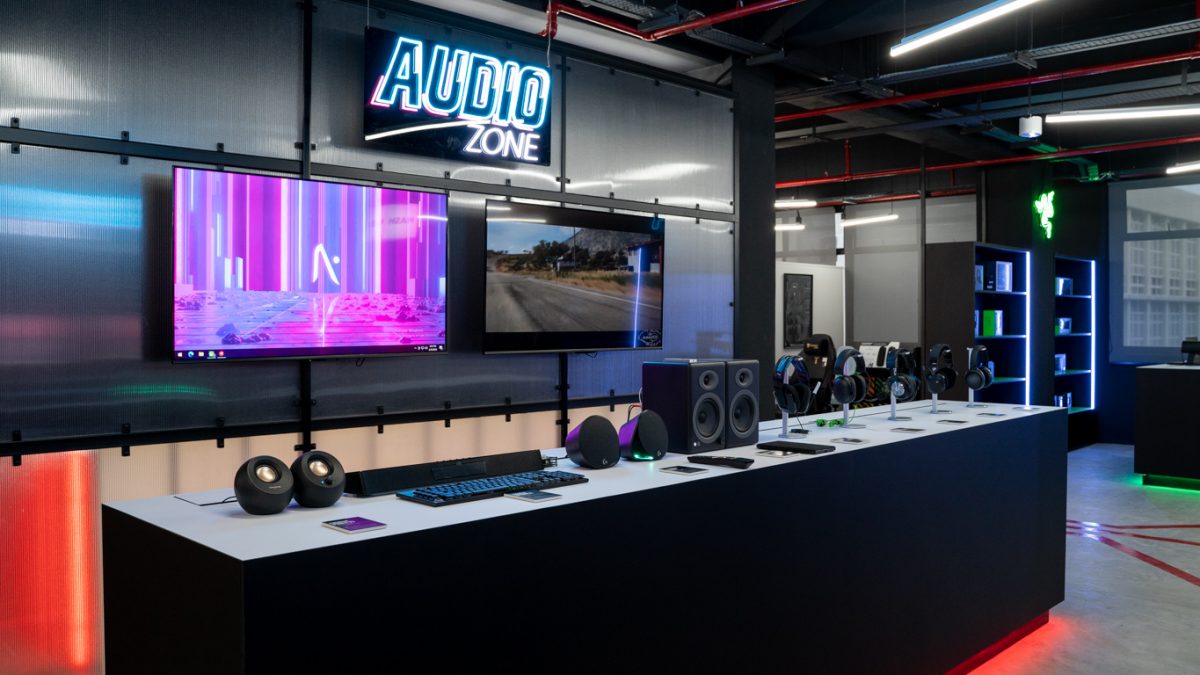 And finally completing the entire journey would be a quick roundup of the different types of audio products you might be able to get to finish off the entire system. From an awesome soundbar that's perfect for the desk or something with more privacy, Logitech and Creative and other audio brands have you pretty much covered.
The entire experiential center shows that Aftershock has actually put in quite a bit of thought when it comes to the user's journey when it comes to making a PC purchase. The idea here is that you always tend to start off with what you really need from a PC and then move on to the scenarios which help put it into context the best ways one can start to assemble your entire room together. With PCs moving from a functional piece of hardware to something that really looks aesthetically pleasing, it does make sense to figure out how this all comes together and Aftershock has made it very easy to bring that dream to life.
Not forgetting their roots, there are two areas that are included in this experiential centre might be a hit if anyone who is looking to build a brand-new PC from scratch or a mechanical keyboard.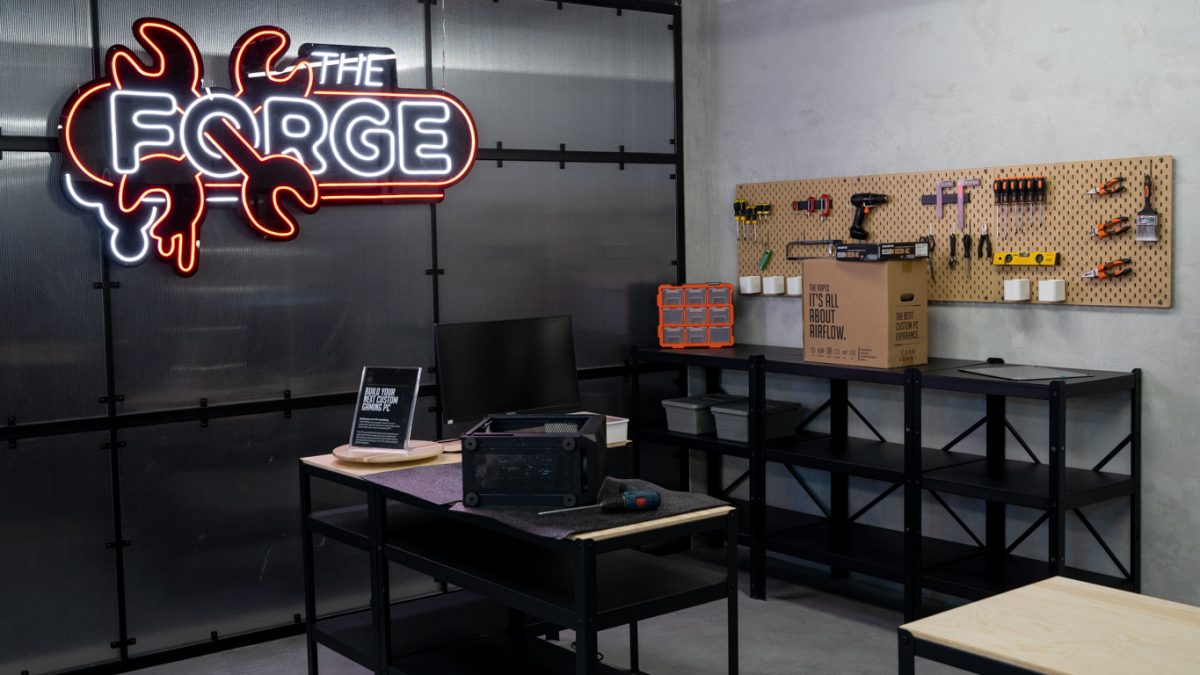 Dubbed The Forge, this area here will help anyone who's looking to build their own PC by themselves and get an understanding of how all of it comes together. Aftershock staff will be on standby to guide anyone who is looking to pick up on this process and they will assist customers to assemble their very first PC with minimal stress, supporting every step of the way.
Another upside here is that if you have an existing Aftershock PC, you can bring it in and upgrade the entire rig on the spot. Aftershock is confident that any component you'll be getting from them off the shelf will be cheaper than anything offered online in Singapore.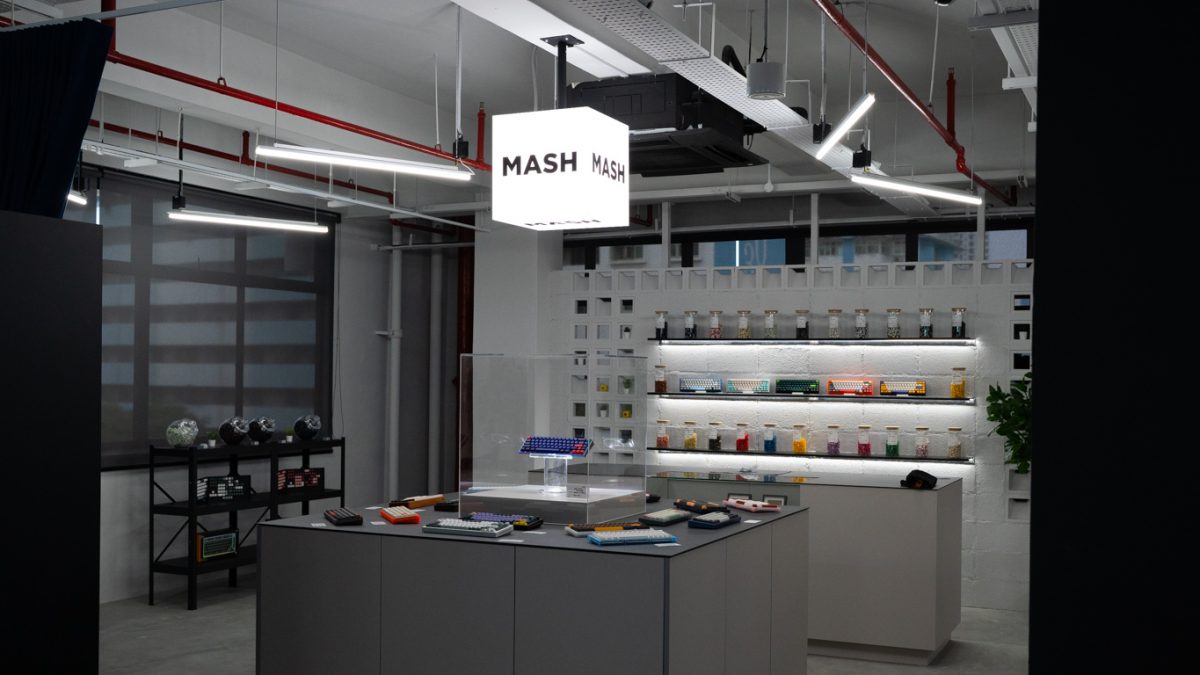 The biggest reveal at the new space's is the launch of Aftershock's new mechanical keyboard brand, Mash.
Similar to the experience found at the Forge, customers will be able to build together their own mechanical keyboard specific to their needs. Similar to LEGO, both the Mash and the Forge sections give us a sense that anyone who's looking to drop by to check out the space will definitely be walking away with a new upgrade and their wallet slightly (hopefully) lighter.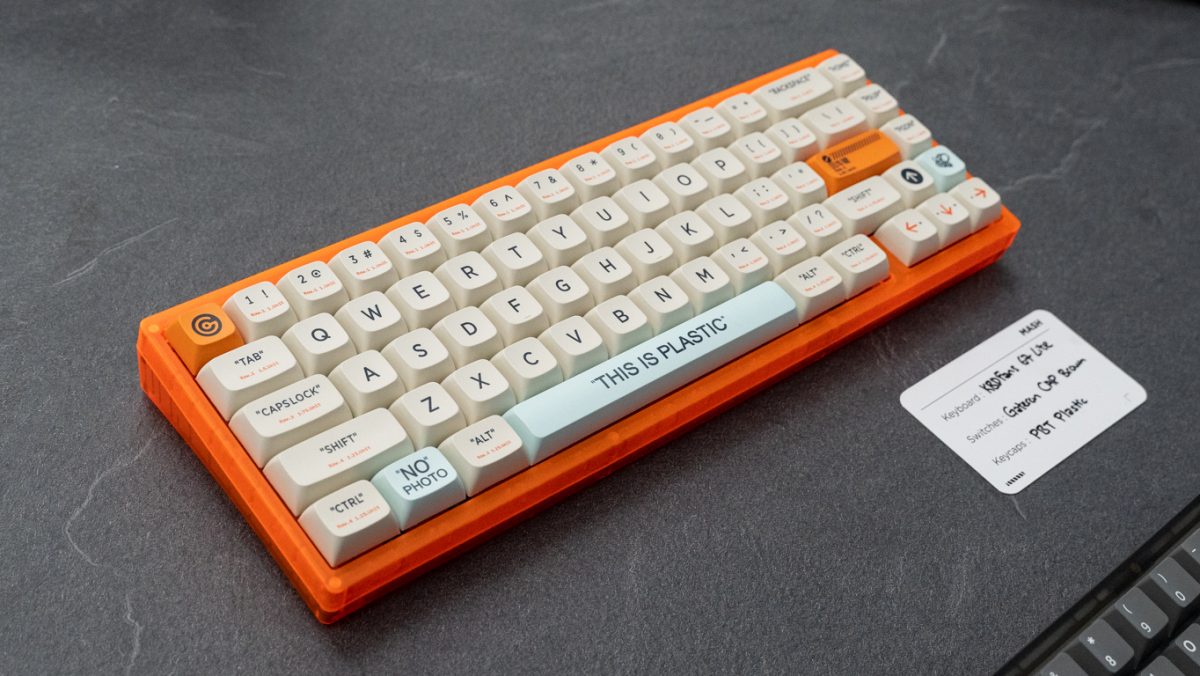 Given how custom mechanical keyboards are all the rage these days, it wouldn't be surprising that anyone who is looking for any more bespoke solution for their desk might venture into the Mash section to source for their piece de resistance. After all, when one has already spent quite a fair bit of change on a brand new PC, what's another hundred dollars on a keyboard? The best part? There's no need to wait for months and you could walk away with a key bespoke keyboard right away.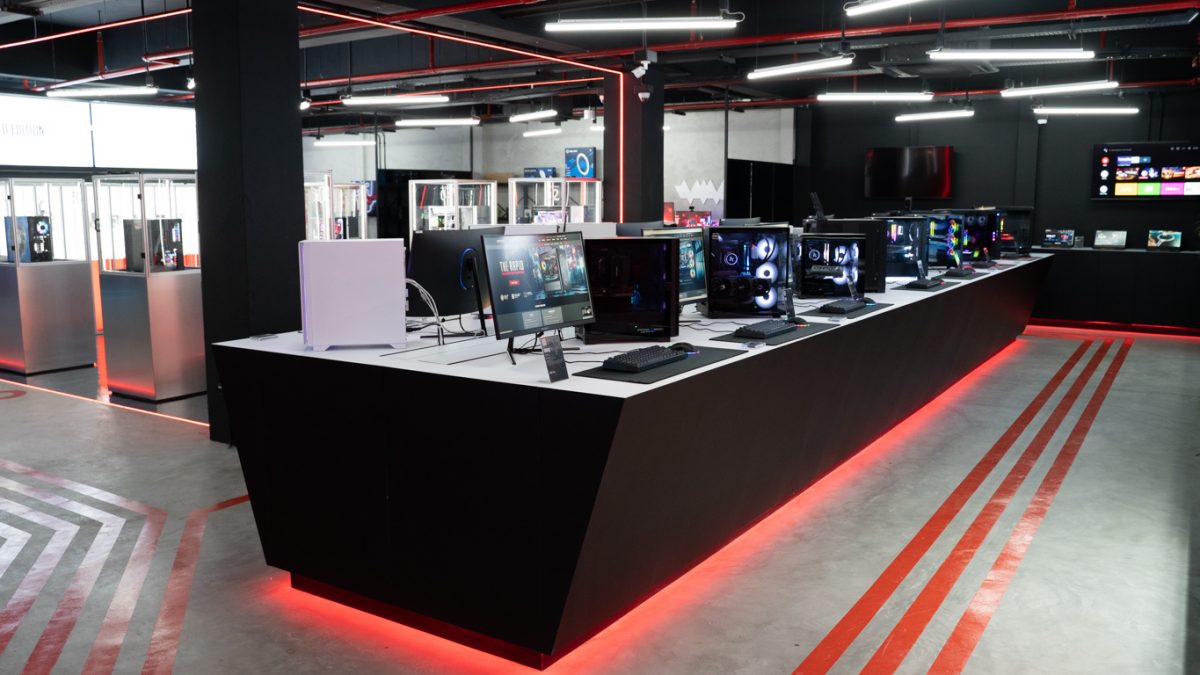 After taking a quick walk through the entire Aftershock experiential Center, we can't help but wonder if there's even more room for expansion to the existing space. From what we hear Aftershock's ambitions do not simply stop here as they have plans to actually revamp their existing workspace and are even looking to expand this new locale if the right conditions are met. All in all, Aftershock is looking to expand its entire operational footprint to about 40,000 sq ft by the end of March 2022.
This entire space goes to illustrate how strong a collaborative effort between the variety of brands are, and how they recognize Aftershock as one of the key drivers critical to its success. 
The cherry on top of it all, Aftershock PC is having an opening sale to celebrate the occasion. If you're looking for a new PC rig or laptop, there are discounts of up to $700 available to help you save.
Impressive. Most impressive.
The Aftershock Experiential Centre opens from 19th February 2022, 10:00 AM, and is located at B Central, 994 Bendemeer Road, #05-07, Singapore 339943.
Gerald currently straddles between his love of video games and board gaming. There's nothing that interests him more than trying out the newest and fanciest gadget in town as well. He dreams of publishing a board game sometime in the future!