It's the era of streaming content services, where binge-watching movies and TV shows on demand has become a constant part of everyday life. Be it completing a Netflix series in one sitting, watching an Amazon Prime Video exclusive or waiting in weekly anticipation for the newest Disney+ episodes to drop, accessing your favourite shows is a quick and simple affair – just pay a monthly subscription fee, and everything is yours to enjoy.
And this viewing experience only gets better with a proper set-up – something that's superior to the smartphone or tablet, but still offers the convenience that a large screen TV is unable to. While accompanying speakers are important for audio immersion, the monitor plays the core role of conveying and transmitting visuals, and rather than stream to your computer, consider investing in a display that factors in colour accuracy, aspect ratio, refresh rate, screen resolution, and brightness.
BenQ, with its EW series of monitors, has established itself as a one-stop monitor brand that addresses all these demands, offering display models with varied specifications for different preferences that also enhance the Netflix, Disney+ and Prime Video experience. Here's what to look out for from the line-up, from the diverse display options, to optimised features like built-in speakers and HDR technology.
---
#1) An all-rounded monitor to call your own
There are several reasons to get a monitor, and one of them is so you can watch the shows you want in the peace and comfort of your own space at home, while avoiding the pitfalls of a tablet. With a monitor, there's no longer a need to decide who gets to use the television first, which means you'll be able to enjoy the latest episode of Loki on Disney+ or new movies dropping on Netflix and Prime Video, while your family members or roommates continue their K-drama or video game sessions in the living room.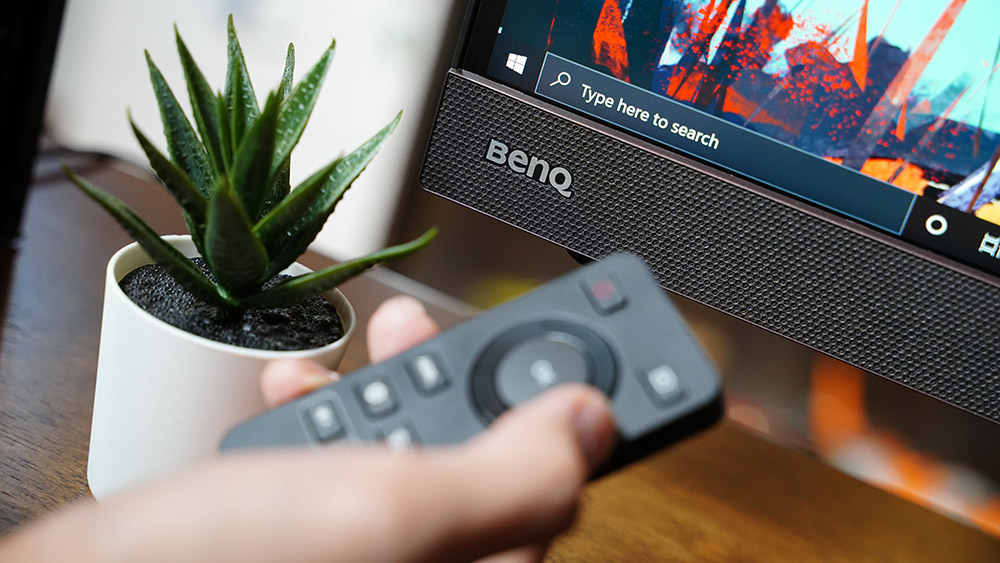 The EW3280U (S$1,199) is the most optimal pick for those seeking all-rounded performance and don't mind the extra cost. Armed with a 32-inch IPS panel, the monitor offers 4K high definition resolution, a 16:9 aspect ratio, HDR technology, and a Cinema HDRi feature that further refines colour saturation. For those with a leaner wallet, the EW2780U presents a viable alternative with its S$799 price tag that packs in a 27-inch display, UHD resolution (3840 x 2160p), 16:9 aspect ratio, and HDR technology.
Regardless of choice, having an all-rounded monitor to call your own is a worthy investment in the long run – for entertainment or otherwise.
#2) Size matters
Size matters, and it's no exception where monitors are concerned. Getting an extra television is not an option if there's insufficient space at home, and the mobile screen is too small to fully bring out the action and enjoyment of Star Wars: The Bad Batch and Amazon's The Boys. A monitor range from 24 to 32 inches would thus be a good fit in one's room, providing both entertainment and work productivity without the expense of space.
BenQ's line-up of EW monitors covers the array, with the 24-inch and 32-inch picks laying on both ends of the spectrum, and the 27-inch models in between. To cater to the different needs of the market, select monitors may also come in variations, such as the EW3280U and EW3270U, which boast similar specifications except for the type of panel (IPS and VA respectively).
Find the size best suited for the available space, get comfy, and then it's finally time to watch that one show that has been on your to-watch list since, well, forever.
#3) Revel in the details with HDRi, even in darkness
Missing out on the heat of the action can be disappointing, especially if the show has been building up to it. But when the scene is just so dark, and all you can see are flashes of blurred silhouettes, there's only so much you can enjoy.
The HDRi feature is a unique feature of BenQ's EW monitors that helps to alleviate the situation, with High Dynamic Range enhancing image contrast and clarity. The HDRi feature in BenQ's EW monitors might seem the norm for new TVs, but they aren't standard on PC monitors. High Dynamic Range alleviates the situation by enhancing image contrast and clarity. When combined with intelligent colour optimisation and the balancing of bright areas, common concerns like overexposure, washout, and hidden details in dark corners should prove to be less of a distraction.
Expect to come across more details the next time you decide to revisit the Upside Down with Stranger Things, or an increased fidelity in the darker scenes of the second season of Love, Death + Robots. Activate the Cinema HDRi mode, and the differences are evident: colours are more evident and pop out more, with the reduced flare from whites also contributing to the true multimedia experience.
#4) Audio and video immersion for double the experience
When it comes to action titles like The Mandalorian on Disney+, Without Remorse on Prime Video, or Lupin and Money Heist on Netflix, sound effects play an important role in the overall viewing experience. The built-in 2.1ch treVolo speakers on BenQ's EW monitors are designed to introduce an additional layer of immersion through polished acoustics and five custom sound modes without the need for an external speaker, which would be more space-consuming.
The audio experience is further accompanied by treble, mid-range and bass balance that makes musicals like Hamilton a pleasant watch on Disney+, and Money Heist's iconic theme song "Bella Ciao" sound better. Sporting no distortion and crackling even at high volume, the speakers prove competent in delivering crisp and well-rounded sound.
With BenQ, it's go double or go home.
#5) Eye health is priority
Staring at the screen for prolonged periods of time isn't the best treatment for our eyes, so BenQ is committed to safeguarding the eye health of its users. Armed with the Brightness Intelligence (B.I), Low Blue Light and Flicker Free technology, the company's eye-care monitors are able to automatically adjust brightness levels according to the ambient light, while also reducing the strain that comes with binge-watching.
Eye health, after all, is wealth, and BenQ makes sure to drive home this point with its intuitive and smart adjustment feature, where the backlit display is automatically dimmed or brightened to fit the current lighting scene via B.I.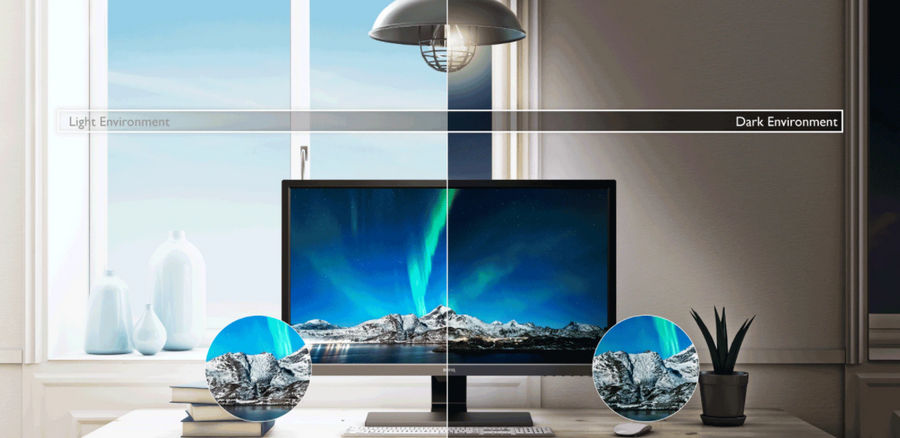 #6) Remotely adjust features from the comfort of your bed
A remote control for a TV is the norm, but it's not the standard for most display monitors. The feeling of letting out a reluctant groan and getting out of bed is a familiar feeling on off days, which is why BenQ's remote control feature comes in extremely handy. With the remote control, users will be able to adjust volume levels, HDRi mode, and sound mode in their room without having to leave their spot of comfort, and then simply switch the monitor off when it's time to sleep.
Meet the three musketeers of unwinding and bedtime entertainment: leisure, convenience, and comfort, here to make your life a little easier.
#7) A dual-monitor set-up fit for the MacBook
Here's one for users who swear by their trusty MacBooks. BenQ's EW monitors allow for dual-monitor support, with a M-book mode minimising the visual differences between the Apple laptop and the external display, and a USB-C port for newer models.
A 60-watt delivery means that only one cable is needed for monitor usage and MacBook charging at the same time, so wire tangle will not be an issue here. Say hello to watching the action in Castlevania's final season unfold on the monitor, and goodbye to Trevor and Alucard dishing out blows on the smaller MacBook screen.
---
Now that there's more reason to stay indoors, the BenQ EW series would be a welcome addition to the homes of entertainment enthusiasts. Offering a mix of versatility, eye-care technology, and HDRi, the suite of monitors is a well-rounded package that improves the Netflix, Amazon Prime Video and Disney+ experience for both Windows and MacBook owners.
The monitors aren't tied down to a single price point as well. With the range of prices, users are given more flexibility and choices, from the wallet-friendly EW2480 to the more premium EW3280U. Beyond that, well, the considerations would have to depend on personal preferences.
In addition to the above, BenQ will also be releasing two new monitors this September. The EW2880U takes the form of a 28-inch 4K display, while the EW2880R curved monitor will ship with a 21:9 aspect ratio. Prices for both models are expected nearer to the launch date.