The growing gaming market continues to offer tons of alternatives to various devices, accessories, and hardware, but it also means that users are often spoilt for choice. From different brands and models to age-old debates about preferences, such as the wireless-versus-wired or desktop-versus-laptop conundrum, the decision-making process in getting a gaming rig can get a little more complicated with more factors to consider.
Where processors are concerned, Intel and AMD are the top names that come to mind and as the demand for high-performing laptops continues to grow, both parties have rolled out their chips to a slate of models to deliver great power and performance for heavy-duty gaming or productivity.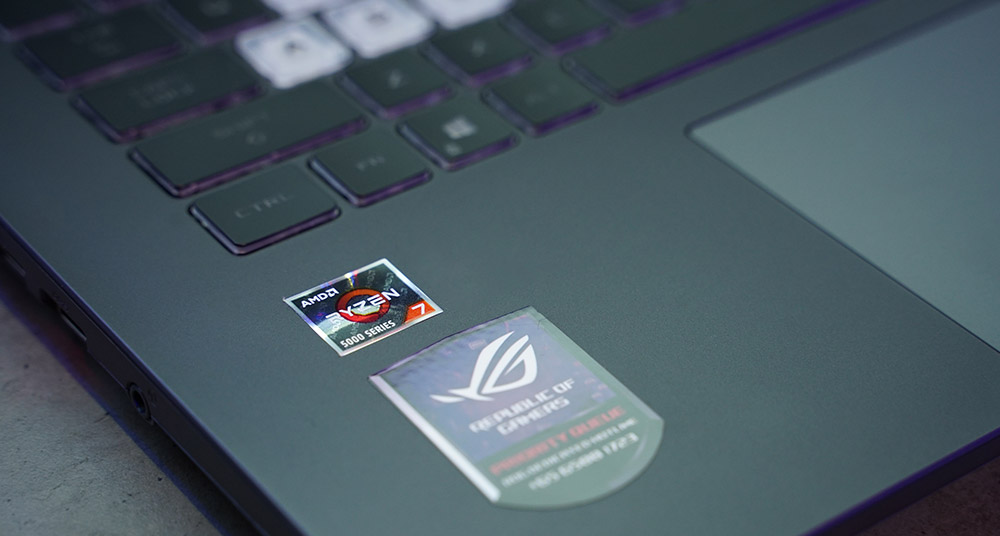 AMD, in particular, has risen to become the talk of the town in recent years, with their expertise in integrated graphical prowess and competitive price point, seen as a boon and AMD processors have become a greater force to be reckoned with, courtesy of its Ryzen™ chips.
For one, the AMD Ryzen™ technology allows for elite gaming performance with faster clock speeds and more on-chip memory. As brand design methodologies are capable of enabling higher frequencies, processor models such as the AMD Ryzen™ 9 5980HX can clock speeds up to 4.8GHz, allowing for blazing-fast speeds and smoother gameplay. Moreover, it is also unlocked for overclock capability.
A large cache on-chip memory of up to 20MB, meanwhile, helps to accelerate core communication and lower effective latency for a significant performance boost. In other words, sluggish feedback and lag will no longer be a concern during intense gaming sessions.
More importantly, AMD processors are the best – and the only octa-core – fit for ultrathin gaming notebooks. With the increasing popularity of lightweight gaming laptops in recent times, the company's Zen 3 processor architecture proves essential in building powerful-yet-portable models due to its use of the world's most advanced 7nm manufacturing technology. Throw into the mix a hyper-efficient battery life, and a well-rounded concoction awaits.
ASUS, an industry player dedicated to delivering gaming excellence, has hopped on board the AMD train to offer gaming excellence and everyday productivity with their recent offerings. From the ROG Flow X13 to the ROG Zephyrus Duo SE, here are several laptops running on the AMD Ryzen™ 5000 series processor.
---
A gaming beast in one moment, and a content-creation machine in the next. The ROG Flow X13 is priced from S$2,498, but its potent combination of a GeForce RTX 3050 GPU and AMD Ryzen™ 9 5900HS CPU promises plenty of heat for both gaming and creative work, with DLSS and ray-tracing technology offering enhanced visual prowess and performance.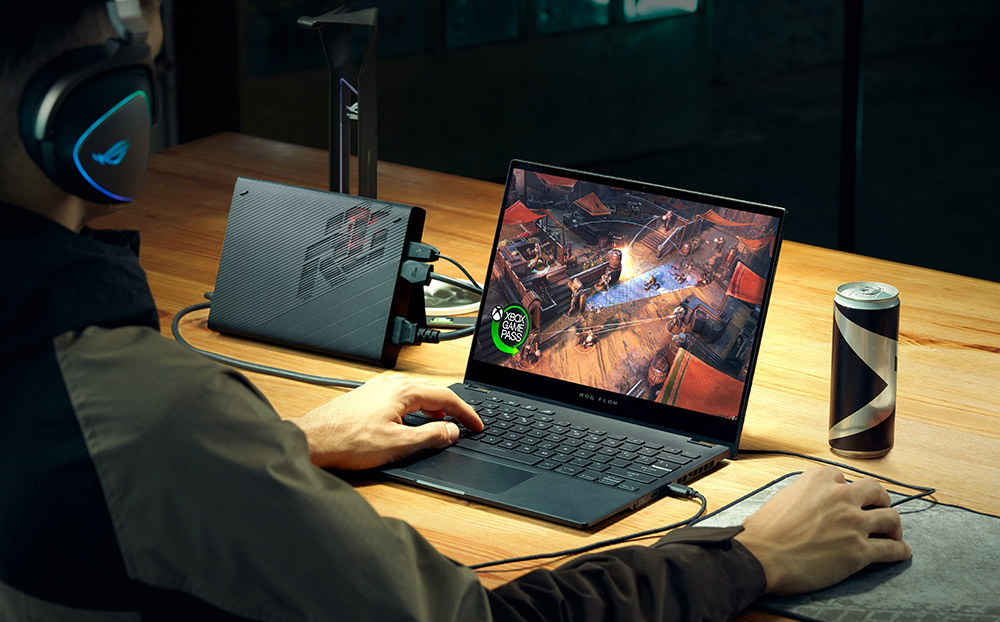 For an added touch of portability, ASUS has also packed in the ROG XG Mobile eGPU to combine performance and versatility into a smaller form factor. With the ROG Boost feature, the laptop is able to harness the full potential of a RTX 3080 GPU when clocked to 1810MHz at 150W, which makes it a reliable and powerful companion for travelling light.
More prominent, though, is the flexibility that the Flow X13 brings as a gaming laptop convertible. In addition to the Laptop Mode default, users can switch between the Tablet Mode, Stand Mode, and Tent Mode for different purposes, all while still enjoying a touchscreen with 4K resolution, 16:10 aspect ratio, and adaptive sync support.
---
Double the displays, double the possibilities. Outfitted with a RTX 3080 GPU and AMD Ryzen™ 9 5900HX CPU, this high-performing laptop features a secondary screen for improved multitasking efficiency – especially for content creators. With the ScreenPad Plus, users can enjoy an additional 3840 x 1100 resolution on top of the 300 Hz FHD main display covering 100 percent of the Adobe RGB colour spectrum.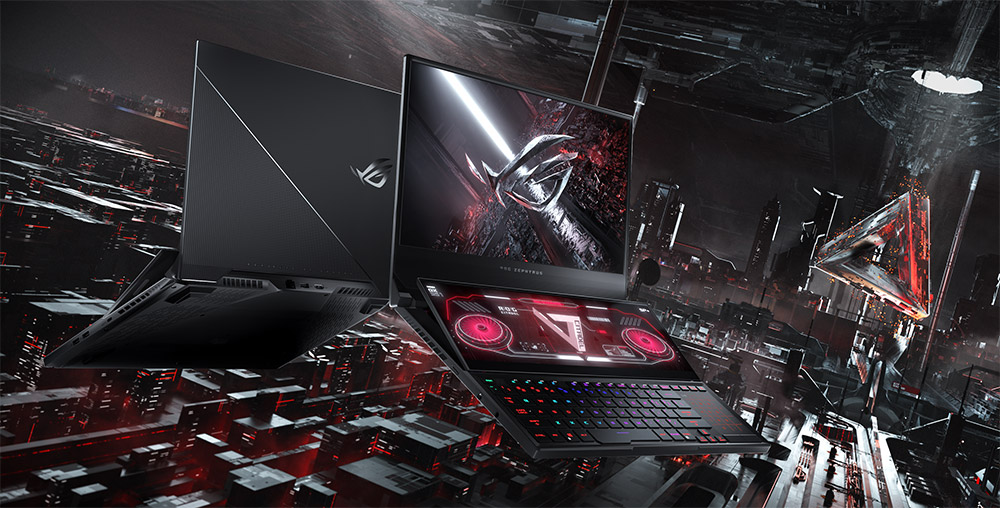 What this means is more space for your creative toolkit. Instead of being cramped on-screen, various elements of creative software, such as brush preferences, timeline, clip bins, and drawing canvases can be separately pulled up and dragged to the second display, which by the by, supports stylus utility as well.
Gaming enthusiasts, meanwhile, will find that the ROG Zephyrus Duo SE is one competent powerhouse. It packs a 300 Hz refresh rate and 3ms response time into an FHD IPS panel of (1920 x 1080p), and uses Adaptive Sync technology to synchronise refresh figures for smoother gameplay. The cost to play hard and work hard at the same time? S$6,798.
---
Versatility is the name of the game for the ROG Zephyrus G15. Boasting a RTX 3070 GPU, AMD Ryzen™ 9 5900HS CPU, and a WQHD 165Hz / 3ms gaming panel (2560 x 1440p), it comes powerfully-built as a desktop replacement with ASUS' signature matrix dot design on its lid.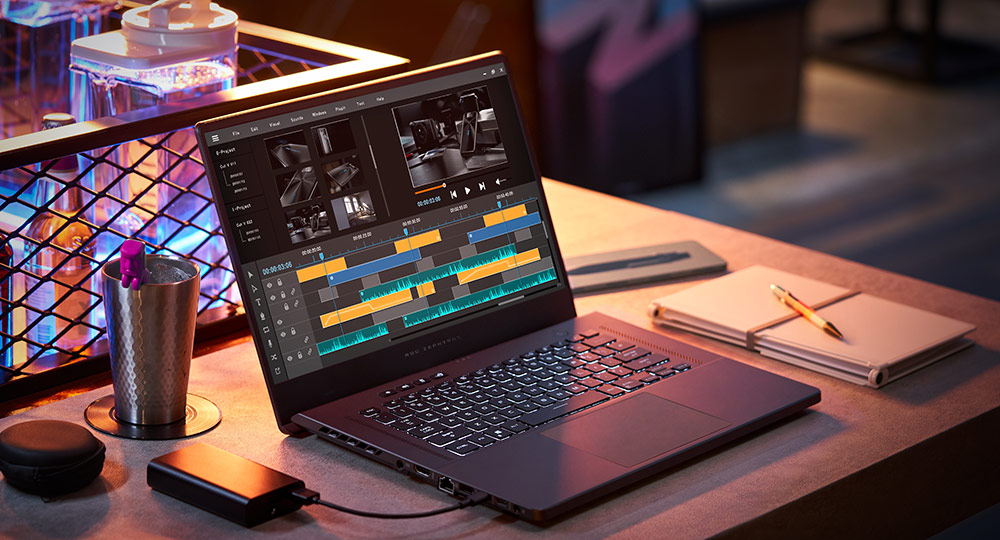 But the laptop's gaming-centric nature goes beyond hardware performance. To improve on voice communications, several audio features have been built into its 1.9kg chassis, such as Two-Way AI Noise Cancellation and a 3D mic array that offers three input modes: Cardioid Mode, Stereo Mode, and Omnidirectional Mode.
And should users decide to ditch the headphones? The Zephyrus G15's six-speaker set-up powered by Dolby Atmos can be counted on to deliver louder, more dynamic audio. Bundling all of these features puts the laptop at a reasonable S$2,898 starting price.
---
The smaller sibling of the G15, the ROG Zephyrus G14 trades out a 15.6-inch display for a 14-inch one, but remains equally competent where performance is concerned…well, sort of. While the laptop only comes paired with a GTX3060 GPU, it still runs on the same AMD Ryzen™ 9 5900HS CPU as the G15, and retains a QHD resolution and the Two-Way AI Noise Cancellation feature on the side.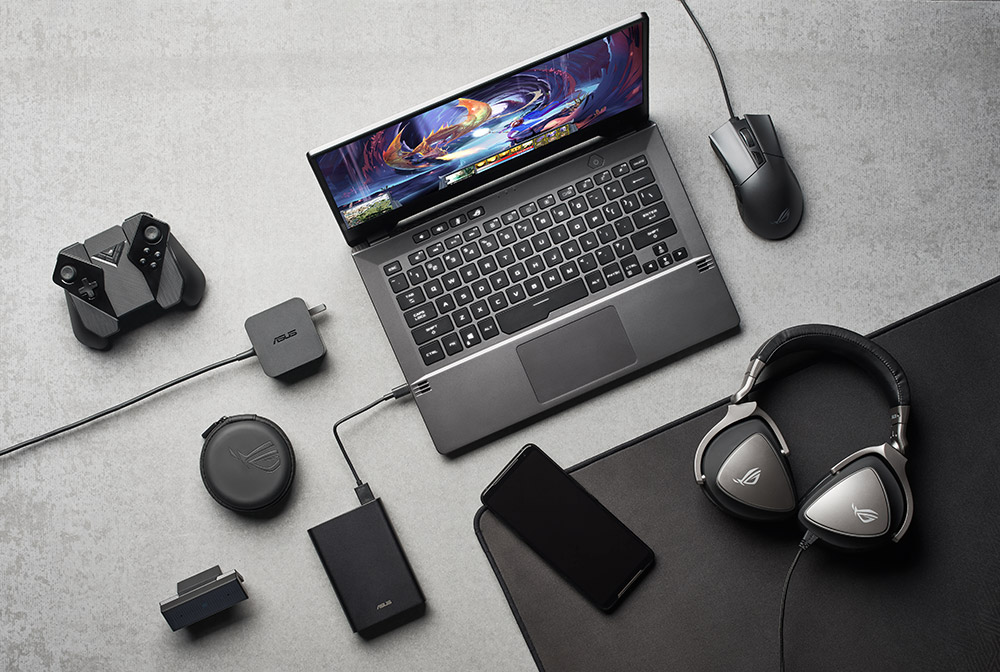 There are other slight differences in store, too. In lieu of a 165Hz refresh rate and six-speaker system, the Zephyrus G14 carries 144Hz and quad speakers in tow, alongside an AniMe Matrix display that brings personalisation through custom designs, unique animations, and live audio visualisations.
Available for S$2,989, this all-rounded performer presents an alternative option for those who prefer smaller displays.
---
The ROG Strix Scar 15 is designed for the most competitive of gamers. Featuring a AMD Ryzen™ 9 5900HX CPU, RTX30-series GPU, and a 300Hz / 3ms FHD display (1920 x 1080p) with a high-resolution WQHD 165Hz option, the gaming powerhouse promises great speeds and power in any situation.
Enhancing the gameplay experience is its Optical Mechanical Keyboard that offers a blazing fast 0.2mm response time on top of a 1.9mm travel distance and per-key RGB configuration. Liquid metal compounds are also used to cool the processors during intense gaming sessions, thus allowing for more effective thermal management and reducing the latency brought on by poor heat management.
Reaching the apex of gaming is now possible from S$3,598.
---
Taking on a minimalist skin, the ROG Strix G15 is designed for stealthy gaming and competitive greatness. Running on the RTX 3060 GPU and AMD Ryzen™ 9 5900HX CPU, it allows users to switch between a 144Hz or 300Hz refresh rate on its 3ms FHD display according to their needs and preferences.
When the competition heats up, precision and speed hold the key to victory – and we don't mean just based on display alone. To recreate the desktop experience, the laptop ships with a desktop-inspired keyboard that sees five dedicated hotkeys placed within reach, bigger and isolated arrow keys, and well-spaced function keys for increased accuracy and intuitive feedback.
The ROG Strix G15 will set users back by S$2,198.
---
As the popularity of gaming laptops continues to rise, the demand for portability and performance will only grow with time. ASUS' innovative, dare-to-try spirit and AMD's cutting-edge technology, however, have set a high standard on that front, packing in both gaming and productivity prowess for their users.