You will believe a car can fly.
Fans of the Back To The Future trilogy know that 2015 marks the year that Marty McFly travels to the future from 1985, and in a self-fulfilling prophecy kind of way, real life scientists and designers have been working on making some of the future technology envisioned in the movie a reality.
There is no Jaws 19, but Nike has made a replica Nike MAG power lacing sneakers, and has promised to release the actual pair this year. There are at least two prototype hoverboards in existence, by Hendo and Lexus, but what fans really want is the flying DeLorean and it's here.
IT WORKS! HAHA! IT WORKS!
So it's not a real car, or an actual time machine, but Hong Kong toy company, Kids Logic, has made a DeLorean replica that can actually float several centimeters above a base.
In case you missed that, this toy replica floats, and because it uses magnets to perform this neat trick, the DeLorean actually looks like it hovers as it floats over the platform.
It also comes with LED lights that light up, like when the DeLorean hits 88 miles per hour and you see it zip away in a burning light. Sorry, but we highly doubt that it'll be the three sonic boom sound effects.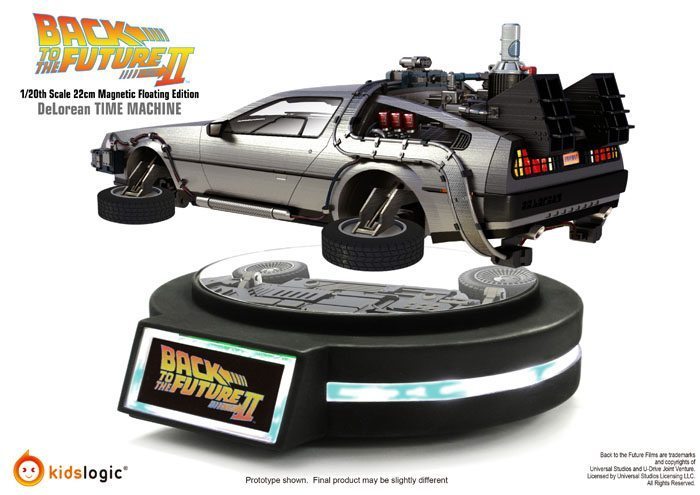 GREAT SCOTT! THIS IS HEAVY!
Check out this video of an early prototype. It's beautiful and if the final piece even looks as close to this rendered images, the final product looks like it's going to be incredible.
Kids Logic has not revealed much about the piece, nor discussed its Hong Kong price, but it looks like it will only go on sale in the third quarter of 2016.
And if you're looking at something to complement, Kids Logic has you covered with the companion Back To The Future Hoverboard set, which comes with a similar magnetic base, but this time with all five hoverboards seen in the second movie.

From what I gather from these images, everything looks like the one seen in the movie, except that Marty's pink hoverboard does not have the Mattel branding. I'm guessing that's due to licensing issues. Otherwise, the four hoverboards used by Biff Jr's minions, including the Pit Bull, are presented.
Each one floats nicely and no, these things won't work on water, because you don't have power!
Here are some specs on the hoverboard set:
1/6 scale
Set of 5 hover board designs
Magnetic floating feature; each Mini Hover Board is able to float in the air with the use of the magnetic floating base
Magnetic floating base comes with LED light
Pitbull comes with LED light up function
We expect that when both these items hit the market, you're going to see some serious shit. The Falcon's Hangar is currently taking pre-orders for both pieces via their website, way ahead of its release.