Force Friday has come and gone, but the launch of a new series of Star Wars toys has left some folks reeling. The remote control Sphero BB-8 has sold out at almost all retailers in local stores, and some of the more well received items, such as the new Millennium Falcon has flown off the shelf faster than you can say, "Punch it, Chewie."
But all is not lost, as it's the Labour Day weekend in the United States, and as with any major public holidays, online retailer Amazon is having a sale.
And faster than you can make the jump into hyperspace, know that there are a whole bunch of Star Wars items on sale. The best part? Amazon is shipping these items to Singapore for FREE, if you can chalk up US$125 in a single order.
Here are the top 6 (plus a few more bonus ones) Star Wars items on sale from Amazon, that you can ship here, for free. Your friends are going to love you for these Christmas gifts.
---
RRP: US$59.85
Sale price: $30.70
Discount Level: 49%
It's not the new Lego set that you're looking for, but this is the original ship that Han piloted. You can tell by the cross sections round antenna. This model kit is the snap-on type, and it already comes painted, so you don't have to invest in any extras to make the Kessel Run.
---
RRP: US$29.99
Sale Price: US$25.49
Discount Level: 15%
If you prefer something new, check out this new science kit from Uncle Milton. It's basically a hand-held projector with UV lights. This items is brand new and it hasn't even been released yet, which explains the smaller 15% discount. But if you think about it, where can you get new Star Wars toys on discount?
From the description: Create glowing, phosphorescent Star Wars images before they magically disappear! Release UV light to charge and create a glowing scene or drawing. Shoot UV light blasts at Imperial Ships using the Millennium Falcon Light Blaster with realistic sound effects. Or, draw on your image with UV light.
---
RRP: US$19.99
Sale Price: US$14.99
Discount Level: 25%
Did you know that the colour of a lightsaber depends on the type of crystal used in making the weapon? And now you can grow your own. It's all part of a science experiment of course, and like the UV light set, this item has not been released yet.
What makes the deal even sweeter is the 25% discount on this item. Alas, this set only lights up in blue and red, so no Yoda green or Mace Windu purple for you.
---
RRP: US$34.99
Sale Price: US$22.54
Discount Level: 36%
Warning Star Wars fans. This Jedi robe is meant for kids, so unless you have kids, please skip ahead.
Halloween is next month, so if you want a little padawan to go trick or treating, this robe will do nicely. This outfit will also be something great to wear to the next Star Wars movie premiere. We hear that Disney is releasing quite a few, so you might want to get something that can last.
Pro Tip: The landing page for this item places you in the Small Size option, but there is a Medium and Large option (We say again: Sizes are for kids only) and the Medium option has a 37% discount, so choose wisely.
---
RRP: US$59.99
Sale Price: $37.84
Discount Level: 37%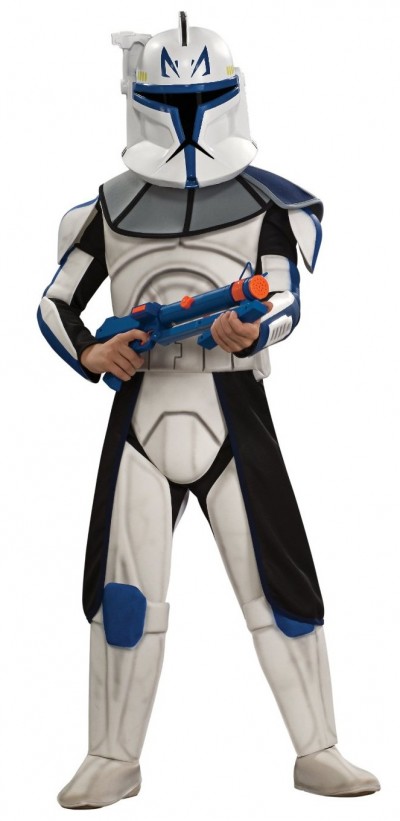 If you're a long time Star Wars fan, the Jedi are your heroes. But if your child grew up with The Clone Wars animated series, there is a chance that clone trooper Captain Rex is his or her hero, so you might want to consider picking up this deluxe costume for Halloween.
As always, pick the right size, as pricing varies depending on the size selected. This comes with the various armour pieces, as well as a two piece mask for a more immersive costume play.
---
RRP: US$12.99
Sale Price: US$10.89
Discount Level: 16%
Do you know how it feels like to bring the Falcon anywhere you want? Now you can, with this keyring. This 2-inch item is highly detailed, and if you want, they also have the Star Destroyer at about the same price.
We don't really recommend it, but if you are a couple, one of you could hang on to the Star Destroyer, while the other keeps the Falcon.
---
BONUS ITEMS!
The following items are NOT on sale on Amazon, but if you need to hit the US$125 minimum for free shipping to Singapore, why not add these ones.
RRP: US$59.99
Another to-be-released Star Wars item, this bluetooth speaker comes in the form of the Millennium Falcon. It even answers and ends calls via the speakerphone. For toy collectors, this can be a display piece on your shelf that actually has a purpose and a use.
---
RRP: US$44.42 – US$47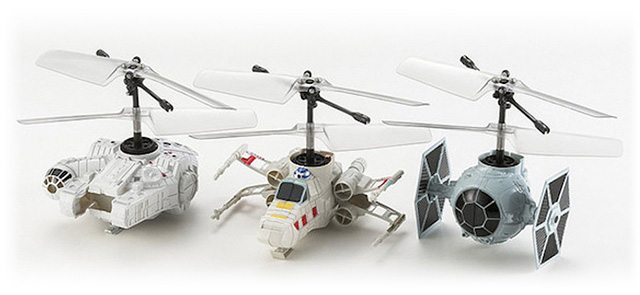 Remember that awesome drone designed as the Millennium Falcon? This is not it.
This is actually a mini copter disguised as either the Falcon, X-Wing or TIE Fighter. While we doubt that it comes with the iconic whine of the Twin Ion Engines, this will make a great way to spend the weekend, re-enacting say, the Death Star attack.
For some reason, all three items are differently priced, so pick on the one, or all, that you really want.
---
RRP: US$39.99
So what happened to the torpedo that Luke fired at the exhaust port of the Death Star? Well, here's your chance to channel the Force in this puzzle game that has you maneuver a tiny metal ball bearing around the insides of the Death Star, all the way to the glowing core.
With light-up features and sound effects, this tiny puzzle isn't easy, since the ball bearing can easily fall off the rails, and drop off. If you're ever frustrated, please remember that anger leads to hate, and hate leads to suffering.
---
RRP: US$149.99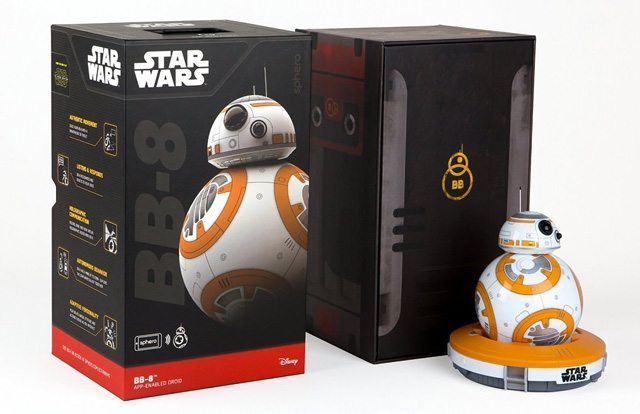 Oh, did you want one of this? Well, so does the rest of the world. In fact, it's sold out in stores and on Amazon, so why are we highlighting this then?
Easy. If you order it now, Amazon will ship it to you, free, once they have stocks.
In the event that demand outstrips supply, Amazon has been known to stop shipping an item overseas, but it will honour current orders. (For those of who who saw how Amazon shipped the first wave of PlayStation 4 consoles to Singapore, then stopped taking orders for subsequent orders, you know what we mean).
So if this is really the droid you're looking for, May The Force Be With You.
---

Drop a Facebook comment below!