If the recently announced Sailor Moon x Shiseido makeup collection was not enough to sate your thirst for more Sailor Moon merchandise, don't worry. There is still more coming your way.
The latest Sailor Moon collaboration announced comes from leather goods company Asakusa Bunko who is known for their handcrafted purses and wallet that usually feature floral circular or hexagonal designs known as hanabishi.
The company has recently announced its newest Sailor Moon collaboration which features a leather folding wallet and a card case with pretty Sailor Moon-themed hanabishi designs.
The folding wallet features Sailor Moon's Cosmic Heart Compact in the centre, with the symbols of the other inner Sailor Senshi (Sailor Mercury, Jupiter, Venus, and Mars) surrounding it. Don't be fooled by its small appearance however as it actually comes with 13 different compartments to let you easily store all your cards, coins, and notes.
Meanwhile, the Sailor Moon Card Case features Chibiusa Tsukino's Prism Heart Compact in the centre with the Outer Sailor Senshi's (Sailor Uranus, Pluto, Neptune, and Saturn) symbols surrounding it. According to Asakusa Buko (via Soranews24), there is space to hold up to 40 cards, and the case even comes with two extra pockets.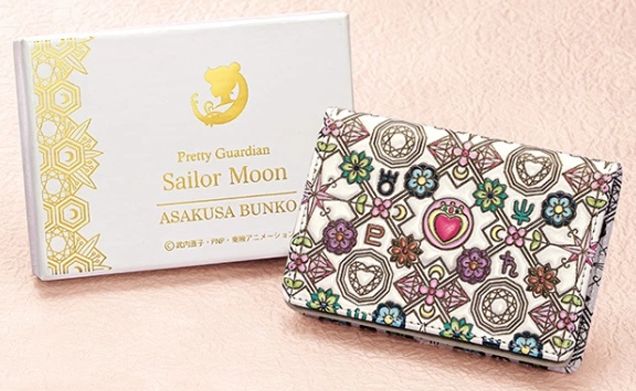 The folding wallet and card case cost 34,800 yen (S$451.18) and 14,800 yen (S$191.88) respectively. While you might be put off by the price, it is worth noting that each wallet and card case is handmade by the company.
They also employ the yuzen technique to colour the products, a dyeing technique often used on kimono to stop their colours from fading. So you know that you are getting a quality wallet or card case with your purchase.
The products are currently available till the end of July, and you can purchase them on Premico's website.
---

Drop a Facebook comment below!