The first trailer to Hawkeye has arrived! Taking place over the Christmas period, the trailer sees Clint Barton (Jeremy Renner) attempting to make up for lost time with his family in New York City. 
Unfortunately, his past quickly catches up with him (remember when he became a murderous vigilante Ronin during the Blip) and he finds himself in a sticky situation – put a stop to his enemies and make it home in time for Christmas.
Doable? Hey, if John McClane can do it, Barton will die hard to get his way as well. Especially since he finds himself aided by a younger vigilante, who happens to know who he is. Who is this purple-clad archer? It's Kate Bishop. 
Wait, who?
---
Who Is Kate Bishop?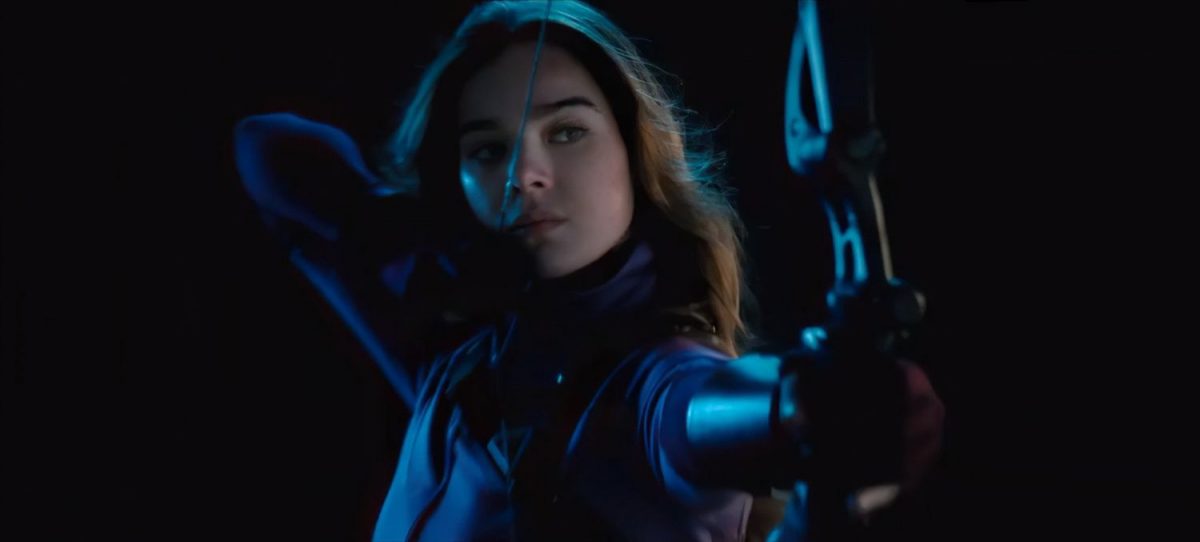 Kate Bishop is a young lady who aspires to be a superhero and handles the bow and arrow like Clint, or maybe even better than him. Kate comes from a rich Manhattanite family, her father an emotionally distant publishing magnate and her mother a notorious socialite (Vera Farmiga). And since she is not a fan of the riches and fortune, Kate spends most of her time keeping the streets clean.
Played by Marvel Cinematic Universe (MCU) newcomer Hailee Steinfeld, Hawkeye will likely see Kate train as Clint's protege as they go on missions, during the most beautiful time of the year – Christmas – and possibly take on or share the Hawkeye name so that Clint can finally get the retirement he dreams of. 
---
Comic Book Origin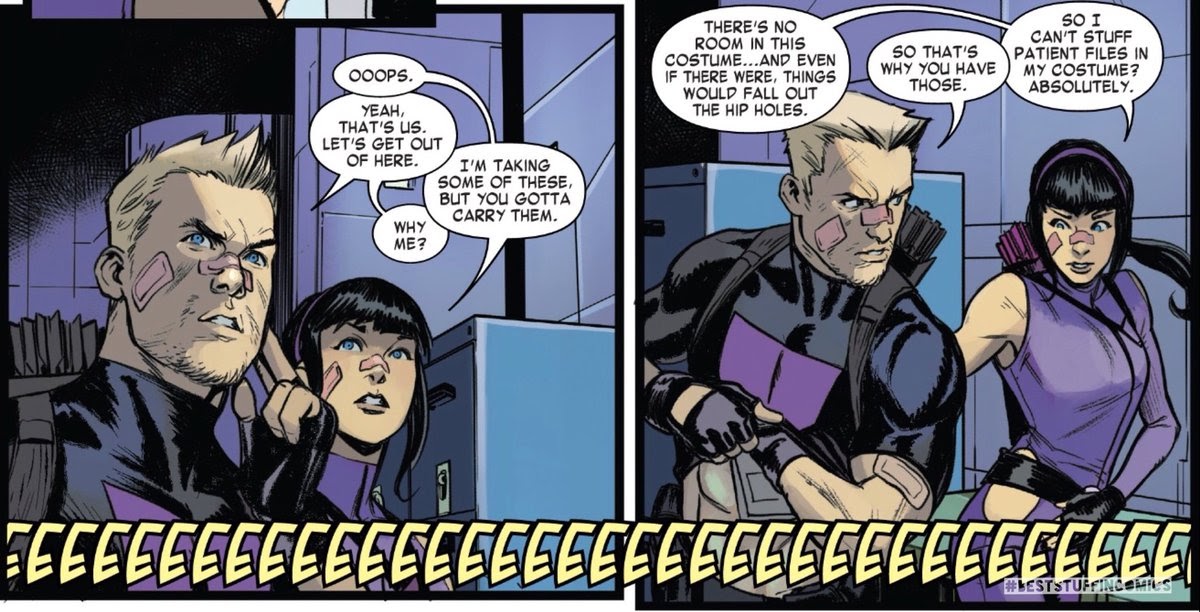 Kate Bishop was created by writer Allan Heinberg and artist Jim Cheung and debuted in 2005's Young Avengers #1.
In the comics, Kate was an average girl from a well to do family. It wasn't until she was sexually assaulted when her life took a turn. Traumatised, Kate attends therapy to work through her issues and later takes on several forms of combat fighting and self-defence to help with the ordeal. She quickly became proficient in swordplay, archery and martial arts.
Kate later saw an opportunity to join the Young Avengers after the original Avengers had disbanded and donned a costume inspired by both Hawkeye and Mockingbird, and worked her way up the team's ranks. It wasn't long before she proved herself worthy to carry the Hawkeye name.
---
Powers And Abilities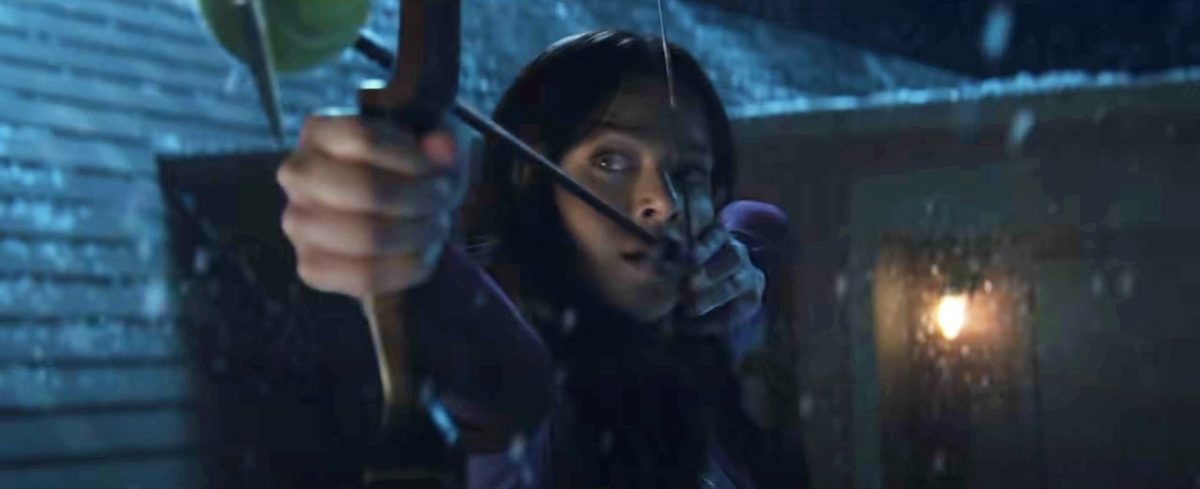 Kate doesn't have superhuman powers but just like Clint, she is an incredibly skilled fighter and marksman. She is very skilled with swords and battle staves and is trained in boxing, jiu-jitsu, hand to hand combat, kickboxing and various martial arts. 
Despite being very young and smaller built, she is incredibly self-confident, forthright, outspoken and sarcastic. Her dynamic with Clint is dysfunctional yet entertaining, easily making her one of the clear favourites amongst Young Avengers comic book fans.
---
In The Disney+ Series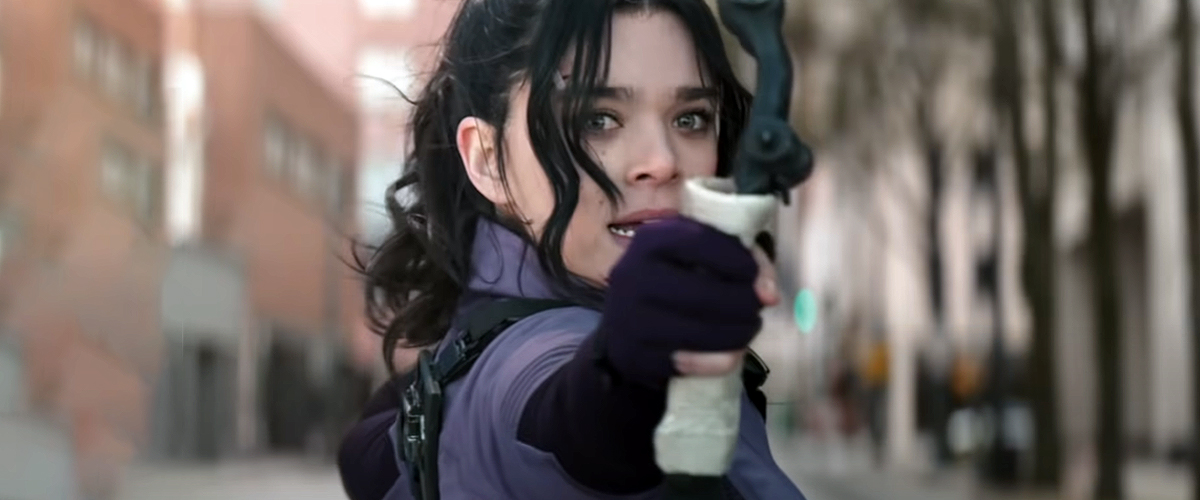 Earlier on, MCU head Kevin Feige acknowledged that there was supposed to be a Hawkeye movie, but that turned into the six-episode Disney+ series. Whilst it's still too early to determine if the Kate in Hawkeye will live up to her comic book counterpart, the trailer teases that the young heroine is likely as determined and eager as one would expect her to be.
The trailer sees her confidence shining through when she called herself the 'the world's greatest archer' and sees the youthful, comical aspect of her personality come out when she embarrassingly falls when attempting to save Clint from a group of mobsters.
One thing is for sure, the chemistry between tired-Dad-retired-superhero Clint and the motivated Kate looks incredibly promising.
---
The Disney+ series will also star Black Widow's Florence Pugh, who, in the movie's post-credit scene, is led to believe that Barton is the one responsible for her big sister Natasha Romanoff's death. Fra Fee will play Kazi, a villain also known as the Clown, while Tony Dalton will take on the role of Jack Duquesne aka Swordsman, a character involved in Barton's comic book origin.  
Alaqua Cox is set to play Maya Lopez aka Echo, the deaf Native American hero from the comics who can mimic anyone's movements. In the comics, she also adopted the guise of Ronin, and her character is scheduled to have her own Disney+ spin-off.
Hawkeye releases on Disney+ on 24 November. 
---

Drop a Facebook comment below!