Even after a year since its launch in Singapore, the Impossible Foods craze hasn't quite gone down – folks live the idea of eating meat, without ever eating meat. But compared to a year ago, folks now have even more options with which to enjoy their meals without having to worry about building on their carbon footprint, or just want to cut down on their meat intake.
Recently, Impossible Foods became much more accessible to Singaporeans with the launch of 360-gram blocks of the plant-based meat at select NTUC FairPrice outlets across the island, or online exclusively at RedMart.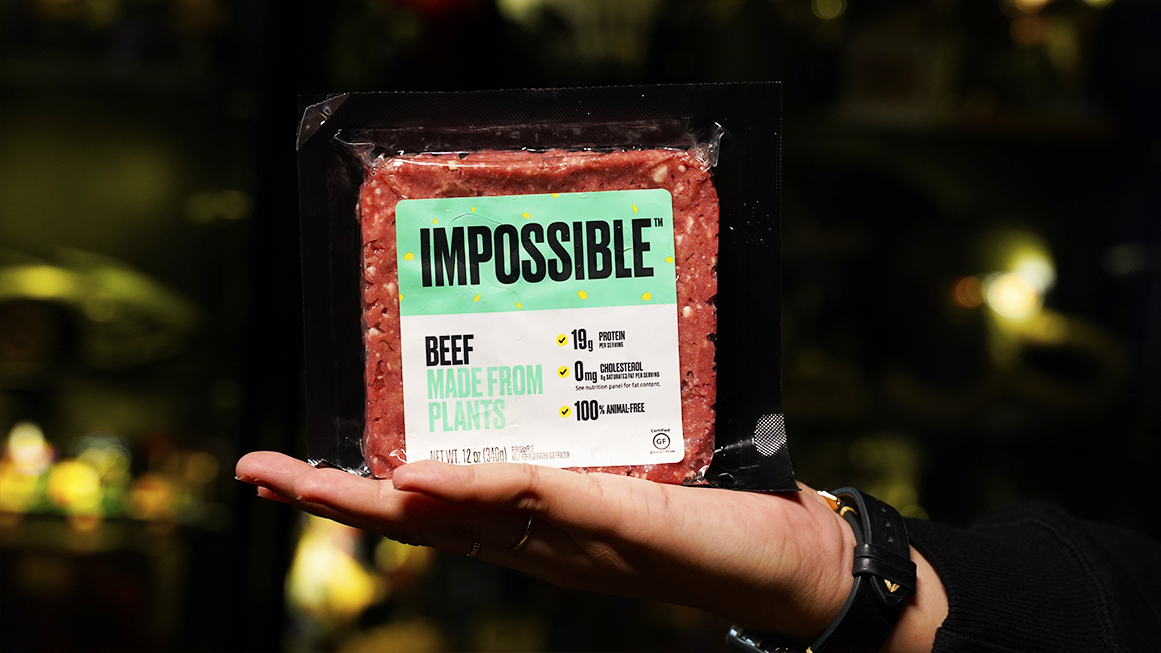 In a period where queueing for an Impossible meal outside has become increasingly impossible due to safe distancing measures enforced at restaurants, or simply peoples' unwillingness to travel all the way to some far-off location just to have a fancy meal, being able to whip up your own Impossible meal at home is certainly a more cost-effective alternative.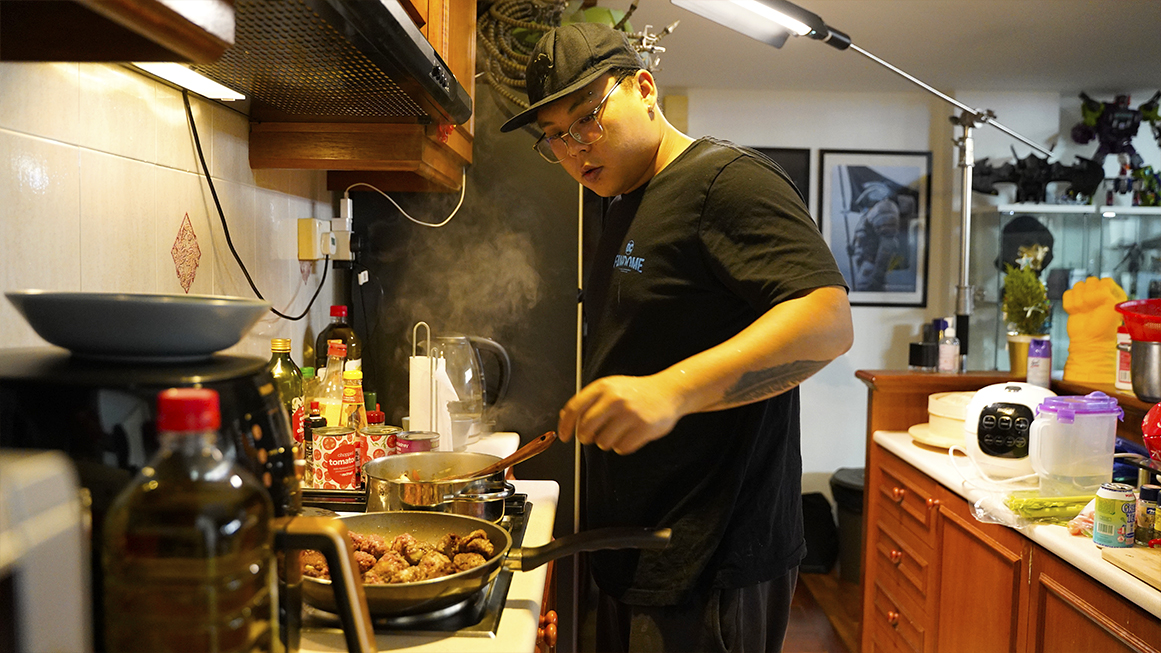 And if you're reading this and are still a little skeptical about how easy it is to cook a meal using Impossible Beef, Geek Culture's resident videographer, editor, and talented gastronomist Zacky has done up two simple, fuss-free recipes that put this plant-based meat to the test using just one pack of Impossible Beef, so you can do it yourself too.
---
#1 – Impossible Butter Masala Meatballs
Ingredients
180g of Impossible Beef (RedMart)
30ml of sour cream (RedMart)
150ml of water
Cooking time: 15 minutes
Serves: 4
---
Instructions
Start by marinating the Impossible Beef with 1 teaspoon of salt, pepper and garam masala powder (you can use your hands or a spatula for this), and roll them up into bite-sized meatballs.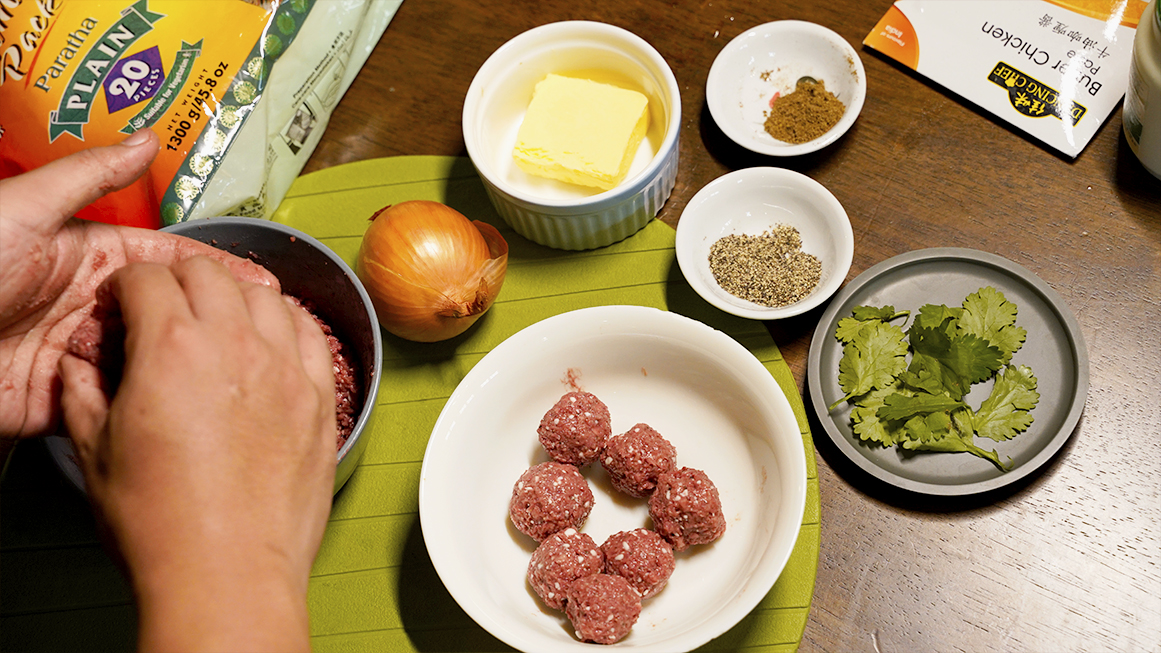 Then, drizzle some of the olive oil over a saucepan and heat it over medium heat. The first ingredient to go in will be the tofu, where you'll have to occasionally turn them until medium brown on all sides. Remove the tofu bits and leave them to rest, and then while the heat is still on, introduce the meatballs. Leave the meatballs there, occasionally turning, until they start to sear on both sides. It takes a lot quicker to sear the ''meat" so be weary not to overlook them. Once there's browning on both sides and the link becomes brown, your balls are good to go. Set them aside and let it rest.
During this part of the process, you might want to start heating up the frozen naan/prata in another pan or air fryer, until they turn slightly brown and crispy. Heat up as much as each person prefers (we imagine 2-3 pieces each will suffice).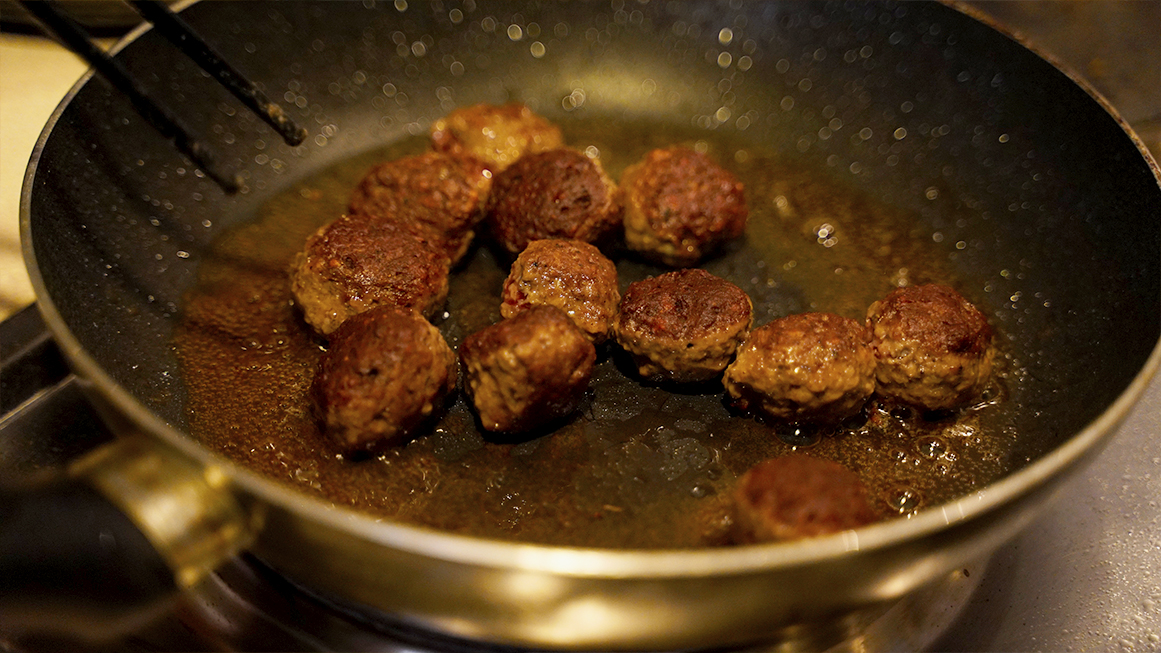 Once that's done, it's time to make the sauce. With the same pan that you cooked the meatballs in, throw in the onions as well as the butter until they caramelise slightly, you'll know when it's done when the onion turn brown and translucent. At that moment, introduce the butter chicken paste, stir, and let it simmer until the aromas from the paste starts perfuming the entire kitchen then pour in the water and mix till it become a nice smooth slurry.
Finally add in the cooking cream to get some thickness and a touch of sour cream for a little acidity, you could use yoghurt for extra authenticity. Stir until the mixture turns into a rich, creamy golden-brown sauce. During this stage, you could also add in some sugar if you want to make it a little sweeter.
At which point, throw in the tofu and Impossible Beef meatballs. Transfer the butter meatballs into a bowl, garnish with the coriander leaves, and serve.
---
Thoughts
If you thought butter chicken could only be made with chicken, then you might want to put that thought on hold because it actually goes really well with Impossible Beef. The plant-based meat absorbs the sauce really well, and the masala seasoning adds a mild, spicy kick. Of course, if you wanted more heat you could always pile on more masala powder, or leave it marinating for longer. We actually only left it for 20 minutes before cooking, but we think the Impossible meatballs would certainly have become even more impossibly delicious if the spices were left a little more time to settle in.
The sauce itself was a lip-smacking, rich, creamy, aromatic and downright savoury party in the mouth. It latches on to the Impossible meatballs and tofu really well, and lingers in your mouth long after swallowing, making you crave for more long after you've sampled it. The fried tofu adds a bit of silky, chewy balance to the Impossible Beef's soft and tender texture. And of course, the crispy prata or naan is where you cram all that action in one place. For those who are looking for extra richness, try replacing the tofu with Paneer (Indian cottage cheese)
Best eaten with your bare hands.
---
#2 – Impossible Spaghetti Bolognese
Ingredients
180g of Impossible Beef (RedMart)
4 cups of water
300g of no. 5 spaghetti noodles (actually, any pasta of your preference works, but we're keeping things basic here) (RedMart | Shopee)
Cooking time: 45 minutes
Serves: 4
---
Instructions
Mix the Impossible Beef with the salt, pepper, and Italian seasoning as well as 1 and a half tablespoons of Worcestershire sauce. Then, roll them up into bite-sized balls and set aside to marinate.
Heat the water in a pot into a rolling boil on high heat, add salt to the water (it should be as salty as the sea) at which point add in the pasta and lower the heat to medium. Occasionally stir the pasta to prevent it from sticking to the bottom of the pot until it is al dente. Once done, drain the pasta and set aside.
During this stage, you can start to cook the meatballs. Heat up some olive oil in a saucepan, and then throw in the meatballs. Occasionally turning them, cook the meatballs until they start to sear a little. After which, set the meatballs aside.
In the big pot, it's time to make the bolognese sauce. Drizzle the pot with olive oil and heat, then throw in the yellow onions and sauteé them until softened and caramelised. After which, include the carrots, mushrooms and celery, stirring as you go for a good 6-8 minutes. Add in salt and pepper to taste. There will be some browning at the bottom of the pot, that's where the good bits are.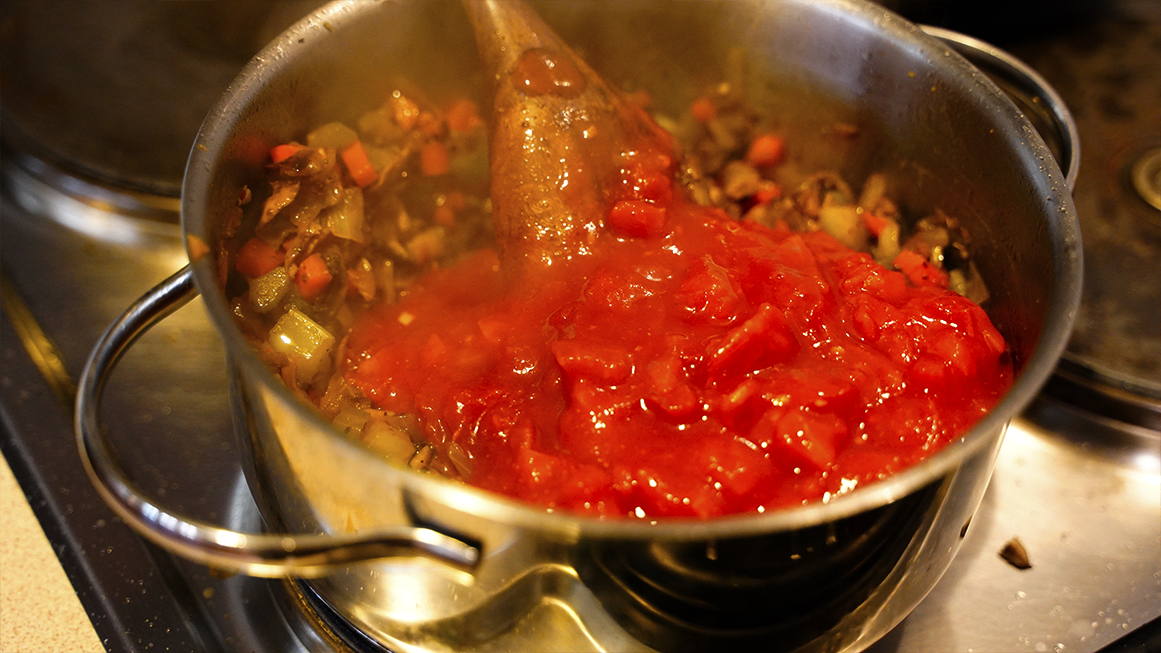 Then, pour in the canned tomatoes and pasta sauce and stir while scraping the bottom of the pan, adding some water to dilute the mixture so it doesn't become too thick. Continue to stir occasionally until it comes to a soft boil then reduce to a simmer. What you want is all the flavours to come through and for the hard vegetables to soften. Throw in the cooked meatballs to warm through for a good 3-4 minutes. Gently stir the pot without breaking any balls.
At this point, you can add more salt and/or pepper and Italian seasoning depending on your preference.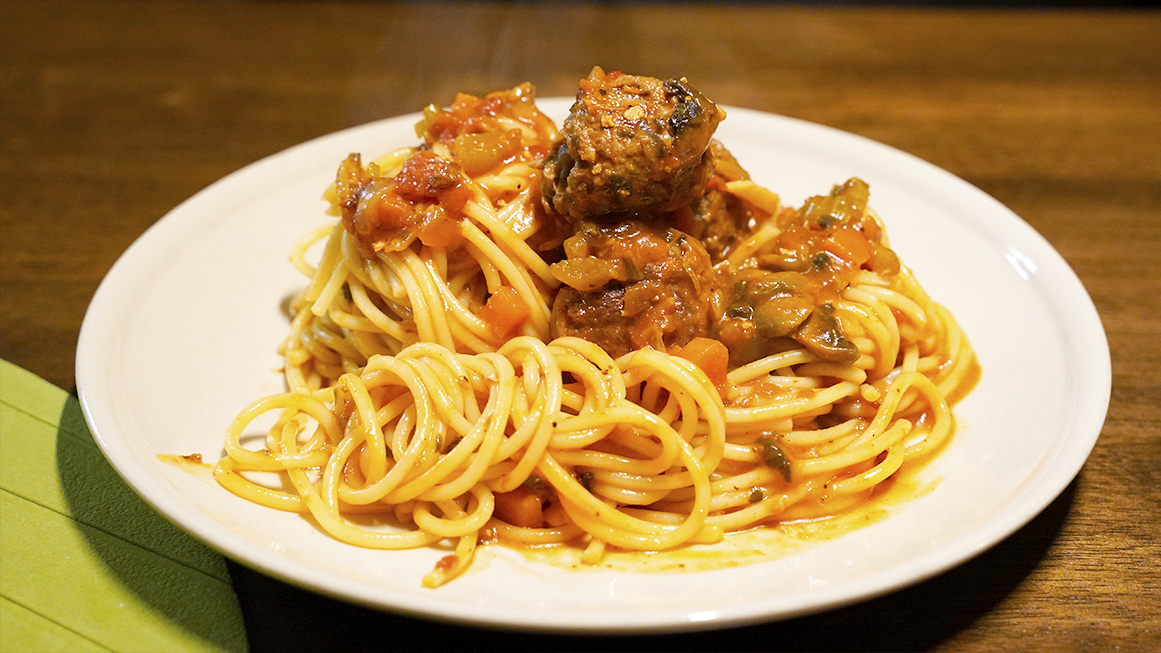 Feel free to serve the pasta and drizzle over the sauce and meatballs or throw them all together and get all the spags nicely coated.
Distribute evenly on plates and serve.
---
Thoughts
The best part about this recipe is that it is super flexible. Like we mentioned before, the pasta could be swapped out for linguine, fusilli, and penne, and the Impossible Beef could just be chucked in and cooked like minced beef. Either way, it would've worked just as fine. Adding some shaved parmesan cheese would always go a long way.
Adding some chili flakes or several dollops of tabasco sauce would certainly make things a lot more exciting, especially for us Singaporeans, who are absolutely obsessed with setting our mouths on fire for some reason. But that's the beauty about spaghetti bolognese in general — so basic, but yet so versatile.
But we digress. The spaghetti here was absolutely divine. When cooked well, the al dente pasta holds up all that juicy, crunchy pasta sauce really well with every twirl of the fork, taking literal stabs at the Impossible meatballs while we're at it too.
Speaking of which, the meatballs, again, absolutely embraced the pasta sauce with open arms (if they had any), and were exploding with flavour as soon as their pasta-covered exterior entered our mouths. You'd think that the crunchy celery and carrots would get in the way, but they actually just added on to the brouhaha happening in your mouth. Just remember to chew before you swallow.
And of course, since this is tomato-based pasta, one serving will most definitely leave you wanting more, which we definitely helped ourselves to.
---
And there you have it, two simple yet incredible meals that you can whip up using some Impossible Beef. The best part about this entire process was that the Impossible Beef was actually really easy to work with, and actually was much easier to cook than regular meat, meaning less time would be spent at the kitchen and more time would be dedicated enjoying them in your belly.
So if these two recipes have piqued your interest in trying some Impossible home cooking, or even include them as part of your next family gathering (with social distancing enforced, of course), then now might be the best time to do so.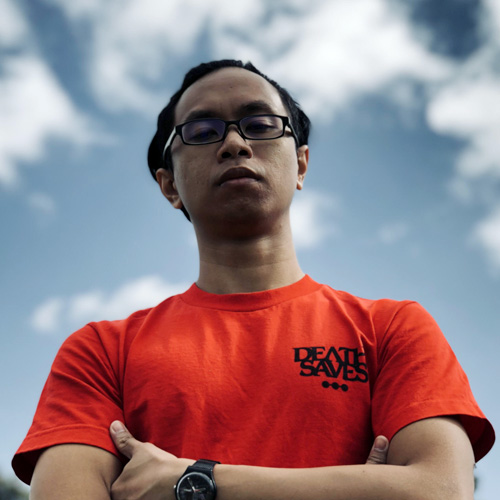 Marion has a serious RPG addiction. Sometimes it bleeds into real life; he forgets to sleep because he thinks he has a Witcher's body clock. Forgive him in advance if he suddenly blurts out terms such as "Mind Flayer" and "Magic Missile", because never once does he stop thinking about his next Dungeons & Dragons game.
---

Drop a Facebook comment below!