Zombies are clearly all the rage this Halloween season, with World War II action flick Overlord leading the proverbial charge, while Singapore's homegrown take on the flesh-eating horrors, Zombiepura, pitches itself to local audiences with its familiar brand of humour.
The rabid, bloodthirsty monsters aren't stopping their invasion at the silver screen, however, we're also seeing them in the flesh — pardon the pun — on Singapore's sunny shores. Yes, they're making a comeback at Universal Studios Singapore Halloween Horror Nights 8, for another round of Zombie Laser Tag. And this year, they'll also be taking to the streets of Orchard, called Zombie Attack, at the Grange Road Car Park right outside 313@Somerset.
But it's no longer just a car park, it's now Lexington Lab — where ambitious scientists have, predictably, taken their experiments too far and unleashed a terrifying zombie outbreak that'll threaten all of humanity and life as we know it. And… this is where you come in. As a promising cadet of Echo Unit, you've been tasked to infiltrate the lab to retrieve the anti-toxin and purge it of its undead menace.laser
Set up for the most part like a military internment zone, you and a team of three other members will be led through a winding route spotted with crates and barrels — very video game-inspired, although you don't get to loot from them, unfortunately. The rifle they arm you with has a round of twenty bullets. You'll be forced to reload after emptying a clip, which will take a couple of seconds, but that's evidently a matter of life and death when zombies are out to get you.
Zombie slaying aside, the puzzles they set you up with will have you working together with your teammates, especially since you'll be working against the clock. Although, if you find yourself at an utter loss, your guide may take pity on your hopeless incompetence (the way ours did) and offer up a hint or two.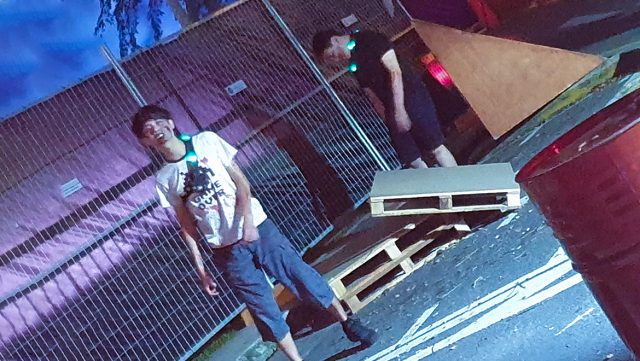 And to really drive home the importance of teamwork, you'll be split up at one point of the game to uncover clues strategically positioned on separate paths. We're not going to spoil you — as a matter of fact, we can't, because we failed at the puzzle-solving rather tragically — but… here's a hint, best to put your set of lungs to good use, the walls are thin enough to shout through.
Those who wish to take up arms (laser tag guns) for the cause will have to purchase a pass at the registration booth, priced at S$30. Although, students and PAssion Card members can enjoy a special pass at S$25 and experienced Echo cadets who wish to traverse the labs a second time can enjoy the re-pass at fifty percent off.
While there are no age restrictions, anyone under the age of thirteen will have to be accompanied by an adult aged eighteen and above. Also, the game should be completed in fifteen to twenty minutes.
No photography is allowed on the labs' premises — because we won't want to set the zombies off, duh — and you're encouraged to come in covered shoes.
Held from October 26, 2018 to November 4, 2018, from 5PM to 11PM daily, you're sure to have a blast kicking zombie ass (not literally! Don't touch the actors!) at 313@Somerset's Zombie Attack.