[UPDATE: August 8, 2019] The Uniqlo x Makoto Shinkai collection will be available in all stores in Singapore from August 26, with an early online launch scheduled for August 19.
Uniqlo is going off the rails with their recent collaborations. Hot after the heels of the Blizzard and Pokémon t-shirt drops, the Japanese company strikes back once again with a first-ever partnership with the famed Makoto Shinkai, best known for his craft on the My Name anime film.
Following the overwhelming success of the romantic fantasy title, the man is looking to release another upcoming theatrical project titled Weathering With You. A new line of themed shirts has thus been dropped in light of its launch, and will bring along a 4-3 design split between the auteur's last and upcoming works.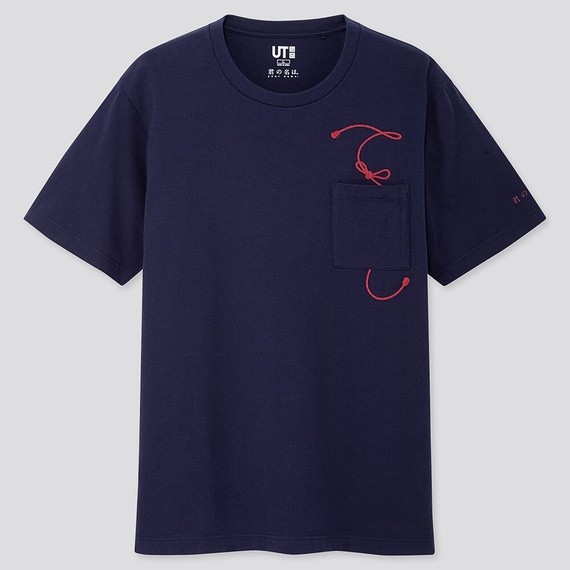 It's a secret that Uniqlo has been sitting on for quite some time, one that seeks to retain the DNA of Your Name. First on the list is a navy blue shirt with the well-known Red String of Fate aesthetic running through the wearer's heart – a subtle reference to the metaphorical connection between protagonists Taki Tachibana and Mitsuha Miyamizu.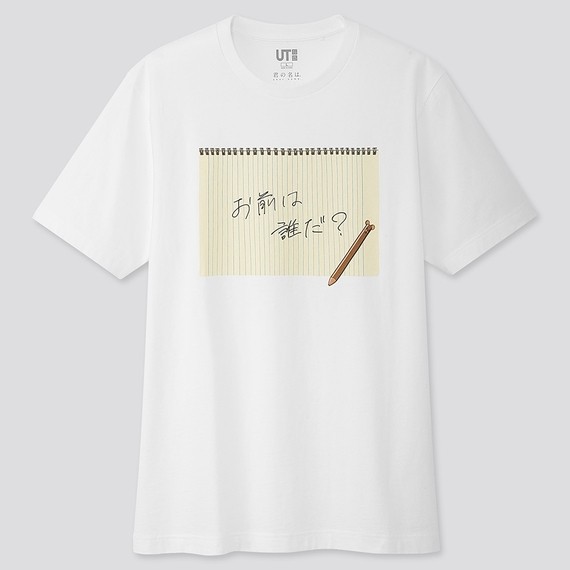 The next is perhaps the most representative of the body-swapping film. Sporting a memo asking "Who are you?", it serves as an accurate movie replication of the duo's first experience in the other's body.
Of course, the dramatic moments in the film deserve a place on the shirts as well. Your Name's iconic monochromatic scene has been captured in the form of sharp, clean line art against a white backdrop, with a contrasting recreation of an emotional Taki and Mistusha memory rounding up the entire collection.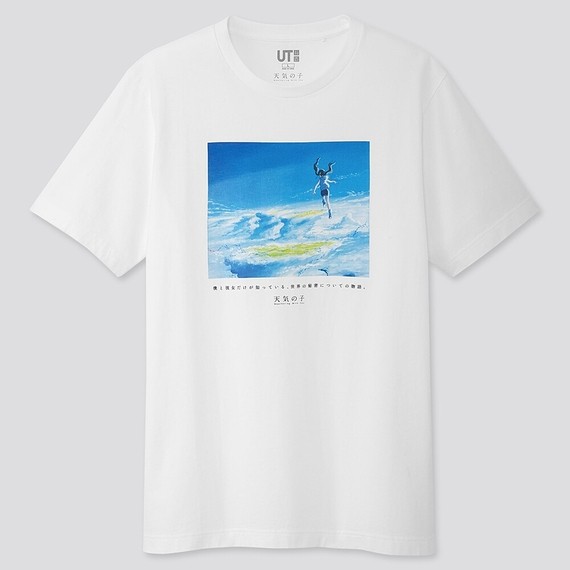 A signature element of Makoto Shinkai's works is breathtaking, scenic skyscapes, and Weathering With You's aerial-focused narrative certainly allows much room for creative exploration. It's thus no surprise that the first entry of this collection will feature an element of Mother Nature: towering cloud masses against the spread of the azure blue sky.
The second one, meanwhile, is set to take on the show's dragon-like silhouettes as part of its artistic design, and will be accompanied by a cute third shirt, where an unknown stray cat is seen peeking out of its pocket.
Priced at 1,500 yen (S$18) each, the Makoto Shinkai x Uniqlo collaboration will go live on July 15, 2019, which is four days before the premiere of Weathering With You. This leaves fans with some time to grab the shirts, but considering the popularity of Your Name and its director, we won't be surprised if some of the designs are snatched up before the movie drops.
Here's a quick look at the trailer in all its visual glory:
Uniqlo is truly the gift that never stops giving, indeed.