Apple Pay. Samsung Pay. Android Pay. DBS PayLah!. Dash. UOB Mighty.
Who has time to think what to use, when all I want to do is buy a drink to quench my thirst?
While cashless payments have advanced from the days of debit and credit cards, to mobile payment and payment services using a mobile device, the likes of people flashing their phone to pay for food or groceries is not that commonplace here, even though there has been a recent push towards it.
The Prime Minister actually highlighted the need to keep up with the times, and even cited China as an example whereby nearly all transactions can be made through e-payment platforms.
And during a recent visit to Shenzhen and Beijing, I had the opportunity to try out their e-payment systems, using the immensely popular WeChat application, to see how convenient it is for making purchases. It was also the day that I realised that Singapore's e-payments had a long way to go.
The WeChat app has already been pre-installed on the Huawei P10 smartphone, which Huawei loaned to us for this trip. But before I can do my shopping, I needed money in the WeChat digital wallet.
For new users, you can link your bank card to transfer the cash to the wallet, but do note that not all cards are accepted. I was relieved that the app had no issues with my HSBC Visa credit card, though I did feel uneasy when it asked for my personal details, such as my name, home address, phone number, email address and the card's CVV number.
It is necessary to key in all these fields to complete the linking of card to phone app. The good news is, you can choose to unlink the card at anytime if you feel unsafe leaving your information on the app after transferring money to the wallet. Users also have the option to receive cash from their WeChat contacts, that is if friends and family are willing to send you money from their WeChat wallet in the form of a "red packet".
Armed with 150 yuan (approximately S$30) in my WeChat wallet, I started my purchases. Having had too much local food the past few days, I decided to queue at Burger King for a change. After making my orders for a chicken burger set meal and topping up for a Mango smoothie, the lady at the counter totalled my bill at 45.50 yuan. I accessed the "WeChat Wallet -> Money", which brought out a unique QR code that the lady had to scan with her handheld scanner, and almost instantaneously, I paid for my food.
I also received a notification from WeChat that shows the amount charged, the vendor's name and description to confirm the transaction. It would have been perfect if the transaction also provides a receipt that shows the breakdown of what I have ordered. That would surely delight grocery shoppers, especially if they want to know what they have bought.
At a 24-hour convenience store after dinner, I picked up a bottle of Chinese herbal tea and tried paying with just my mobile phone. The cashier showed me a QR code tag and asked me to scan it, rather than having me show my code for him to scan. I scanned the code, keyed in the price of the tea (after asking him how much), confirmed with my unique PIN number and the transaction was completed. Yes, either the vendor or customer can do the scanning, although for the customer, there is an extra step of keying in the amount.
The WeChat app started from being a simple mobile messaging app in 2011, to grow to include social media and e-commmerce services. It offers an extensive online marketplace platform with its various partners such as dianping.com (which is similar to Yelp). You can shop for clothes, shoes, furnitures, movie tickets; book hotels, KTV, short tours; enrol piano or language lessons or order food delivery.
Heck, WeChat also lets you find a nanny, weekly cleaner, home mover, plumber or car-pool driver. And here I am trying to reject strangers who add me on Facebook,
Alipay, or Zhifubao in Chinese, established by Alibaba Group in 2004, is currently the leader in the mobile and online payments platform in China, although WeChat has grown a significant market share since it launched. Other payment platforms are also looking to penetrate the market, which means that consumers would have more payment options, though it is uncertain if consumers would be willing to migrate to another payment option if they are already so comfortable with the one they are using.
One such new payment platform is Huawei Pay, developed by the smartphone maker last year.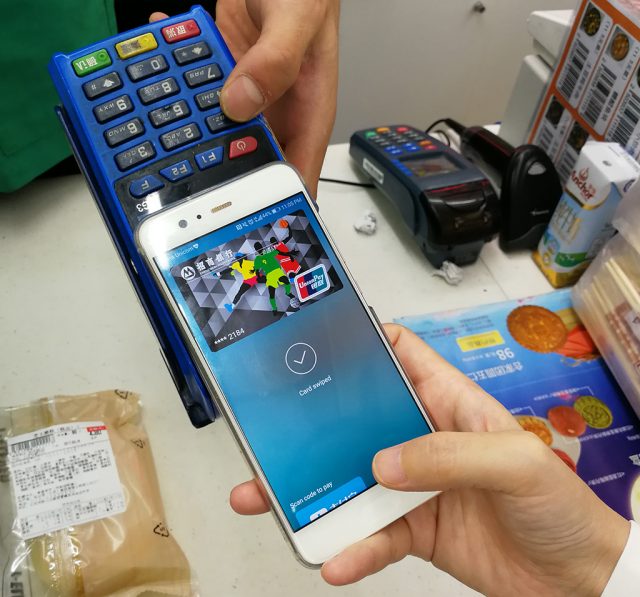 Huawei Pay works similarly to Apple Pay and Android Pay, using Near-field Communication (NFC) technology, and not the scanning of QR codes. Users need to authenticate and authorize the payment by holding their fingerprint to the phone's fingerprint reader, which may be a more convenient and safer security feature. You will also need to add a bank card to the app as well. One unique feature of Huawei Pay is that it allows linking of public transport cards, or preload ticket fare to the app. For commuters, they just need to tap their smartphone against the contactless readers when boarding.
As I boarded a taxi from Changi Airport on the way home, I noticed that there were at least three payment devices beside the driver that supports credit cards, NETS, ez-link and even Alipay.
Curious, I asked the driver if he knew how to work the different payment devices. He laughed and said he wasn't too sure about every one of them. The taxi company he works for only sent him a user manual, and expected him to read and know how to operate the new device each time a new payment device is added to the taxi.
When we arrived, I paid the driver in cash and he got the change and receipt back to me. At least he didn't have to fumble with the payment machine if I had asked for card payment.
Cash is still king, though as Singaporeans can attest that this leadership position is not by choice.
A tech enthusiast and gamer, Siang Liang does not consider himself a hardcore geek. At least he does not wear those geeky glasses. When not doing tech stuff, he would be reading a book or learning new tricks.
---

Drop a Facebook comment below!