While the fifth season of critically-receptive dystopian series Black Mirror has been primed for a release this month, a discovery made by an eagled-eye Reddit user may just prove otherwise.
Stumbling across a hidden page on Netflix, the individual caught sight of a Black Mirror: Bandersnatch film, with the "Netflix Film" label a near confirmation of its identity as an official Black Mirror movie. It seems to be no coincidence, too – a title of the same name was teased in a since-deleted tweet earlier that came with a late December release date in tow. Putting the pieces together presents a possible feature-length Black Mirror film, instead of the expected season five premiere.
Granted, this is not the series' first venture into an episode of extended length. Both the San Junipero (from season three) and USS Callister (from the following season) episodes went over the usual running time, and the team's efforts got rewarded in the form of an Emmy each for the "Best Television Movie" category. Bandersnatch, however, truly appears to be movie material home to the popular streaming service.
Its arrival to Netflix is currently dated December 28, 2018, though Netflix has yet to issue an official word of confirmation. Still, this is a pretty huge discovery in itself, and here's a quick breakdown of what's known about the film so far.
The Black Mirror set builders on St George's Walk Croydon have gone completely mad now. pic.twitter.com/gbWiyPEHyh

— Tim Longhurst (@tim_longhurst) April 25, 2018
1980s @WHSmith – part of the set for @blackmirror round the corner from our gaff in #Croydon – in fact they seem to be creating a whole 80s high street with Chelsea Girl, Wimpy and travel agents. Love it! pic.twitter.com/gAsOFyz4wg

— Bugeye (@Bugeyeband) April 24, 2018
@oliviat_93 Hi Olivia. Black Mirror is also filmed today and tomorrow at One Croydon. pic.twitter.com/aHkP25SOoX

— Boskee (@boskee_voitek) April 23, 2018
…Nothing, actually. The closest bit of information would be the setting: 1980s, much like the aforementioned San Junipero. The conclusion is mainly derived from a series of set photos from April 2017, which serves as a blast to the past where many familiar stores make an appearance. As for plot details and other specifics? There's zero information on hand, although there are some noteworthy points to be informed of.
WHHAAATTTT, Bandersnatch was referenced all the way back in Season 3 on the front cover of the gaming magazine in Playtest ? pic.twitter.com/LabQe7dX6v

— Jeeves Williams ?????️‍? (@jeeveswilliams) November 26, 2018
First up, the 'Bandersnatch' part of the title. Making its debut in Lewis Carroll's Through the Looking Glass, the term was first given to a mythical, bloodthirsty creature – but the show's 1980s setting is too far off the timeline of that, which dates back all the way to 1872. The next closest reference apparently points to a sort-of non-existent game of the Psyclapse & Bandersnatch name, with an Easter Egg appearance in season three. A lucky find? We think not.
An unpublished video game, technological isolation, and a throwback to the past – Bandersnatch is certainly one bundle of a mystery to unravel. With the poster for Psyclapse & Bandersnatch bearing an ominous tagline, alongside a general dystopian vibe, it's more than possible that the two are linked, especially since Black Mirror is also set in a dystopia. Intriguing.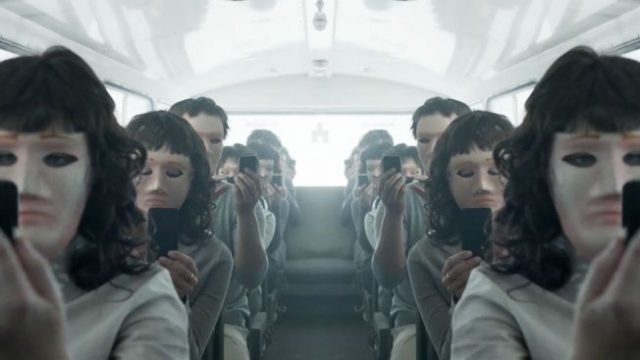 What's equally interesting is the movie's likeliness of adopting a choose-your-own-adventure narrative. Following earlier news that an episode of the series will feature interactive elements, with several more in the pipeline, Bandersnatch could very well be the star of this special project. News of the fifth season remain scarce, so it definitely stands to reason that fans are able to choose their best pick of a depressing ending here, although it's not without risk: while far from a novel concept, it has yet to see a successful execution.
Who knows, Bandersnatch may just be the pioneer to usher in this change.