May the Fourth, also famously known as Star Wars Day, is a special occasion for many a fan of the beloved space fantasy franchise.
On the Little Red Dot known as Singapore, that passion for all things Star Wars is not uncommon.
LEGO Star Wars is one such way to show your love for the franchise, and the five members of the self-styled group The Last Order Council are some of the most exorbitant in showing off that passion.
The Last Order Council
The Council members are (from left to right):
Evan Chang, 39, Interior Designer (he also appeared in an earlier episode of Certified Geek!)
Seng Yee, 39, Engineer
Phelan "Emperor" Kuek, 44, Engineer
Sam Chow, 41, Businessman
Jeremy Tan, 34, Fund Manager
Formed in 2014, these diehard Star Wars and LEGO fans got together with the common goal of just being their geeky selves.
They spend their time updating each other on new official LEGO Star Wars sets, or sourcing out the pieces for the most impressive LEGO Star Wars MOC (My Own Creation) sets on the likes of Bricklink.
Together, they share their love for all things LEGO Star Wars in their shared space in an industrial building somewhere in Gambas, Sembawang (a suburb in Singapore).
Complete with stacks upon stacks of Moducases displaying some of their most impressive LEGO Star Wars MOCs, their collective man-cave is something to be envious about.
Their typical M.O goes something like this: Seng Yee and Sam would source out the latest LEGO Star Wars sets or the rarest ones. Jeremy and Evan would go over to any LEGO Certified Store or online purchase the sets, typically in bulk. Once the sets have arrived, Phelan would then provide the spare parts as the rest of the Council members build.
Ranging from official Ultimate Collector Series (UCS) models to MOC builds, their entire collection (at least the ones displayed here) amasses over 100,000 LEGO bricks. And this number is only for their LEGO Star Wars sets!
---
The Young Padawan
Despite being the youngest member of the Council at just 34, Jeremy is no slouch when it comes to his love for LEGO Star Wars.
His first LEGO Star Wars set was the 10010 Imperial Star Destroyer back in 2001, after watching Episode I: The Phantom Menace. Back then, it cost about S$600, so he had to borrow some money from his mother in order to get it. And since then, he never looked back.
"It's one of my prized possessions — you can't find it right now. It's one of my favourite sets because of its scale and details.
However, for the gathering, Jeremy chose not to bring his Imperial Star Destroyer (the one you see above is Seng Yee's — more about him later). Instead, he brought over his Sebulba and Anakin Podracers from The Phantom Menace, as well as a Speeder Bike as seen in Episode VI: Return of the Jedi.
In total, his sets number at over an impressive 5,000 bricks.
As a lover of podracers, Jeremy declared that his favourite movie is The Phantom Menace, despite the prequel trilogy being met with mixed reception as compared to the original.
"Although the story [of the original Star Wars trilogy] was great, it was the CGI and graphics of the prequel trilogy that really caught my eye," he said. "Also this was Anakin's [Skywalker] life story, where he became Darth Vader eventually."
"I also really liked the podracer scenes. [They were] very unique that they could come up with racing scenes that fit the Star Wars theme."
---
A New Hope
Evan is the youngest member of the Council not by age, but because he was the latest to have joined the group, just last year.
He joined the group after some of the other members saw his collections online. They were impressed by the sheer numbers of his LEGO Star Wars sets, and thus brought him over to the Dark Side.
Interestingly, Evan is also a greenhorn in the Star Wars franchise, despite having collected over a thousand Stormtrooper Minifigures in his home (more on that in our Certified Geek episode on him!). It was only after joining the Council that he managed to catch up with the film franchise.
Despite his house comprising primarily of LEGOs, Evan's sole contribution is this amazing-looking plaque depicting the group name.
The coolest part about this is that it is comprised primarily of 780 Minifigures, which is a combination of Stormtroopers (both the Empire and First Order versions), Praetorian Guard, TIE Pilots and Deathtroopers.
In actual fact, the assembly of troopers was "shared" by all five Council members. With the help of his supportive wife, he managed to finish this piece within a week.
Additionally, there's a display of 5 Minifigures to the side, each of which representing a member of the Council.
Evan's character of choice is the Stormtrooper. His love for the iconic Imperial soldier predates his knowledge of Star Wars.
"All along, even though I hadn't watched Star Wars before, I quite liked the Stormtrooper helmet. It was because of that that I started to collect the Stormtroopers and getting more involved in [LEGO Star Wars]."
---
A LEGO Sith Lord
Sam is arguably the most knowledgeable Star Wars fan among the group. However, it wasn't until 5 years ago that he really got to collecting LEGO Star Wars, as life got in the way of his passion for the series.
Despite being too young to watch the original trilogy when it first came out, his favourite Star Wars film of all time still remains Episode IV: The Empire Strikes Back.
"You know, sometimes we want the bad guy to win, right?" said Sam with the cheekiest of smiles.
Despite Vader as his favourite Star Wars character, he has chosen another Sith Lord to represent him in the Council — Darth Revan from the Star Wars: Knights of the Old Republic RPGs by BioWare.
"Darth Revan looks cool. [He] was in my second LEGO polybag that I bought. Also, since everybody already loves Darth Vader so I went for something different, so I chose Darth Revan."
Sam is one of the larger contributors to the Council's display, bringing over 30,000 pieces worth of LEGO bricks from his home. Most of his pieces are numerous smaller ones, such as the 75096 Sith Infiltrator (above, 662 pieces, discontinued), the MOC-1195 Invisible Hand (1,593 pieces), the 75155 Rebel U-Wing (659 pieces), and a MOC-8143 Zeta-Class Cargo Shuttle (4,450 pieces).
Also most impressive is his Rebel Fleet, which roughly equates to about 8,000 pieces total.
At home, Sam has a room dedicated solely to his LEGO Star Wars sets. His wife, he says, doesn't share the same passion with Star Wars as he does, but supports him enough to let him buy these sets.
"I think family support is also very important. Even though they may not like it, as long as they know that you enjoy it, then I think that's perfectly fine," said Sam. "Just make sure that this collection doesn't affect your family members."
---
Like A Droid
Procuring each official UCS ship and sourcing out parts for the MOC sets is no easy feat. But with the help of their "Procurement Director", Seng Yee, they can rest easy with his ability to sniff out for the rarest of parts and sets.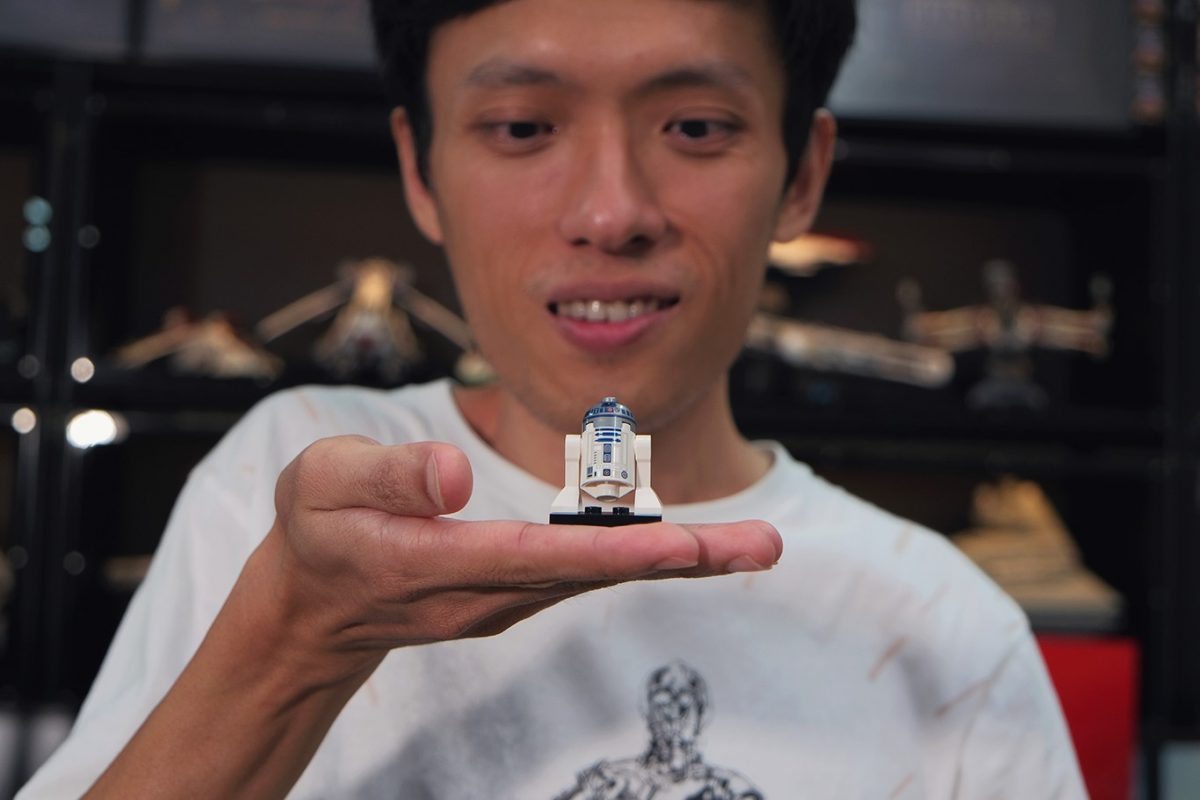 A tireless worker like R2-D2, his character of choice, Seng Yee started collecting LEGO Star Wars back in 2010. He started off collecting secondhand sets, but once he accumulated enough funds, he started going for the official ships, such as the 10030 UCS Imperial Star Destroyer, as well as rare ones, like the 10026 Special Edition Naboo Starfighter.
After joining the Council, he has made better progress with his collection, especially since there were more heads looking out for the rare MOC sets.
And as the one who procures the sets for the group, Seng Yee naturally has the largest contribution to the collection here, easily bringing over 30,000 pieces (that's over half of the whole collection!) to the table here (pun intended).
The sets he brought are some of the largest here, such as the 10030 UCS Imperial Star Destroyer (3,106 pieces), 10221 UCS Super Star Destroyer (3,124 pieces), the 75054 AT-AT Walker and its MOC counterpart (shown above, roughly 3,000 pieces between them), and the MOC Zeta-Class Cargo Shuttle identical to Sam's (4,450 pieces), just to name a few.
Each individual MOCs' range from the hundreds to the ten thousand, and easily took them about a month (up to two weeks for speed-builders like Evan and Jeremy) to finish one of the larger models, such as the Imperial Star Destroyers, or the iconic AT-ATs.
However, MOC sets are generally more expensive. And since Seng Yee is the one who is "most sensitive to price" (as he said so himself), he takes the initiative in finding these sets for the group to come together to buy them in bulk.
"I mainly use Bricklink, Ebay [et al] to find the pieces. Then we gather and make a big purchase," explained Seng Yee. "I think there was one time we bought over 30,000 pieces. We just spent one night, sitting down together to split them [among ourselves]."
One ship that really caught our eyes was the J-Type 327 Nubian Royal Starship, all decked out in chrome. While this beauty is a far cry from some of the behemoths in terms of size, its total price more than makes up for it.
Thanks to the tracking skills of Seng Yee, the group managed to acquire all the rare parts online via Bricklink. Then, they got someone to add chrome plating to these blocks. The accumulated price for this model alone goes up to five figures (that's four zeroes, mind you)!
---
The Emperor
Rounding off the quintet is the de-facto leader, Phelan "Emperor" Kuek. At 44, he still has a child's heart when it comes to LEGO Star Wars.
His nickname is derived from Emperor Palpatine/Darth Sidious, which is also his LEGO Minifigure of choice. In truth, there is no leader in the group, just that the rest of the Council members "appointed" Phelan as the "Emperor".
"I had no choice," Phelan said, chuckling.
However, to the rest of the group, that title does have some meaning, despite the touch of endearment. The shared space where they put their collections up on display together was bought by Phelan five years ago, right when the Council formed. He also buys the most LEGO sets among the group, and hence owns the widest range of spare LEGO bricks for the group to use whenever they needed spares.
"Our Emperor will not use any effort, and tell us to [buy more LEGO Star Wars sets]," joked Evan.
Despite owning the largest amount of LEGO in this warehouse, Phelan's LEGO Star Wars contributions amounts to only one ship, the 75144 Snowspeeder (1,703 pieces).
However, the entire brigade of over 2,000 Minifigures are all his.
Why? It's partially got to do with his favourite Star Wars film: Episode II: Attack of the Clones. In particular, the scenes where the Clone Troopers were all marching in sparked his desire to collect the Minifigure equivalent.
"When I was looking up LEGO Star Wars 4, 5 years ago, the Clone Troopers had distinctive features as compared to the Stormtroopers," said Phelan. "They looked quite nice, and a little different, that's why I started collecting them."
Collecting LEGO Star Wars, Phelan confirms, is unique in the sense that it encourages a little bit of army building. And he can also confirm just how addicting it can be.
"You will buy one [Trooper], it's not enough. Then you'll buy a squad, but that's not enough either. Then you'll buy an entire platoon, or even a company. Just ask Evan."
And, true enough, his fellow Council members are also well on their way to build their own sizeable armies of Minifigures, as if their fleets of ships aren't enough.
---
Come To The Dark Side
Besides being fellow LEGO Star Wars enthusiasts, they are, more importantly, friends.
Over the years, they've gone beyond buying and building sets together, but also just going over to each other's places with their families, simply hanging out and eating together. To them, the hobby is really only secondary to the bonds of friendship they've acquired since they got together as a group.
Besides geeking out on all things Star Wars, they also set aside their geekiness, go over to each other's places, and just hang out as simply friends over a nice home-cooked meal (usually by resident chef Jeremy).
"I think [the friendship] is the most important thing, regardless of hobby," said Sam. "May the Fourth is honestly just an excuse for us to gather and show off our LEGO Star Wars. But I feel that it doesn't have to [always] be [that] date."
And despite the massive collection they have amassed together as a group, they'd rather lose the sets than their friendship, if it ever came to that.
"Friends are more important than the toys," says Evan, confidently. "Toys are just toys. It's just the fun of playing with them. But no matter what, friends are more important.
And on May the Fourth this year, they hosted a huge gathering with all their wives and children to watch a few Star Wars films while playing and building the sets together.
A first for The Last Order Council, but certainly not the last one.
Stills were taken using the new Fujifilm X-T30.
---

Drop a Facebook comment below!