[Update, as of June 26, 2019] The posters are found to be at Harbourfront MRT Station on the Circle Line. The article has been updated to reflect this change.
---
[Original article begins]
Left eye, right eye – which is the one covered up by Nick Fury's eyepatch?
According to a set of promotional posters for the upcoming Spider-Man: Far From Home movie, the answer seems to be both…well, sort of.
Spotted at an MRT station in Singapore, the official visual spans across the doors of the train, with the left poster showing a mirrored image of the right one. The eventual result, thus, sees Fury's eyepatch being flipped to his right eye instead of the left, which has been revealed to be Goose's doing in Captain Marvel.
The faux pas was noted by eagle-eyed Reddit user TheBois24, whose post on the r/CrappyDesign subreddit has since garnered 43k upvotes. In the comments thread, a fellow Singaporean mentioned that the posters are located at Newton station, but after doing a sweep there ourselves, that doesn't appear to the right answer.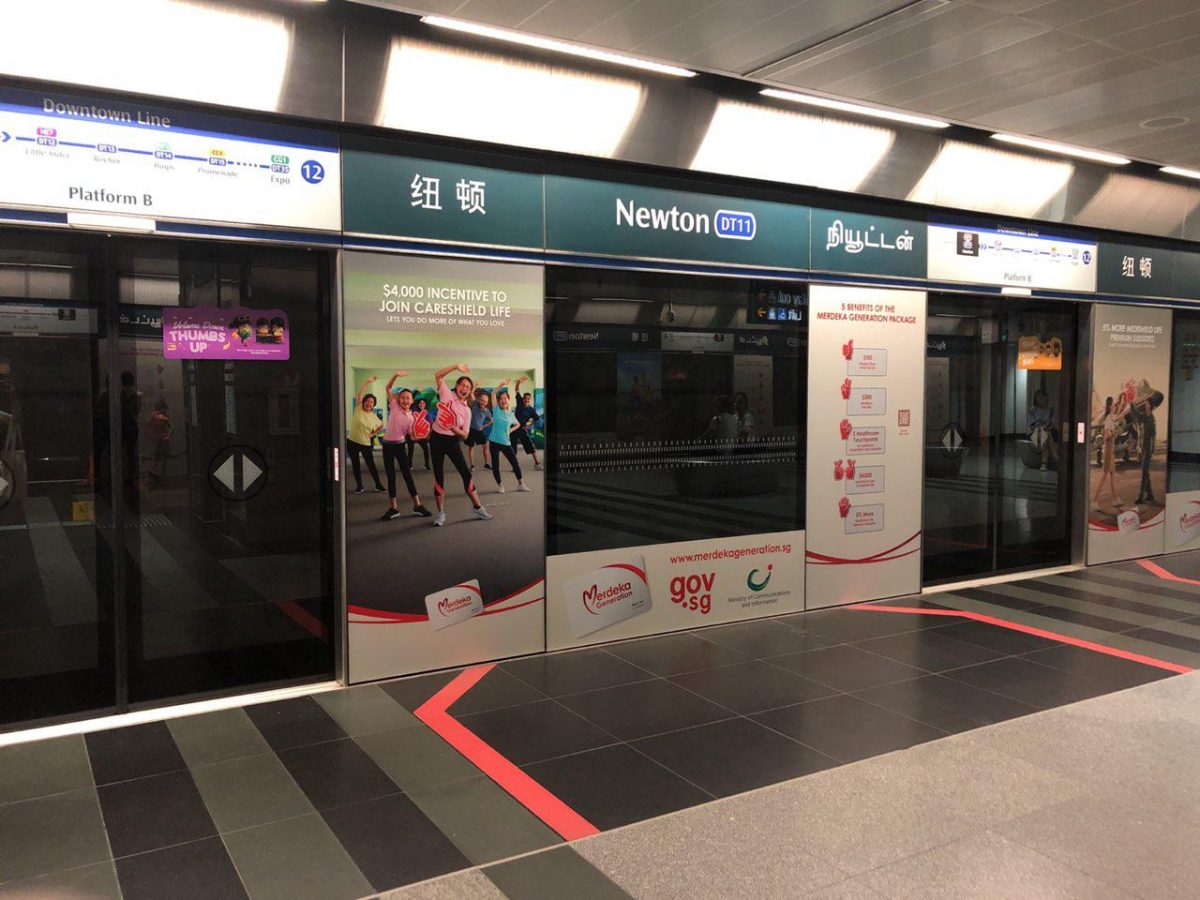 Apart from the missing visuals, there are some cues that point to Newton being the incorrect stop. For one, the doors are different – the one captured in the Reddit post shows a simple pattern spanning across the surfaces separated by a divider, while the above has the same design only within a block of space. The marble floor also appears to be non-identical, with either the dark and light grey shades mingling together, or just a standalone dark grey area. The lime green seats do hint at a Downtown Line station though, since it's the usual colour scheme for carriages of that route.
Alas, the posters are not found along the stations of Downtown Line, but on the Circle Line instead. The doors of Harbourfront station are confirmed to…harbour them, which makes the whole debacle even more absurd, with it being a crowd magnet during peak periods and all.
Even before the confirmation, it was evident that the Spider-Man: Far From Home visual is found on local shores. The pink QR code label, in particular, is a dead giveaway, especially since it's a marketing effort from local transportation company SMRT, albeit an unsuccessful one.
The absurd poster design has even caught the…eye (hah) of actor Samuel L Jackson himself, who posted a screenshot of the Reddit post on Instagram. In the post, he peppers his caption with expletives, and points out the mistake in the form of a hashtag.
It's indeed an oversight (pun totally intended) by the team, but hey, everyone makes mistakes. It would actually be rather amusing if the movie intentionally swapped Fury's eyepatch around just for laughs, but that's obviously not going to happen.
Samuel L Jackson becoming an encik (Sergeant Major) is something that definitely happened, however:
---

Drop a Facebook comment below!