Access all of our TGS 2018 coverage here!
Before manga became an easily accessible thing on the Internet, fans got their manga fix mostly through weekly or monthly magazines. There are only a few of these magazines and for the most part, they're still going strong. The most popular of the Weekly Shonen magazines (magazines catered to teenage male demographics) is Weekly Shonen Jump.
Entering its 50th year, Weekly Shonen Jump has been the home of highly popular series like Dragon Ball, One Piece, Naruto, Bleach, and many, many more. And to celebrate that golden birthday, what better way to do so than to have a fighting game filled with all of your favorite characters from all of the Weekly Shonen Jump series?
Okay, maybe all is a bit too much, as they have 50 years worth of materials, but definitely some of your favourite ones!
During their announcement at E3, Bandai Namco Entertainment revealed that Jump Force will be a three-on-three tag team battle a la Marvel vs Capcom. Not all of the characters have been revealed just yet, but based on the demo they provided, here are the confirmed characters that will be appearing in the game:
Aizen Sosuke (Bleach)
Ichigo Kurosaki (Bleach)
Rukia Kuchiki (Bleach)
Frieza (DBZ)
Son Goku (DBZ)
Vegeta (DBZ)
Gon Freecss (Hunter x Hunter)
Hisoka Morow (Hunter x Hunter)
Blackbeard (One Piece)
Monkey D. Luffy (One Piece)
Sanji Vinsmoke (One Piece)
Zoro (One Piece)
Sabo (One Piece)
Naruto Uzumaki (Naruto)
Sasuke Uchiha (Naruto)
Yugi Muto (Yu-Gi-Oh)
In this three-on-three tag team battle, each side shares one health bar, and players can switch between any of their fighters as soon as their cooldown is over. The battles are set on our Earth, or at least a version of it. You'll see some familiar sights, like New York's Time Square (or at least what's left of it).
If you find it hard to justify the inclusion of all these icons, there is a storyline that explains why all these characters exist in the same physical plane. The promised comprehensive storyline will explain all this and more.
New Characters
Revealed at the Bandai Namco's pre-TGS 2018 media session, there will also be four original characters designed by Akira Toriyama – Director Glover, who is the leader of Jump Force, Navigator, Galena and Kane. Also confirmed are the appearance of Light Yagami and Ryuk (Death Note). However, they will only be NPCs in the story mode and not playable.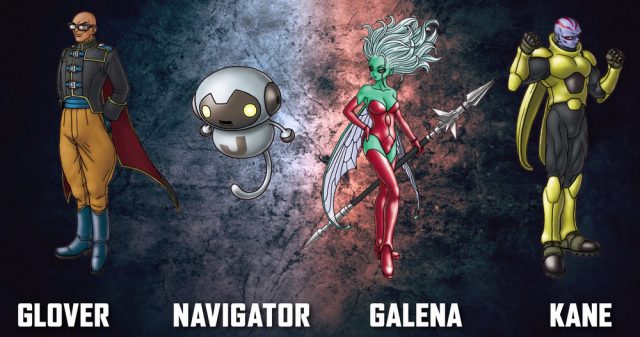 Season Pass, Collector's Edition & Closed Beta
A Season Pass will offer nine new characters to the game's already impressive lineup.
For those already craving for more, a Collector's Edition, which will come with an exclusive diorama statue that includes the three main heroes from the game; Naruto, Luffy, and Goku, as well as other exclusive items will also be available.
The Jump Force Collector's Edition will include the following items:
Exclusive 30cm tall Diorama Statue of Luffy, Naruto, and Goku (by Megahouse)
Jump Force Full Game
Exclusive SteelBook case
3 Art Boards
That's not all, pre-ordering the game will also give players access to three exclusive costumes.
A closed beta test is scheduled for Jump Force, 12 – 14th October for the Xbox One and PlayStation 4 computer entertainment system. Registration for the closed beta test will run from 20th September – 7th October. Head here to register today!
Jump Force will be released in February 2019 on PC, Xbox One and PlayStation 4.
Access all of our TGS 2018 coverage here!
---

Drop a Facebook comment below!