There are titles for the general gaming audience, and then there are the niche ones. Not everyone will appreciate a hybrid flight simulation game, but the popularity of Bandai Namco's Ace Combat series is most certainly undeniable. Spanning across 17 installments, it has built a solid name for itself over the years and excitement is bound to be in the air, as we edge closer to the launch of Ace Combat 7: Skies Unknown.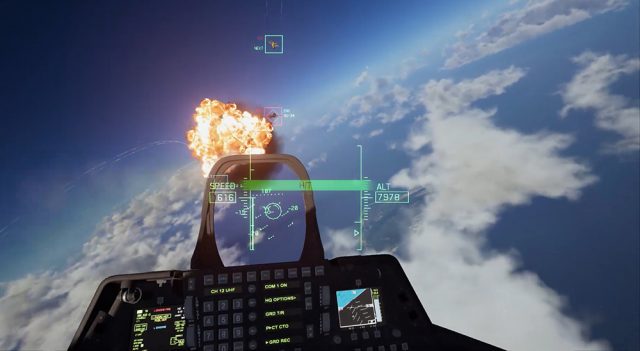 With the release date announced at Gamescom 2018, the latest member of the long-running franchise is set to take flight on January 18, 2019, on the PlayStation 4 and Xbox One, before landing on the PC on February 1, 2019. We have gleaned some details from the reveal, such as local multiplayer mode and a plethora of new futuristic super weapons and planes, with its synopsis reading:
"The game is set in 2019 during a conflict between the Osean Federation and the Kingdom of Erusea known as the Second Usean Continental War. The player, callsign "Trigger", fights for the Osean Air Defense Force against Erusea's unmanned drones. Trigger starts out as a member in Osea's Mage Squadron before being accused of murdering a former president and being sent to Osea's Spare Squadron, a penal military unit, for atonement."
Ah, so remains the same ol' good parts of Ace Combat titles – high-octane action, air thrills, and an exciting narrative. A session well-spent over at the pre-TGS 2018 preview held at Bandai Namco Entertainment's headquarters in Japan reveals more on its VR mode, which is playable at the show floor of Tokyo Game Show 2018.
Shown for the first time this week, the main mission involves being attacked by enemy forces during take-off, in which players can make use of the unparalleled 360-degree freelook mechanic to keep all the action in sight. Attacking is easy – just load up, aim at the hostiles with your head, and lock on to them; the watered down controls make it more ideal for a VR setting. GGEZ, no problem.
The VR experience allows for greater immersion and the Ace Combat 7 team knows this. Using it to great advantage, the game features three exclusive missions that deliver the full-fledged experience of aerial combat, right from take-off to landing. Where the first mission has the take-off assault taking place onboard an aircraft carrier, the second one is set on an airfield, and the player has to take-off while under heavy enemy fire. The VR mode also features four levels of difficulty ranked accordingly from Easy to Ace, alongside a free flight mode.
Outside of combat, the game is a staggering beauty. There are life-sized aircraft for enthusiasts to check out from various angles as they sit in the comfort of highly-detailed cockpits, which boast impressively accurate impressions to those in real life. Accompanying the real-time radar and weapon systems is the added element of immersive danger when the aircraft takes damage, as one bears witness to the blaring warning lights, bright, fiery flames, and a thick plume of smoke.
Should all the action get too overwhelming, there's the bonus VR Air Show mode to take things down a notch. At any one point in time, players may opt to watch impressive air shows instead. There are 22 different types of maneuvers in store for more variety.
Ace Combat 7: Skies Unknown is now available for digital pre-order on PlayStation 4, Xbox One and PC via Steam. All pre-orders will receive the Boeing F4-E Phantom II, alongside three additional aircraft skins. On top of that, all PS4 pre-orders come with a Dynamic Theme and a free digital copy of Ace Combat 5: The Unsung War, while the Xbox One pre-orders come with a free digital copy of Ace Combat 6: Fires of Liberation, via Xbox One's Backward Compatibility.
For the ardent Ace Combat fans, there is the Ace Combat 7 Season Pass, which will include three planes and three stages, offered in one Season Pass package or sold separately for each item. A music player mode will be gifted with the Season Pass package. And finally, there is the Ace Combat 7 Digital Deluxe Edition which includes the Base Game, Season Pass content, eight emblems, and the Lockheed F-104 Starfighter plane.
It's commendable that the team is looking to venture into the VR market, but the three-mission gameplay format may just be a little tad disappointing. A full campaign mode would have been appreciated, though that's not going to hold us back from experiencing the thrills of flying and aerial combat in VR fashion when it drops in the near future. Meanwhile, here's to more news about Ace Combat 7, where the Singapore landscape is still hopefully a thing!
---

Drop a Facebook comment below!