With the PlayStation VR set to go on sale here on October 13, 2016, Sony went all out to showcase a slew of playable demos of upcoming VR-enabled games at the Tokyo Game Show 2016. I was lucky enough to get my hands on quite a number of playable demos, and here are my top 6 picks. And believe it or not, Star Wars X-Wing VR Mission is NOT on this list.
---
[1] Eagle Flight
This one came in from under the radar for me, as I somehow missed it when it was first announced in December last year. This unique VR title by Ubisoft Montreal was a blast to play, as it was made playable for first time behind closed doors at TGS.
The premise of the game is a simple one, and Seal has already sang a song about it. You fly like an eagle, fly right into the future, in first person view. Heck, you can even see a beak sticking out in front of you, just for the added authenticity. Players fly around to various waypoints, to complete challenges.
The controls are simple enough too. All I had to do is so look up to ascend, look down to descend, tilt left to turn left, and tilt right to turn right. Talk about sticking your nose into other people's business. As for the controller, R2 is to accelerate, and L2 is to decelerate.  The only other button in use is the square button, which is to fire out a sonar blast of sorts, to supposedly take down enemy birds in the final game.
The demo I played seemed like a tutorial, which started out with flying to a way point, to commence a flight handling challenge. The objective is to fly through a series of virtual rings, which was reminiscent of the training missions from LucasArts' original X-Wing series of games back in the 90s. It was thus a walk in the park for me, as I used to kill it back in the day in an X-Wing. But this time, instead of flying with a joystick, I'm just using my head.
It's amazing how far we've come.
The next waypoint objective in the demo required me to fly low, to catch fish jumping out of the water. All I had to do was to fly into each fish to catch them.
No definite release date has been announced yet, but from what I understand, the game will be released fall of 2016. Looks like we won't have to wait too long to take flight as an eagle!
---
[2] Jackal Assault
Call of Duty: Infinite Warfare will come packaged with a special PS VR-enabled level, Jackal Assault mode at launch. This runs as a separate, stand-alone space dogfight and the game uses the PS VR's head tracking for targeting, and your ship's guns fire at wherever it is pointed at. The most amazing thing about the game is securing missile locks, which requires you to look around the cockpit, to lock on to up to 3 enemies at a time.
I managed to spend 10 minutes with the demo at TGS, and the space battle was intense! Firing off guns with the R2 button on the controller, while aiming with your head for missile lock-ons was quite something. For space sim fans, the experience of pre-flight checks, performed right at the start while seated in the cockpit is nothing short of a dream come true. Most importantly, I didn't feel sick at all during the demo.
It looks like VR dogfighting has arrived, and it is here to stay.
It's too bad that there isn't any gameplay footage at the time of writing this article, but you can check out this Call of Duty: Infinite Warfare video to get a good idea what it's like. It is VERY close to the real thing.
Call of Duty: Infinite Warfare will be released on 4th November 2016.
---
[3] Resident Evil 7: Biohazard
Horror games are one of my genre favourites, and when it was revealed a while back that The Kitchen PS VR tech demo was actually part of Resident Evil 7, I've been waiting for a chance to get my hands on an updated VR demo for the game. Now that I've spent some quality time with the PS VR, along with several other upcoming titles (which I will cover in a separate article) on the showfloor, I am slowly becoming a VR convert. Even though Capcom has stated that the PS VR playthrough is purely optional for completing Resident Evil 7, I'm going to correct that statement.
It HAS to be played with PS VR. For a full detailed rundown of the TGS hands-on experience, head here.
Resident Evil 7: Biohazard will be released on 26th January 2017. There is a playable demo out now how PSN which you can play in non-VR.
---
[4] Driveclub VR
With Driveclub VR, racing fans can get closer to the action, and a little closer to reality than they ever thought possible, seated in the cockpit of some of the most exclusive, high-end cars ever made. Without paying for COE.
I've always been more of a camera behind-the-car type of racer, as opposed to the cockpit view. But VR will make you feel otherwise. The moment you don the PS VR headset, and plunge into Driveclub VR's 60fps gameplay, you will too. In order to achieve that frame rate level, the game had to lose some of its graphical fidelity, with dialled down effects. This is significantly noticeable, but it is also because the original Driveclub is one of the best-looking PS4 games in recent memory.
Unfortunately, this demo did get me a little sick from playing, but maybe it was because I was trying to look left, right, up, down and back throughout the driving the experience. After all, it is VR, and I was in the cockpit of a million dollar race car, so how could I resist?
One of the key features that will be in the final game is the ability to roam freely around the tracks in and out of the car, soaking up the gorgeous environment details in VR. And for car lovers, you can even inspect the car inside and out, from any angle, in VR. Here's hoping that the VR version of the game will help counter the bad taste left behind by its original troubled release back in 2014, when the online functionality of the game was totally broken and unplayable at launch.
Sony, can you think of adding a second driver as well? Some eye candy maybe?
Driveclub VR will be a launch title for PS VR, and will be released on 13th October 2016.
---
[5] RIGS: Mechanized Combat League
This PS VR title is developed by Guerrilla Cambridge, the folks behind Killzone: Mercenary, Little Big Planet and MediEvil. Unfortunately, I wasn't able to get my hands on the game at the show floor, but I did manage to watch others play it, and got to learn a little more about the game from the closed-door presentation.
The game is set in the year 2065, and RIGS is the sports event of the future. Players don heavily armed machines to compete (and combat) in sports games, and aiming is done with your head. Depth perception (with VR, players can more easily see the distance to their opponents) and arena design are more focused on, since players can look around more freely. The level of immersion here is unprecedented, and it gives the player a great sense of perspective. Part of this is achieved by having the cockpit mimic the player's sitting position, with the dualShock controller in-hand. Upon destruction of the suit, the pilot auto ejects and is able to freely aim in VR, to land at wherever they wish to respawn.
At launch, RIGS will have 3 game modes: Power Slam (inspired by basketball), End Zone (inspired by American football), and Team Takedown, comprising of online 3v3,  online 1v1 (AI controls the other 4), offline leagues and tournaments. There are a total of 24 hero RIGS to choose from, with bespoke livery designs inspired by motorsports. The RIGS are further broken down into 4 different classes, Hunter, Mirage, Tempest and Sentinel.
Players get to earn RIGS dollars and fame on all game modes, and use them to purchase new RIGS. Fame unlocks new AI pilots for 1v1 matches, as well as new sponsorship deals and new pilot customisation items. There are over 50 unique AI pilots to unlock, and each pilot has their own specific rig.
If offline play is your thing, there are plenty of trial modes such as time trial, gauntlet, target hunt, target waves, and survival. These modes aim to let the player learn and master the capabilities of their RIGS. Upon completing the single player challenges in each arena, the player is rewarded with medals which enable more customisation options for online play.
RIGS: Mechanized Combat League will also be a launch title for PS VR and will be released on 13th October 2016. In fact, the PS VR demo disc will include a single player demo of RIGS. The developer is committed to post launch support, and is already looking at new rigs and arenas.
---
[6] Batman: Arkham VR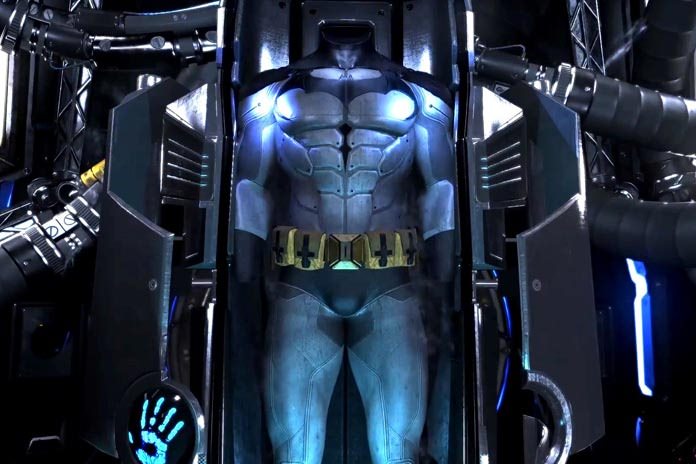 When Mark Hamill's voice appeared on screen at E3 this year, his articulate snarl was clearly recognisable but few of us at the audience could place it. After all, there was no mention of a new Batman game featuring the Joker.
And when the cape and cowl flashed across the screen, the crowd went mad. Rocksteady, the folks behind the amazing Batman: Arkham games were making a VR version. Having tested out two exclusive chapters of the game, I can say that the game pretty much delivers, and will prompt many players from uttering, "I'm Batman".
The first demo has you suit up as you descend from Wayne Manor, into the Batcave. First though, you interact with Alfred, who passes you a key as you stand, facing a piano. Trigger the right sequence and off into madness you go.
There is something familiar about staring at the Batsuit in front of you, because many of us, at one time or another, would have imagine this very scenario in our minds and Batman: Arkham VR makes it a (virtual) reality. On one hand, you have your grappling gun, which you will have to learn to use, and store at your waist, much like a revolver in your hip holster.
The other tool at your disposal is the trusty Batarang, which you can toss freely. You. Get. To. Throw. A. Frigging. Batarang.
And just when you though it cannot get any better than this, the lift you are in enters a chamber and BAM. You're entering the Batcave for the first time.
The second demo I got to try out is a little infuriating, not because of how bad it is, because this demo further visualises what Batman is capable of. No, the mad part is that this demo sets up the premise of the game, which has Batman explore the death of  a key Bat-character.
Yep, Dan Didio finally gets his wish as the game kills <REDACTED>. I won't name the character here, but believe me, it's quite sad.
Because the demo had me relive the death again and again, as Batman explored every part of the crime scene, and re-enacted every bit of the final moments of this character's life, the pain was not a fleeting one.
There I was, front and centre, staring at what is a dead body, and analysing attack points on the body, to determine when the body was damaged, and watching the fight unfold again and again.
That said, the reenactment is amazing, and the fight sequence in its entirety is pretty sweet to look at. Rocksteady did a bang up job delivering on a smooth fight scene that seemed to pop right out of a Jackie Chan/Jet Li/Donnie Yen film.
Using the various tools at his disposal, players in the cowl could scope out the crime scene, analyse it from different vantage points and actually move to those points, and use their equipment to scan for clue and evidence.
All I can say is, it is good to have Kevin Conroy back as Batman. And since Mark Hamill did the voice over at E3 but is nowhere to be found in any demos, one can safely assume he's part of this game too. Bring it on!
Batman: Arkham VR will also be a launch title for PS VR and will be released on 13th October 2016.
Yonk is a geek who is fortunate enough to have an equally geeky Star Wars fan for a wife, who owns a LEGO Millennium Falcon encased in a glass coffee table as their home's centre-piece.
---

Drop a Facebook comment below!

---