If you've visited Singapore Toy, Game & Comic Convention (STGCC) you realize that your love for comics and toys barely scratches the surface. There's always someone who loves the hobby even more, and deep into STGCC's Artist Alley is where these awesome fans reside.
This year, the Artist Alley felt "wider" than before, which made navigating the area much easier. Con goers do spend a significant amount of time here as the booths are unique and not be missed.
A big shout out to all the indies in the Artist Alley who are pushing their love of everything toys, games and comics in the right direction. Here are but just a few of the sights which caught our eye: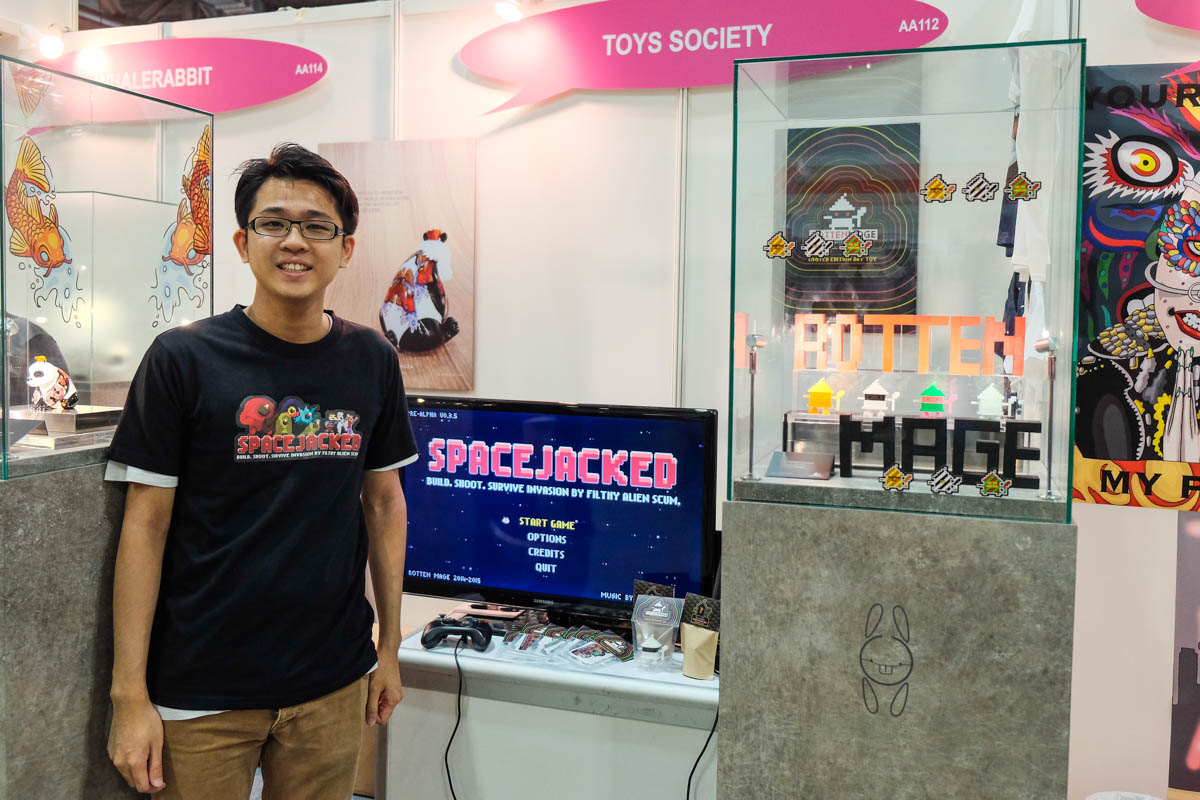 It's nice to see a non-Romance of the Three Kingdoms or FPS Clone coming out from the shores of Singapore, and it was the only video game showcased in the Artist Alley. With game mechanics from a platformer and tower defense neatly blended together, it feels to us like the an old school Mario game, but juiced up for modern audiences. The gameplay is deceptively fast and will be very accessible to all as it will release across PC, Mac and SteamOS + Linux.
Although the game is not officially released, players grab a free demo of the game on Steam, downloadable here.
These folks had one of the most awesome merchandise on sale. Our favorites were the stickers featuring iconic pop culture characters weeping.  
Another highlight was that they had a very stylish Spider-Gwen cosplayer to man the booth! With so much to discover at one booth, it was hard to take in all the awesomeness at one go. Check out their website and you might just score something of your fancy!
Visiting from Hong Kong, Black Seed, who seems to have taken an interest to designing gory Disney inspired figures. One of their masterpieces was a mash up of R2-D2, Mickey Mouse and a Minion (shown above and below). The influence that Star Wars has over geek culture is undeniable and this was one of the best derivative works to come out of STGCC.
Yes, the mouse has certainly taken over everything that is great about Star Wars and made it into a lean, mean, money making machine. It even has a Duck piloting the mech!
You can check out their works on their Facebook page here.

These sculpts were by far the best that came out from STGCC that did not carry any big name branding such as XM Studios or Hot Toys. In fact, they were proudly designed by a Singapore Studio, Kinetiquettes, who has attained the license to produce Street Fighter statues. Showcased at STGCC this year was their 1/6 scale statue of Evil Ryu having a grand battle with Oni on a roof top. We were blown away by the details and intricate sculpt of this piece.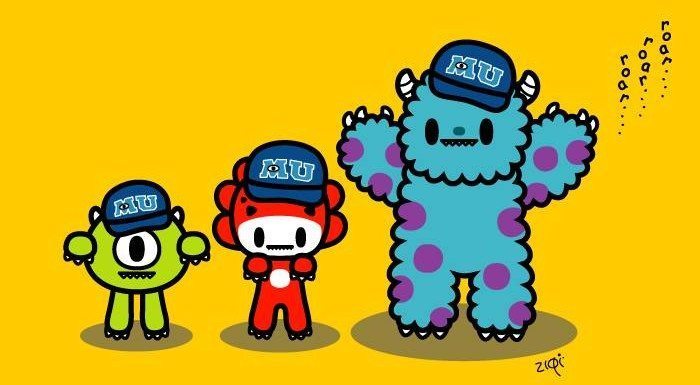 There's just something endearing about Ziqi's work, the man behind Monster Little. The immense rush of cuteness compelled us to grab a handful of buttons –
We're seeing Singapore's very own answer to the Toki Doki wave right here!
6. Assortment of Star Wars Designer Collectibles
There's no stopping Episode VII's merchandise train. With the Star Wars hype gaining momentum, it makes sense for artists to jump in to create their rendition of iconic Star Wars characters.
These pudgy Stormtroopers were one of the more unique creations to come out of Artist Alley. The paint work was slightly smudgy and could have been a tad better though.
Another item which caught my eye was this Rookie the Wookie dog. With such a longing expression, we're pretty sure it will appeal to all Chewie and dog fans out there!
1000tentacles also showcased a series of stylized redesigned Star Wars characters. We couldn't help shouting "It's a Trap!" every time we laid eyes on the Admiral Ackbar.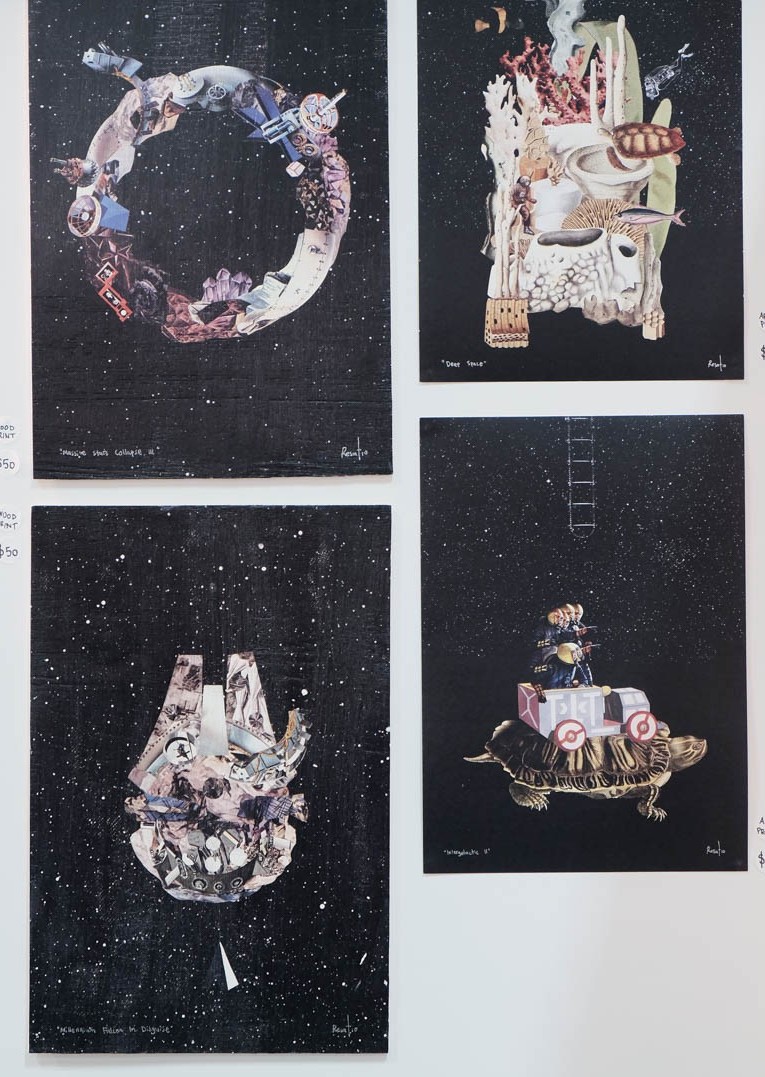 Tiled "Millennium Falcon in Disguise" the artist assembled an art piece depicting the Millennium Falcon using scrap materials and mounted it on a spray painted star field. The art print was going for S$15. The artist had also brought the framed original piece and it was going for a whopping S$300. In this case, the Millennium Falcon was really a hunk of junk!
7. The people at STGCC 2015's Artist Alley
No convention is complete without attendees who add on to the fun factor of the show. This year, we spotted quite a few attendees putting an extra effort to stand out.

Why the long face? There was a dude hanging around in a Horse Mask, and the highly detailed statues showcased was good reason enough to take off his mask. Or maybe he really needed some fresh air.
This dude definitely stood out in the crowd with the Magikarp on his head. As it stuck there throughout the show, we were also wondering if that Magikarp was a zombie as it seemed very obsessed with eating his brains.  That guy was also really lucky the Magikarp did not evolve into a Gyarados, where things would get really really messy.
We're pretty sure he'll be back at next year's STGCC and so will we. Till next year!
---

Drop a Facebook comment below!