2021 is the year we should give ourselves a treat. After spending a horrendous year trying to survive a pandemic, we all deserve a little break to celebrate life and the exciting future that awaits us, and who better than with eCommerce leader, Lazada. 
Turning 9 this year on 27 March 2021, Lazada wants to celebrate and mark another year with great products and even bigger deals that will allow everyone to not only shop like it's their own birthday, but also enjoy the best deals on items across various categories, including tech, fashion, health & beauty, and every geek's favourite, toys. 
In true Lazada fashion, no celebration is complete without games that will allow shoppers to earn vouchers and earn more discounts, and new features this year includes Surprise Goodies, Lazada Bonus and Happy Cake. Naturally, shoppers have a whole lot of fanfare to look forward to on top of the online platform's famed Flash Sales, Pre-Sale Deals, Vote to Win, Surprise Boxes, Surprise Egg and last but not least, Stamp Hunt. 
We've put together a whole list of the best deals available for fellow geeks. You can thank us later.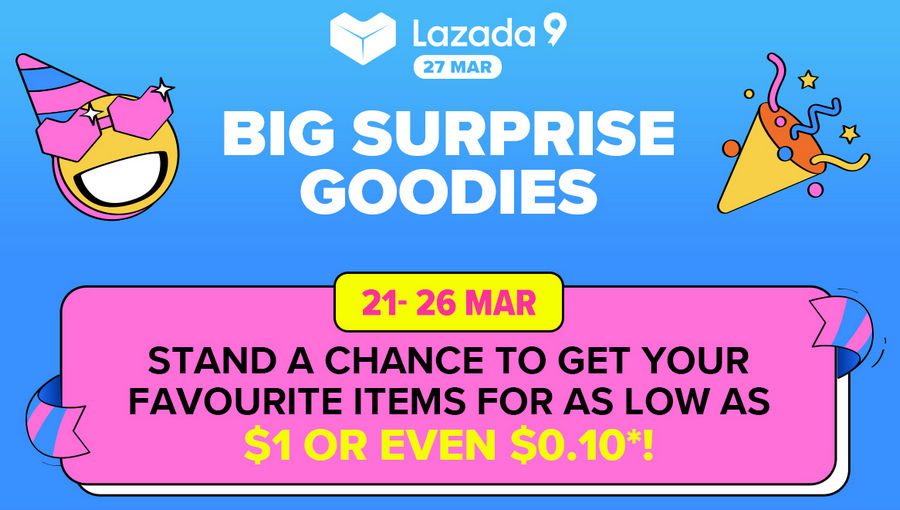 Starting from 21 March, Lazada will feature one product a day at either S$0.10 or S$1.00. Shoppers can purchase a chance (one per person) to win the goodie of the day. Just to tease you a little bit, the Surprise Goodie includes gifts such as a Samsung A7 tablet and a home karaoke system, so you can bet that a great surprise goodie will be unveiled every day. All these just for S$0.10 or S$1.00? It doesn't get better than that! The Goodie of the day will be pinned to the top under the 'Flash Sale' so be sure to check every day! 
Didn't win? That's okay. You will be refunded in Coins which can be used to redeem for vouchers.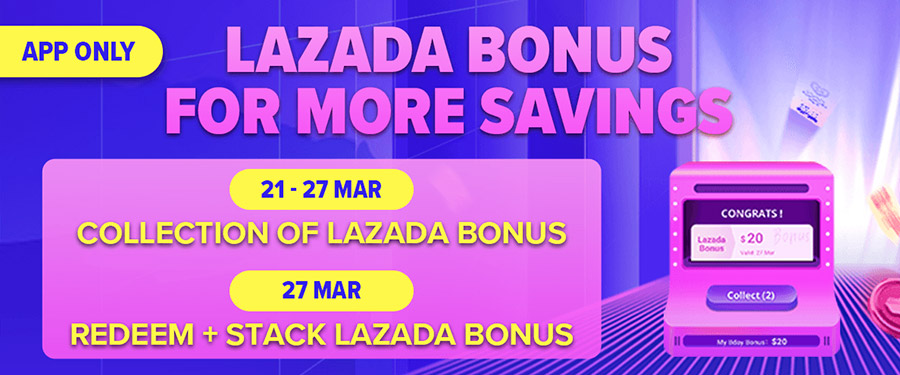 What's better than a voucher? How about stackable vouchers. The new Lazada Bonus allows shoppers to stack multiple vouchers (free shipping, storewide, seller and bank vouchers), for even greater discounts. 
All shoppers have to do is collect Lazada Bonus when it pops up (it's the purple slot machine) and then find items with the Lazada Bonus badge that will allow you to stack promotions together. The exciting bit is that you can also check and collect more Lazada Bonus within the platform so you can stack not one, not two but three or more at one go!
It's not a party without some cake and games and with Happy Cake, so start visiting the app and stores, to win a $9 voucher. Shoppers will be rewarded simply by opening gift boxes, visiting stores, and completing daily tasks. Here's a little cheat we discovered: You can level up the cake by simply tapping it. From what we've seen so far, there doesn't seem to be any limit to tapping! 
Just like last before, interested buyers can pay a deposit to secure the hottest products. Final payments must be done on 27 March.

PRO-TIP: All pre-sale promos are available only via the app. If you're accessing via the web, all items will be listed as "out-of-stock" so you should head to the app instead.
We picked out a few key deals which fellow geeks might be interested in –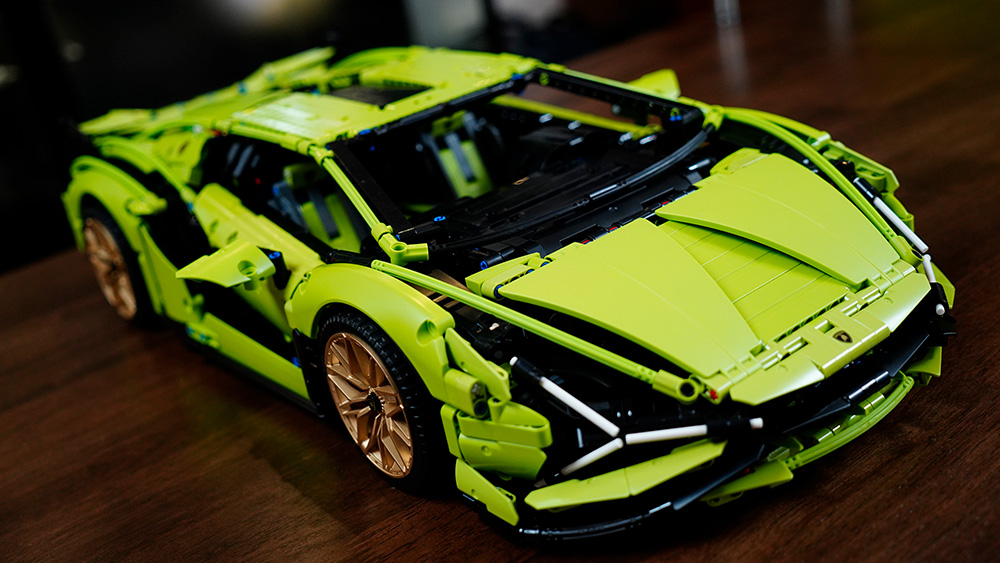 Starting from midnight, grab the best products on sale for cheap! Deals refresh every two hours after 8am. Better yet, more than 200 stores will go on a storewide flash sale with up to 90% discounts in the first two hours of the sale, 27 March from 12 to 2am only.
Found under 'Flash Sales', shoppers can purchase more than 150 branded surprise boxes going at $9 (worth $40), $29 (worth $100), $49 (worth $150) and $79 (worth $200). What's in these surprise boxes you ask? Let us tell you a little secret – have a scroll through of the product images and you will be able to find out what's inside the box. There you have it, all these great valued products at a low price. Surprise! 
Take a shot at cracking the egg, and collect two vouchers daily. It's a no-fuss option and you even stand a chance to win a $100 voucher. 
A Lazada classic, the Vote To Win raffle boasts prizes like a Prism+ Q75 Android TV and the highly sought after PlayStation 5, and all you have to do is vote for your favourite product. Increase your chances at winning the raffle by completing tasks as it will earn you more votes. Participants with the highest number of votes wins – it's that easy!
Seeing that it's nigh impossible to get a PlayStation 5 off the shelf right now, Lazada's Vote-To-Win presents another avenue to grab the much coveted console.
It may seem daunting at first, but Vote To Win is pretty easy to manipulate for the go-to Lazada shopper. After voting for your favourite product, you can increase your chances of winning by increasing your favourite and intelligence score.
Firstly, cast more votes to increase your favourite score. To win more votes, complete available tasks under the 'Get More Votes' button. Tasks include viewing a certain store, playing Happy Cake or following a store, so it's that easy! Secondly, your intelligence score is calculated algorithmically. As tough as that may sound, it simply translates to how often you're on the app. Which, let's be real, we're always on the Lazada app. 
---
All deals aside, no celebration is complete without entertainment! Starting 26 March, 8pm, Lazada's iconic GUESS IT game show makes its return this year where shoppers will be entertained by Mediacorp artists and stand to win S$5,000 worth of vouchers. Following that is Surprise Blitz, a countdown special where S$100 vouchers are up for grabs on the Lazada app at 9pm.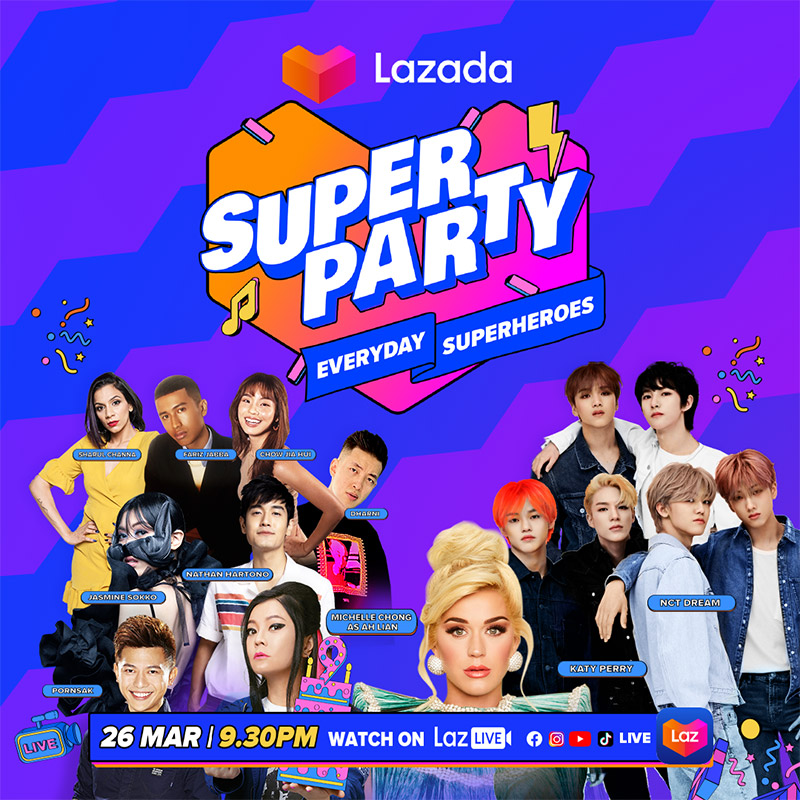 Countdown to what you ask? This year, Lazada's Super Party boasts a star-studded lineup headlined by global award-winning singer-songwriter and California Girl, Katy Perry. Adding on to the line-up is Korea's number one youth boyband NCT Dream that will fulfil K-pop fans' teenage dream. The virtual concert will also feature local talents including Jasmine Sokko, Nathan Hartono, Dharni and Sharul Channa. From 9.30pm to 12 midnight, the Super Party is bound to make shoppers relive what went down 'Last Friday Night'.
Not enough K-Pop from the Super Party? From now to 1 May, K-pop stars will pop on live on LazLive every Saturday at 8pm to engage with fans. Featuring the likes of AB6IX, Loona and many others, shoppers can expect great giveaways, games, interactive sessions and even ask these stars questions on livestream. 
Lazada's 9th birthday celebration is likely to quicken the hearts of any shopaholic, a dream come true for smart-saver shoppers and of course, fans of the talented artists that will perform at the virtual concert. With all these exciting deals and entertainment ahead, mark your calendars and ready your shopping carts – it's shopping time!
---

Drop a Facebook comment below!