In 2019, Alibaba had female singing icon Taylor Swift perform at its Singles Day event, to kick off the world's biggest online shopping festival, so it's only appropriate that Lazada, Alibaba's e-Commerce darling in Southeast Asia, tap on Swift's friend and fellow singing sensation, Katy Perry, to kick off the company's ninth birthday on 27 March, with a free virtual concert headlined by the award-winning singer, as well as beloved k-pop group, NCT Dream, and regional singing acts including Singapore performers Nathan Hartono and Jasmine Sokko, beatboxer Dharni, and comedienne Sharul Channa.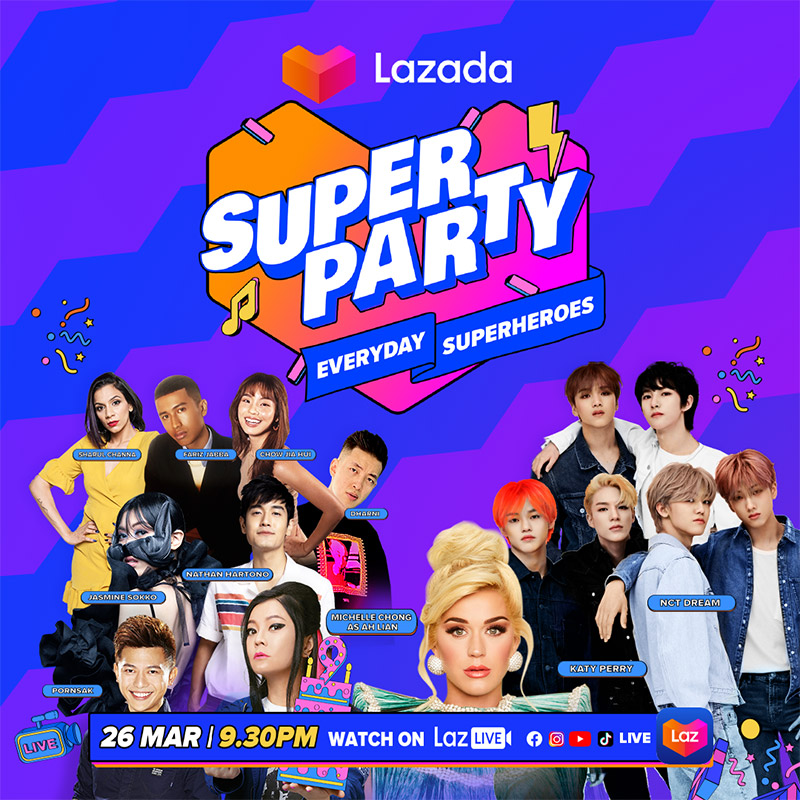 The live stream starts on 26 March, from 9.30pm to 12am, exclusively via LazLive, the company's livestreaming platform available via the Lazada app.
The American singer/songwriter has been under the radar for a hot minute, after the recent birth of her daughter, Daisy. Prior to the pandemic, she released her new compilation album, Cosmic Energy, which revisits some of her best-selling songs, including E.T., By The Grace Of God, and Wide Awake. We don't have an indication on how many songs, or what songs she will be performing, but in a teaser for her performance, Lazada has an exclusive Q&A video with the pop start, which gives fans some insight about her and her life after the pandemic.

For fans who prefer their acts to be closer to home, there's Korea's top-performing K-pop group, NCT Dream, who are known for their hit albums We Go Up (2018) and We Boom (2019). Did you know that the seven-member band are all under the age of 19, and are the only Asian artists to appear on Billboard's "21 under 21" list three years in a row since 2018.
Also performing are home-grown talents like Nathan Hartono and Jasmine Sokko, an up and coming electronic song-writer, singer and producer. Hartono has been in the spotlight recently making his appearance during Disney+'s Singapore launch extravaganza, while Sokko is in the process of reinvention dropping her new single "Medusa" earlier in March 2021.
If you want a preview of what to expect from the two and a half-hour livestream concert, Lazada has even built a Spotify playlist for attendees, to get fans and shoppers in the mood for Lazada's Super Party lineup before the night itself.
That's not all, folks. There is more. From now till 1 May, you can tune in every Saturday at 8pm to check out new K-stars/K-groups on LazLive. Some of your favourites like HAHA, AB6IX and Loona are going to be on!
Here's a handy table to help you get up to date on the appearances –
| K-Pop Stars | Appearance Date & Time |
| --- | --- |
| AB6IX (Lazada's Birthday) | 27 March @ 8PM (GMT+8) |
| Weeekly | 3 April @ 8PM (GMT+8) |
| Loona | 10 April @ 8PM (GMT+8) |
| Cravity | 17 April @ 8PM (GMT+8) |
| Park Ji Hoon | 24 April @ 8PM (GMT+8) |
| Victon | 1 May @ 8PM (GMT+8) |
During these streams, there's going to be a ton of giveaways and games you can win prizes from. Fans can also submit their questions live, during the stream, where the groups and stars will be able to have some time to answer questions and chat with their fans, if you're lucky enough. The post where you can enter your questions will be released every Monday at 12pm. 
These events are only available on Lazada's app. Along with the events and giveaways, you also have access to exclusive Lazada vouchers with better sales and deals. So join Lazada for their birthday and enjoy some sweet Lazada buys.
Mark your calendars, it is going to be a fun seven weeks filled with good music and great prizes to be won. If you haven't, now's the best time to download the Lazada app.